If you are a homeowner in Southwest Florida, you understand the importance of finding that perfect balance between the glorious sunshine and respite from its intense rays. So why not create a shaded oasis that allows you to make the most of your outdoor living space?
In this post, we'll look at some of the outdoor living shade solutions and structure ideas and the considerations of each. You'll learn how these shade structures can transform your outdoor living area in Southwest Florida into a comfortable retreat, ideal for relaxing, entertaining and enjoying the beautiful outdoors.
Why is Shade Important for Your Southwest Florida Home?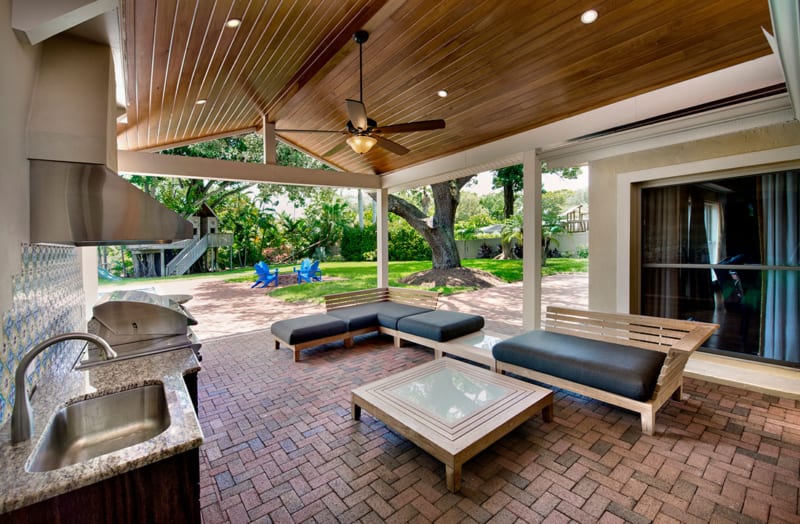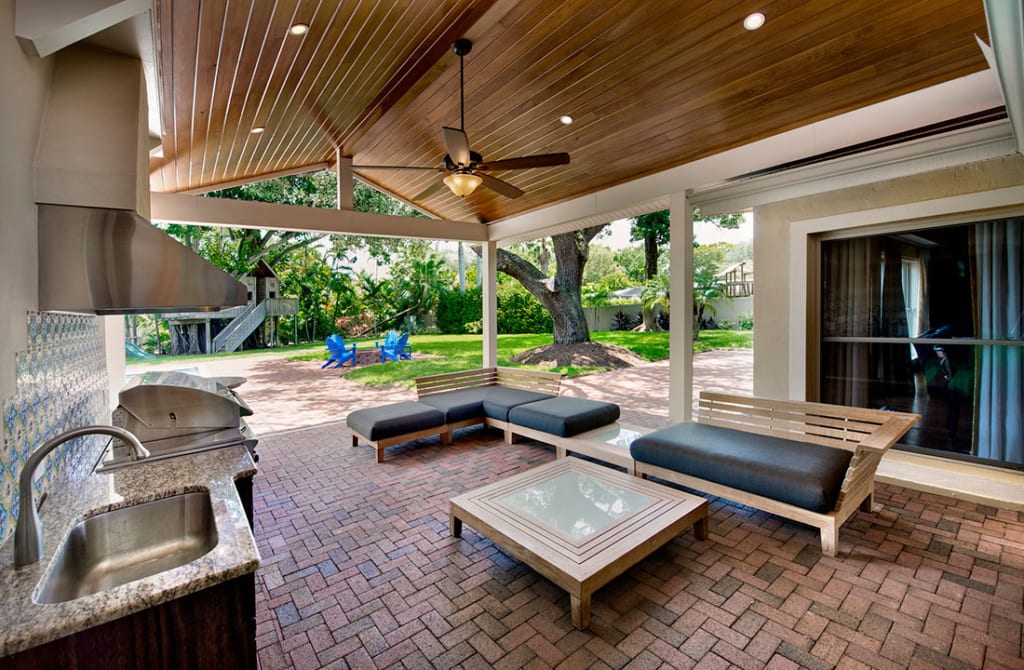 Although the climate in Southwest Florida is pleasant year-round, with an abundance of sunshine, cities like Naples, Bonita Springs and Fort Myers can be hot. Luckily, outdoor shaded options can extend your living space and offer these important benefits:
Protection from the sun, thus reducing the risk of sunburn, heat exhaustion and other sun-related health issues.
Temperature regulation by creating a cooler and more pleasant environment, and minimizing heat buildup both outdoors and indoors.
A more inviting and comfortable space for dining, activities, relaxing or entertaining.
Reduced glare.
Extended usability from morning to night. Have breakfast on the lanai or dinner on the patio.
Preservation of outdoor furniture and features by reducing fading and deterioration from direct sunlight. Shading also helps minimize sun-related damage for your indoor furnishings as well.
Energy efficiency. By blocking direct sunlight from entering your home, you reduce the heat gain and the need for excessive air conditioning.
The Best Outdoor Shade Solutions
Let's explore some of the most popular and best outdoor shade options:
Shade Sails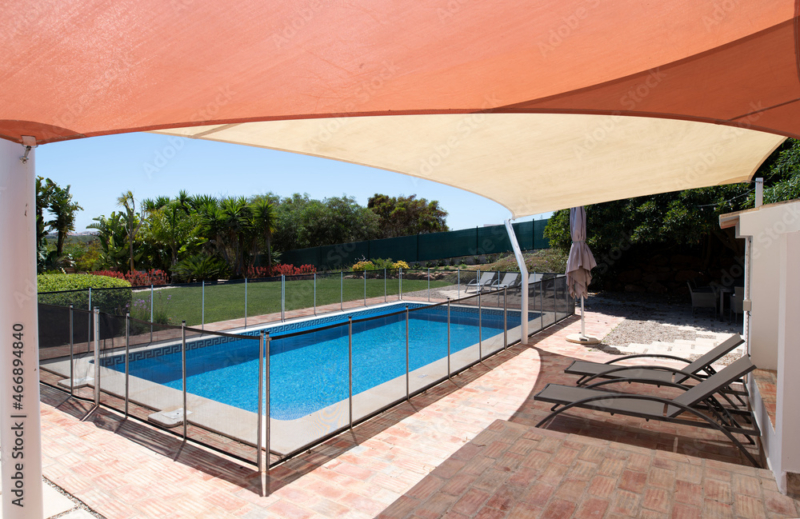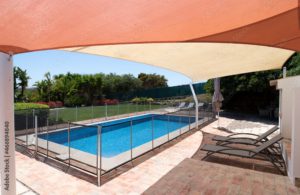 Also known as a sail shade or sun sail, shade sails are fabric canopies suspended between posts or anchored to an existing structure. They are typically made from high-density polyethylene (HDPE) fabric, which is durable, UV-resistant and breathable, and come in triangular or rectangular shapes or custom designs. Their slight curvature create tensions in the fabric and enables them to remain taut and stable. Shade sails can be tensioned or angles differently to accommodate changing sun angles throughout the day, or multiple shade sails can be combined to cover larger areas and provide interesting geometric patterns.
You'll often find shade sails covering patios, decks, swimming pools or play areas. With their sleek design and variety of color options and sizes, they enhance the overall look and ambiance of any area.
Patio Cover or Canopy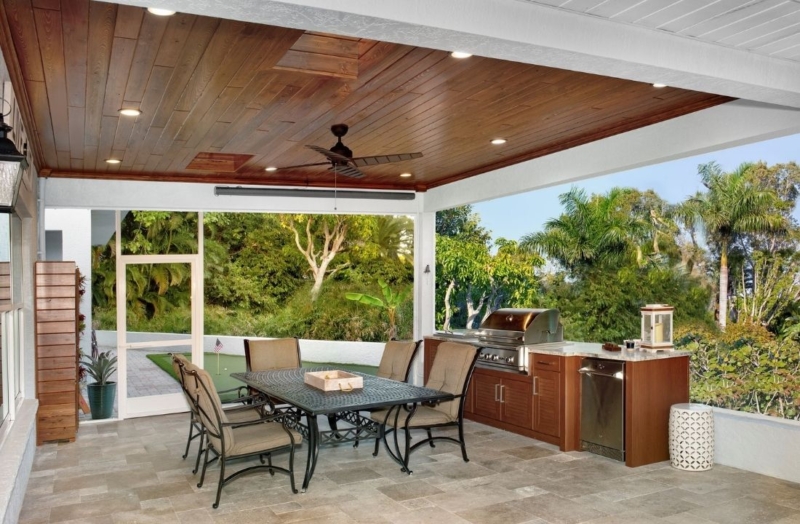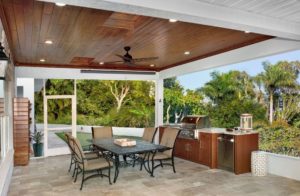 A patio cover or canopy is a versatile and customizable shade structure that can be attached to a building or be freestanding with its own support structure. It acts as a roof to provide shelter and shade, and is commonly used in Southwest Florida homes to provide sun and rain protection as well as extended living space, and retractable canopies are designed to shed and channel water and withstand wind. Available in various shapes and sizes, it can be composed of materials ranging from fabric to metal.
Adding a patio cover to your home can potentially increase your home's value, as buyers appreciate outdoor living spaces that are protected from the elements. Plus, it makes the property more attractive. Use your canopy to create the perfect setting for outdoor entertaining or dining. You can set up outdoor furniture and entertainment systems without worrying about direct sunlight or rain.
Patio Awnings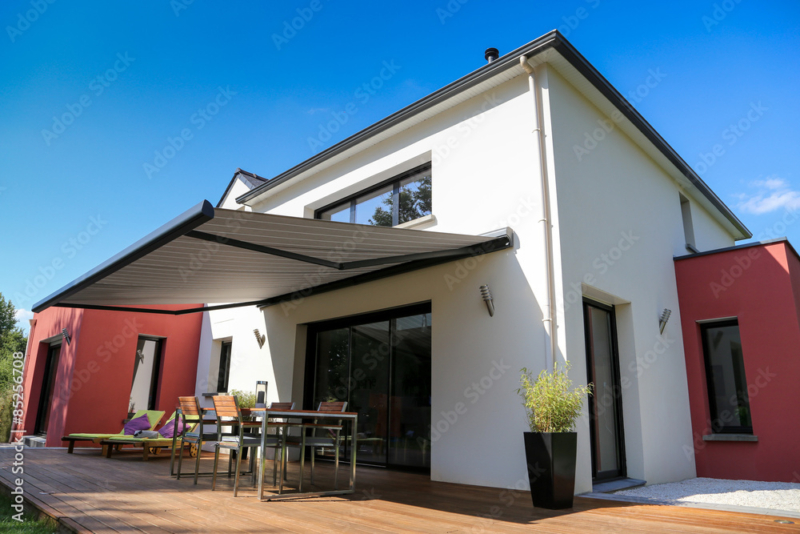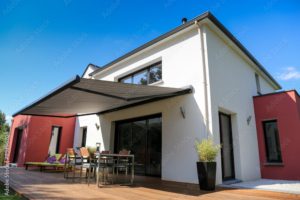 Retractable awnings are an excellent choice if you want adjustable shade coverage. With the touch of a button or the turn of a crank, they can be extended up to 16 feet or retracted, providing flexibility in controlling the amount of shade desired. Composed of a fabric or metal cover, they can be attached to a building or supported by their own framework.
Awnings come in a variety of designs, colors and styles and are durable enough to withstand outdoor conditions as well as fading and mildew. Some are even waterproof to offer protection from light rain showers. By extending your awning, the shade also helps reduce solar heat gain inside your home.
Pergola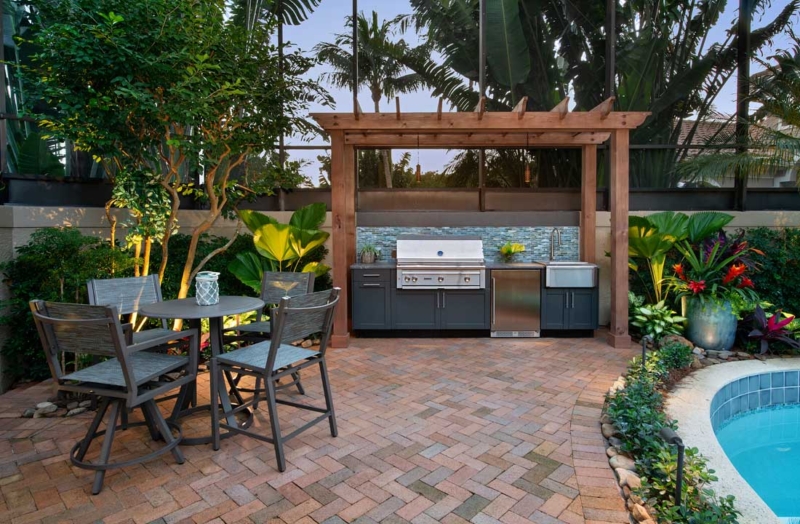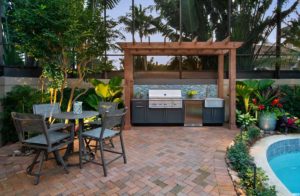 A pergola is a popular shade option that features an open framework with cross beams and an open roof that allows sunlight, air and views to pass through. It can be a stand-alone, attached, or even a two-tiered design. Often found in gardens, patios, or as an extension of the home, a pergola provides partial shade. For complete shade, add a retractable shade!
Enhance your pergola with climbing plants like wisteria, grapevines or clematis, or hanging baskets of flowers, herbs or vegetables. And furnish your pergola with tables and chairs to provide an outdoor dining and entertaining space, or add privacy with curtains, drapes or screens.
Gazebo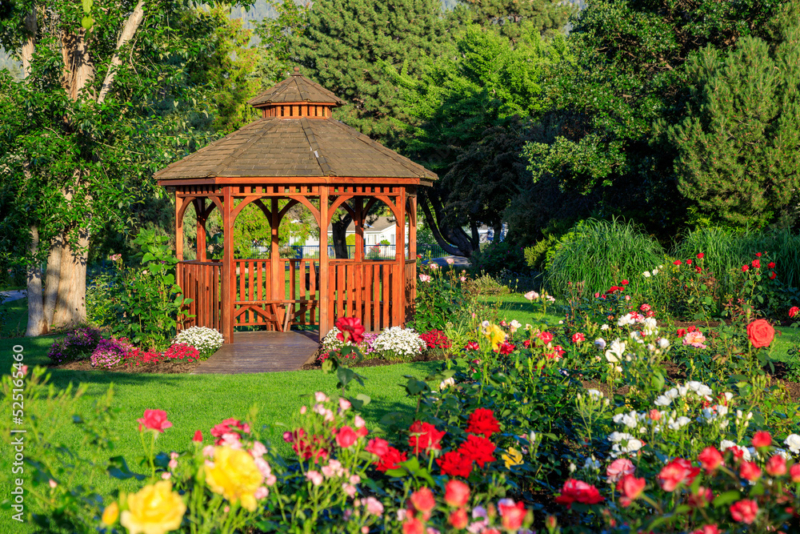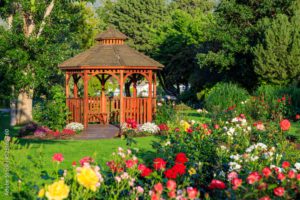 A gazebo is a freestanding structure with a solid roof and open sides, and typically octagonal or round in shape, although it can be rectangular or square. It provides full shade and can be positioned as a focal point in your yard to extend your living space for outdoor activities and entertainment. Imagine hosting a gathering, party or barbeque there with your friends and family! It offers a peaceful and tranquil setting for relaxation and can be furnished with seating, cushions and lighting fixtures.
Your gazebo can add a touch of elegance to your outdoor living area while serving as a focal point in your landscape design or a backdrop for climbing vines. Fully customizable, you can choose the look and size of your gazebo, from traditional to modern, or to match the existing style of your home.
Pavilion or Cabana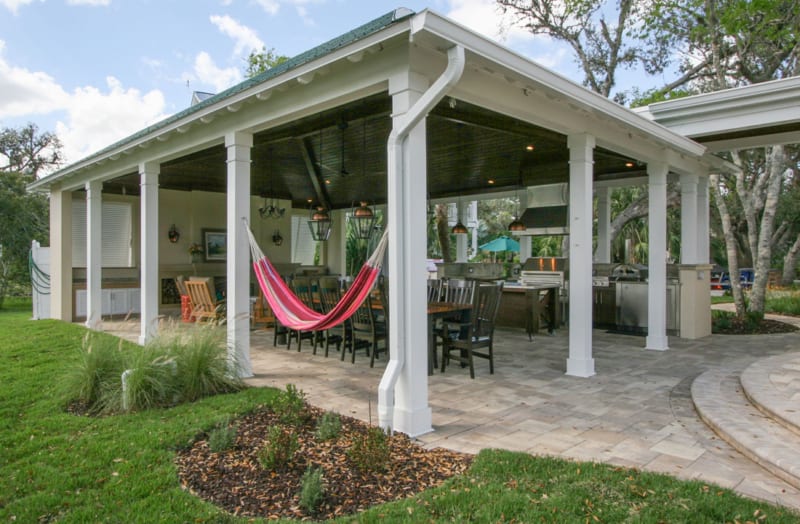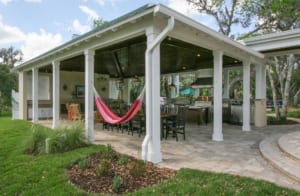 A pavilion or cabana is a more substantial shade structure offering both shade and privacy. While they may be similar, there are distinctions between the two: a pavilion is typically an open-sided structure with a solid roof support by columns or posts, while a cabana is a structure with walls or curtains that provides a more enclosed and private space.
Pavilions are often used as gathering spaces for outdoor activities like parties or outdoor dining, or as a sheltered spot for reading or enjoying the views. Cabanas have either open sides or windows that can be opened, and are commonly used near swimming pools where people can change clothes or take a break from the sun, or furnished with seating and amenities like a mini bar. Either one is perfect for creating a secluded outdoor space where you can relax, entertain, or even install a small outdoor kitchen.
Lanai or Screened-in Porch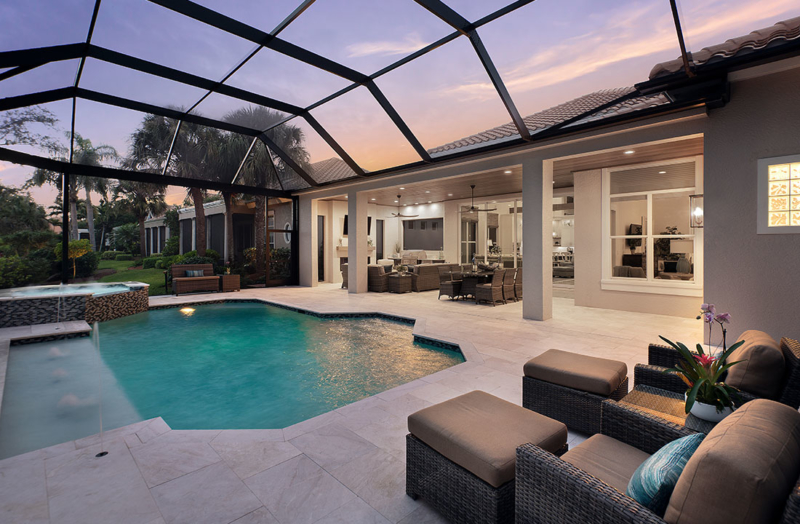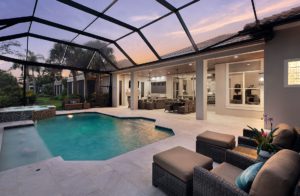 Southwest Florida is known for its warm and humid climate, but unfortunately, it attracts mosquitos and other insects. A lanai, or screened-in porch, generally consists of a roof and walls made of screens that provide shade, ventilation and protection from bugs, leaves and debris, while allowing the experience of natural elements without direct exposure to them.
Your lanai can provide a comfortable and protected space for outdoor living and entertaining. Design your lanai with a seating arrangements, a dining set or an outdoor kitchen, and amenities like a TV or fireplace to create a year-round extension of your indoor living space.
Lanais are highly desirable features in southwest Florida homes and a well-designed and functional lanai can significantly increase your home's resale value!
It's Time to Remodel Your Outdoor Living Area
We hope this post has inspired you to consider shade options when remodeling your Southwest Florida outdoor living spaces. Whether you choose shade sails, a refreshing lanai, a charming gazebo, or any of these shade selections, each brings its own unique benefit to enhance your design style and enlarge your livable space for year-round enjoyment.
Now is the time to bring your vision to life—with Progressive Design Build. We can assist you in remodeling your outdoor space to enhance your lifestyle, expand your living area, improve aesthetics, embrace the climate, and increase your home's value.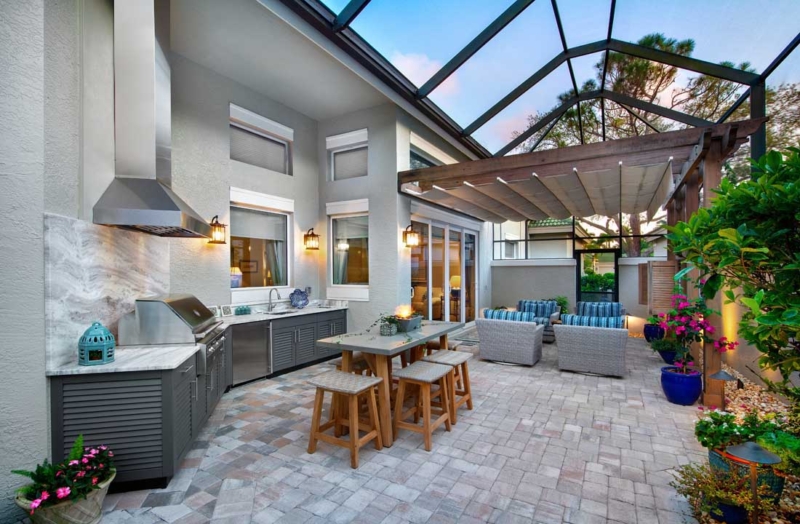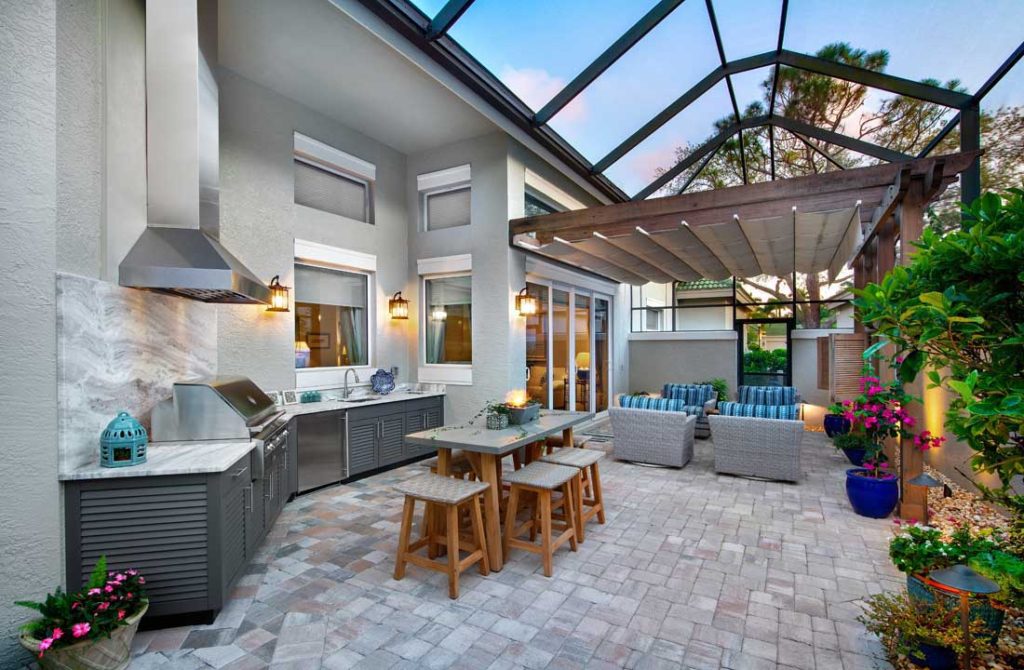 Choose Progressive Design Build for your Southwest Florida Outdoor Remodel
When you choose to remodel with Progressive Design Build, we'll begin with a design consultation to uncover your vision and goals for the outdoor living space, and provide expert guidance in optimizing the layout and space utilization. From here, we'll develop a customized solution and comprehensive plan to create a well-designed and functional outdoor living space.
Next, we'll assist you with selecting suitable materials that are durable and well suited to the Southwest Florida climate before constructing and finishing your shade options. Throughout the remodeling process, we'll maintain open lines of communication to keep you informed of your project's progress, address any questions or concerns, and keep you involved in key decisions.
The best reason to choose Progressive is our design-build expertise. You'll enjoy our streamlined process that ensures seamless coordination and a cohesive vision from start to finish, our exceptional craftsmanship, and our extensive experience with Southwest Florida construction's unique challenges and considerations. We prioritize our clients' satisfaction and aim to exceed your expectations with every project.
Make now the time to enhance your home with the best outdoor shade options and structures. Contact Progressive Design Build at 239-030-5411 for your initial consultation.
For ideas and inspiration, view our portfolios and sign up for our newsletter!