An increasingly popular trend in residential architecture is the design and construction of indoor/outdoor rooms. These hybrid spaces offer an excellent way to seamlessly merge the outside with the inside, providing Florida homeowners with the best of both worlds.
This article looks at the various design factors to consider when developing an indoor/outdoor space for your home in or around Bonita Springs.
Designing Your Indoor/Outdoor Space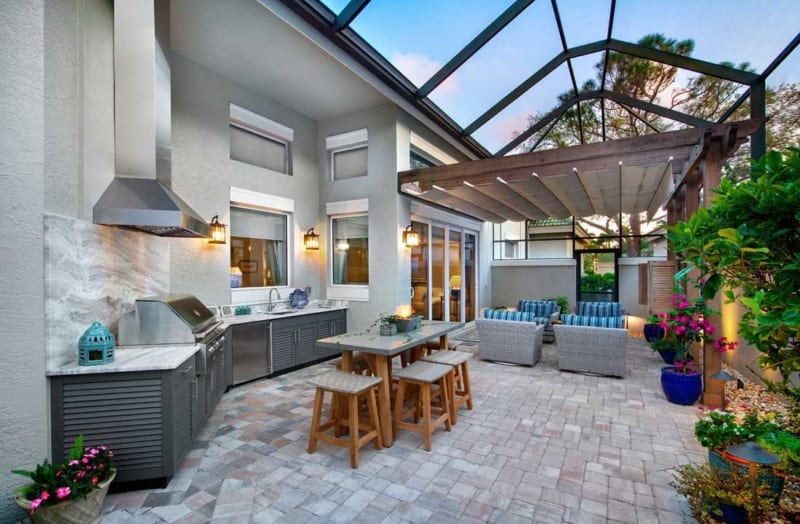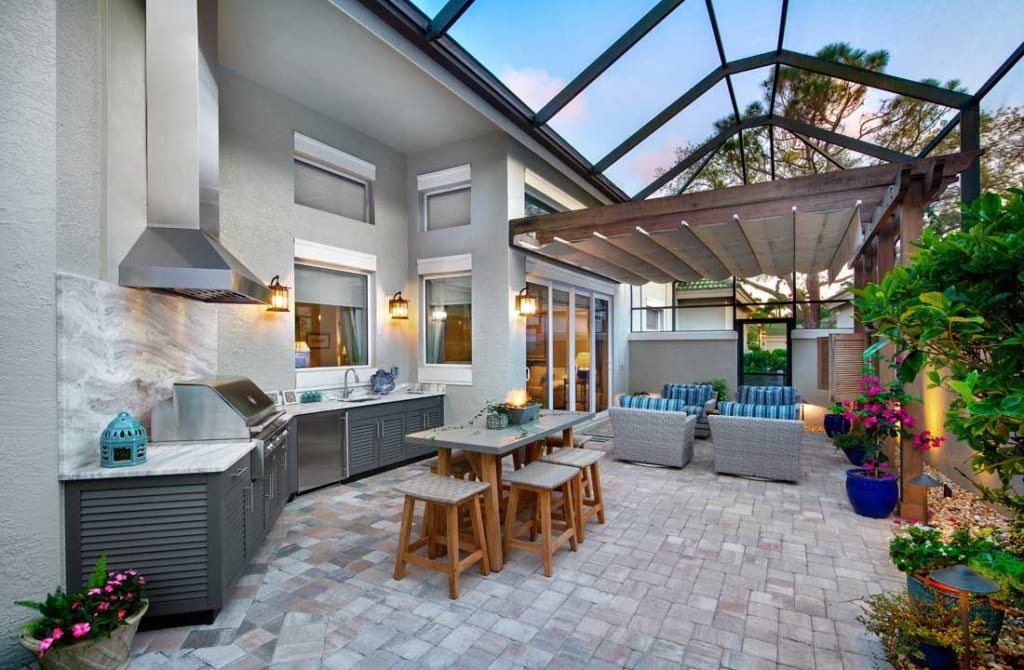 Before starting a remodeling project to create this dynamic type of "interior", it's important to determine how you want to use the space. There are several different options when it comes to its overall functionality, depending on its location and your lifestyle, among other things.
Here are some possible uses:
Outdoor Kitchen – If you adore cooking, then an indoor/outdoor kitchen will make an exciting feature. Whether part of your home's primary kitchen or a secondary kitchen away from the main house, this type of space makes an ideal social gathering area when preparing meals.
Outdoor Dining – An alternative (or addition) to an outdoor kitchen is an outdoor dining room directly adjacent to the cooking space. You can enjoy delicious al fresco dining in the sunshine or beneath the stars, all just a short walk from the main food prep area.
Outdoor Living – Similarly, an outdoor living room (or entertainment space) allows you to entertain guests before and after meals with comfy couches, chairs, and tables. Within this space, you can include a television and sound system, a fire pit, a gaming table, and even a drinks bar.
The indoor/outdoor space can also serve more than one function. For example, an outdoor kitchen can also feature a dining area, while an entertainment space might feature items for exercise or yoga. The functional possibilities are endless, with some creative planning and high-quality construction.
Design a Seamless Transition Between the Indoor/Outdoor Space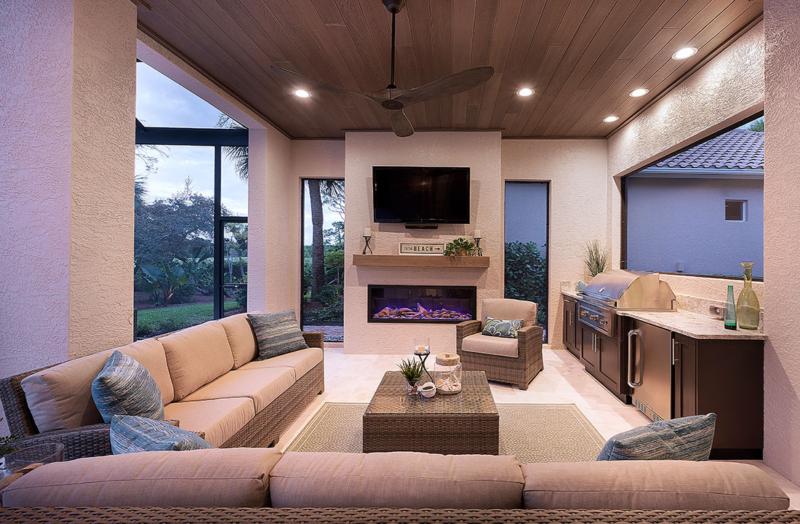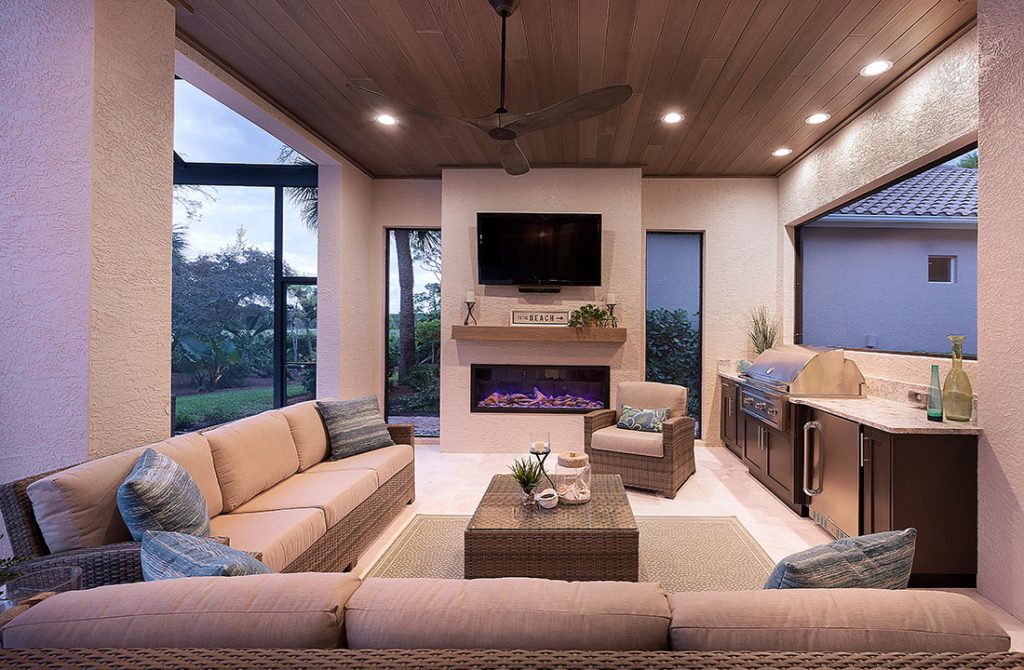 Ideally, you want to create a large opening to your indoor/outdoor area to maximize natural light and to make it feel like there is no separation between the indoors and outdoors. Yet you may also want the ability to close off the opening for security and protection against weather, especially during hurricane season and in winter.
Sliding glass walls are a popular way to create a barrier without sacrificing a beautiful view and the appearance of open space. These walls and doors come in various designs and are customizable to your home's unique features and dimensions. Folding doors are an equally suitable alternative.
When it comes to flooring, it's best to avoid changes in floor level and appearance. Creating a uniform floor design that's identical inside and outside ensures a feeling of expansiveness and seamlessness between the two spaces. It's also important that the flooring is suitable to withstand inclement weather conditions.
For the same reason, a unified color scheme is also advisable. You want the indoor and outdoor areas to look visually similar in all possible ways, using a cohesive color combination.
Design Adequate Covering for your Indoor/Outdoor Space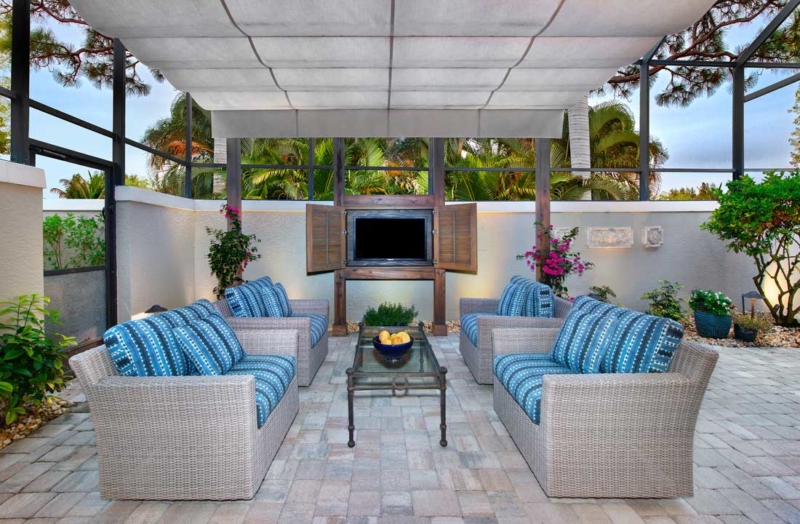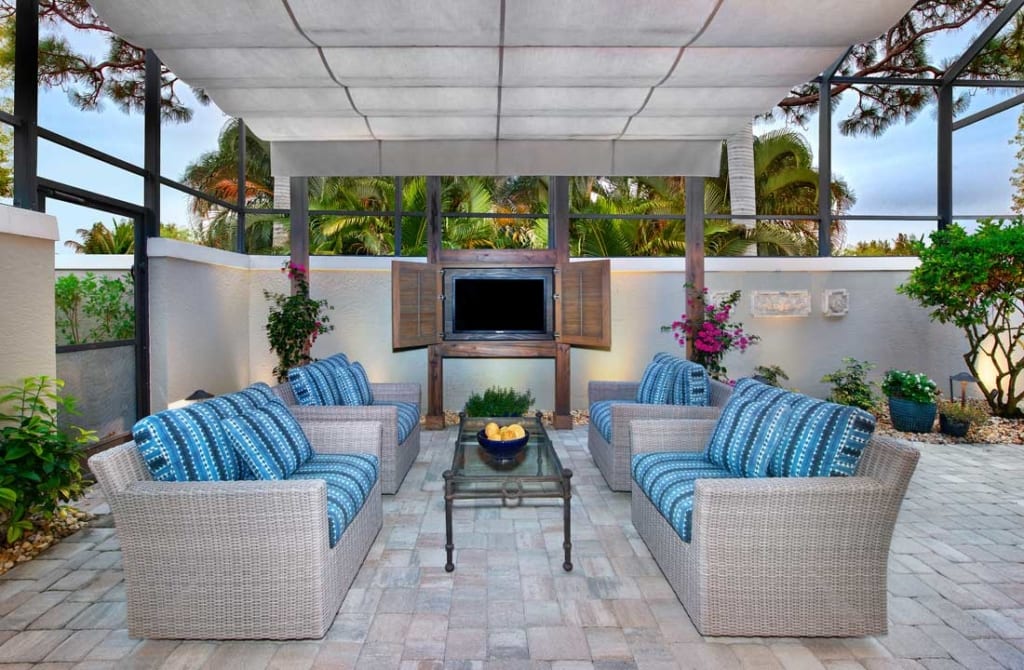 The perfect indoor/outdoor space needs protection from the elements, whether the hot midday sun or heavy rain. Adequate covering ensures you can enjoy your outdoor room more frequently and also contributes to its overall aesthetic appeal.
There are a variety of options when it comes to coverings, and these include:
Pergolas – These popular outdoor garden structures consist of vertical posts/pillars supporting an open lattice or rafters. They don't usually have side walls and are designed primarily for warm weather use, particularly as a relaxing shelter from the hot sunshine.
Keen gardeners often grow climbing plants up a pergola's trellis panels, adding shade and natural visual appeal.
Retractable Sunshades – Sometimes you want some overhead shade, and at other times, you don't. Retractable sunshades offer the best of both worlds, allowing you to quickly modify your indoor/outdoor space according to your preferences at any given time.
These retractable canopies come in an extensive range of sizes, designs, and colors, with many activated by a simple press of a button.
Roof Extension – A roof extension is a sturdy long-term option if you want a more permanent covering. The roof extends out directly from the side of your house, providing an indoor/outdoor space for a kitchen, living room, or entertainment zone.
The design potential for roof extensions is wide and varied. There are many possibilities depending on the architectural features of your property and your lifestyle needs.
Outdoor Roller Shades – A great way to add an extra level of protection from the sun and privacy from the neighbors is with outdoor roller shades. These durable exterior covers can be affixed to porches, pergolas, and decks and are very simple to extend and retract.
Many come with UV protection and offer an affordable way to enhance the living experience of your indoor/outdoor space.
Indoor/Outdoor Design Considerations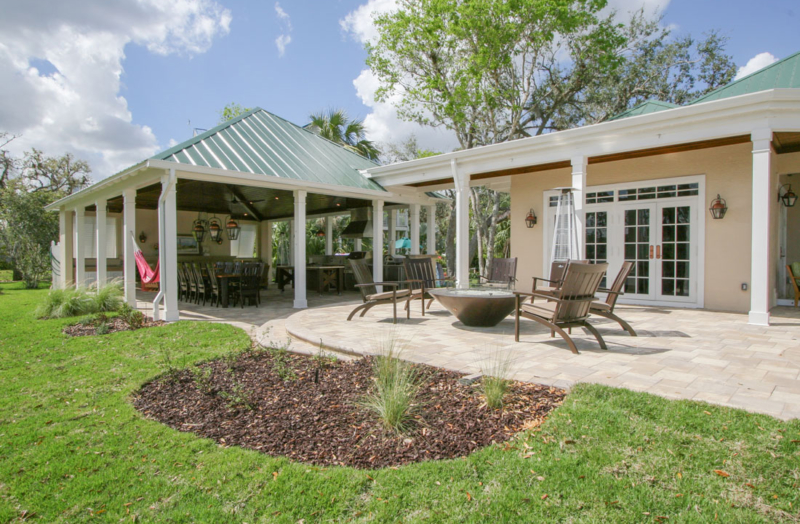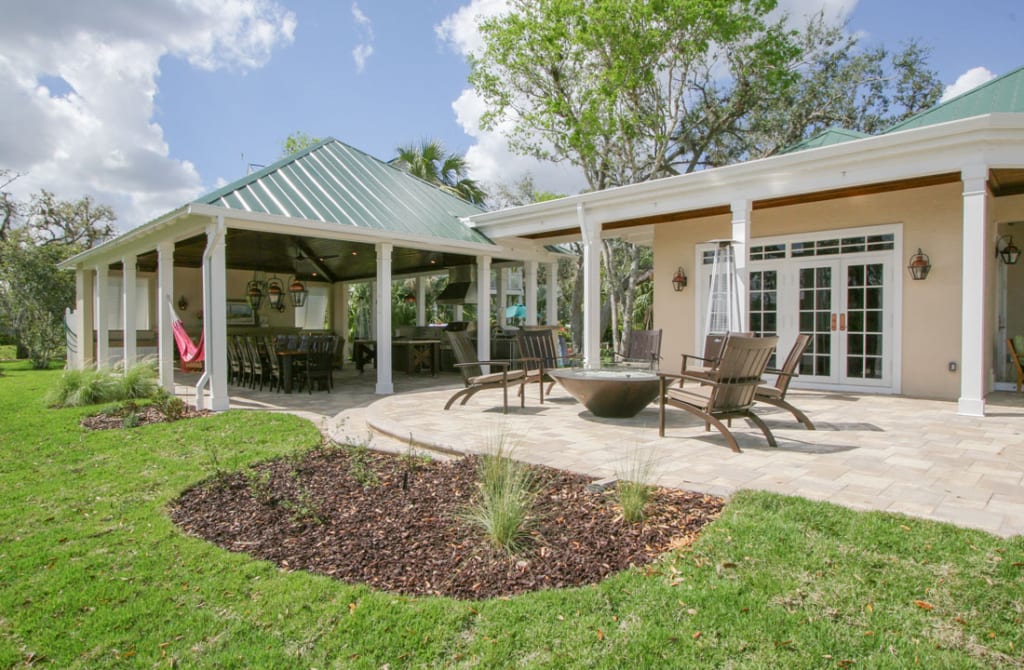 To ensure a sense of seamless continuity, stylistic coherence, and spaciousness between indoors and outdoors, there are a number of important design considerations to bear in mind.
Similar accessories, color palettes, and furniture styles in your indoor/outdoor area will enhance the space and make it feel like an extension of the indoors. Where possible, select similar furniture concepts (i.e., contemporary, mid-century modern, traditional) that match or support other pieces in your visual field of view.
The materials you choose ideally need to contribute to a stylistic harmony within the space. Materials such as stainless steel, powder-coated steel, porcelain stoneware, and synthetic woven rattan are strong and durable options.
Add greenery where the interior of the space meets the outdoors. Natural foliage helps to blur the sharp lines that typically mark the border between the inside and the outside.
Consider how lighting can also support the continuity of your indoor/outdoor room. A well-organized lighting layout will feature layers that enhance the overall ambiance of the space while supporting localized points of functional interest, such as a grill. Decorative lamps can also play a part, highlighting plants, sculptures, or seating areas.
These are just some design options you have when developing your perfect indoor/outdoor room. Your trusted design-build remodeling team will be able to help you plan the perfect space for your family and lifestyle.
Indoor/Outdoor Remodeling in Southwest Florida
Progressive is an award-winning design-build luxury remodeling firm serving Southwest Florida. Whether you're looking to create a new indoor/outdoor space or enhance an existing one, we're the team that can get the job done.
Progressive Design Build is a trusted expert in custom home remodels, whether a kitchen, bathroom, whole house, or outdoor living project. You can rely on our seamless processes and exceptional customer service to provide you with on-time and on-budget results.
Ready to talk about remodeling? Reach out directly to schedule a free consultation.
Not quite ready? Sign up for our monthly newsletter, view our portfolio, and follow us on Facebook and our other social media for brilliant design ideas and inspiration.