Each year since 1986, the REMODELING Big50 inducts 50 remodeling companies that have set exceptionally high standards for professionalism and integrity through exemplary business practices, craftsmanship, and impact in their community or the industry at large. Big50 remodelers run successful, often growing, companies of various sizes that have taken the lead in raising industry standards.
Since the Big50 program began, REMODELING has selected about 1,600 firms for Big50 status, approximately less than 2% of all remodeling businesses in the country today.
REMODELING editors, columnists, industry leaders, and the companies themselves make the nominations each year. Following a lengthy evaluation and interview process, the editors select the 50 individuals who exemplify the best of the industry that year, and who have something to offer other remodelers in proven practices. Progressive Design Build received this honor in 2007, joining an honorary list of distinguished Big50 firms that share a culture celebrating employees and exceptional customer service.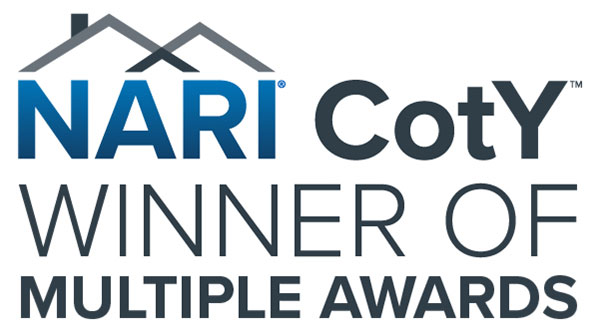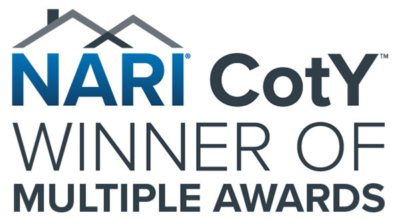 The prestigious Contractor of the Year (CotY) awards are presented each year by NARI Headquarters to NARI members who have demonstrated outstanding work through their remodeling projects.
Judged by a diverse and impartial panel, CotY winners demonstrate exceptional results in remodeling projects. Projects entered into the National CotY Awards program (many NARI Chapters host their own awards) are eligible to win a Regional award among 48 categories in seven regions nationwide. One National CotY winner is selected from amongst the Regional winners in each category.
Below is a list of awards Progressive Design Build has received from the local NARI Chapter (Tampa Bay Area) over the past few years. These Contractor of the Year (CotY) Awards are the Southeast region's top honors for remodeling excellence—judged on functionality, problem solving, aesthetics, craftsmanship, innovation, degree of difficulty and entry presentation.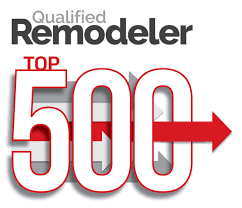 Qualified Remodeler "Top 500" — 2001, 2003, 2006, 2007, 2008, 2013
Qualified Remodeler is the official magazine of the National Association for the Remodeling Industry and is a leader in promoting the adherence to ethical and professional standards. Honored with the award five times between 2001 and 2013, Progressive Design Build is the only Lee County remodeler to be included in Qualified Remodeler Magazine's list of Top 500 Remodelers.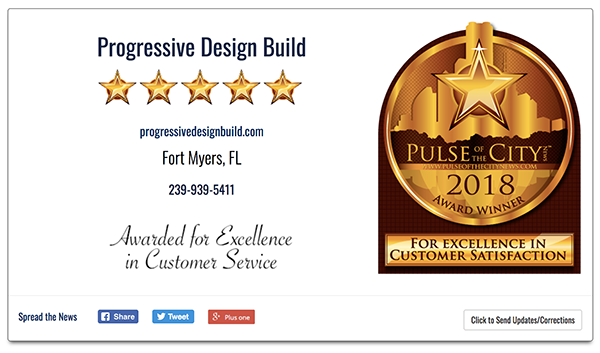 The Pulse of the City News Award — 2018
The Pulse of the City News staff members have a lifetime of experience publishing and consulting in the real estate, building and construction industry. They look for the companies in our industry that excel in customer service. This year, Progressive Design Build was recognized for Excellence in Customer Service.
Gulfshore Business "Best of Business"— 2013
A leading business publication in Southwest Florida, Gulfshore Business selected Progressive Design Build as a finalist for the "Best Remodeling Firm" in the magazine's inaugural Readers' Choice Awards.
Lee County's "Job Well Done"— 2007
Lee County officials honored Progressive Design Build with a "Job Well Done" on April 8, 2007.
Progressive Design Build is the premier design/build firm of Southwest Florida and is the recipient of several local, regional, and national awards. Even so, our greatest reward comes with outstanding client satisfaction. Over the years, we've received praise from hundreds of clients. But don't take our word for it. Check out our client reviews firsthand.