Progressive Design Build is an award-winning luxury design-build remodeling firm with a
reputation for consistent innovation at the highest level of design and customer service.
WHY YOU'LL LOVE PROGRESSIVE DESIGN BUILD
Award-Winning Luxury Home Remodeling
Exterior Renovations
NEW How to Design an Outdoor Living Space Webinar November 19 at 6:00 PM.
One attendee will receive a $100 gift certificate to DeRomos.
It's not just what you see. It's how you feel.
We're here for you – from start to finish.
YOUR PERCEPTION IS OUR REALITY
We are serious about creating an exemplary remodeling experience for homeowners in Naples, Bonita Springs, Fort Myers, etc. To help us ensure the best customer experience, we've hired GuildQuality – an unbiased, third-party customer survey company – to perform mid and post-project reviews.
After 30+ years in business, we'll be the first to admit that every remodeling project has its challenges. But it's not the complexity of projects that sets us apart, it's how we handle them. At Progressive Design Build, we appreciate your honesty about what it's like to work with us. We take great pride in what we do. And your participation in GuildQuality reviews only helps us do it better.
By sharing survey results, client testimonials, online reviews, and other customer feedback, we hope to demonstrate our continued commitment to transparency and excellence.
Trust is earned, respect is given, and loyalty is demonstrated.
"It was such a pleasure to return to our "new home" during the holidays. We weren't here so you had to make many choices for us. You always did the best thing, not the easiest. The quality of the work was most important to us … We love everything!"
"The quality, on-time completion, attention to detail, friendly and competent service provided by Progressive Design Build is what we experienced time and again and why we would not hesitate to use them for any and all future projects. Simply the BEST!"
"Having moved in, we are delighted with the entire renovation and thrilled by the compliments from many new neighbors on how pleasant, courteous, and helpful the various contractors had been at all times. Progressive gets five stars from us. Thanks for a job well done."
Contact Us
Ready to get started?
Our friendly expert designers can't wait to hear your remodeling ideas. Contact Progressive Design Build today!
Contact Us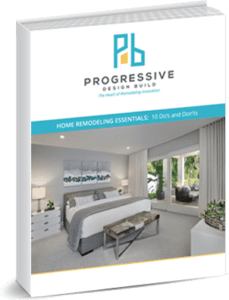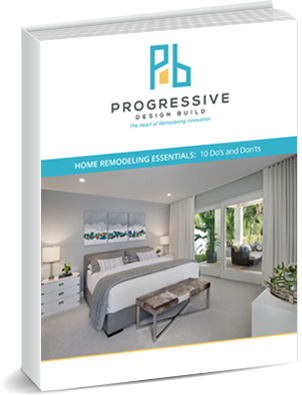 Download Now
Download a free eBook on Home Remodeling Essentials:
Home Remodeling Essentials: 10 Do's and Don'ts
Download Now