Are you so excited about your new house that you can hardly wait to move in? Except for that worn-out carpet on the stairwell and wall color in the main living area. It would be nice if that was re-floored and re-painted first. And there's that problem with the lights in the master bathroom. You may have also decided from the first moment you saw them, that you were going to redo the kitchen cabinets or add a pantry for much-needed storage space.  There are probably a few other needs that have ended up on your remodeling wish list—the accomplishment of which will make your new house truly your home and not just the place some other family used to live. But with all of these remodeling ideas you have in mind, the question arises:
Should I remodel before or after I move into my new house?
At Progressive Design Build, our Southwest Florida remodeling team has developed a pretty convincing case for remodeling before you move in, something we've learned after years of being knee deep in both situations with numerous clients. These are seven key reasons why we think you should wait:
1. You only have to pack and unpack once
Let's say that you want to re-do the kitchen cabinets first, and maybe add more storage. Perhaps you even want to change out the appliances or add new countertops. Consider how much disruption to daily life this will cause your family if you've already moved all of your food and kitchen tools into the old-style cabinets. You'll have to move them back into boxes and order takeout for the duration. Consider also: if it takes you 12 hours to unpack and organize your kitchen, it'll take another several hours to re-pack it, then another 12 hours to unpack it into its new, remodeled surroundings. That's time you can't get back, so why not just do it once after the remodeling is done? That way, you have your beautiful new remodeling project done, and you can move in and enjoy it. Take a look at our portfolio to see what we mean.
2. You don't have to live with the dust, noise and other inconveniences
Remodeling is a noisy, dusty business. There's a lot of drilling, sawing, hammering and carrying on. Sometimes we have to turn the water or the electricity off for a time; this is especially true if you need any electrical, HVAC or plumbing work done—three items that should always be completed before you move in because they can pose significant safety issues.
3. The remodeling you want to do may never happen otherwise
We've seen this situation countless times. People who need or want to purchase a new home had aspirations to remodel, but for some reason or another, they moved in first and then just got too busy to make it happen. Sometimes they move in knowing they want to remodel the space but aren't sure how or where to start. Then they get too busy to manage the inconveniences that come with living through a remodeling project and end up tolerating a less-than-optimal space that grates on their nerves for years to come.
4. Always take care of significant safety and security issues before moving in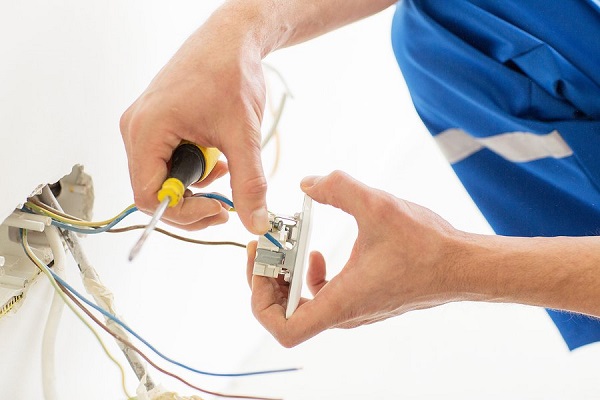 Photo courtesy of House Locks
As previously mentioned, certain remodeling projects should always be done before you move in because they pertain to your home and family's safety and security. For example, roofing repairs, insulation, new windows and doors, plumbing and electrical work are best done before anyone is living in the space. Adding or upgrading the home's security system is also a good idea to take care of before moving your entire household into the space.
5. Repainting is much easier if you do it before you move in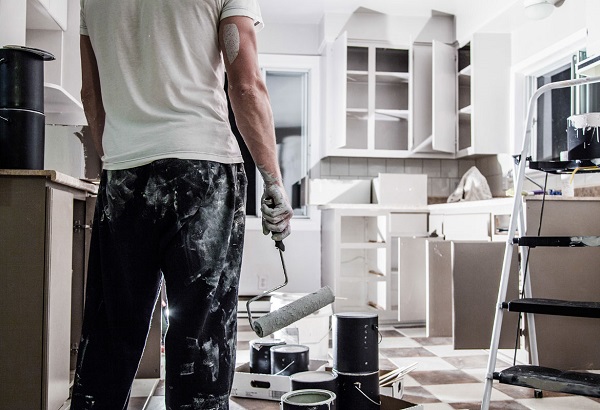 Courtesy of Six Star Painting & Services
Paint can be wet and smelly and get messed up very quickly when people are living in the space and forget that certain areas are "wet paint" zones. Certainly, if you have any major repainting or resurfacing projects that you want to accomplish in your new home, it's a lot safer, easier and more efficient, to make those updates before moving in. And, it will result in better quality.
6. Construction time is usually shorter before you move in
Any construction crew will tell you that they are typically able to get their work done faster by eliminating the distractions and difficulties that present themselves having to work around family routines, pets, furniture, etc. Of course, any home remodeling project requires some adaptations for the homeowner and the remodeling firm, but we find that we can do a thorough job, much more quickly and efficiently if we can perform the work before you move in. This will save you both time and money in the long run, and you'll get the beautifully remodeled, totally functional home that you want, with a lot less hassle.
7. Working with a professional design-build team saves you time
Another problem we frequently see is new homeowners trying to handle the design and construction process themselves, becoming overwhelmed with endless decisions, unknown expectations, multiple points of contact, change orders, and an undetermined timeline.  Working with a design-build firm, and specifically Southwest Florida's Progressive Design Build firm, you benefit from a single entity, and all its members, who are universally committed to the success of your project. You work with architects and designers who can think like a contractor. They help you avoid making costly mistakes and offer suggestions that prevent expensive and time-consuming change orders. By working with you early in the design process, we help you work within your budget, maximize your space, choose the right materials for your needs, and help you get the best deals on materials through partnership networks and relationships with suppliers.
For more information about the benefits of design-build remodeling, or learn to specifically about our design-build process, visit the Progressive Design Build website.
If you're eyeing a new house and know you want some remodeling done, please schedule a consultation with us as soon as possible. We can assess your home and help you make smart decisions that guide you toward the home of your dreams—before you move in! 239.939.5411.