When we think of a kitchen remodel, it's easy to picture the exciting transformation of cabinets, countertops, paint colors, and appliances. Essentially, everything on the surface that we see. But for a kitchen to look beautiful and to function optimally, it's the things below the surface that truly matter – most importantly of all, storage.
Smart storage solutions allow you to keep your kitchen decluttered and the interior space as functional and efficient as possible. From pantry systems to appliance garages, there are numerous clever and visually appealing storage options to consider during your next kitchen remodel here in Southwest Florida.
This article explores some of these options.
Design Your Storage Around How You Use Your Kitchen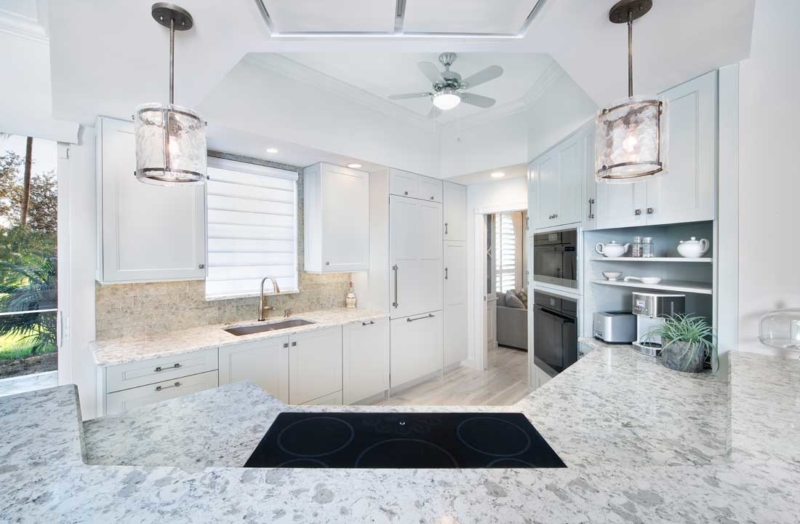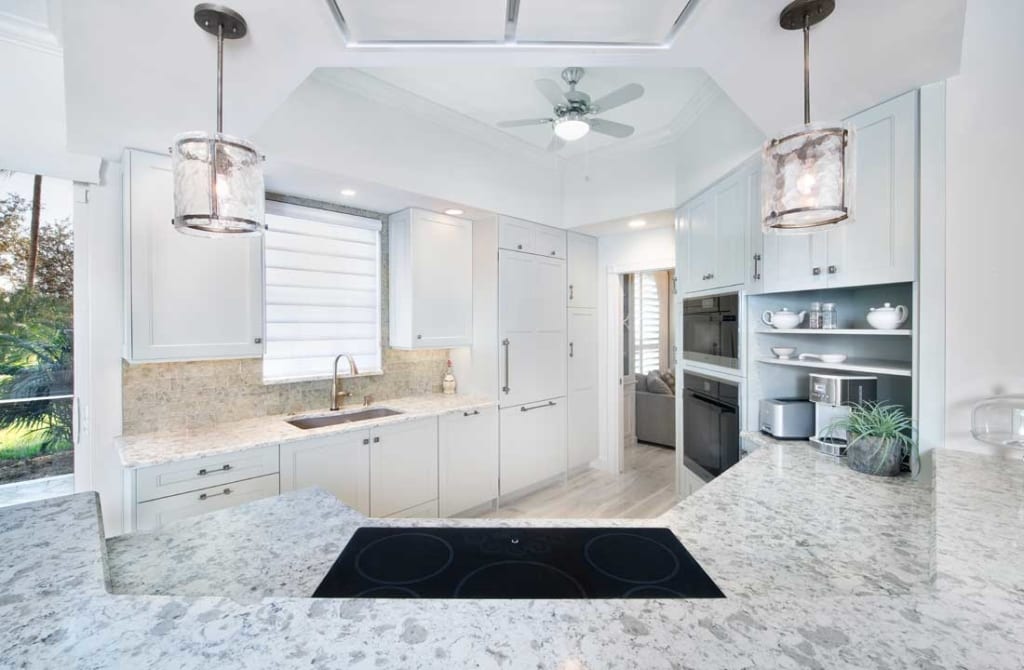 The best way to plan your storage systems is to think about where you will carry out specific tasks in the new kitchen space. You can then design storage based on the requirements of these tasks.
For example, in the cooking zone near to your cooktop and oven, items such as pots, pans, and cooking utensils will need to be close to hand. You can incorporate specific storage for these items in nearby cabinets, drawers, and even on the walls.
A food preparation zone will require specialist storage features for items such as knives, cutlery, spices, bakeware, and a plethora of other prep materials.
In a designated cleaning zone, usually in the area containing your trash, sink, and dishwasher, items such as recycling and cleaning products will be stored. The storage options for these items will differ from those in the zones mentioned previously.
Other zones needing unique systems include areas for storing food, serving drinks, general kitchenware, and even entertainment items such as laptops, tablets, and gadgets.
Maximize Vertical Space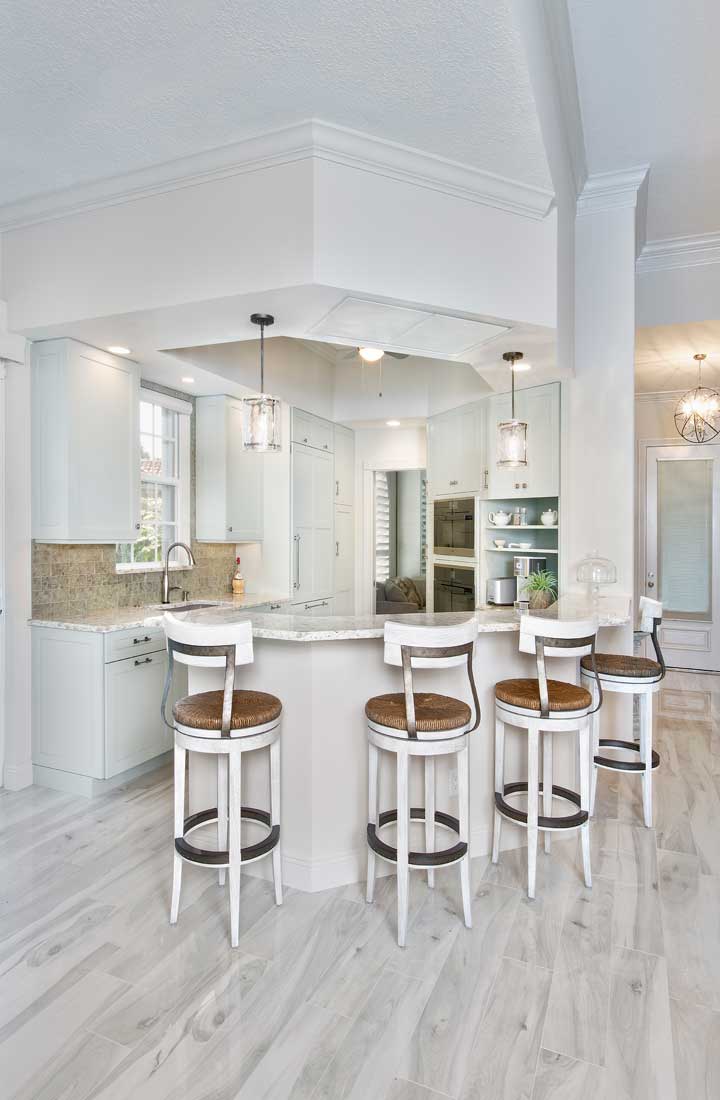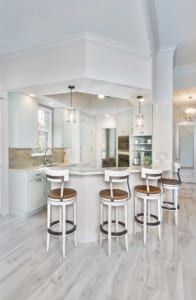 If you have relatively high kitchen ceilings, consider how you can maximize the vertical space. Many kitchens have a lot of unused wall space, which you can effectively utilize for storage and display.
Consider installing taller units (such as pantry cabinets) that combine open shelving and closed cabinets. These allow for mixed usage and enable you to store less-used items higher up and out of the way.
Vertical doorway storage is another great way to maximize your wall space. This type of shelving frames the doorways in your kitchen, providing excellent display space for decorative kitchenware, books, and ornaments.
Rods, hooks, and floating shelves further increase the storage potential for kitchen walls of all sizes. From these, you can hang kitchen utensils, pots and pans, and even potted plants.
Custom Cabinetry Inserts Are a Storage Seeker Must Have!
Consider installing custom cabinetry inserts if you're tired of messy cabinets and cluttered drawers. These specially designed storage organizers keep your cutlery, cookware, bakeware, and foodstuffs organized, easily accessible, and optimally arranged, making the best use of the space available.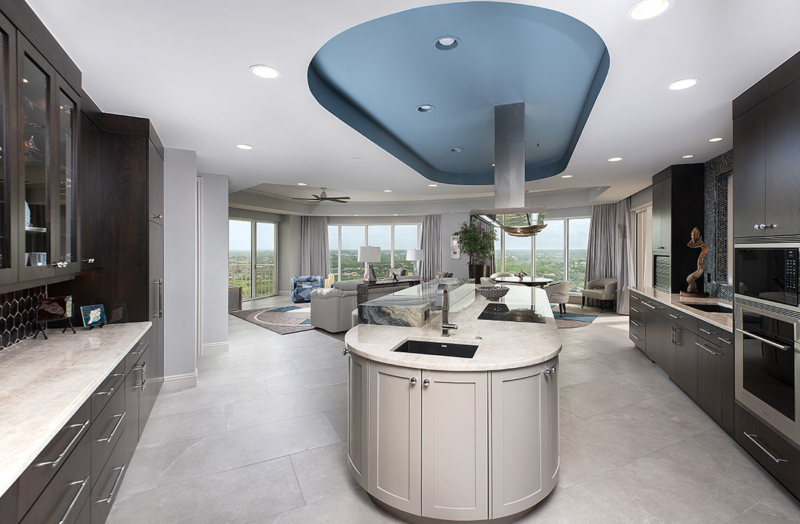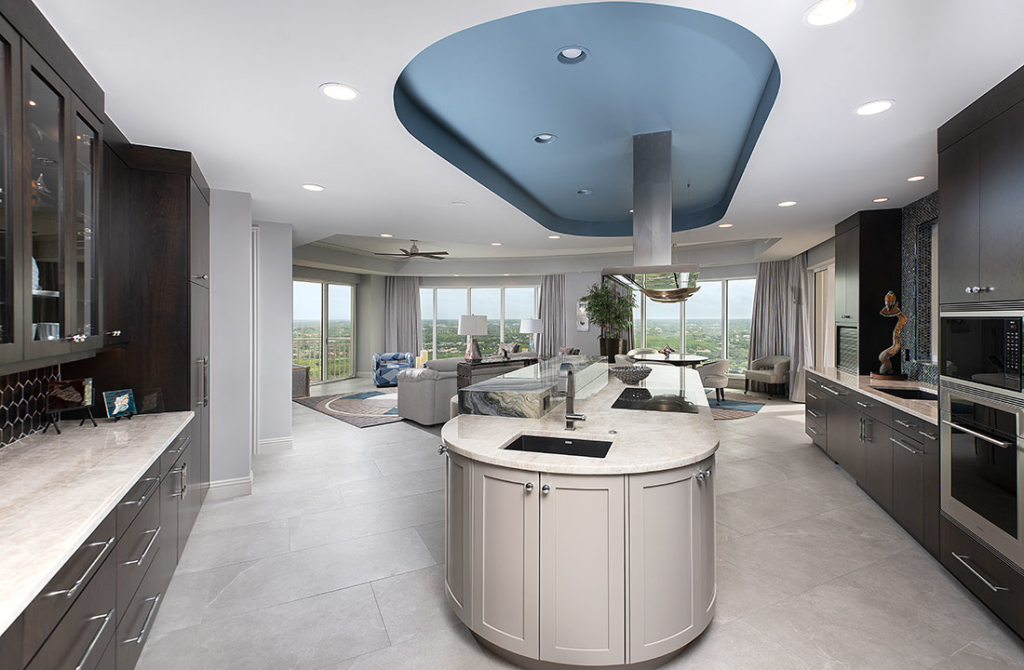 Here are some popular options:
Garbage/recycle storage – Hide unattractive bins in a pull-out cabinet complete with storage compartments for trash bags, ties, related cleaning equipment, and even air fresheners.
Corner cabinets with pull-outs – Utilize the often wasted space in the corners of your kitchen with pull-out cabinet drawers that swing open and out for easy and comfortable access.
Under-sink pull-out drawers – Make reaching for the dishwasher detergent and other cleaning products easier with under-sink pull-out drawers that keep everything safe, secure, and easy to find in a rush.
Cookie sheet/platter dividers – Arrange your sheets, trays, and platters neatly in attractive vertical dividers and on hanging beams inside a designated cupboard. It's then so much easier to find the exact item you need.
Dish dividers – You can also arrange your dishes according to type, size, and function with specially designed cabinet inserts that maintain a particular space for each dish category. These also keep your stacked plates from moving about when the drawer is opened and closed.
Toe kick drawers – You know the space between the bottom of a cabinet and the floor? This is also a great storage area, especially for less frequently used kitchen tools that can be stored in an aptly named toe-kick drawer.
Shallow rollout drawer – Deep drawers are wonderful, but sometimes you need a shallow one to store small items such as cookie cutters, measuring cups, and ramekins. Shallow drawers can be designed to fit directly above a deeper one.
Spice drawer – Never again spend minutes urgently searching for a particular spice. With a pull-out spice drawer and specially designed inserts, you can arrange your herbs and spices in any order you wish and see them all clearly.
Custom pull-outs for heavy appliances – There are also specialist storage solutions for heavy appliances, such as folding appliance shelves that can be pulled out with an appliance onboard without the need for manual lifting.
These are just a few examples. There are many more.
Pantries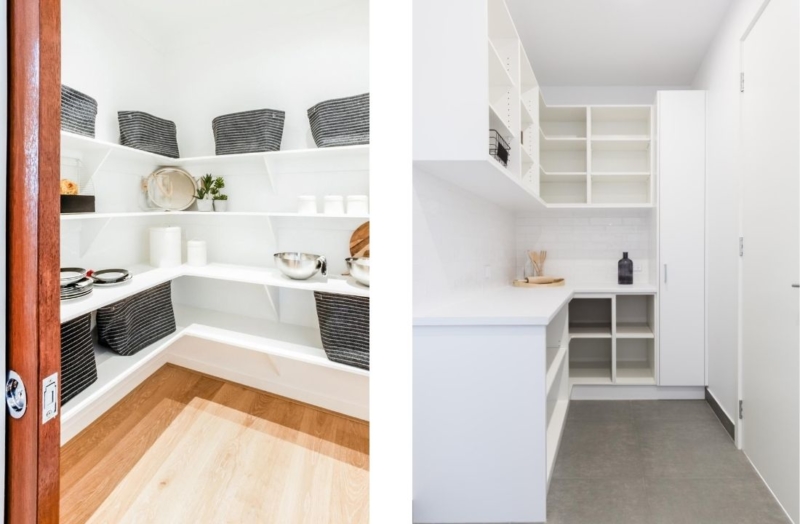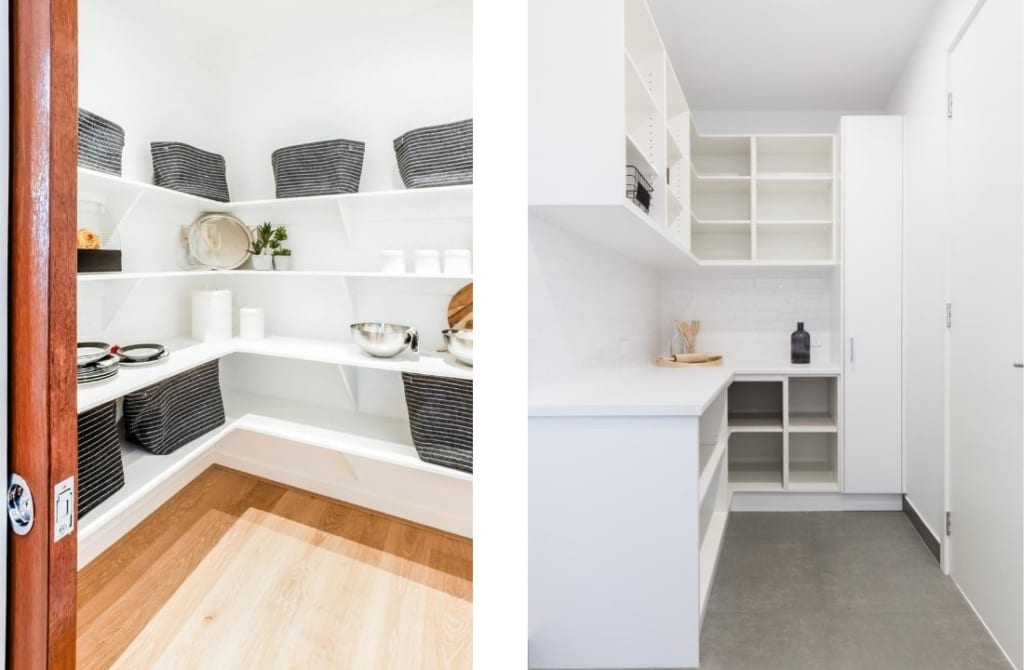 Pantries are a must-have in every kitchen and provide valuable storage space that frees up cabinets and shelves in the rest of the interior.
Walk-in pantries are the largest type. They are usually little annex rooms adjoining the main kitchen and are typically fitted with shelving, cabinets, and even larger appliances.
Cabinet pantries, as the name suggests, are large cabinets with shelving and storage compartments, including on the inside of the doors.
These types of cabinet pantries, also known as reach-in pantries, often feature pull-out storage solutions such as drawers where you can easily view and access the food items you need.
Specialty Cabinets/Drawers for Specific Tasks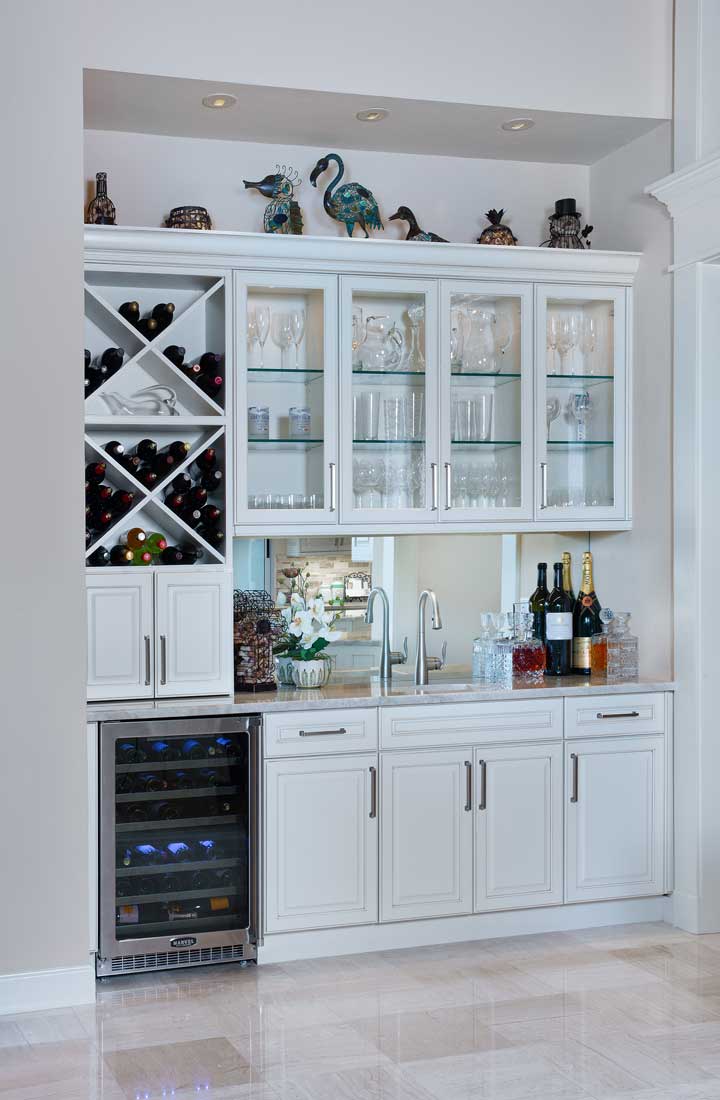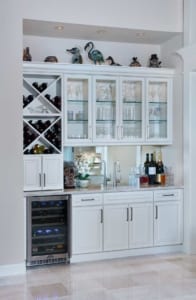 Contemporary kitchens also feature a lot of unique storage options for modern lifestyles. Specific tasks often require specialty cabinets and drawers.
A home beverage station is a designated place to prepare your favorite drink. Whether coffee, tea, wine, or a cocktail, they often feature storage options for drinks, drinkware, and related appliances such as a coffee machine. Beverage stations can be part of a larger countertop area or positioned in their own little alcove.
Pet feeding stations are perfect for pet-loving homeowners tired of regularly tripping over food and water bowls. Instead, you can place the bowls in a dedicated storage area that is either in-built into a cabinet or rolls out when required.
Tech charging stations are drawers and cabinets featuring charging and powering outlets. With so many modern devices and gadgets to charge, such stations provide a safe, secure, and close-to-hand (yet out-of-view) location to power up phones, tablets, laptops, and other electronics.
Maximize Storage on Your Island

If your kitchen features an island, there are several good ways to increase its storage potential.
Open shelving on either end of the island allows you to increase the visual appeal of your kitchen while also adding storage space. Such shelving is perfect for displaying books, decorative bowls and vases, ornaments, and baskets, among other things.
As well as open shelving, or instead of, you can also create slim cupboards. These narrow compartments maximize the usable storage of your island and are perfect for placement near the empty area beside the counter seating.
Consider also how you can add a built-in appliance or two. For example, many kitchen islands are fitted with microwaves, stove tops, warming drawers, or wine fridges.
Your trusted design-build remodeling team will help you determine the best functional and visually appealing storage options for your kitchen.
Luxury Kitchen Remodeling in Southwest Florida
Progressive is an award-winning design-build luxury remodeling firm serving Southwest Florida. Whether you're looking to enhance your existing kitchen space, completely refurbish it, or expand it, we're the team that can get the job done.
Progressive Design Build is a trusted expert in custom kitchen remodels, along with bathroom, whole house, outdoor living, and room addition projects. You can rely on our seamless processes and exceptional customer service to provide you with on-time and on-budget results.
Ready to talk about remodeling? Reach out directly to schedule a free consultation.
Not quite ready? Sign up for our monthly newsletter, view our kitchen portfolio, and follow us on Facebook and our other social media for brilliant design ideas and inspiration.