Not all bedrooms are created equal. When you want more in terms of style, comfort, and space, a primary ensuite bedroom is the answer. This larger and grander room features its very own bathroom and is the perfect retreat for homeowners seeking a more luxurious self-contained suite.
This article looks at the key items to consider when designing the ultimate ensuite bedroom for your Southwest Florida home before a remodel.
Determine Your Needs vs. Wants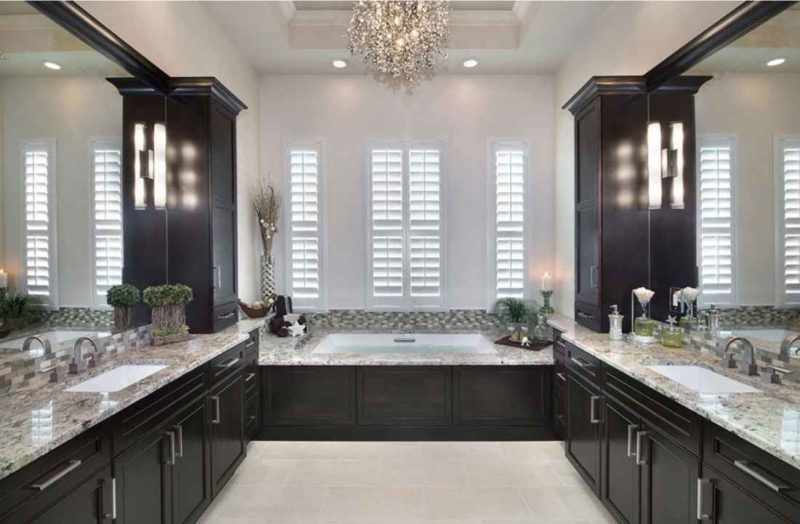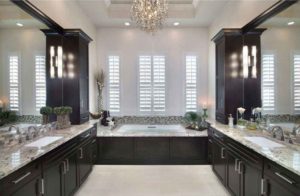 In real estate terms, 'ensuite' means a room that directly connects to another and usually refers to a bathroom. Therefore, a bedroom with a bath is an ensuite. A primary ensuite, traditionally called a "master bedroom," is the home's largest and most significant bedroom.
Before embarking on a primary ensuite bedroom transformation, it's important to consider what features are essential versus which are appealing. Depending on budget constraints and physical requirements, prioritizing your needs and wants will bring clarity to the design process.
For example, when it comes to the day-to-day essentials you absolutely need, is a walk-in shower more or less important than a spa tub in terms of price, space, and ease of access? Do you require a bathtub for relaxation or medical reasons?
Once you have identified your needs, you can move on to your wants. These features and amenities would enhance your space but are not essential for your daily routine. For example, what style of bathroom vanity would you prefer? What color schemes would be best for the bedroom?
Determining your needs vs. wants early on will help your Design Team better align your preferences with a bedroom that perfectly matches your tastes, needs, and lifestyle.
Consider Location and Layout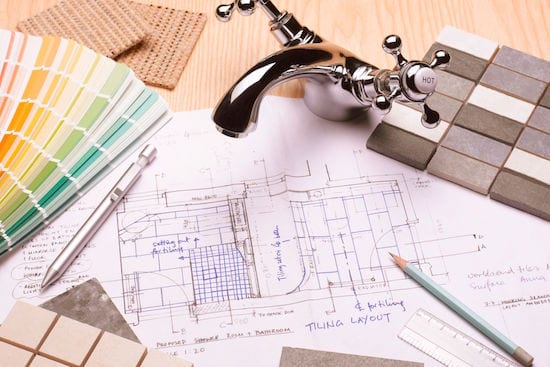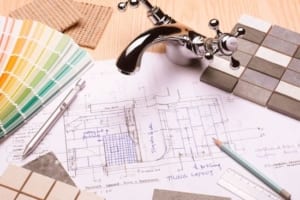 Where's the best place to locate your primary ensuite bedroom?
Primary ensuite bedrooms are typically located upstairs, away from the kitchen and living areas. However, times are changing. More homeowners are considering future scenarios where reduced mobility might mean a first-floor ensuite bedroom is a more attractive option.
Some homeowners are even developing two primary ensuites, with the first-floor version incorporating universal design principles for easier access in future years.
In terms of layout, there are multiple factors to consider, which your design-build team will help you evaluate and plan.
Some questions to ask before and during the design phase include:
How many people will be using the bathroom, and what are their needs? Depending on numbers and physical requirements, extra space, double vanity units, and additional specialist storage features might be required.
Do you want a more open plan ensuite? It's possible to have a shower cubicle and bathtub inside the bedroom area, creating a more luxurious and expansive feel. This might require walls to be knocked down or modified, so it's essential to be aware of any structural restrictions.
How big would you like the bathroom? Consider your lifestyle preferences and mobility requirements, and how these might influence the square footage of your bathroom and the adjoining bedroom.
What other speciality features do you desire? For example, instead of a traditional shower cubicle, a wet room might be a preferable option. And a seating area within the bathroom allows for added comfort and relaxation for two or more people.
It's also important to remember that you can have an ensuite laundry room, walk-in closet, home office, baby's nursery, TV room, or yoga space as well, not just a bathroom. In fact, just about any additional space you can think of.
Think About the Aesthetic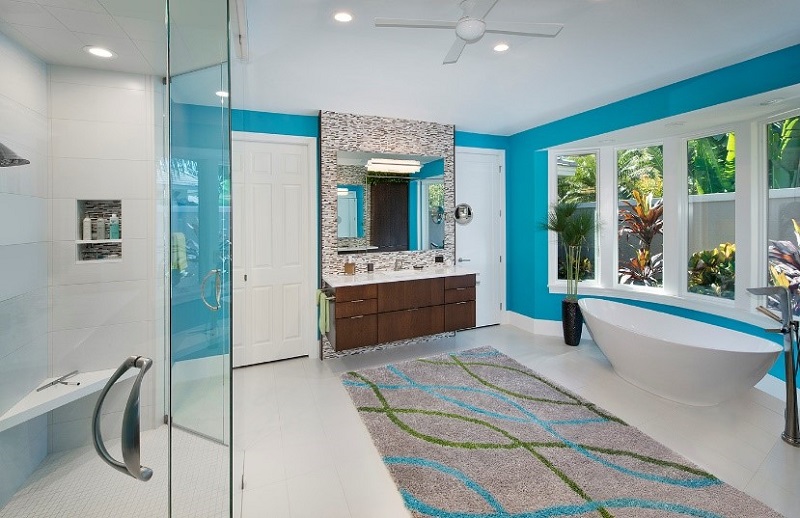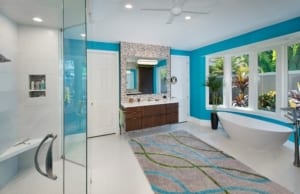 As homeowners, the visual appeal of our bedrooms and bathrooms is usually our primary concern. We want home interiors that are aesthetically pleasing, comforting, and aligned with who we are as individuals. And so, it's important to spend time identifying what you perceive to be a beautiful and inviting interior.
A great place to start any interior design process is collecting ideas and inspiration from various sources, such as Houzz, Pinterest, and design magazines, or professional remodeling portfolios. Curate your favorite styles and design features that most resonate with your desired bedroom and bathroom looks.
With ensuites, continuity is essential. Consider how the design of the bedroom interior supports the design of the bathroom and vice versa. For example, if you choose a Scandinavian (Scandi) style for your bedroom, opting for the same style in your ensuite bathroom is usually a good idea.
This continuity of design will be reflected in the materials, color scheme, decorative elements, and more.
Another factor to consider when thinking about aesthetics is the mood and atmosphere you want to create. For example, soft lighting and natural elements will be key if you're looking for a spa-like ambiance. A more luxurious feel might include richer textures and bolder design features.
Your primary ensuite bedroom will also be influenced by – or lead – the design aesthetics of your home as a whole. It's therefore essential to determine the design aesthetics of other key interiors such as the main living area, kitchen, and dining space.
What About Amenities?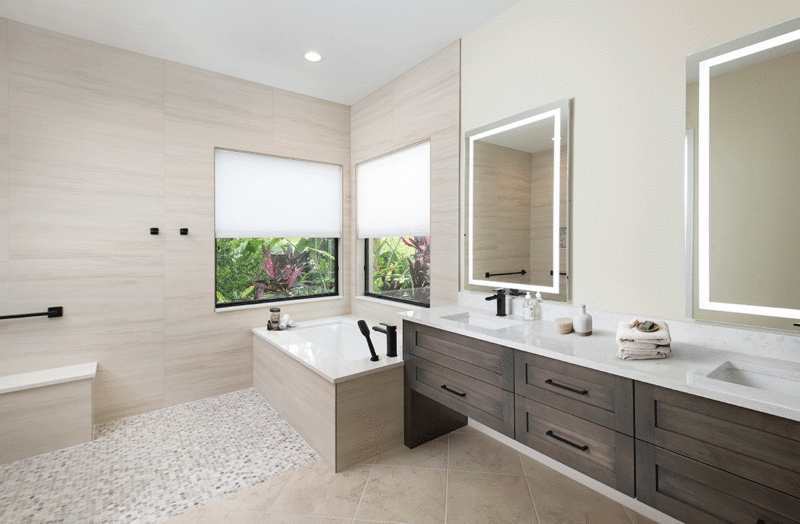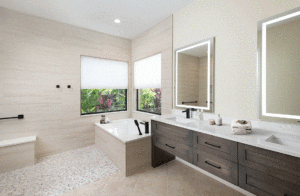 The ultimate primary ensuite requires the ultimate bathroom amenities to create a luxurious and highly functional sanctuary.
These days there's such a diverse range of options when it comes to bathroom features. With this immense amount of choice, it's crucial to prioritize based on your lifestyle, physical needs, and family preferences.
Some things to consider include the following:
Shower: Would you like a steam shower for a spa-like experience? Do you want a fogless heated mirror in the shower for convenience? Multiple showerheads or just one? And will a low curb shower be essential for accessibility now and in the future?
Heated flooring and towel racks: An intelligently heated bathroom can add comfort and luxury to your primary ensuite. Consider how heated flooring and towel racks will enhance your quality of life, particularly if you suffer from joint pain or simply want to take your time in the bathroom.
Smart toilets and touchless faucets: Smart toilets and faucets are becoming increasingly popular due to their convenience and hygiene benefits. Smart toilets often feature a bidet together with water temperature and pressure control, drying functions, in-bowl lights, and different nozzle positioning options.
Custom sound and lighting options: A carefully planned combination of sound and lighting enhancements can create a relaxing and inviting atmosphere in your primary ensuite, helping you to unwind after a long day.
Don't Forget About Storage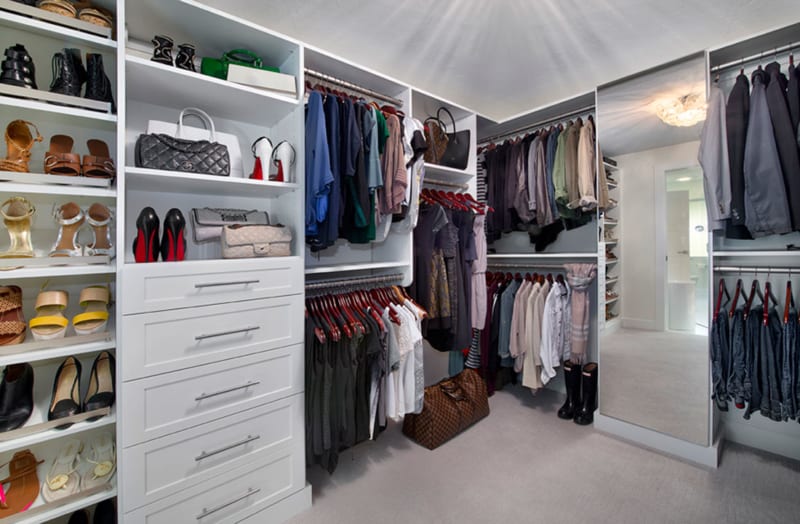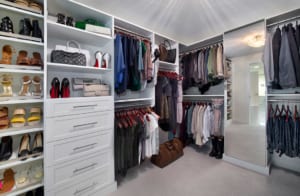 Forgetting bathroom storage is a common design error among homeowners. With the focus primarily on aesthetics and comfort, storage is often neglected. But ensuring you have plenty of storage in your ensuite is the key to maintaining a visually appealing, tidy, and functional space.
How much storage will you need? Do you want separate storage features for both partners? Will custom storage options such as drawers or pullouts with integrated power for storing hair tools (hair dryers and flat irons) make life easier?
These are some essential questions to consider during the remodeling design stage of your project.
Other options to explore include:
Larger linen closets: Providing extra space for towels, linens, and other bathroom essentials, keeping them within easy reach.
Walk-in closet: All the storage and dressing space you need for clothing, shoes, and accessories, ensuring they are stored tidily away so the main bedroom and bathroom spaces remain decluttered.
Vanity storage: Incorporating custom vanity storage options can help keep your bathroom essentials, such as makeup and grooming products, organized and easily accessible. A double vanity allows for separate storage side-by-side.
Open shelving: Not everything needs to be hidden. Open shelving provides storage and display options, allowing you to display decorative items, photos, plants, and even stylish appliances.
Are you feeling a bit overwhelmed? Don't worry. Your trusted design-build remodeling team will help you choose the best storage and design features for your primary ensuite bedroom and its accompanying bathroom.
Luxury Home Remodeling in Southwest Florida
Progressive Design Build is an award-winning design-build remodeling firm serving Southwest Florida. Whether you're looking to enhance an indoor or outdoor space – or create a new one – we're the team that can get the job done.
Progressive Design Build is a trusted expert in custom home remodels, from kitchens and bathrooms to whole house and outdoor living projects. You can rely on our seamless processes and exceptional customer service to deliver on-time and on-budget results.
Ready to talk about remodeling? Reach out directly to schedule a free consultation.
Not quite ready? Sign up for our monthly newsletter, view our portfolio, and follow us on Facebook and our other social media for brilliant design ideas and inspiration.