In older homes, bathrooms weren't always designed with comfort and safety in mind. They were often small and considered utilitarian. Fast forward to today and homeowners are designing their bathrooms with just as much thought and indulgence as the rest of their home. While moving walls or building an addition is one option, there are a number of other ways to make your Southwest Florida bathrooms appear bigger. Here's how…
Consider Color
Remember the bathroom colors that used to be in style—with their blue, pink and green hues? Although retro may be trendy, bathrooms in these colors tend to feel outdated and closed off. Color choices that will refresh your bathrooms and make them feel bigger include:
An all-white color scheme. A white bathroom is a "non-color" and naturally recedes into the background. It also reflects light. Since many bathroom fixtures, like the toilet and sink, are also white, the consistency of color creates a seamless, airy look and feel. You can always use spots of color and textural elements to add interest.
Tone-on-tone combinations in either warm (soft grays, beiges or browns) or cool hues (greens or blues) for a spa-like effect
Matching flooring and wall colors
Light and bright colors
Decreasing sharp color contrasts between colors and dividing lines. Look for ways to erase or blur the lines between colors and elements. For example, paint the crown molding the same color as the wall or ceiling to avoid a "visual stop," or remove or extend any wall tile that covers only half the wall.
Think About Tile
Tile adds a strong visual element to any bathroom, and used correctly, can make your Southwest Florida bathrooms feel bigger:
Choose simple designs for a smaller bathroom, retaining bold patterns for accent areas
Lay tiles horizontally instead of vertically to visually widen bathrooms; use long-format tiles to give an even greater visual effect
Lay tiles vertically to give the illusion of height in rooms with low ceilings
Use the same tile throughout the bathroom and the shower, especially if you have a glass shower cubicle
Match the floor and wall tiles
Use large-format tiles instead of smaller ones. Minimal and thin grout lines add depth.
Extend the tile to the ceiling to give the illusion of height
Use high-gloss tile to reflect light
Choose light-color tile
Reflect light with mirror tiles in a feature area or across from windows
Contemplate the Vanity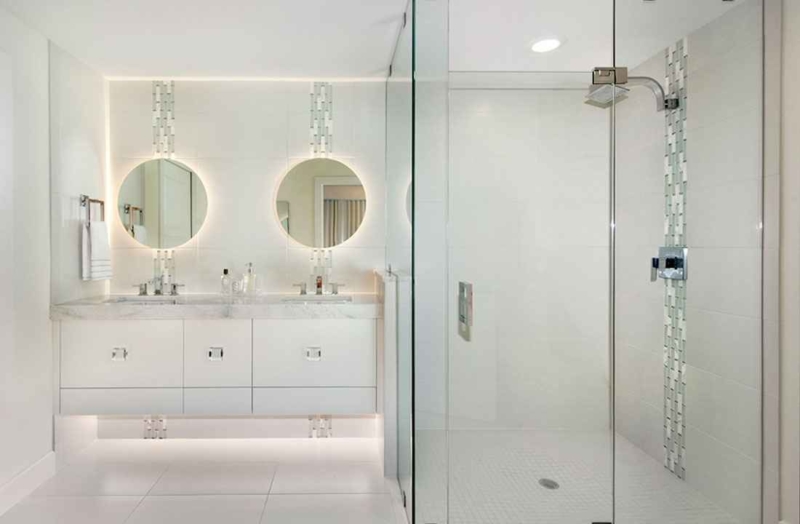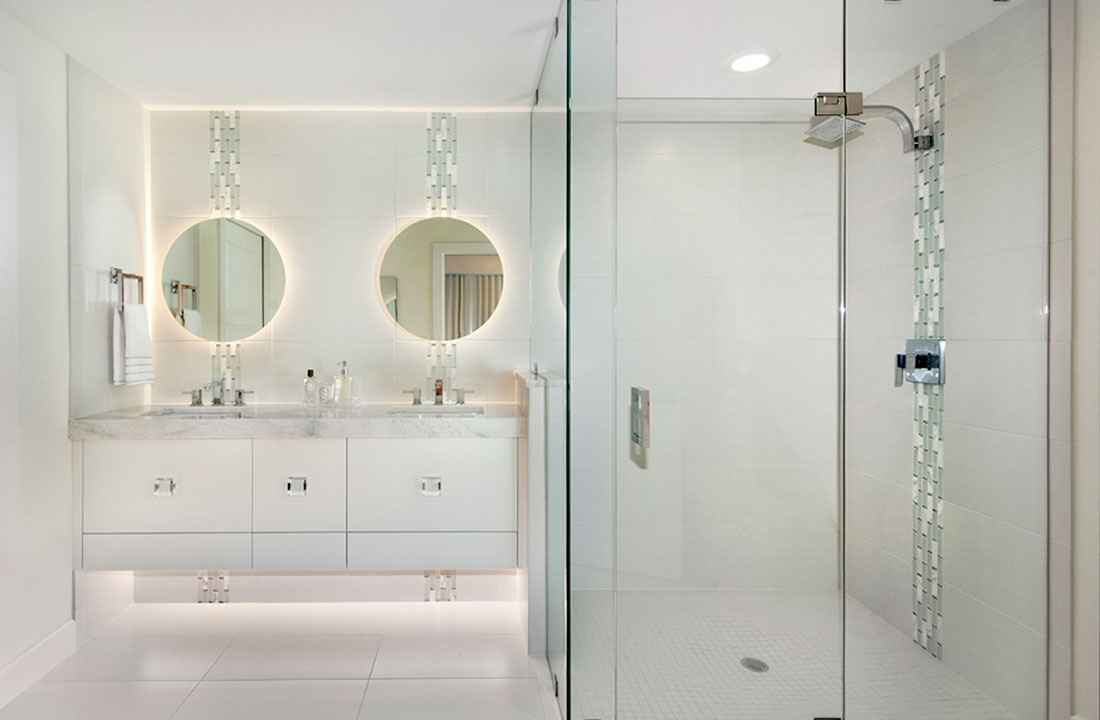 Every bathroom needs storage for everyday hygiene items, towels, and other necessities. In a small bathroom, the vanity can take up the most space, so consider these vanity options for making your bathrooms feel bigger:
Switch to a smaller or custom-fitted vanity to open up space
Install a floating vanity
Create a vanity niche or utilize a corner with a custom built-in vanity
To add character, incorporate a delicate or antique free-standing vanity
Select a vanity with open shelving to give the bathroom a more open feel. Use pretty baskets to store bathroom essentials.
Consider your storage needs and select a vanity with both doors and shelves
Instead of a bulky vanity, hang open shelving near the sink or outfit the bathroom with built-in bookcase-style storage
If you have the space, choose a wide- and deep-drawered vanity where everything can be stored out of sight
Forgo the vanity altogether and install a pedestal sink with a slender base or a wall-mounted sink. Switch storage to hanging shelves, under-sink shelves, or an over-the-sink recessed medicine cabinet.
Make your vanity a centerpiece with structural design or color
Mirror the vanity doors
Reflect on Mirrors
Mirrors are a great way to make a small bathroom appear bigger. They give the feel of a larger space and reflect light, and they aren't limited to the use of just one. Be sure to consider the areas in the reflections, however, when planning your layout. There are some views people don't need or want to see when in the bathroom.
Avoid a dark frame around the mirror to create a seamless visual feel
Install a full-wall mirror, or mirrors that run from ceiling to floor or wall to wall at often less than the cost of tile
Place lighting across from mirrors to increase the amount of reflected light
Add an antique mirror to up the charm factor
Use mirrored-front bathroom furniture
Create mirrored paneling with elegant molding features
Choose a backlit mirror to eliminate the need for additional lighting
Hide storage behind mirrored wall cabinets or in a recessed medicine cabinet
Since mirrors reflect light, choose reflective surfaces throughout your bathroom like glass, marble and metallics that help to bounce light throughout the room
See the Benefit of Glass Panels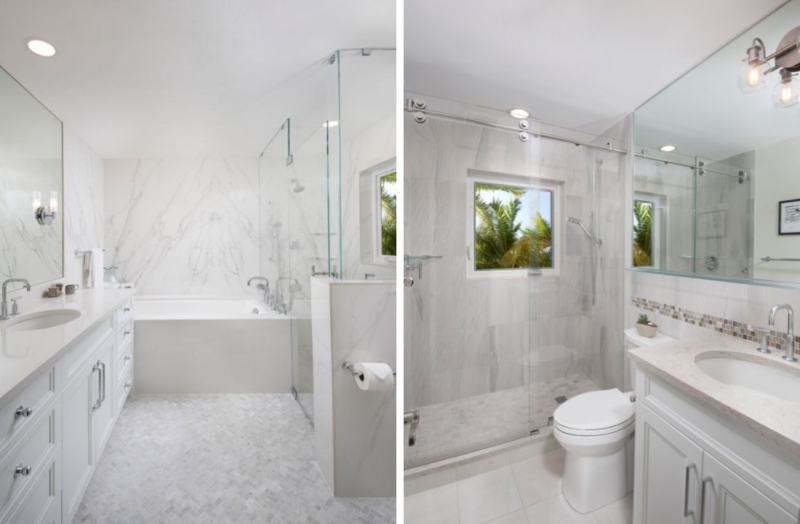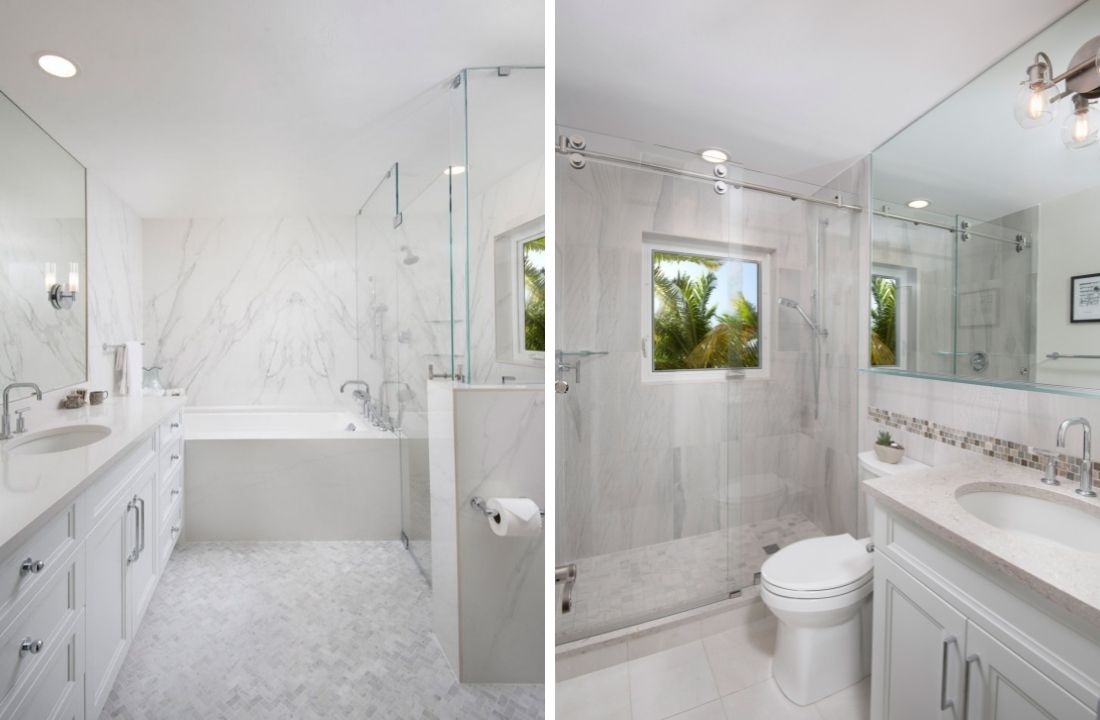 A closed-off shower or shower curtain makes a bathroom feel small and tight. Achieve the feeling of a more open space within the same footprint by removing the barriers of walls and doors and using glass panels instead. Options include:
Sliding glass doors on a tub/shower combination
Frameless showers with glass panels
A clear glass shower screen instead of a shower door
Frosted, tinted, or patterned glass walls or doors
Removing the tub/shower combination and installing an open glass-walled shower instead
Incorporate Niches
Even small bathrooms offer many places where you can incorporate niches for storage, convenience, or visual impact. Niches can also add visual depth to make the walls seem farther away from each other. Consider these ideas:
Add a niche within the shower or bath area to hold soap, shampoos, and other bathing essentials. Add drama by using a tile accent to highlight this area.
Sink recessed cabinets or open shelving into empty cavity spaces between wall studs
Increase storage without adding bulk with glass shelving
Add a narrow ledge above the sink or tub area for storage or display
Brighten the Lighting
Bright bathrooms feel cheery, clean, and inviting, and the right lighting can make your bathrooms appear bigger, especially when natural lighting isn't available.
Use multiple light sources like behind-mirror lighting, wall sconces, ceiling lights, or even a chandelier to make the space feel open and bright
In powder rooms and smaller bathrooms, replace a single-bulb ceiling light with a multiple-bulb fixture to provide light sources from different angles
Use mirrors and reflective surfaces to bounce light around the room
Increase Natural Light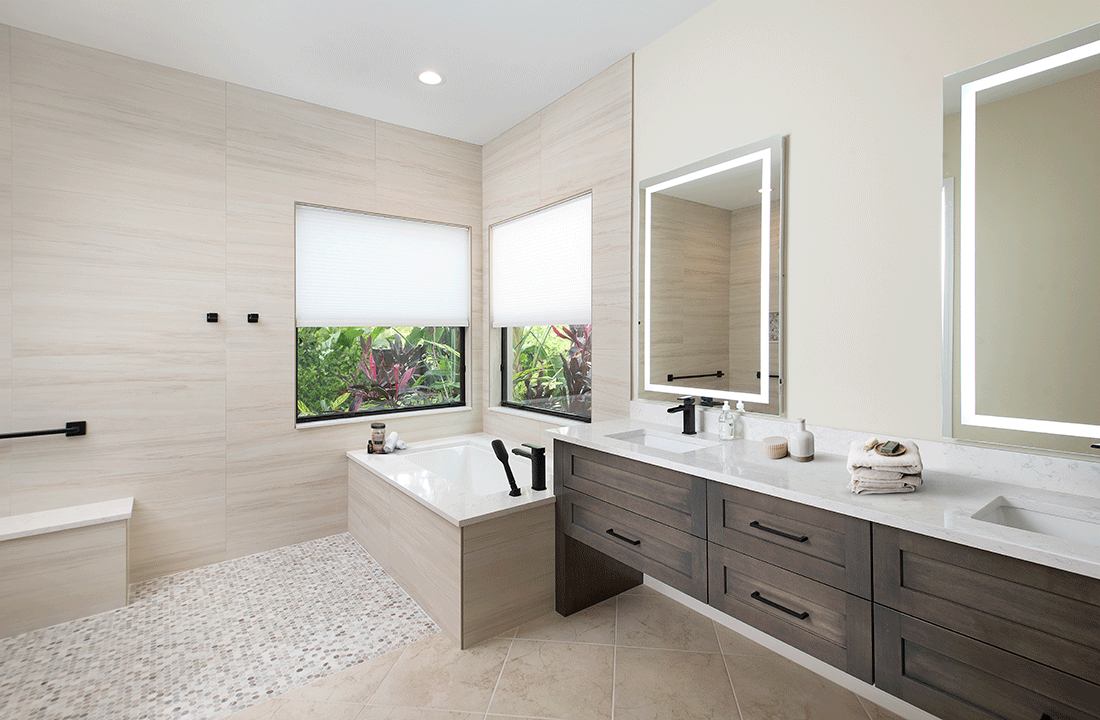 Windows add the benefit of natural light, along with ventilation and views. Increase the amount of natural light by:
Adding one or more windows
Enlarging windows
Installing a skylight
Utilize Vertical Space
Some of your bathroom's square footage is in its height, and bathrooms can appear bigger when the eye is drawn upward.
Expand cabinetry up to the ceiling to offer long, upward lines
Use vertical elements like a tall mirror
Install open shelving above bathroom fixtures
Incorporate interesting light fixtures above mirrors
Hang a chandelier or install a skylight
Expand the Bathroom's Size
Did you know that you can often "steal" space from a nearby room or closet to expand your bathroom's square footage and actually make your bathroom bigger? We do it all the time! It may take a little creativity, but there may be ways to give you that spa-like bathroom with the space you've always wanted.
Brilliant Bathroom Remodels with Progressive Design Build that Make Your Southwest Florida Bathroom Appear Bigger
As an award-winning design-build luxury remodeling firm serving Southwest Florida, Progressive Design Build is known for its creativity. Whether you're looking to improve your existing bathroom spaces or expand your master bath into a personal sanctuary, we're the team that can get the job done.
Progressive Design Build is a trusted expert in custom bathroom remodels, along with kitchen, whole house, outdoor living, and room addition projects. You can rely on our seamless processes and exceptional customer service to provide you with on-time and on-budget results.
Ready to talk about remodeling? Reach out directly to schedule a free consultation. Not quite ready? Sign up for our monthly newsletter, view our bathroom portfolio, and follow us on Facebook and our other social media for brilliant design ideas and inspiration.