Home remodeling requires a lot of decisions. But before you shop for materials, colors, and finishes, you'll need to decide if your remodel will require design-build expertise. This article discusses the differences between a design-build project and a basic remodel and gives examples to illustrate each one.
What does a design-build project include?
A design-build project involves the professional skill of a well-rounded team that includes a designer, drafter, and possibly an architect. These creative team members know how to produce inspiring, functional designs within a given price range. In addition, the field team includes specialty tradespeople like electricians and plumbers because the typical design-build project requires changes to the structure or layout of the space.
Working with the homeowner and collecting ideas they have for their home, the design team creates a package that includes drawings, floor plans, and 3-D renderings for approval before the construction phase begins. Once approved, this package represents a plan that gives the homeowner confidence that everyone is on the same page.
Here are a few examples of design-build projects to show the scope of work involved in this level of home remodeling.
Condo Kitchen/Interior Design-Build Remodel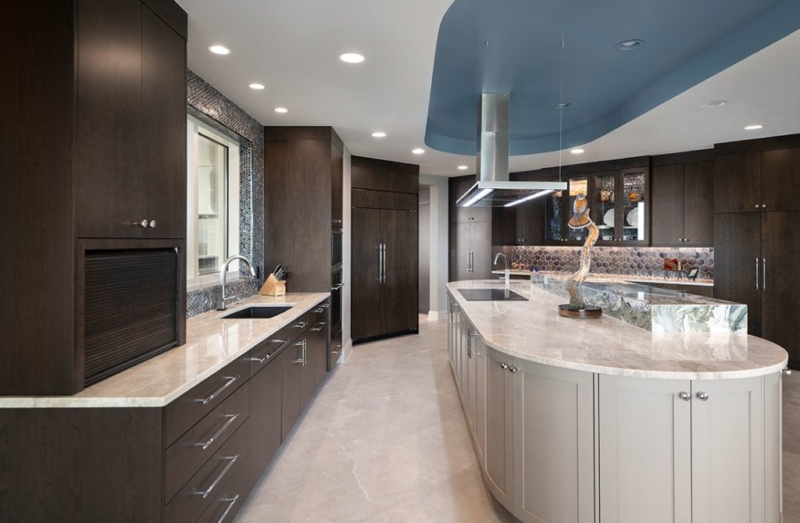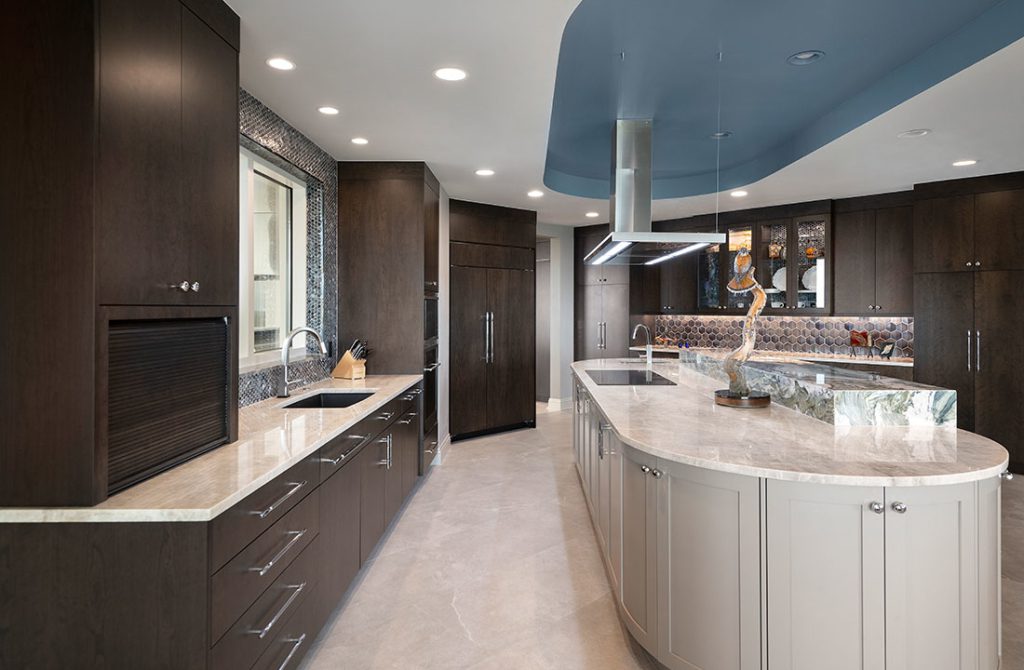 A design-build kitchen project allows you to re-engineer from the ground up. You can change the layout by removing or moving walls, relocating plumbing and electrical, or adding new framing. With this level of remodeling, you also have the luxury of choosing the highest quality appliances, fixtures, and materials.
This Bonita Bay high-rise condo begged for improved function and flow. In this kitchen, the designers replaced two islands with one larger one to provide additional dining, cooking, and storage space. This change required moving the plumbing and electrical services. Also, re-configuring the kitchen soffit to complement the new arrangement better required the skill of a talented design team.
Primary Bathroom Design-Build Remodel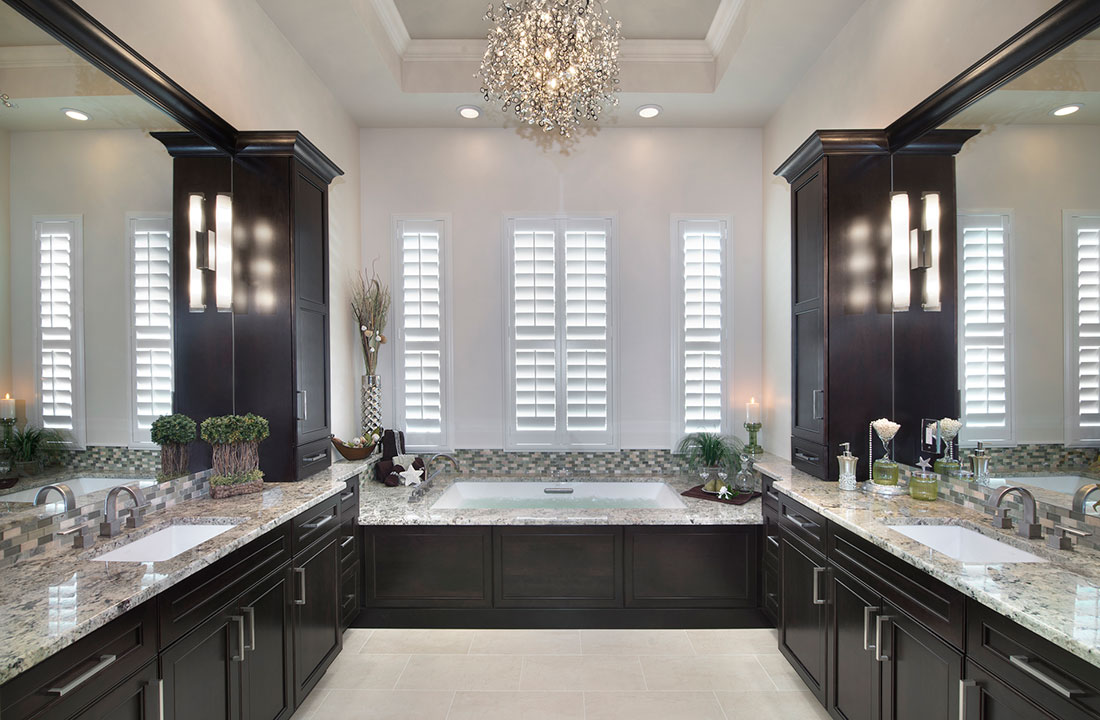 With a design-build bathroom, you have the opportunity to create a spa-like atmosphere that was previously utilitarian. Raising the ceiling, removing walls, adding closets, and other such changes are always possible when you have designers and architects on your team.
This Fort Myers primary bathroom had a cave-like shower, dull colors, outdated finishes, and a dividing wall in the middle of the room that made everything feel smaller than it was. But, with the help of a design-build team, the homeowners completely changed the layout of the space, which included moving plumbing and electrical. And, because they changed the layout, they could fit a luxurious drop-in 72"x42" Kohler Air Massage bathtub for a spa-like experience.
Outdoor Kitchen Design-Build Remodel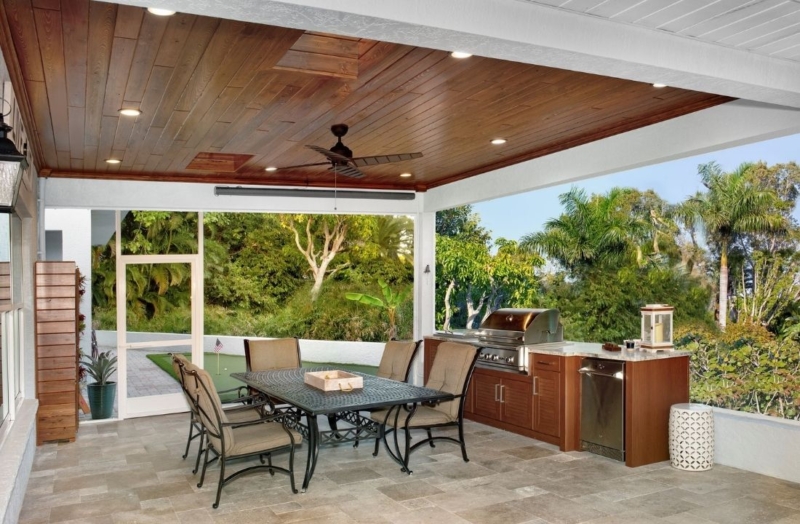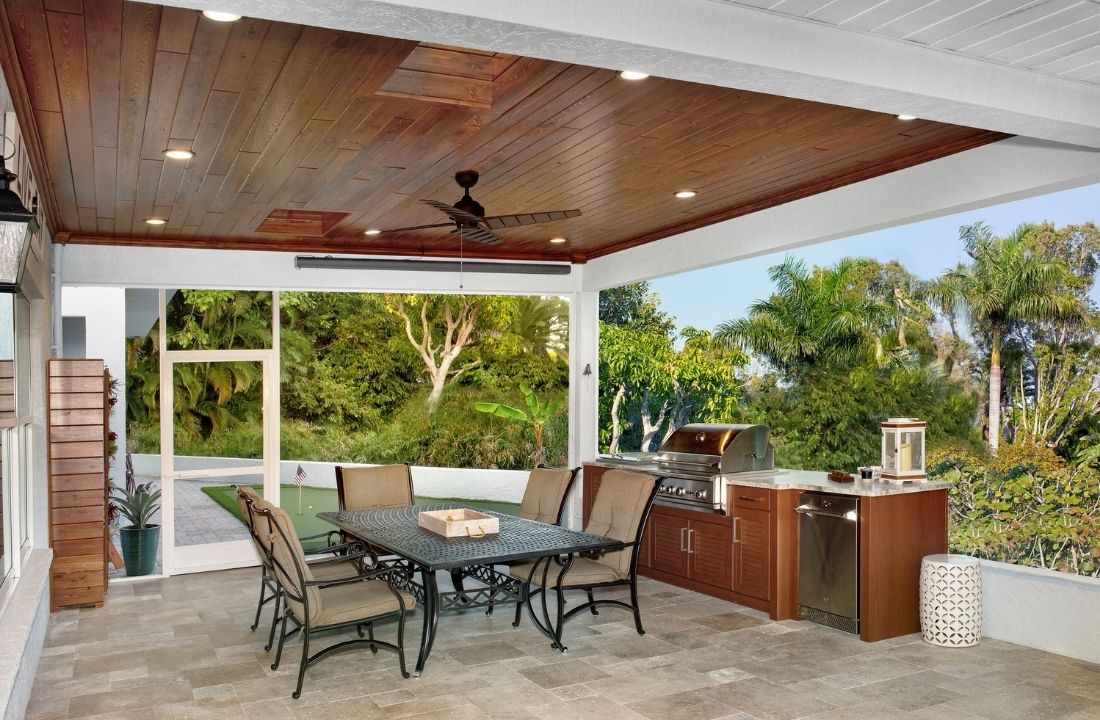 Outdoor living projects don't always require the expertise of a design-build team. But, when tying into the home's roofline, adding utility service for an outdoor kitchen, or creating something that integrates with an existing pool, the project requires more skill than your typical deck or patio job.
The homeowner wanted all of the above for this outdoor refuge in the Fort Myers Riverside District. And, as avid golfers, they also wanted a conjoined putting green. The job required extending the footers, adding support columns and roof trusses, and properly diverting rainwater with super gutters and downspouts. Add skylights to the newly designed roof and premium materials, and the homeowners have a relaxing spot to enjoy outdoor living all year long.
What does a regular remodeling project include?
Some home remodeling projects are simple and do not require the expertise of a design-build team. No walls are moved. Utilities stay in place. And the homeowner pretty much knows what they want as far as fixtures and materials go. These regular remodeling projects are frequently called "pull-and-replace" projects. Existing elements, like cabinets, countertops, or flooring, are simply removed and replaced with new ones while keeping the same layout. Bathtubs stay in their original position, and they don't add islands and pantries to the kitchen. Everything stays pretty much the same.
Here are a few examples of pull-and-replace projects to show the scope of work involved in this level of home remodeling.
Dry Bar and Entertainment Center Replacement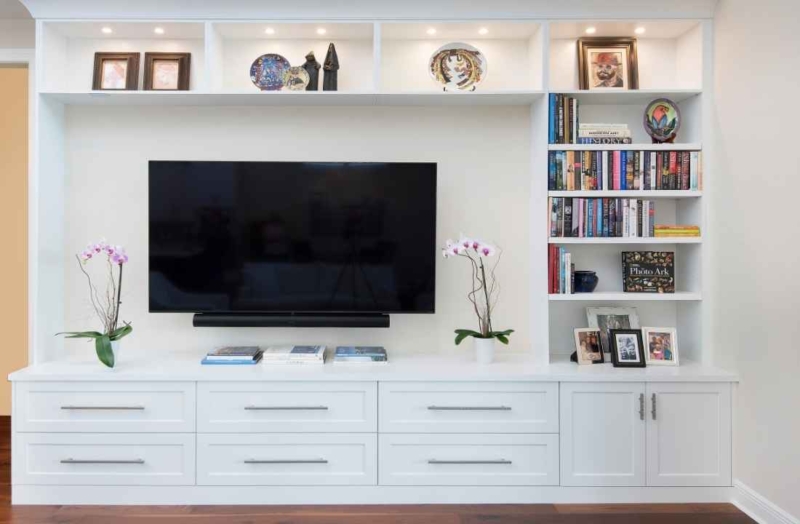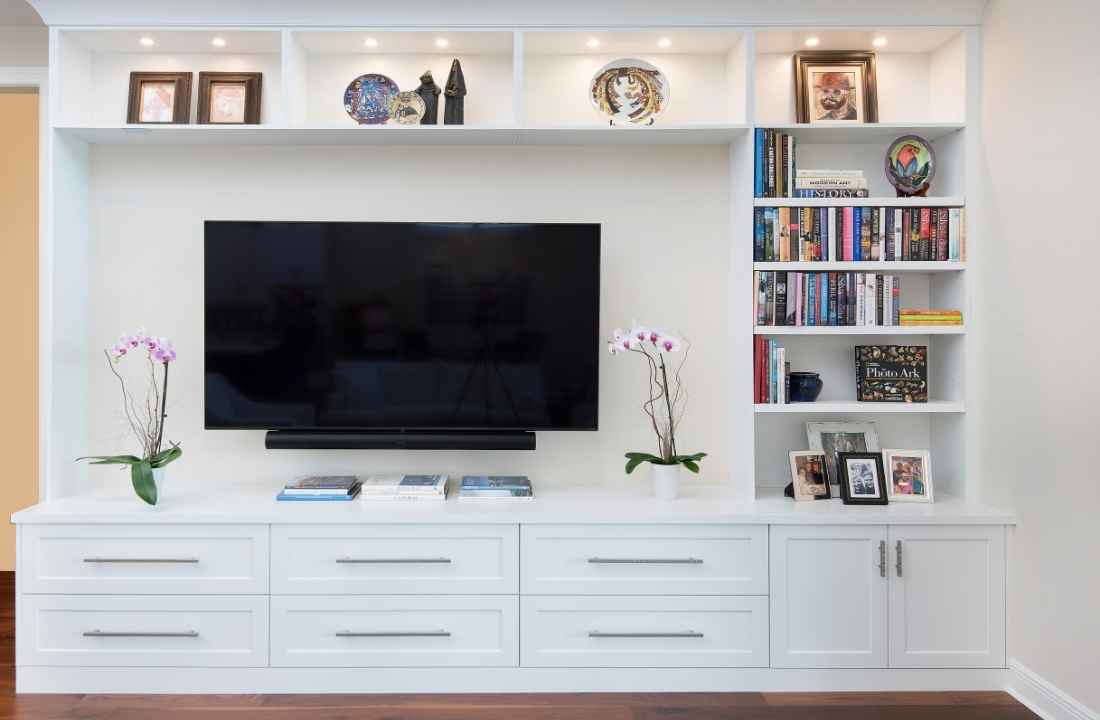 The work in this Bonita Springs home happened in two phases. The kitchen phase of the project required a design-build team to accomplish. The dry bar between the dining and living areas and updating the entertainment center did not. Since a dry bar includes no sink, moving plumbing lines was unnecessary. And the addition tapped into existing wiring to power a couple of refrigerator drawers. The entertainment center is a prime example of pull-and-replace, as the only change involves the cabinetry.
A Primary Bathroom Remodel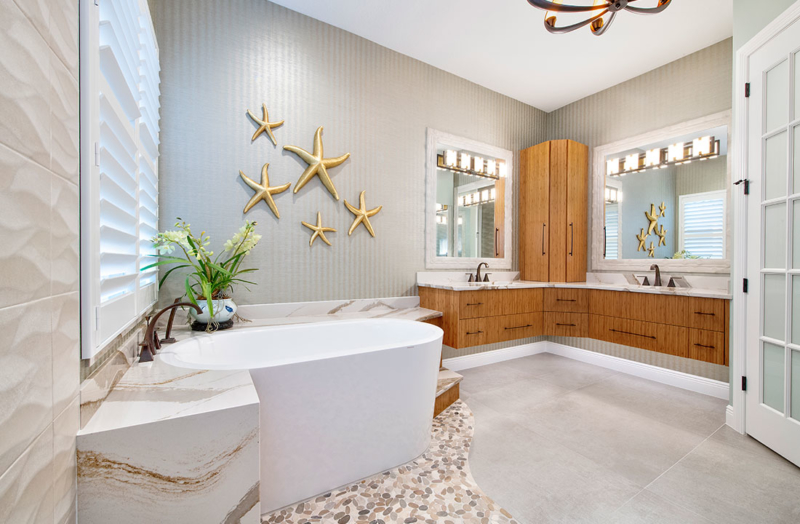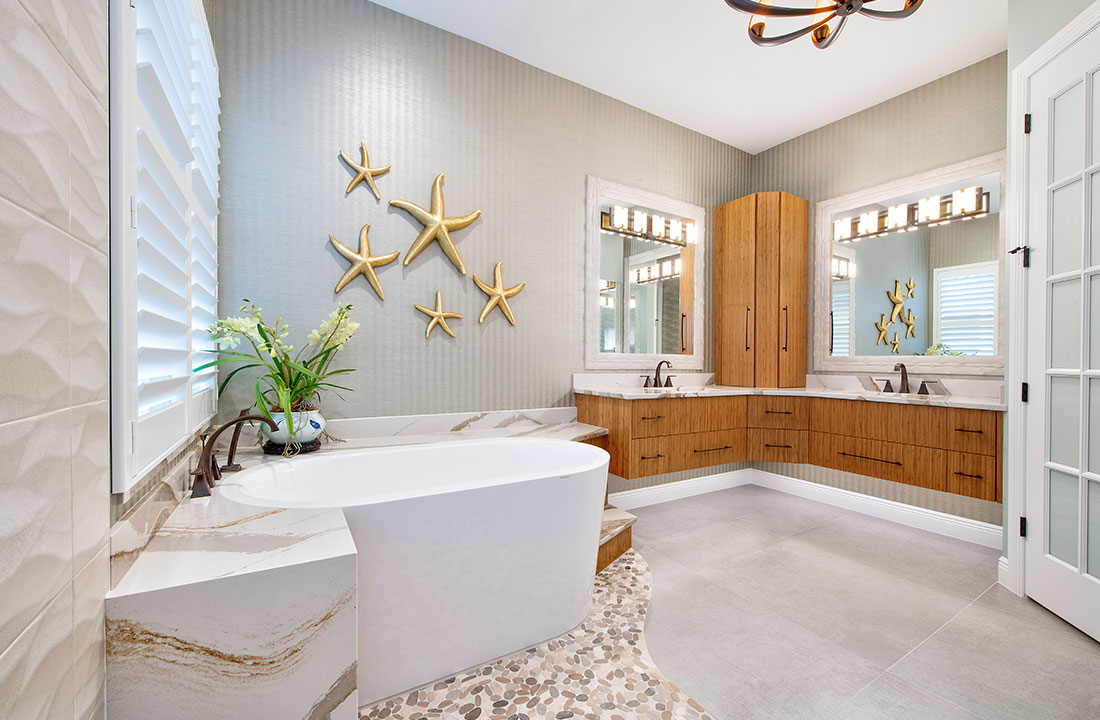 This Estero, Florida primary bathroom began with a complete demolition. But, a design-build team wasn't needed because the tub, shower, and vanity remained in their existing location. Changing traffic flow, adding architecturally pleasing design elements, and upgraded materials make this general remodel an eye-popping success.
Outdoor Kitchen Remodel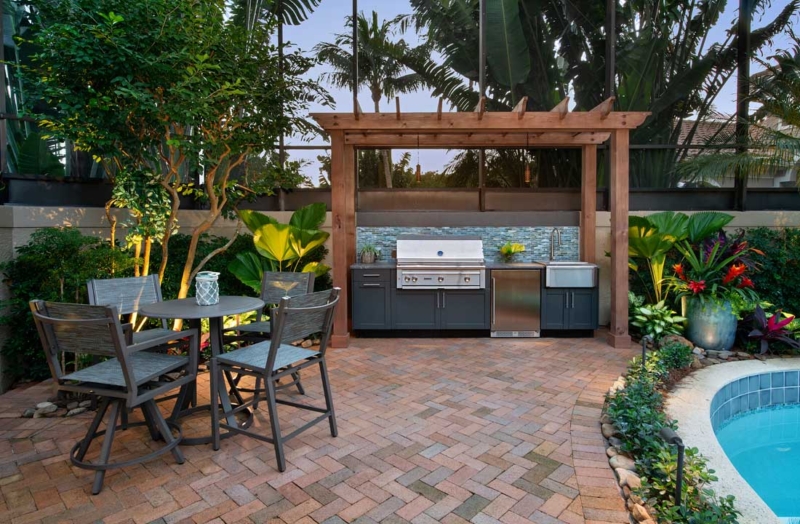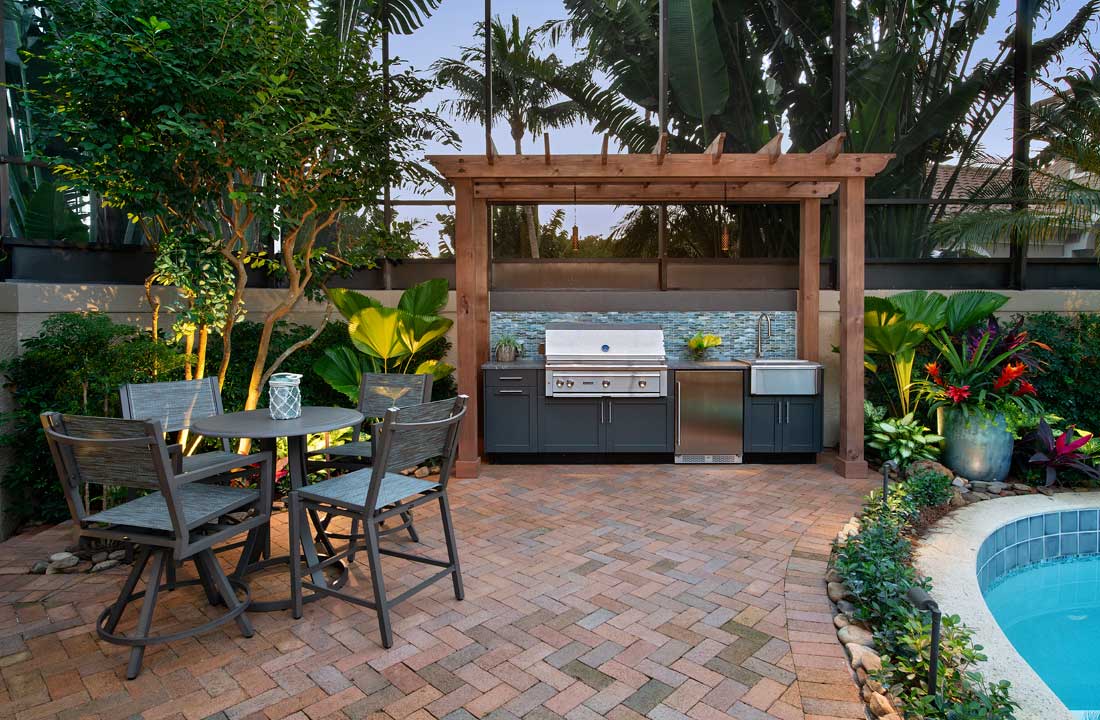 Another example of a pull-and-replace remodel includes an outdoor kitchen and pool in Bonita Bay. Upgrading the existing swimming pool with new glass tile required no changes to existing plumbing or electric lines. And adding a pergola with an outdoor kitchen of upscale cabinetry and countertops was a straightforward fix with stunning results. Tying everything together with new hardscape, greenscape, and lighting completed the project.
Whether your remodeling project requires design-build services or not, you'll want to hire a qualified, experienced remodeling professional to bring your ideas to light. Serving the Southwest Florida area since 1989, Progressive Design Build's award-winning team includes highly-skilled and experienced designers and project managers to ensure your job exceeds your expectations. So, whether you engage their exceptional design-build services or hire them for a pull-and-replace remodel, your job will be completed on schedule and within budget.
Visit their website to see examples of their extraordinary work inside and outside the home. From whole house, kitchen, and bathroom remodels to exterior renovations and outdoor kitchens, Progressive's decades of experience work for you. Subscribe to their monthly newsletter to stay abreast of area trends and their latest projects. Or reach out directly for a free consultation.