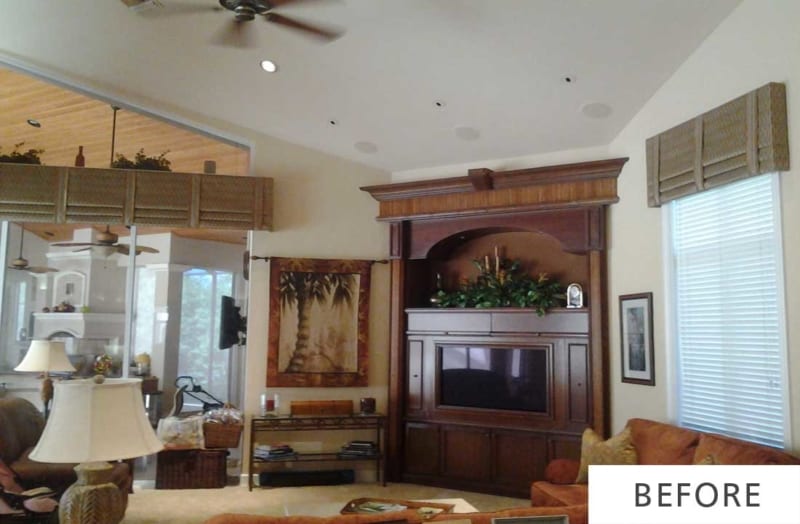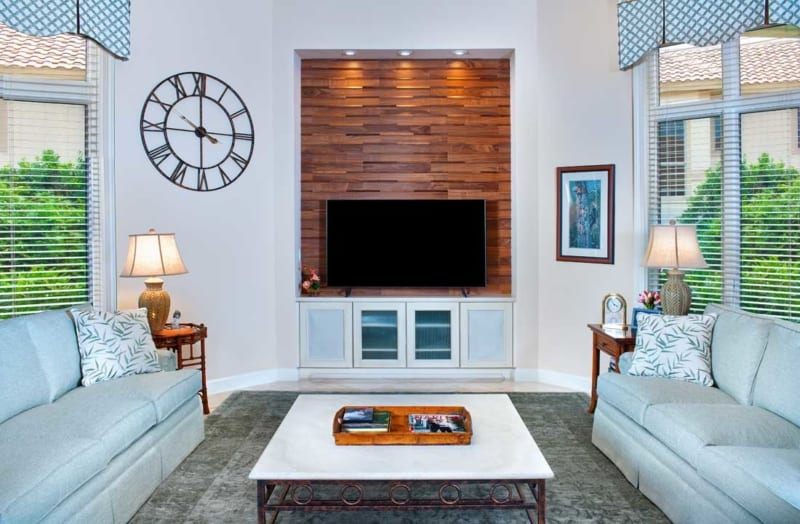 Bonita Bay, FL Transitional Kitchen and Entertainment Space
Katie and Duke were looking to freshen up their Bonita Bay kitchen with as minimal disruption as possible to their day-to-day routine. Having worked with Progressive Design-Build before on seven prior renovations over the last seven years, they were confident in our ability to get their kitchen remodel completed on time and on budget. We couldn't wait to get started!
Challenge
Because Katie and Duke wanted to keep demolition to a minimum, including keeping their existing natural stone flooring, Progressive worked within the room's existing footprint. Due to design changes that were needed to make the kitchen more functional, some floor patching was required. Moreover, as the kitchen remodel progressed the couple decided to expand the project to include both the wet bar and entertainment wall.
Solution
By changing the layout and opening the space, we had areas of the floor that needed to be patched. With only ten floor tiles from the old floor (a different size and color than the new tile), we had to get creative to blend it with the new space. Our designer found a floor tile that matched as close as possible to the existing floor and placed it strategically in invisible areas. We then used the correct size stone in a knee space (under the seated bar area); where shadows beautifully camouflaged the off-color stone.
Results
The cabinets were transformed from a dark, dated brown stain to a fresh, lighter white painted cabinet, and topped with beautiful quartzite countertops. The once raised bar top was changed to a one-level counter, opening up space, and allowed us to provide a much needed, functional prep space for Katie to sit comfortably in the center island. Progressive transformed the existing desk area to a full height base of cabinets, providing ample storage—a luxury this couple didn't have in their old kitchen. And, Katie's favorite part of the whole remodel? The fabulous wide built-in pantry with useful hanging racks on the doors.
The adjacent wet bar was updated to match the white cabinets and quartzite countertop in the kitchen. As part of the design, Progressive added a large X-style wine rack and a storage garage for the bar blender, bottles of spirits, and other drink accessories. A seedy glass insert and accent lighting completed the transformation.
The entertainment wall was completely redone with a stunning custom wood accent wall, overhead accent lighting, and a lower bank of white cabinets that tied the entire living space together.
"Progressive Design Build greatly exceeded our expectations!!!… It was not a bad kitchen before, but now it is a fantastic kitchen and it works great!"

-Duke D.
We are proud to provide home remodeling in Bonita Bay, FL. Call today at 239.939.5411 or schedule a personal design consultation.