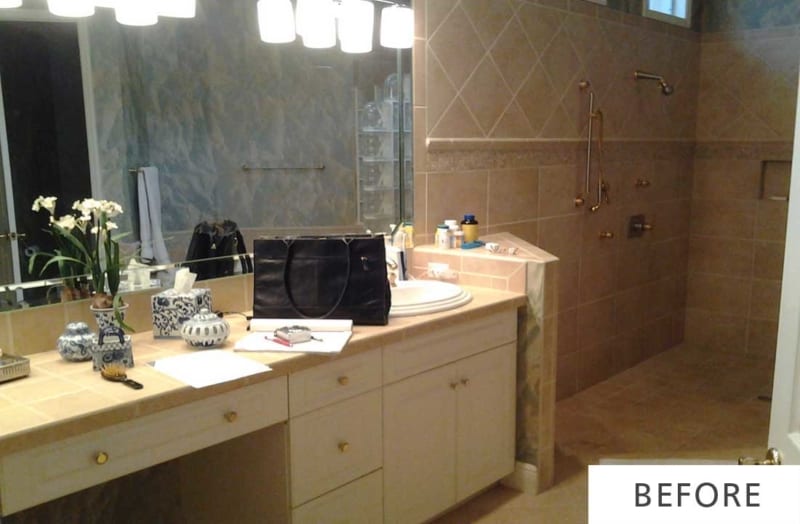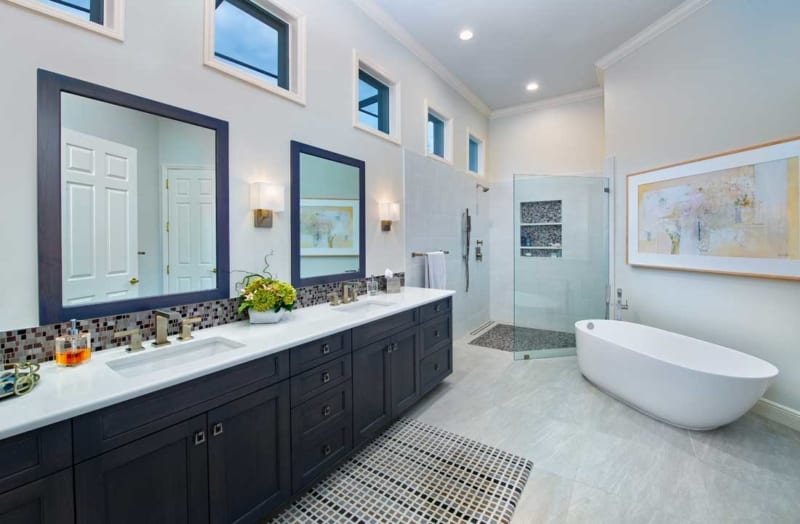 Bonita Bay FL Transitional Master Bathroom Remodel with a Bunk Room Addition
Problem
Mark and Cathy owned their beautiful home on Bonita Bay, in Bonita Springs and lived in it for several years. Feeling that it was time to make a change to the master bathroom, they started researching design-build firms in the SWFL area on Houzz.  During their search, Cathy spotted a Progressive Design Build van in her neighborhood and took it as a sign to begin working with our company.
In the first design meeting, Mark and Cathy expressed dissatisfaction with three areas of their existing bathroom:
1)  The shower was too large
2) The tub and tub deck utilized too much floor space, and
3) The vanity was too small. The couple also shared a thought about repurposing an existing guest room to create built-in bunk beds for their grandchildren.
START DESIGNING YOUR MASTER BATH TODAY!
Solution
The first step in designing the master bath for remodeling was to reconfigure the floor plan by rearranging the placement of the water closet and removing the linen closet. This allowed the floor space needed to install the built-in bunk beds in the adjacent guest room.
The new bathroom layout allowed for a larger dual vanity with quartz countertop, and a re-proportioned frameless glass shower designed with a tile "rug" detail. The oversize roman style tub and deck were replaced with a sleeker, freestanding soaker tub and floor mount tub filler. The bathroom cabinets were finished in a beautiful calming blue with two framed mirrors and elegant sconce lighting.
By removing the linen closet, we were able to enclose the water closet and make use of new cabinetry, which provided plenty of drawer space and storage above the toilet.
Results
Completed on-time and on-budget, Mark and Cathy were thrilled with their new transitional master bath and bunk room addition.
They have enjoyed soaking up the style and comforts of their luxury home bath and couldn't wait for their grandchildren to enjoy the new built-in bunks that were cleverly designed with private reading lights, custom curtains, and a durable paint finish.
In fact, Progressive Design Build has completed three other projects for this family, including a stunning outdoor kitchen and outdoor living space in Bonita Bay.
If you are thinking about starting a new project or don't know where to start, contact us today! Progressive Design Build, one of Florida's top home remodeling contractors, serves Bonita Bay and is ready to discuss ideas for your home that will make you fall in love with it all over again.