Bonita Bay High-Rise Condominium Contemporary Interior Remodel
The owners of this Bonita Bay high-rise condominium approached Progressive Design Build with the desire to bring their outdated condominium, to include the kitchen, wet bar, living room, and home office, into the 21st century. They had visions of bringing their home up to date with contemporary design features. And, beyond aesthetics, Progressive Design Build worked with the designer to improve the function and flow of each room.
Challenge
Remodeling in a condominium naturally has its challenges. It can be difficult removing walls, particularly if we have to navigate around mechanicals hidden in walls shared by other units; or, get structural changes (like plumbing and electrical) approved by the HOA. It's also more challenging to get heavy or large materials up and down elevators. In this case, the size of materials needs to be considered when we are designing a project.
Solution
Progressive's design and construction team, having plenty of experience remodeling high-rise condos, expertly worked within the rules and regulations of the building, and completed this project on time.
Kitchen
The kitchen footprint was redesigned to accommodate one island, instead of two. With form and function important to the homeowners, the one island provided additional dining, a cooking area and storage space. With the help of our design team, it also became a statement piece and main focus of the kitchen, replaced with the beauty and elegance of curved lines.
This show-topping island was custom-designed with a two-tier countertop, which combines a Taj Mahal polished quartzite work surface with a stunning Explosion Blue polished quartzite and waterfall edge. The configuration also features Crystal cabinets in a Regent Square door style finished in a Terra Taupe Matte Sheen. To further enhance the space, during the renovation, our design team thought of adding a stunning design detail to the ceiling—a custom-shaped tray ceiling that replicated the shape of the island.
Progressive's design team relocated the kitchen appliances, reconfiguring the plumbing and electrical, and redesigned new pantry storage. The new kitchen would be fit with a new stainless steel hood vent by Falmec Lumen, a secondary sink, and a Wolf 5-Burner induction cooktop.
The perimeter cabinetry was designed with Crystal cabinets in a sleek flat panel door style finished in a dark rich tone that expertly complemented the island. Adding additional design sophistication, the backsplash above the sink and interior back wall features Lunada Bay Abruzzo Pearl hexagon tile and a larger version of the same hexagon tile behind the kitchen buffet.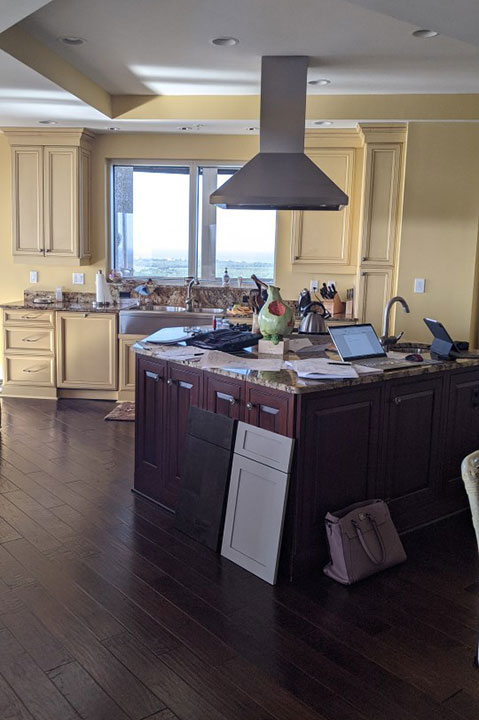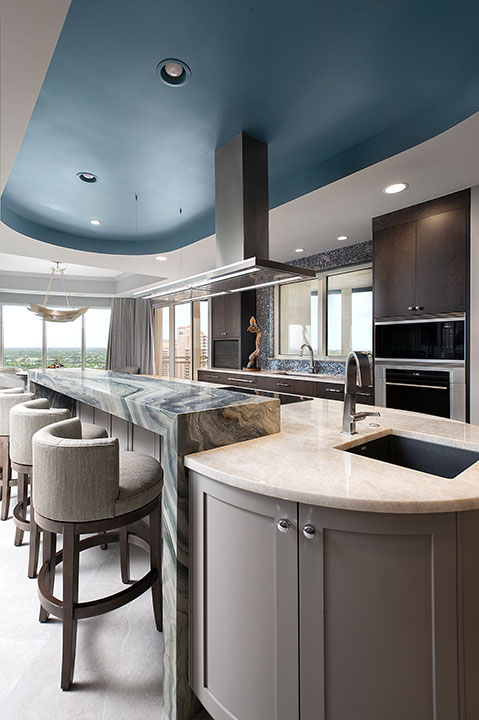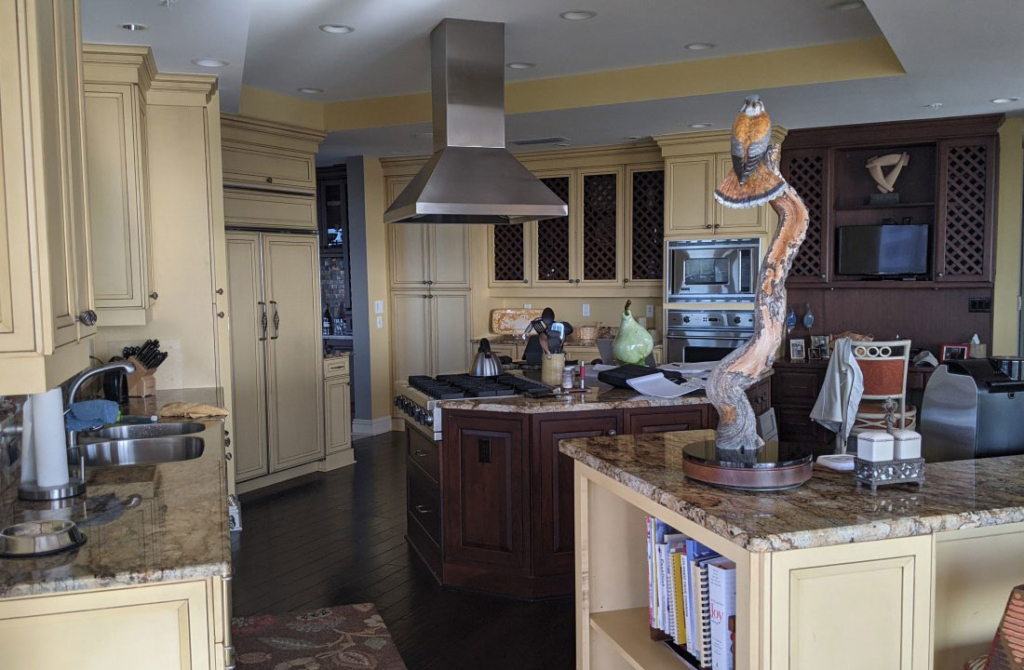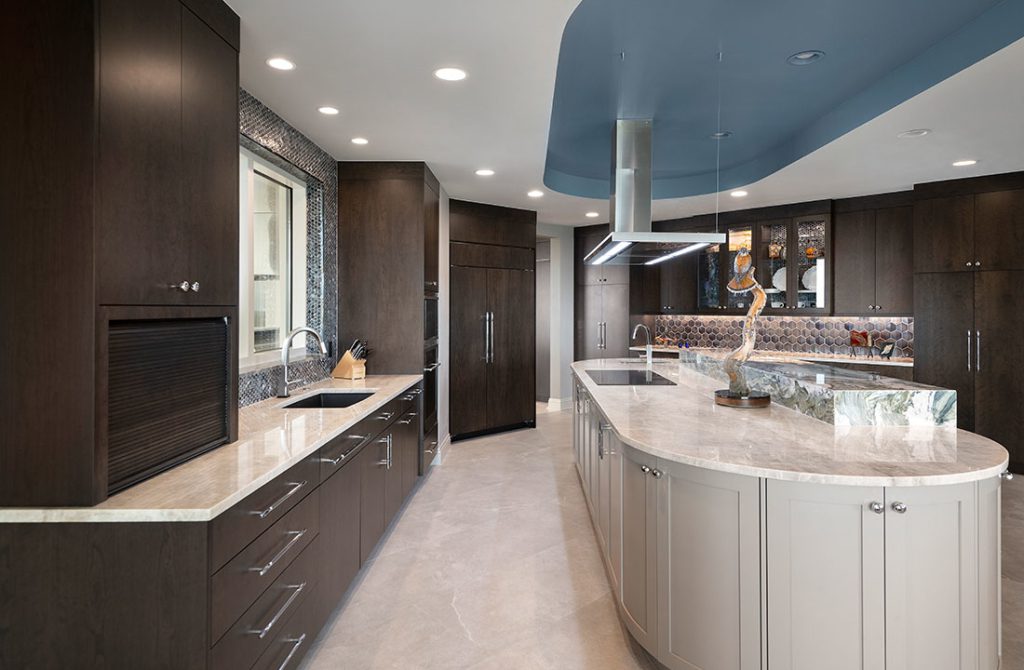 Wet Bar and Home Office
The new wet bar was designed to match the kitchen with the same flat panel Crystal cabinetry, and quartzite countertops. The backsplash features Lunada Bay Origami tile in Latte Pearl, and a unique vessel sink by Native Trails.
The home office was updated with new carpet, paint, and textured wallpaper on the walls and ceiling tray. Finally, the entire condominium received a fresh coat of paint, new tile flooring, and updated lighting fixtures.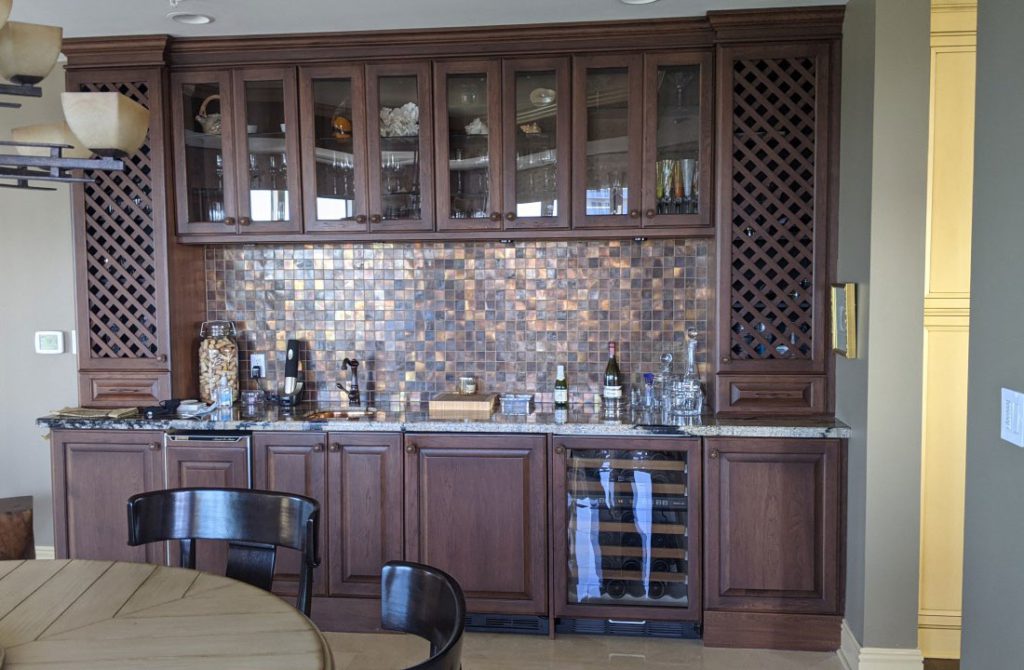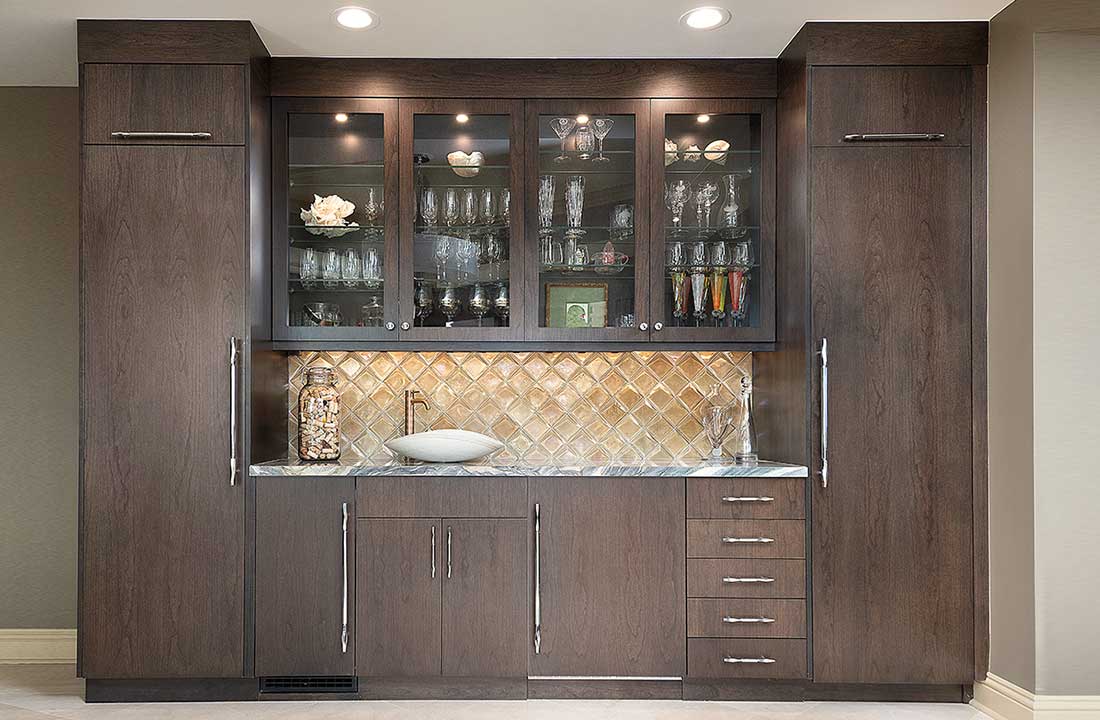 Results
Our client was thrilled with the results and commented that "this was the first time they worked with a remodeling contractor who finished their project on time!"