Many homeowners appreciate a fireplace in Southwest Florida. They enjoy the glow of the flame during a romantic dinner or the ambiance it gives to a family gathering. You may feel the same. If you're considering remodeling an existing fireplace or adding one inside or outdoors, read on for fundamental considerations for your project.
Assess Your Fireplace Needs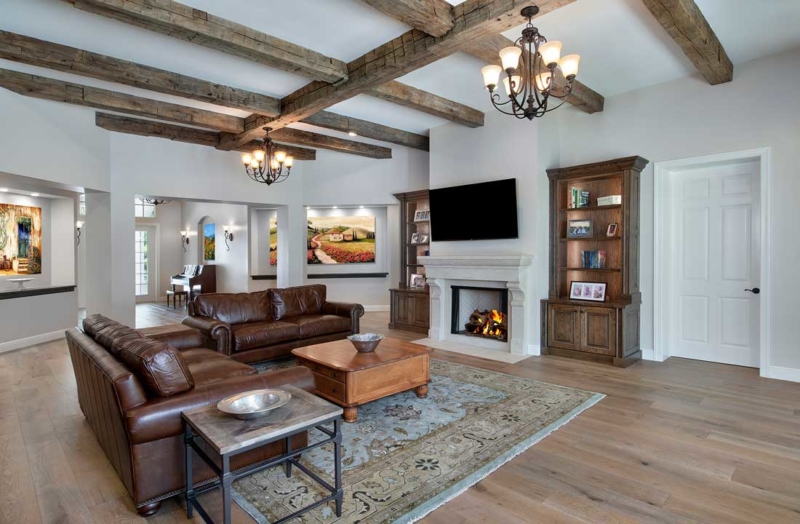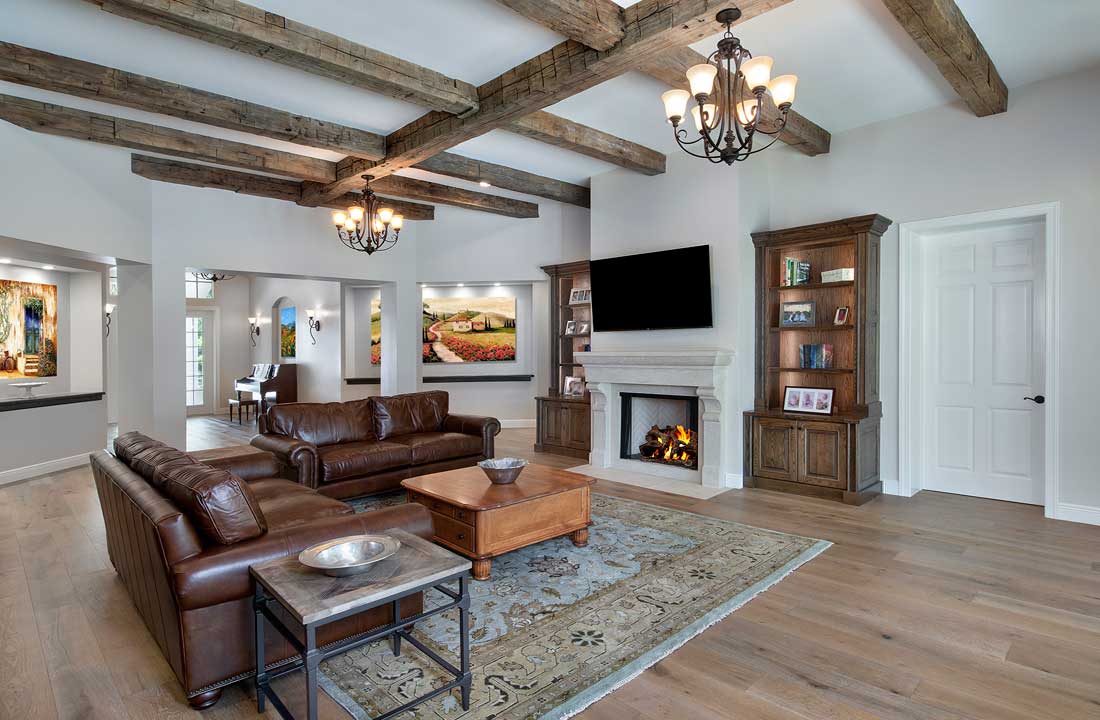 Before touching a single brick, explore your various uses of an indoor or outdoor fireplace and why it may be beneficial. Here are a few questions to help you narrow your criteria for remodeling a fireplace.
Will you be using the fireplace, and how often? Your answer will help you choose the type of fuel to use.
Are there any challenges with your existing fireplace? For example, is the hearth a tripping hazard, or does the chimney smoke? Make a list of what doesn't work for you in its existing space.
Will your fireplace be the focal point of the room?
What don't you like about your fireplace and why? Is it too dark? The wrong color? The wrong materials? Wrong location?
Do you want the fireplace to be the focal point of the room?
Interior designers insist every room needs a focal point–an element where the eyes rest. Whether bold and colorful or more subtle, a focal point draws you into the space and sets the mood. Focal points can be anything from a piece of artwork or furniture to a chandelier or a fireplace. If you want your fireplace to be the focal point of your room or outdoor living space, its design needs to influence the style of the rest of the space. Here are a few things to consider.
Do you want the fireplace to grab your attention or have a more subtle look?
Do you want it to fall into the background as a backdrop to the mantel or surround?
Do you want a timeless look or something on-trend?
Do you want the fireplace to be a warm, natural element or contemporary style?
Type of Fuel Source
Another decision regarding your fireplace is the type of fuel you'll use to heat it. Most fireplaces produce heat by one of the following methods:
A gas fireplace is an excellent option for Southwest Florida homeowners because it burns clean, has natural-looking flames, and isn't messy. In addition, propane or natural gas fireplaces are fuel-efficient and can be retrofitted to your home.
Electric fireplaces provide just enough heat without overwhelming your Florida home. They give you a warm, cozy feel, are environmentally friendly, and require no work. Forget splitting firewood, just flip a switch, and you have the mood set for the evening.
Nothing beats the warmth and smell of a wood-burning fireplace. But in Southwest Florida, they might produce more heat than you desire. They also produce smoke, ash, and dust. A few other drawbacks to woodburning fireplaces include:
Are they legal? Some municipalities have banned the new construction of wood-burning fireplaces for environmental concerns.
Can your home be retrofitted? That decision begs the expertise of an architect or engineer. Either way, it will be a costly project.
Where will you get the firewood? Unless you own wooded acreage, you'll need to find a source for purchasing firewood.
Materials for the Fireplace Surround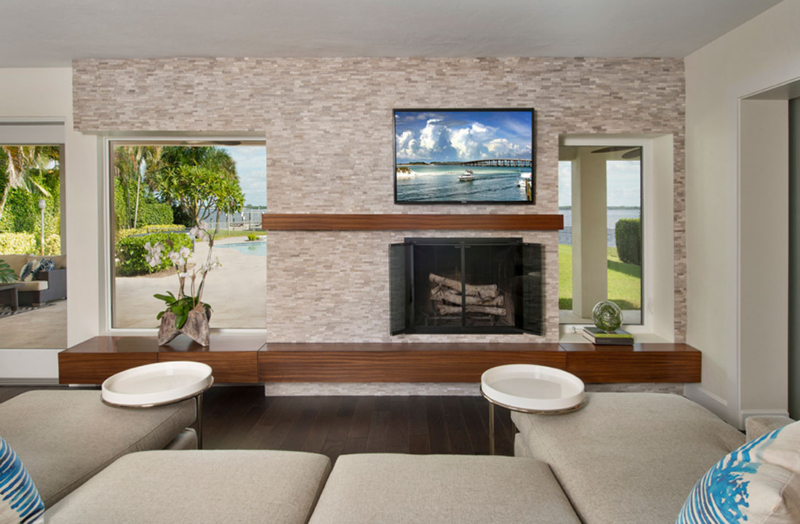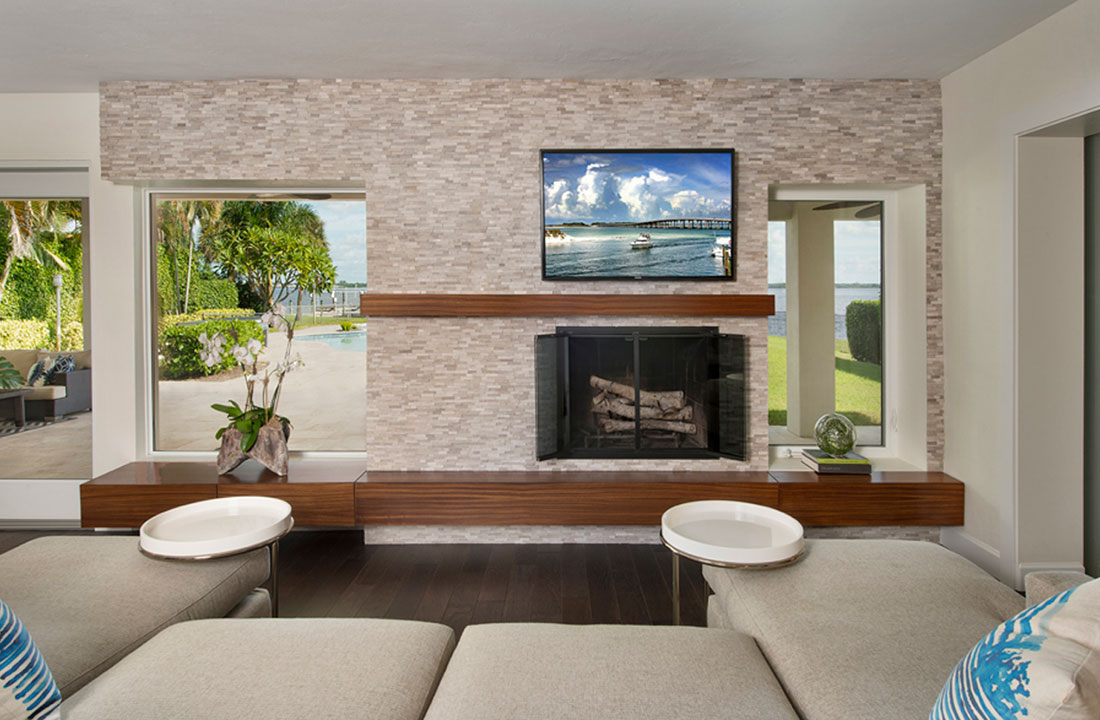 The face of the fireplace is often called a surround. This surface provides the perfect canvas for adding character to the room. Choose a fireproof material that complements the room's style.
Brick–The ubiquitous brick fireplace brings warmth to the space, whether left natural or painted to match the decor.
Natural stone–To keep a natural, warm vibe, consider natural stone. It's available in various sizes, shapes, and colors to work with any style. Popular options include limestone, river rock, slate, granite, marble, and travertine.
Faux stone veneer–You can use inside the same stone veneer you typically see on a home's exterior. Because the product is manufactured, you have more color, texture, and style options than natural stone offers.
Metal–Steel or copper surrounds can be treated to appear rustic or modern and provide clean lines wanted in contemporary homes.
Tile–Any ceramic, glass, or porcelain tile works wonders when surrounding a fireplace. Because they don't support any weight, you can use thinner, more fragile wall tiles instead of floor tiles. And tile comes in a myriad of sizes, shapes, and colors.
Slab–Consider a solid surface slab like marble or quartz for clean, minimalistic lines. Soapstone is known for its ability to radiate heat and gives a deep hew to a black and white color scheme.
Considerations for the Mantel and Hearth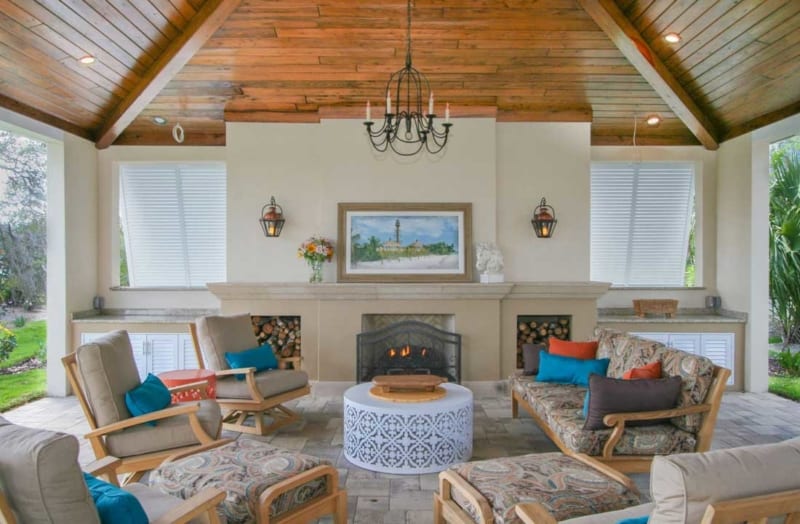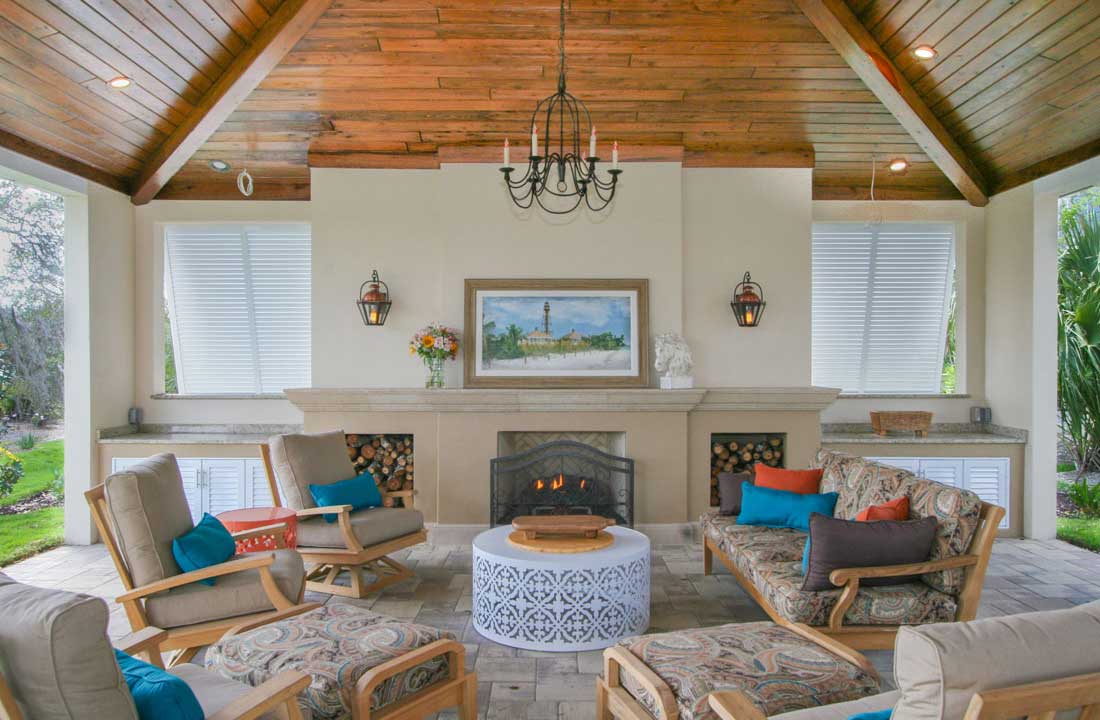 The mantel and hearth are prime real estate for bringing character and style into your home. The fireplace mantel is the decorative framework that surrounds the firebox. A mantel can be as simple as a shelf above the fireplace to elaborate woodwork that surrounds the face.
When choosing your fireplace mantel, think about the following questions.
Will you hang the television, artwork, or a mirror above the fireplace?
Do you want enough depth to display items on the mantel?
Will you want a place to hang stockings or greenery during the holidays?
Once you have the answers to those questions, a few mantel options to choose from include:
A rustic beam with blacksmith brackets
A slab of stone worked into the stonework on the wall
A shelf with vintage corbels
A salvaged antique fireplace mantel with custom woodwork
The hearth is the floor space immediately in front of the fireplace. Historically, builders created a hearth of fireproof material to avoid escaping embers or sparks from catching the floor on fire. With a gas or electric fireplace, sparks aren't a hazard. So, some homeowners opt for no hearth at all. The hearth can be raised and faced with tile, stone, or brick. Or, it can be a tiled space flush with the floor. The materials you choose should be fireproof and complement the rest of your design.
Remodeling Around the Fireplace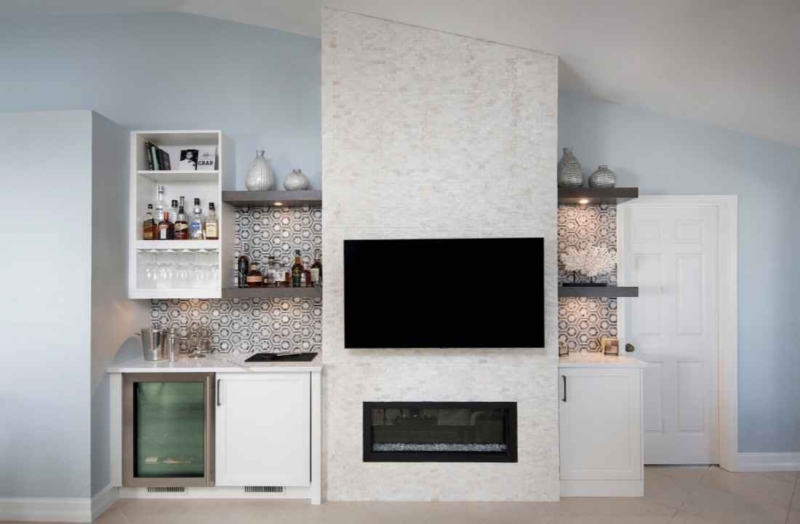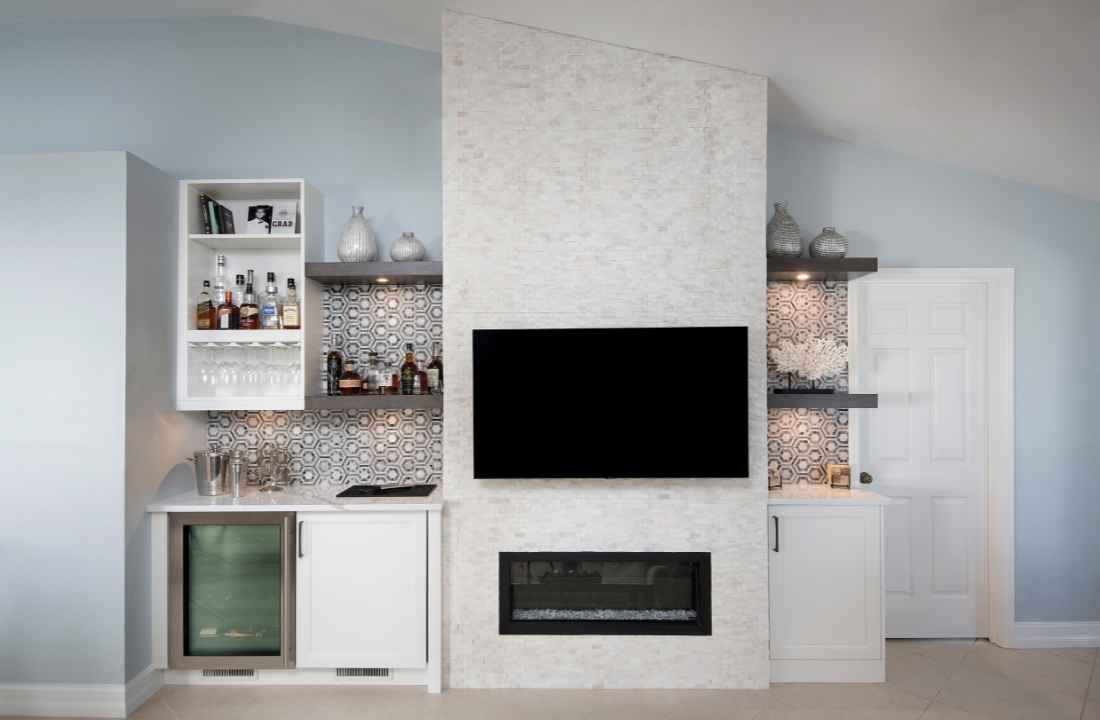 Remodeling a fireplace is seldom an isolated project. For instance, the wall space on either side of the fireplace is included when part of a more extensive renovation. Here is your opportunity to increase the wow factor of the room's focal point. Achieve this in one of these ways.
Surround the area with custom millwork. Then, tie it into the rest of the room with crown moldings or matching millwork surrounding windows and doorways.
Add built-ins on either side of the fireplace for books or collectibles to bring symmetry to the room.
Remove a wall on one side to open up the space to an adjoining room, creating a fireplace that serves two areas at once.
Add a wet or dry bar to one side of the fireplace. Balance it with a small desk on the other side.
Or apply an accentuating wall cover to draw attention to the focal point.
Fireplace Considerations for Your Outdoor Living Space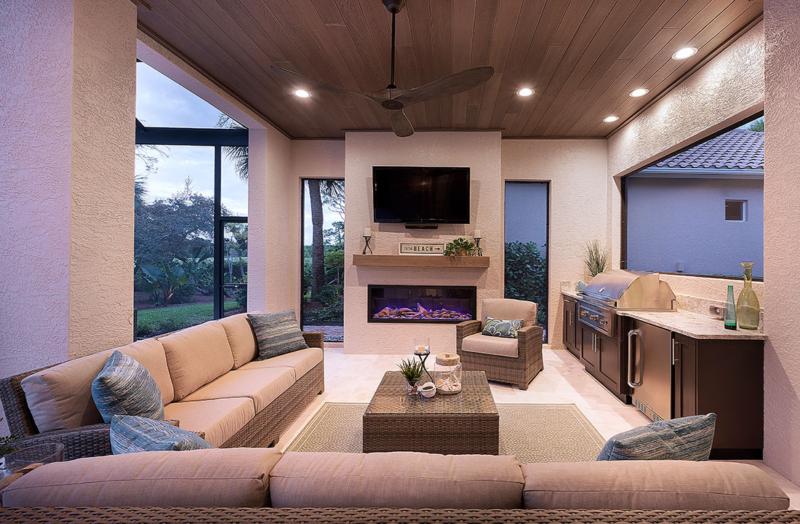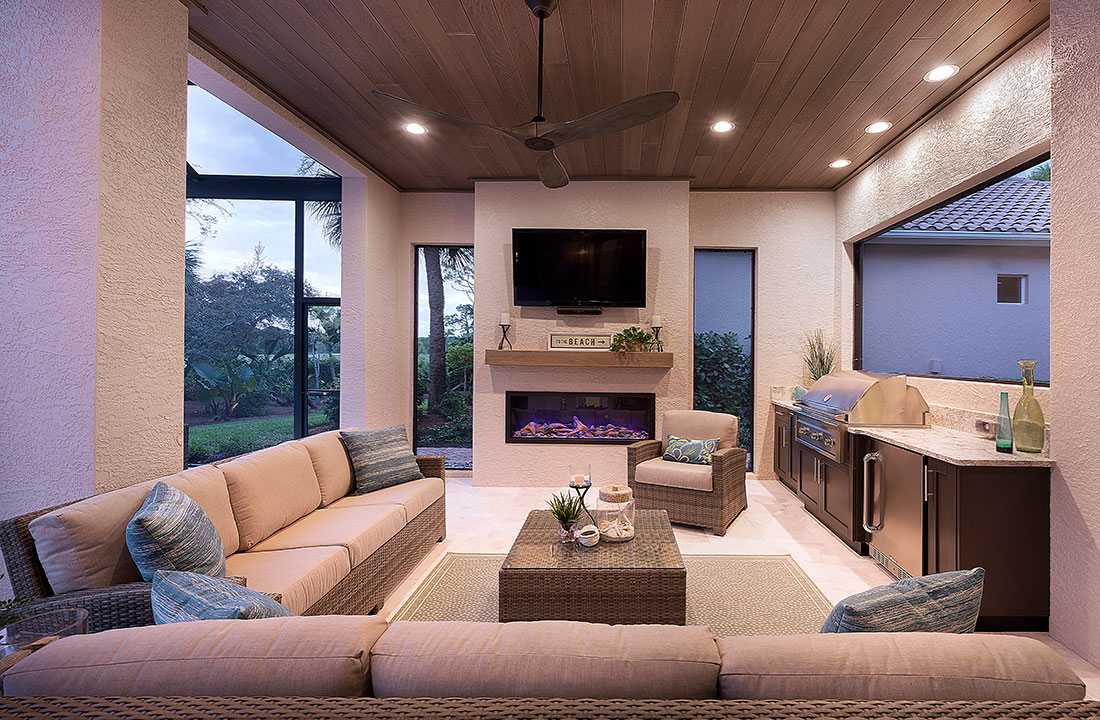 According to the 2022 Houzz & Home Study, 54 percent of home remodeling jobs done in 2021 were outdoor upgrades. If you're considering adding the warmth and ambiance of an outdoor fireplace to your backyard, here are a few things to consider:
What purpose will the fireplace fill? Heat, cooking, or both? Adding a cozy seating area with a place to roast marshmallows will look different than a full-blown outdoor kitchen. Knowing the purpose of the space will help you design what's suitable for your home.
How much space do you have? Consider the size of the backyard before designing an outdoor living area, especially if you want to keep some green space for children to play in or pets to run.
What type of fuel do you want? Nothing beats the ambiance of a wood fire in the backyard. If wood burning is allowed in your neighborhood, look at the surrounding trees. You don't want to burn wood, which sends up sparks, under branches that could catch fire. Gas burns cleaner and cooler, an advantage in Southwest Florida.
What is your style? Your backyard design should be an extension of what's inside your home, whether it's a casual, rustic feel or something more luxurious? Choose materials that complement your style.
What other features do you want in the area? For example, will the fireplace be part of an outdoor living room and kitchen? Do you need seating, planters, or a roof?
With so many options to consider for the complex job of fireplace remodeling, whether inside or out, you want to partner with a trustworthy design/build remodeling firm. A proven firm will make sure you blend design and structure for a cohesive, beautiful outcome.
For a seamless fireplace renovation experience from beginning to end, consider choosing Southwest Florida's award-winning luxury remodeling firm Progressive Design Build. They're a trusted expert in outdoor and indoor remodels and kitchen and whole-house projects.
For ideas on what your fireplace could look like, check out Progressive's impressive portfolio. Their design/build process ensures every client's project is done on schedule and to budget.
Sign up for their monthly newsletter for current trends in remodeling. And, if you're ready to get started, call now for a free consultation. They're ready and willing to brainstorm the design and build of your new fireplace.