You want a beautifully designed and well-functioning bathroom, but there's a problem. Maybe it's too small, has poor lighting, or is always damp. Whatever the issue, don't feel alone. Many bathrooms present common design dilemmas that frustrate homeowners and challenge designers. If this sounds familiar, our designers offer ways to dodge these pitfalls so you can overcome that anxiety and use the space for what it's intended–relaxation.
Something Seems Out of Balance
If you leave your bathroom feeling like something is missing, the design is imbalanced. For example, you have too many horizontal lines with no vertical elements to draw your eyes upward. Or the fixtures are too large for the room. Wrong color choices can give that out-of-balance feeling, too.
Whatever the culprit, partnering with a professional bathroom designer ensures all the elements in your bathroom complement one another. For example, a designer uses finishes, cabinetry, or even mirrors to overcome bathroom design mistakes and create a space that brings you a contented sigh each time you use it.
The Bathroom is Too Small
You can either enlarge a small bathroom's footprint or use visual tricks to make it look bigger. First, to increase the square footage, a contractor will look to adjacent rooms to see where they can "borrow" a couple of feet. But sometimes, that's not possible. In that case, there are design tactics to make the bathroom appear larger than it truly is.
Play with the layout. Sometimes, you can rearrange the bathroom fixtures for better traffic flow. For example, remove an unused tub (if it's not the only one in the house), remove the water closet wall, or opt for pedestal sinks.
Add mirrors. Mirrors reflect light that makes a small space look larger.
Consider a different tile pattern. Install large tiles diagonally to give an illusion of space.
Ask your contractor about a wall-hung vanity and toilet. Since they don't take up floor space, your bathroom looks larger.
Choose paint colors that reflect light. For example, light shades of blue and white in a semi- or high-gloss sheen will make the room look larger.
Luxurious Design on a Budget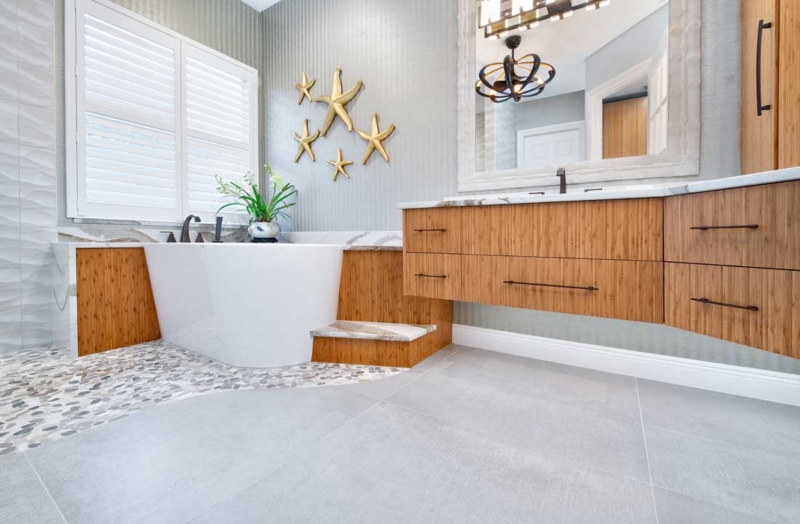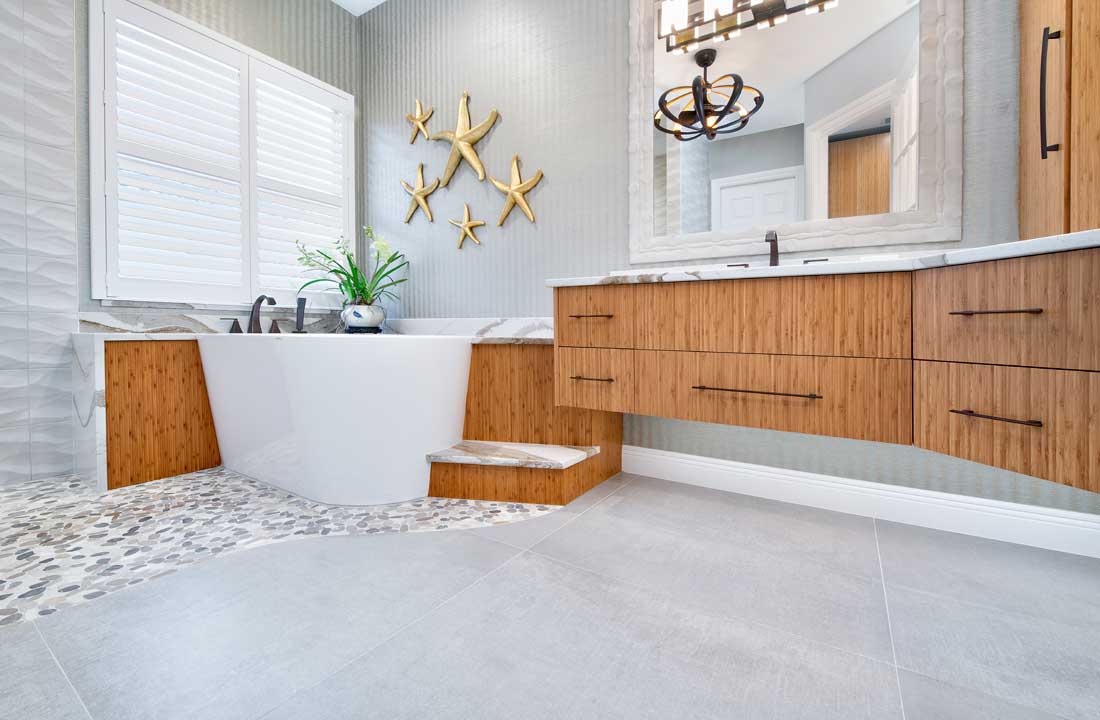 If you love the look of marble but not the price tag, some alternatives look just as luxurious. And they're easier to maintain, too. For example, porcelain tile with a marble-like pattern is less expensive than marble. Or, if you want the seamless finish that full-size slabs offer, choose a quartz or porcelain veneer slab to eliminate grout lines and get a modern appeal.
Strategize Tile Placement
Mismatched or improperly installed tile can ruin the look of your new bathroom, especially in a shower with a lot of angles. In this case, avoid small tiles that are hard to match and produce a lot of grout lines. Instead, large-format tiles are better and easier to install. Or, choose natural stone or porcelain veneer slabs on the shower walls for a sleeker look. And, don't forget the shower niche. And again, improper planning can result in a visual disaster.
Partner with a design/build contractor to learn how to use those angles in your favor. A trained professional designer leads homeowners through the planning phase and helps them think through the layout they wish to achieve. Having one on your team can mean the difference between success and failure with your bathroom remodel.
Improve Insufficient Lighting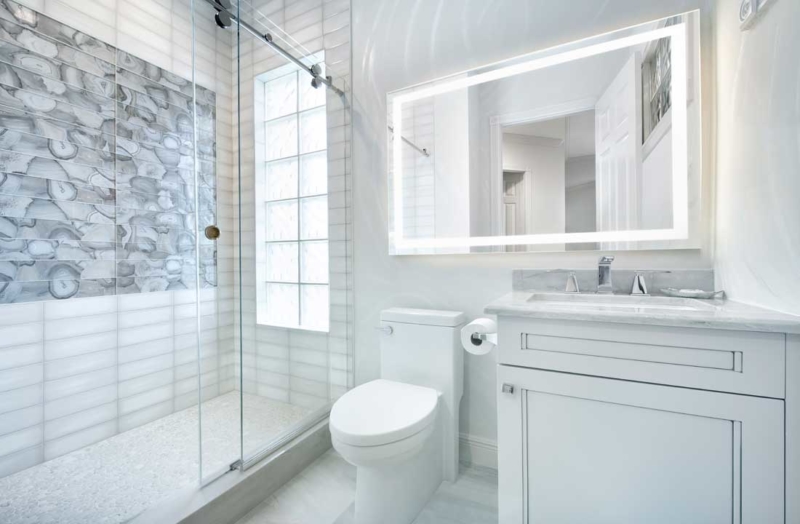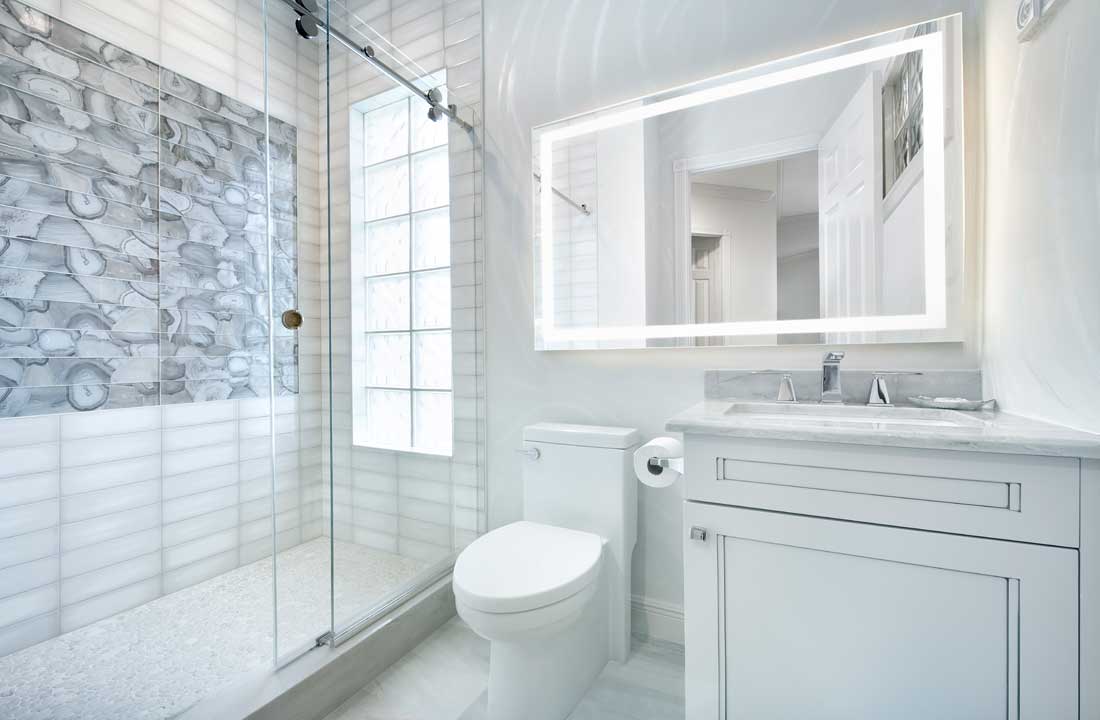 Nothing's worse than a dark bathroom, especially if there's no window. To improve its lighting, think about layers. Layered lighting ensures you have the correct type of light for different uses. Here are a few examples of each type of lighting:
Ambient lighting illuminates the entire room so you can see to walk around. Examples of ambient lighting include recessed lighting strips or a central ceiling fixture.
Area lighting gives added brightness in one general area, like over the vanity or in the shower. To illuminate one location, consider using wall sconces or can lights.
Accent lighting brightens a single feature, like a chandelier over a soaking tub.
Task lighting is for performing specific tasks, like shaving, applying makeup, or curling your hair. Task lighting includes lighted mirrors, walls sconces, or pendant lights.
Improve Existing Storage or Add Additional
Before telling your design/build contractor that you want more storage space, consider purging your bathroom of unwanted or unused items. You might even consult with a professional organizer to learn to better use your current space before committing to a remodel. If you still think you need more storage, here are a few suggestions from professional designers:
Dig deeper into what kind of storage you like. Are you a throw-it-all-in-one-drawer person, or do you need separate compartments for everything? Do you prefer open shelves so you can see what's available? Or do you want all clutter hidden from view?
Know what style you prefer. Do you like the look of cubbies with rolled-up towels, or would you want your linens behind closed doors? Are you a basket and bin person or a drawer person?
If your bathroom needs a vertical element, consider taking your storage cabinets to the ceiling.
Consider unconventional and non-permanent storage solutions. A few ideas include: a large basket to hold towels or extra rolls of tissue, wall shelves, a free-standing cabinet, or a ladder against the wall to hold towels.
My Bathroom is Always Damp and Humid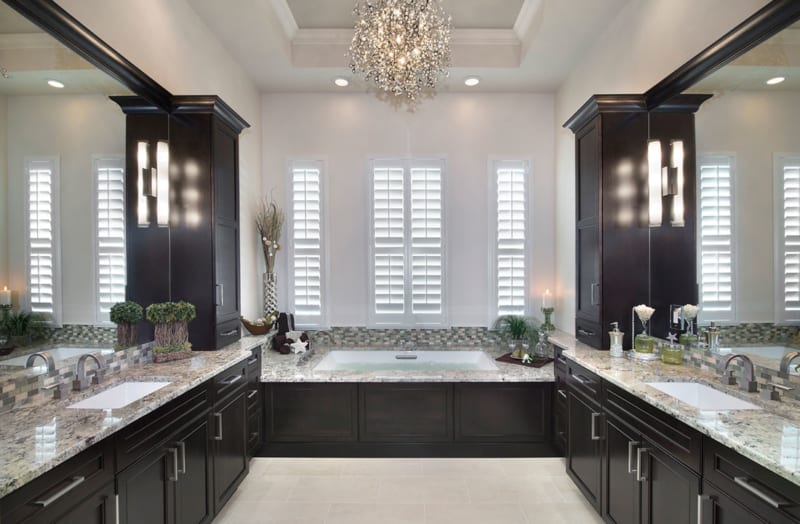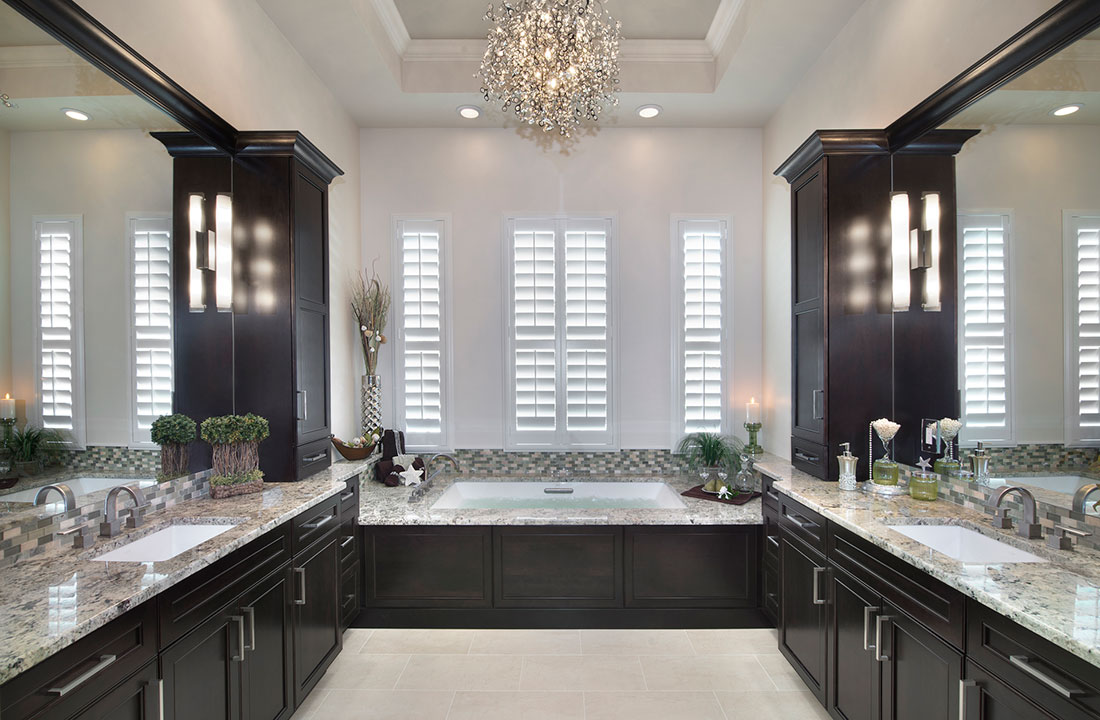 Damp bathrooms lead to mold and mildew, which can damage your furnishings and cause health problems. Because a bathroom is subject to almost constant moisture, staying on top of the humidity is a top priority. Here are a few ways to do that.
If your HVAC ductwork needs cleaning, the air isn't moved out at an optimal rate. Also, remember to replace filters regularly.
Upgrade your ventilation system. Bathroom exhaust fans are rated by how many cubic feet of air they move per minute of operation (CFM). The rule of thumb for choosing the right fan is to have at least one CFM per square foot of space. So, if your bathroom is 6×8, or 48 square feet, you want an exhaust fan labeled at least 48 CFM. Also, discuss with your designer the best location for the exhaust.
Consider adding a UV light. An exhaust fan/UV light combination removes the moist air while you shower, and then the UV light kills mold-causing bacteria after you leave the room.
Add a window. If your bathroom is on an exterior wall of the home, consider adding a window. A window adds natural light and fresh air to keep your bathroom humidity-free.
Have your roof checked. On rare occasions, a roof leak can cause a damp bathroom. Call a roofing contractor if you've done all of the above and are still fighting moisture.
Stay Flexible When Designing Your Bathroom
If you're having trouble visualizing how to overcome design challenges and what your bathroom could look like, you're not alone. Unfortunately, most homeowners focus too much on the problem at hand. However, a professional designer is familiar with options that could help you overcome the challenges and has a trained mind and eye for what looks right. So, remain flexible with your ideas and team up with a design/build firm to help you get over the hump, visualize the new space, and get excited again.
In Southwest Florida, award-winning luxury remodeling firm Progressive Design Build is a trusted expert in custom bathroom remodels, as well as whole-house, kitchen, and room addition projects. Their design/build process ensures every client has a seamless experience that is done on schedule and to budget.
For ideas on what your bathroom could look like, check out Progressive's impressive portfolio. For innovative remodeling ideas, sign up for their monthly newsletter. Or, if you're ready to get started, reach out directly for a free consultation. They're waiting to hear from you and brainstorm the design and build of your new bathroom.