Home design trends are always evolving, and the spring of 2019 is an ideal time to freshen up your home.
At Progressive Design Build, we keep up with what's new on the scene, and we think 2019 spells excitement in bold new ways. Here are some home remodeling trends that are on our radar:
Light and Bright Makes Waves
This year, light and bright colors are popular with designers across the country. Here in Southwest Florida, of course, fresh coastal decor keyed to the colors of sand and surf are always in style. But tropical has made a renewed comeback for 2019. Newer patterns in fabric and wallpaper and brighter colors for accessories are what's new here.
Backgrounds may tend to be simpler but added sparkle and dimension is derived from lighting and plumbing fixtures in new metallics. Oversize pendants are fresh and dramatic over kitchen islands, eating bars and breakfast areas, often with glass to complement their gleaming metallic finishes. Dark wood cabinets will give way to lighter tones or painted finishes.
START DESIGNING YOUR REMODEL TODAY!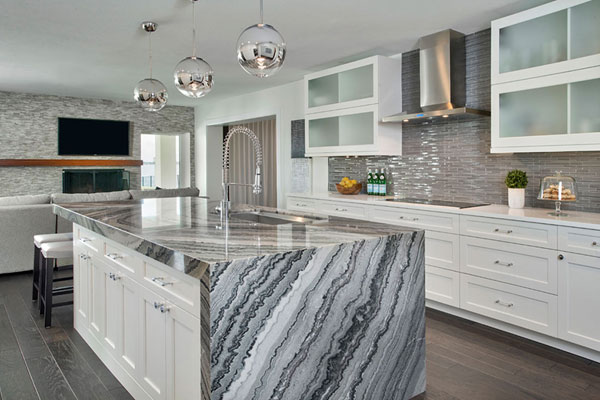 Minimalist design is also fresh and new: "Nude" cabinet doors with no pulls or handles might not be for everyone, but they're sleek and stylish, as is open shelving.
Keep interiors light and airy and complement sleek surfaces in the kitchen and throughout your living space with painted surfaces, unique tile and glass accents, distinctive metals and soft textures. The marriage between simple and bold may take some thought, but the results are totally worth it!
What's Hot in the Kitchen
If there's one feature that outranks all others this year, it's the sink! If a kitchen remodel is in your future, let our design team point you toward the newest options: This year's sinks include many features that will make food preparation and cleanup not only easier but more fun as well. Large multi-bowl sinks can have integrated drainboards, optional covers or fitted cutting boards and strainers. Vegetable and bar sinks also have more options, including ice buckets and optional trays for bar use and cocktail garnishes.
Also, don't forget the specialty plumbing: Instant hot water spouts, filtered drinking water, pot filler spouts over a cooktop, and commercial style high profile gooseneck faucets for serious cooks.
In terms of style, the popular Mediterranean, including the Tuscan gold, olive, and terra cotta color schemes that have reigned for a long time, will give way to a more modern coastal vibe, with a spirited mix of sleek and matte finishes. Island brights, including the tones of tropical leaves and vibrant blooms, have returned. Look for a resurgence of pattern in fabric and wallpaper, and bring color to your interior walls as well as with accessories for significant impact.
Blur the Lines Between Indoors and Out
The move toward indoor-outdoor living continues to trend all across the country. It's especially appropriate here in Southwest Florida, and with a renewed emphasis on tropical colors and textures, it's only natural to want to capture an outdoor ambiance throughout the home. An effective way to meld the space between indoors and outdoor living spaces is by incorporating dramatic design elements like floor-to-ceiling windows and retractable walls; these design elements create a seamless transition from the outdoors in, while the abundance of natural light helps make the room feel even more spacious.
Let's not forget about home design trends in 2019 for your bathroom. Bathroom remodels also offer the opportunity for a perfect environment for live plants. Hanging baskets, potted orchids, or a "living wall" of greenery will thrive in the humid environment, and boost interior air quality as well.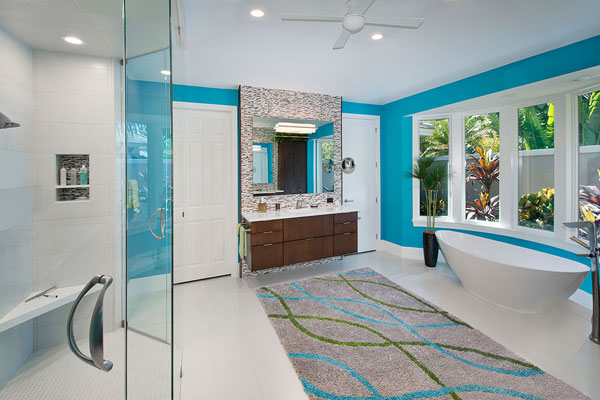 Trending color schemes for bathrooms will continue to be drawn from nature. Right now green in all its nuanced shades appears to dominate the scene, but sun-kissed colors, gray and white will also continue to be popular. Moreover, we think the spa-inspired trend for bathrooms is here to stay including the embrace of clean lines, natural elements and high-end amenities like steam showers and integrated music systems.
Move Outdoors with Renewed Zest
The other side of the coin is to enhance your outdoor space by creating comfortable "rooms" for family enjoyment and creative entertaining. Outdoor kitchens, integrated landscaping, water features, built-in walls and seating, tiled pathways, custom pools, and fire pits or fireplaces are high on the list of favorite features. Grey and beige tones, natural materials, and multi-level areas add charm and personality to any backyard and let integrated planting areas take center stage.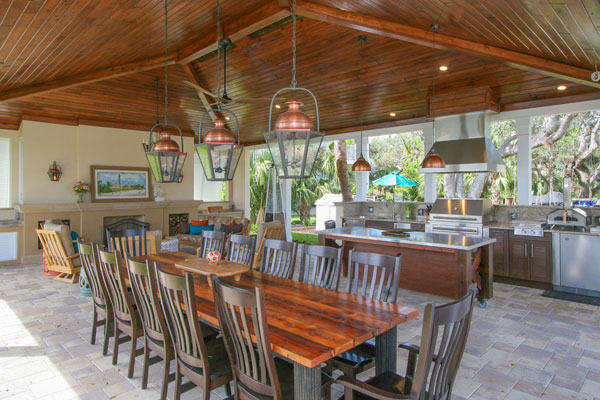 If you're interested in a full-scale outdoor kitchen, Progressive Design Build has the requisite knowledge and expertise to make your outdoor dream a reality.
NEED HELP WITH YOUR DEISGN? CONTACT US TODAY!
Technology Is Here to Stay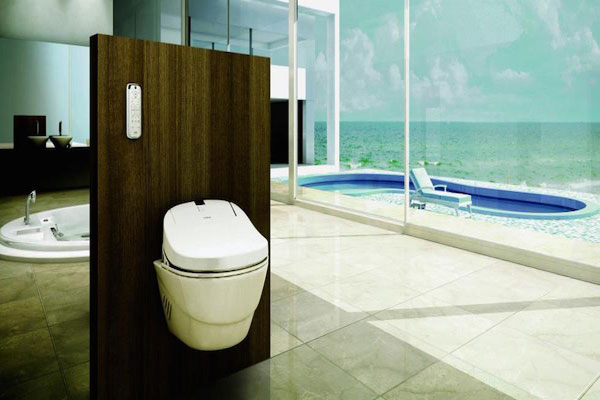 If you haven't yet done so, consider these home design trends in 2019 as the year to grab the coat-tails of the high-tech revolution. It's not only security and app-activated temperature controls that are "must-haves" in homes now but a full range of integrated technology that you can monitor and control from your mobile device, whether at home or across the continent.
Smart homes and home automation to make every aspect of life easier, more comfortable and safer is just the tip of the iceberg. New home technology has ushered in a new era that is destined to change the way humans control and interact with their environment, to the benefit of both. It's an exciting time; and it's time to embrace it all for a sustainable, more productive, healthier future.
Plan with Southwest Florida Remodeling Contractors
Are you planning a complete renovation of a "new to you" Southwest Florida home? Or perhaps your kitchen and master bath are looking a bit dated and could benefit from a facelift? Either way, the team at Progressive Design Build can help you decide how to proceed. Just contact us to schedule a consultation. Not quite ready? Be sure to sign up for our newsletter to stay abreast of the latest news on all things home and design.