Transformative Outdoor Kitchen Design Trends
Southwest Florida's warm climate allows residents to enjoy their backyards all year round. Moreover, if you're like many of us who prefer spending time outside—either entertaining, lounging, or dining in comfort and style—you've likely assessed your backyard and its ability to enhance your Florida lifestyle. If you're at a crossroads and ready to maximize the use of your outdoor living space and considering an outdoor remodel, you'll want to incorporate these eight outdoor kitchen design trends into your plan:
START DESIGNING YOUR KITCHEN TODAY!
1. Customize Your Outdoor Living Experience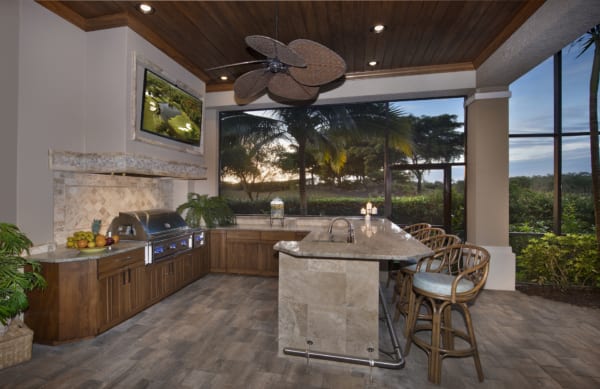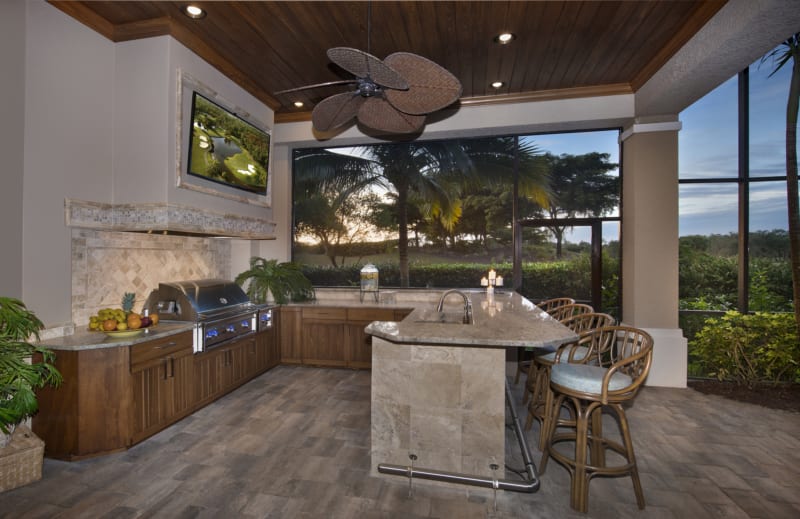 More than a basic barbecue grill, an outdoor kitchen may include a cooktop, refrigerator, sink, ice maker, wet bar, storage for dishes and even a pizza oven. If you prefer using the same amenities outdoors as you do indoors, then you should consider these customized options—all with the purpose of enhancing your Florida lifestyle:
Multiple cooking stations (rotisserie, brick ovens, grills)
Generous counter space (for cooking and entertaining)
Refrigeration (ice bin, wine coolers, mini-fridge)
Ample, convenient cabinets
Covered and open areas
Guest seating and furniture
Landscape and hardscape features
Pest control (mosquito misting systems)
Smartly-designed, these customizable essentials will bring hours of outdoor enjoyment to your friends and family.
2. Use Functional Zones When Designing Your Outdoor Kitchen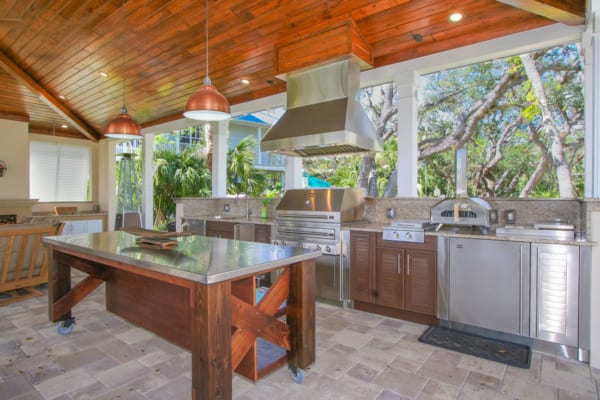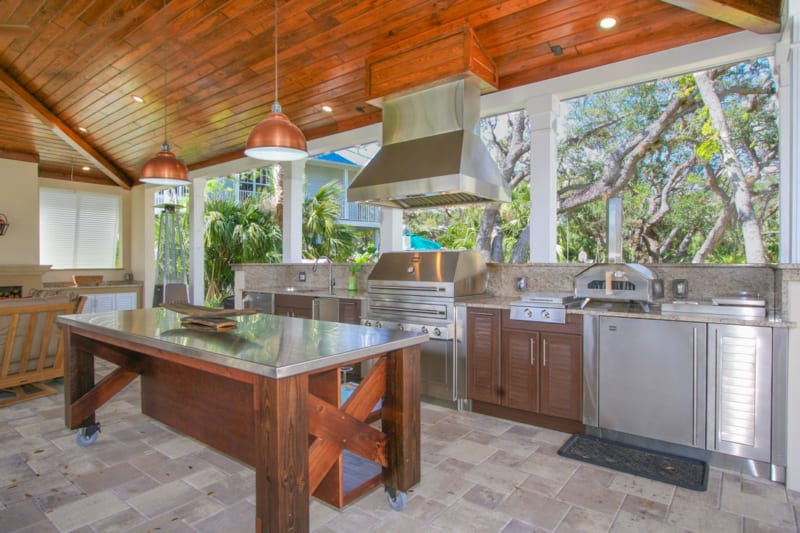 A crucial part of planning your outdoor kitchen is considering the workflow and relationship between functional zones:
Hot zones (grills, cooktops, pizza ovens, etc.)
Cold zones (refrigerators, freezers, and coolers)
Wet Zones (sinks, ice makers, wet bars, etc.)
Dry zones (prep areas, counter space, storage, and cabinets)
Outdoor living demands that all of these activities happen simultaneously, so consider traffic flow and your cooking style in the design process. There should be enough space to work at each station and to easily flow between them.
The outdoor kitchen is not just about cooking; it's also about entertaining. You'll need to design an open, separate space for guests to sit and eat; or chat with you as you cook. Consider multi-level countertops: The lower countertop functions as prep space, while the upper countertop serves as an eating bar.
3. Incorporate Nature
There's something primal about cooking outdoors. As you consider a wide variety of outdoor cooking appliances, cabinets, and countertops, incorporate these organic elements into your design plan:
Weather-hardy natural stone countertops—natural stone, brick, and wood design features
Open air spaces with lots of exposure to natural light
Hanging plants, vines and potted plants
Container gardens of fresh herbs, and vegetables to incorporate into your cooking—farm-to-table in just a few paces
Fireplaces or fire pits
Water features and fountains
4. Fully-Enclose Your Outdoor Kitchen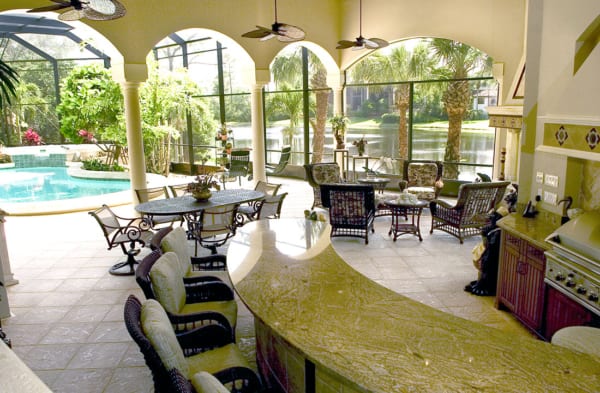 If you prefer to use a secondary, outdoor kitchen in any weather condition (either in the hot and humid summer months, or windy fall season) than a fully enclosed outdoor kitchen may be your best bet. Design the enclosed living space to be a grilling station, entertainment room, or a sunroom with an optional container-garden that can be closed off from the main home when not in use.
Bonus: When choosing appliances for a fully enclosed outdoor living area (ex: full-sized stainless steel grill and gas range), you have a few more options, as you don't need to limit your choices to weatherproof items only.
5. Weatherproof Your Cabinets
Every element of an outdoor kitchen must consider weatherproofing in the design, particularly cabinets, which are essential for protecting your food and appliances. Because outdoor kitchens are becoming so popular, there are now a plethora of weatherproof cabinet options on the market. We especially love the contemporary look of the sleek, clean, stainless-steel cabinets by Danver and Brown Jordan; they are not only stunningly beautiful, but they protect your food and kitchen appliances against moisture, pests, and rot.
6. Add Outdoor Kitchen Lighting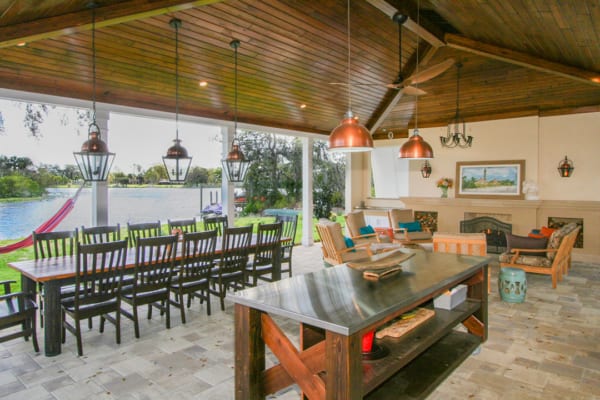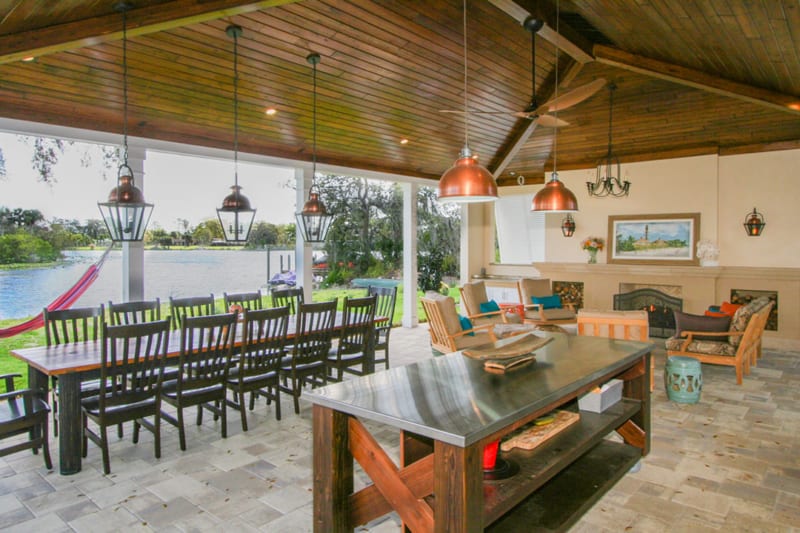 Your outdoor kitchen serves as a place to enjoy cooking and eating food while entertaining family and friends. Furniture, throw pillows, and decorative items can complete the look, as well as specialty lighting. When designing your space, always look to incorporate natural light into the space first, even the covered areas.
Consideration should also be made to illuminate prep areas with ambient light or create a cozy ambiance and low-volume illumination with under cabinet lights. For entertainment areas, consider under-seat LED strip lighting to enhance visibility in the dark, and solar-powered path lighting, which illuminates automatically at dusk to light pathways, steps, ledges, etc. For the ultimate in convenience, many of these outdoor lights can be controlled through an app on your phone.
For your outdoor covered dining area, consider choosing a light fixture statement piece, like a chandelier—particularly one with an outdoor-safe rating for temperature and moisture. Fire tables, fireplaces, fire pits, and other natural light fixtures will also add to your outdoor ambiance and should be incorporated into your entertainment space.
7. Seat Your Guests Accordingly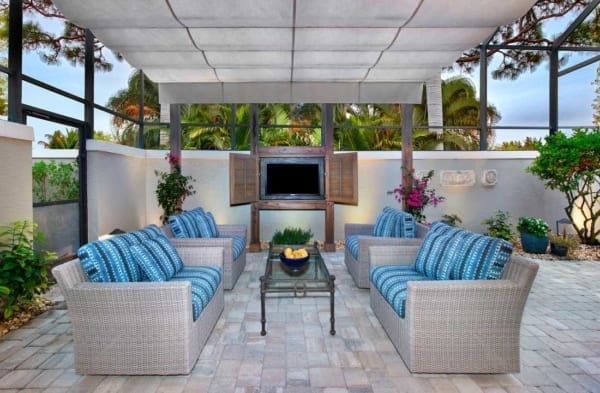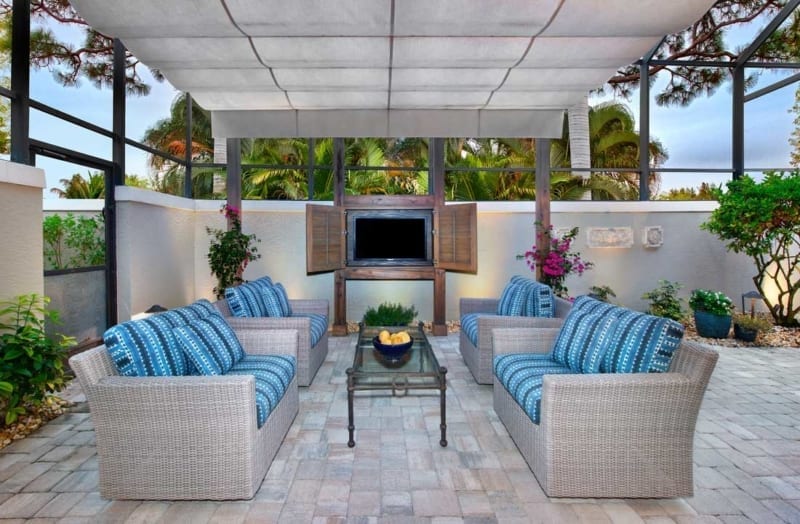 Generous, inclusive, comfortable seating is a must for any outdoor living space. If you're trying to incorporate ample seating in a smaller footprint, stash stools under a raised eating bar along the outer edge of your prep countertop so guests can sit and eat while visiting with you. Do you have the benefit of usable space? Add a more luxurious dining area with long tables and comfortable seating. Even low walls that define the kitchen's outer boundaries can be smoothed and padded for extra seating. A popular trend we're seeing is built-in wall seating or decorative masonry designed for social gatherings.
8. Expanding Your Entertainment Options
If your focus is less about cooking and more about relaxing and enjoying the outdoors, consider dedicating a smaller footprint for a grilling or cooking station and instead put more emphasis how you love to spend time outside. The sky is the limit when creating your personal outdoor space:
Custom in-ground pool
Custom spa
Dedicated sunbathing area
Putting green
Gazebo
Bocce ball or other sport courts
Dedicated entertainment area with custom weatherproof TV/Stereo console and surround sound system
Dog Run
Questions about starting a custom outdoor kitchen of your own?
Ready to explore the possibilities of having an outdoor kitchen in your backyard? Call today at 239.939.5411 or schedule a personal design consultation. Also, feel free to stop by our showroom. We'd be happy to show you around and show you all of the options for an outdoor kitchen remodel!
If you're not quite ready to call but could use some design inspiration to get your ideas started, check out our outdoor kitchen gallery.