These days pantries are more than just a place to store food and staples for your home. They can assist with entertaining, food prep, or even be a quiet place to get away and read a book.
If you are looking to add or remodel a walk-in pantry as part of a kitchen or home remodeling project, there are several things to consider before you begin your project.
How Will You Use Your Pantry?
Pantries can be used for more than just storing food. Especially with a walk-in design, you can include space for food prep, appliances, or even a small desk. Think about what you want the space to do before you begin designing the layout.
Will you be using it to entertain? Will guests see the pantry, or will it be just for family members? Deciding if you want the area to be used when you are entertaining will affect what kind of materials you use, the features you include, and how the space is organized. Also think about whether you want to include food prep areas in the space.
Of course, the size of the available space will determine how many features you can include, so be sure to decide on that as soon as possible. Assess the space you have and plan for expansion. Areas to expand your pantry could include laundry rooms, mud rooms, and adjoining areas that aren't used often.
If you don't want to add another room to your existing space, consider a passageway pantry. With the door concealed in a cabinet, no one will know that you have added space. Expanding the size of your current pantry will not only give you more storage, it will open up additional options for use of the space.
If you're having trouble starting your design, list the features you like and dislike about your current pantry and kitchen storage layout. Use this list to inform your decisions about the new space you are creating.
Appliances
If you decide that you want to include appliances in your new pantry, and you have the room, select what appliances you will need and approximately where they will be placed in the pantry. Utilities such as water and electricity will need to be installed in the area if they aren't already there. This is a decision that needs to be made early, so you don't have to tear out finished walls to add utilities.
Appliances you may want in your pantry include a microwave, small refrigerator, freezer, wine cooler, coffee maker, or espresso machine. You may have other small appliances that your family uses all the time, and the pantry can be a great place to store and use them, as well.
Take Measurements
Measure not only the overall size of the space that you want to use, but the size of the appliances and shelves you'd like to include. You may want to measure the size of containers you use regularly so you can build your shelves and counters to the correct width and height. Everything in your pantry should have its place and be properly fitted.
Consider installing narrower shelves that allow you to see all the items stored on them, instead of wider ones where things can get buried in the back. Store larger, bulkier items near the floor, and smaller items at eye level or on the top shelf. Adding a ladder or storing a stepstool in the space should also be considered if you include shelving up to the ceiling.
Shelving and Cabinet Options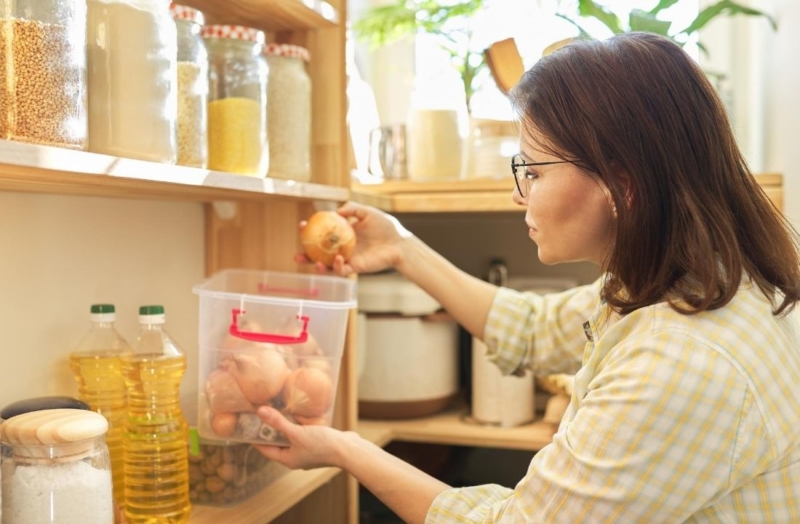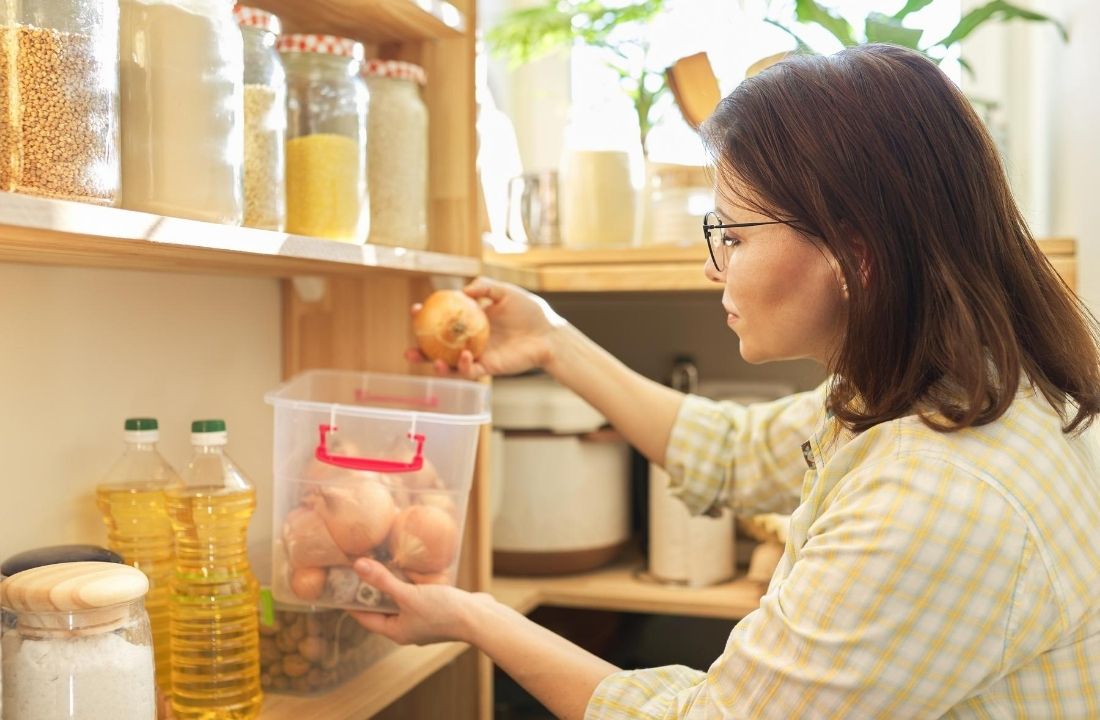 There are many alternatives when it comes to the types of storage available for walk-in pantries. One of the first things to consider is the visibility of the items you are storing. As was mentioned above, installing narrower shelves allows for more visibility. Wider shelves allow you to store larger items, or you can add baskets or containers to hold loose items.
Options for shelving include pull-out sections, fixed shelving, and adjustable units. You can also include a fixed countertop for food prep and storing appliances such as a microwave or coffee machine.
Wire baskets and clear containers allow food to be stored in bins. These are perfect for items that don't stack well. Wire allows the contents to be seen without pulling the container out, making it easier to find items.
Materials
The first thing you want to consider when selecting materials is whether your pantry will be visible to guests. If it will be, you may want to choose materials that complement your kitchen and surrounding areas. If the pantry will only be used for storage, then aesthetics won't be as important.
Pantries don't have to look like showrooms unless that is their purpose. Materials like plywood make a great shelving system that is sturdy and durable. Less expensive materials in the pantry will help you save money for areas of your home that are more visible.
The most important factors in choosing materials for your pantry organization system are strength, durability, and ease of cleaning. You want the materials to last, be useful, and be easy to clean when something spills.
Wellness Considerations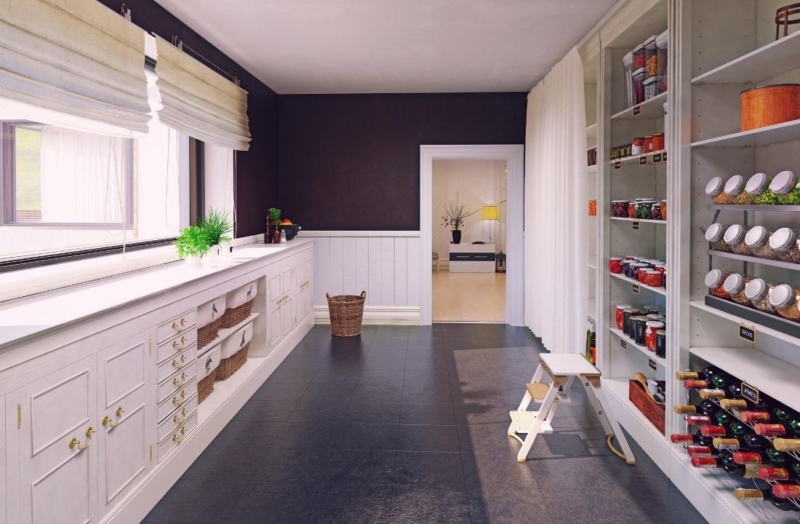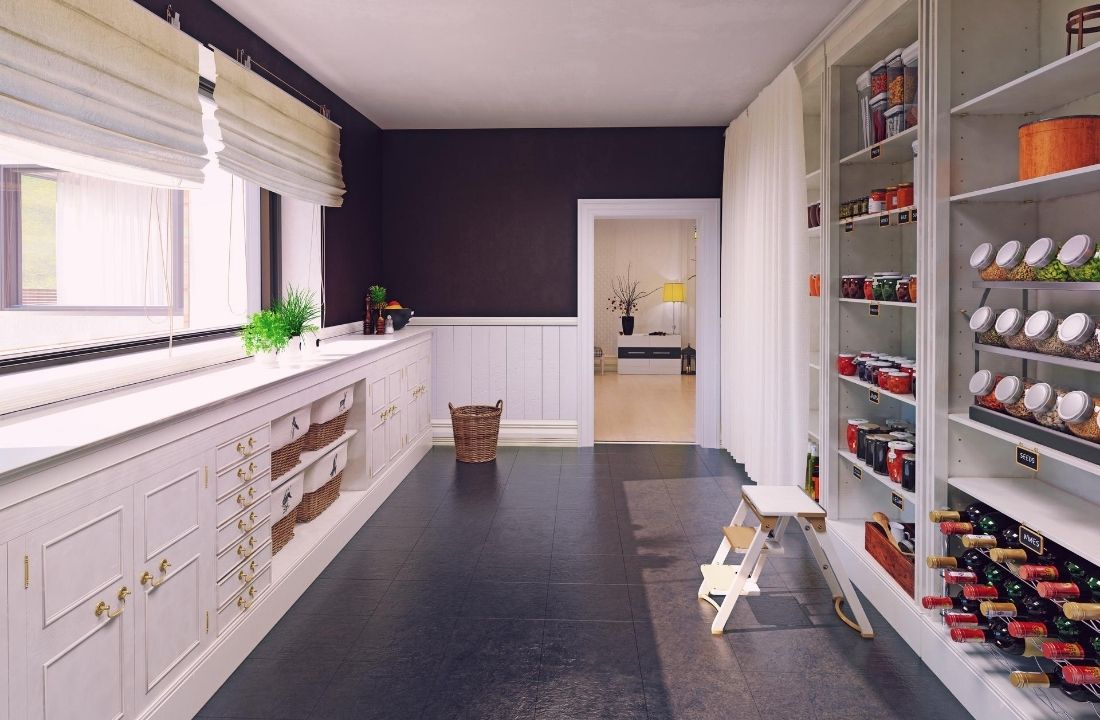 In the wake of a global pandemic, pantries have taken on a larger role in our lives. With stay-at-home orders, trips to the store are happening less frequently, so families are stocking up on staples and supplies. This leads to additional storage needs. Larger pantries and added storage are key features to have in your home during this time. And having a well-organized area to store non-perishable items will be a top priority for home buyers going forward.
From COVID-19 we've learned that keeping an organized pantry is key for easier home-cooked meals. Having dry goods such as rice, beans, grains, and oats on hand means meals are less expensive than other prepared dishes. You can use your pantry to help elevate your cooking game with a hidden pull-out rack for spices and dry herbs. Airtight storage containers are also a great way to store baking ingredients, cereal, loose leaf teas, and coffee.
Usually pantries are located close to the kitchen, which creates humidity and heat. Humidity and heat can cause food to spoil sooner. You will need to consider how the space is ventilated and how humidity is controlled. Keeping your food storage areas cool and dry is key to storing food longer. Make sure that your pantry space has a system for ventilation, such as a grille in the door or shortening the door height to allow air flow. If it is large enough, you may want to install a fan in the space to exhaust heat and humidity.
Cleanliness is imperative when it comes to wellness. Be sure to use materials that are easily cleaned and disinfected in case there is a spill or food spoils. Hard surfaces are best, as they can easily be wiped down, swept, or vacuumed.
Personalize Your Space
If your new pantry will be integral to your entertaining plans, or you just want to create an inviting space, you will want to select materials that accent your existing décor around the new space. Similar colors and types of materials are best, but often a change in look can be striking also. Decide which is best for your situation and select materials accordingly.
Don't Forget Lighting
Make sure that your new space has adequate lighting for all its uses. You will want to be able to see everything in your pantry, so ambient lighting needs to be adequate for that purpose. If you want to highlight certain pieces or provide a focal point for the room, add targeted lighting to emphasize those areas. Focal points can include special dishes, artwork, or particularly important work areas.
Partner with a Design-Build Expert
Once you have a few ideas written down, it is best to meet with a design-build expert who can make your ideas a reality. You will want to make sure your contractor listens to your ideas, asks pertinent questions, and is responsive to your desires. An expert will help you get your ideas on paper, set priorities and expectations, make design and material choices, and then make your dream a reality.
Progressive Design Build is an award-winning luxury design-build remodeling firm proudly serving Southwest Florida. We bring the highest levels of quality, promising accurate estimates, full transparency, compassionate staff, ease of service, and a satisfaction guarantee. Contact us today for a free virtual consultation or register for our newsletter for more inspiring ideas.