It's a new year—time for resolutions, renewals, and renovations! If you love to cook and have a less than perfect chef-inspired kitchen, now may be the perfect time to find your inspiration and design the kitchen of your dreams. As a custom design/build remodeling firm, Progressive Design Build has assisted many 'at home' chefs in designing their ideal workspaces.
As sure as you know your way around a kitchen, you know that the functionality is just as important as the style of your kitchen drawer handles. As such, whether your passion is hosting weekend dinner parties or whipping up four-course meals for friends and family, you'll want to consider these fabulous features and amenities in your future kitchen design plan:
SCHEDULE YOUR PERSONAL CONSULTATION!
IN VOGUE KITCHEN APPLIANCES
In today's growing home appliance market, there is an astonishing amount of options to choose from. Take some time to thank about how you use your kitchen, so you can narrow down your selections to those that make the most sense to you. Here are some appliance options that chefs, like you, are including on their 'must have' lists:
Warming Drawer
If you entertain often, you may want to consider a warming drawer—perfect for keeping food warm in between courses, or preparing more than one recipe with different baking times. Even more, desired by chefs is a steam combination oven and warming drawer.
A Second Dishwasher
Make clean-up a breeze by including two dishwashers in your remodel. Or, if you don't have the space to commit to two dishwashers, consider adding a single dishwashing drawer to handle smaller meal clean up—quick and easy.
Induction Cooktop
These cooktops have been gaining popularity over the last few years, especially in warmer climates like Florida. Induction cooktops never get hot to the touch since the heat is transferred through a magnetic field. As an added benefit, induction cooktops are more energy-efficient compared to gas or electric cooktops, thus making it an environmentally- friendly choice.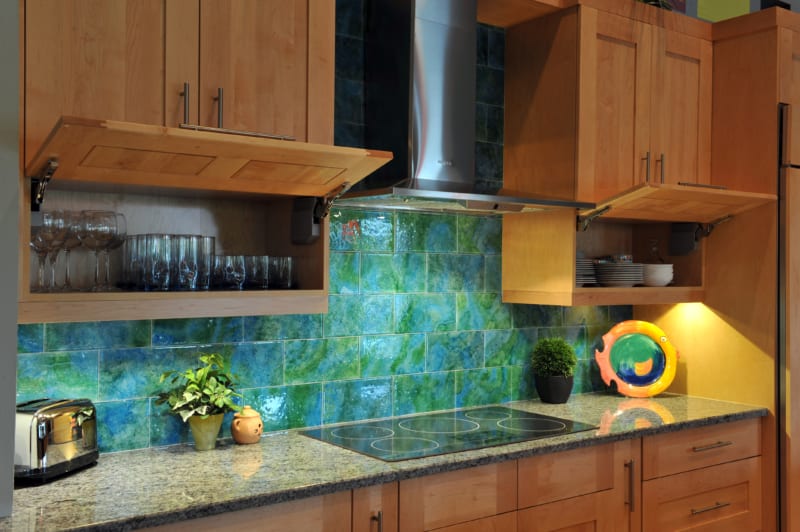 Other convenient appliances
If you love to entertain, you can't go wrong with convenient appliances like an ice maker, a hot/cold water dispenser, or a beverage cooler.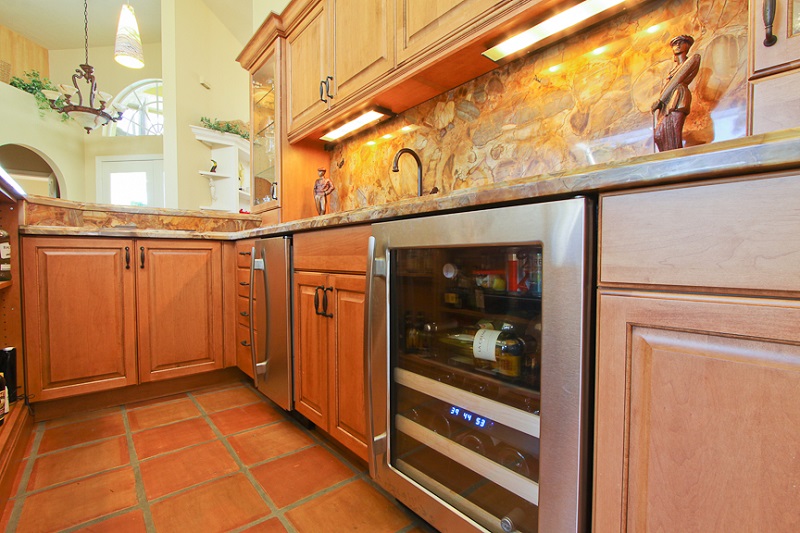 'SINK' INTO THE PERFECT CHOICE
Especially for the most demanding home cooks, the kitchen sink should not only look good in your home but should stand up to the industrial-type functionality required by 'at home' chefs. Consider double sided prep bowls, which allow you to gather ingredients—ready to grab and throw into your recipe. Use one side for prepping food and the other to store utensils during cooking, or to soak your knives and keep them safely out of the way. No space for two sinks? Choose an oversized double bowl sink that can serve a similar purpose.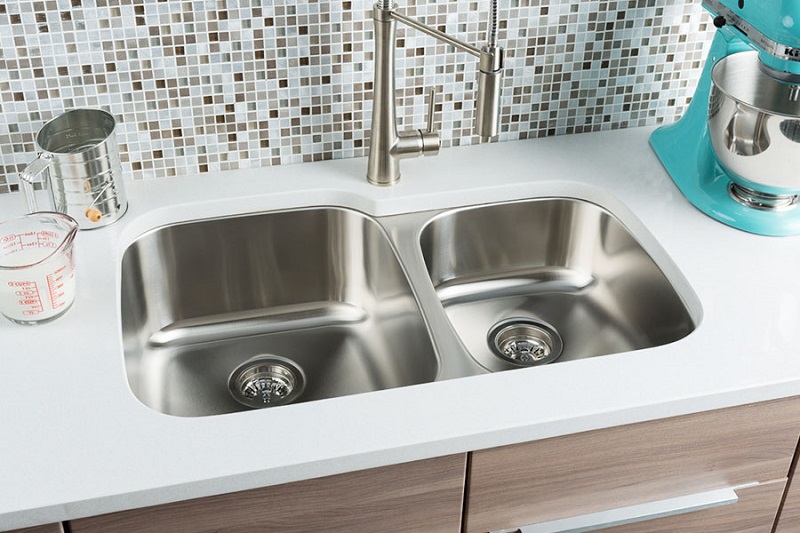 LOTS OF LIGHTING
A well-planned lighting design is a critical component of every kitchen remodel. Consideration should be made to four types of kitchen light fixtures—task, ambient, and accent lighting, each with their own function to maximize home comfort and cooking efficiency.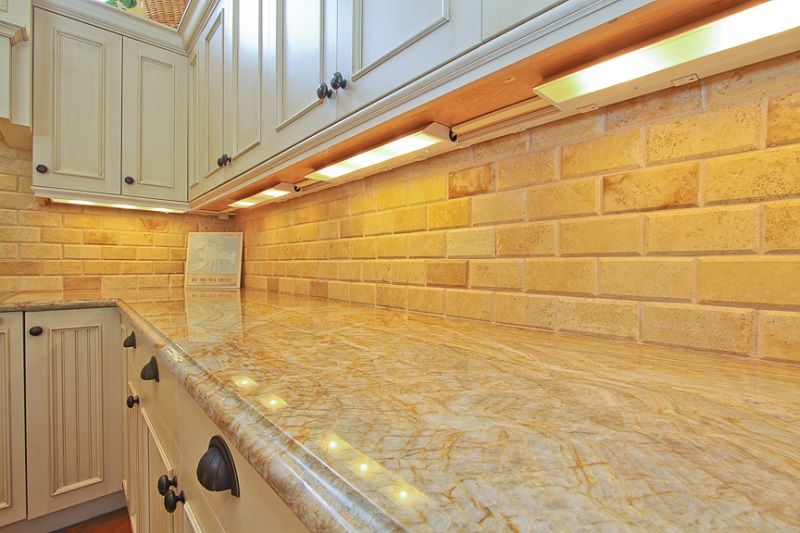 The most important lighting in your kitchen is task lighting to ensure your work area(s) are properly lit and every task is completed with ease. To illuminate cooking and food prep areas, use overhead stove lights, pendant lights (for a contemporary look) or under cabinet lighting.
The purpose of ambient lighting is to provide even, overall light to a room. This is often accomplished with recessed lighting, pendant lights, chandeliers, or a combination thereof.
If you have prized glassware or collectibles that you want to display, you'll want to make sure to incorporate accent lighting into your kitchen design plan. Accent lighting not only helps to highlight specific objects, it can also be helpful to bring visual interest to a room by creating focal points. Examples of accent lighting fixtures include classic track lighting, picture lights, in-cabinet puck lights, miniature recessed lighting or LED rope lights.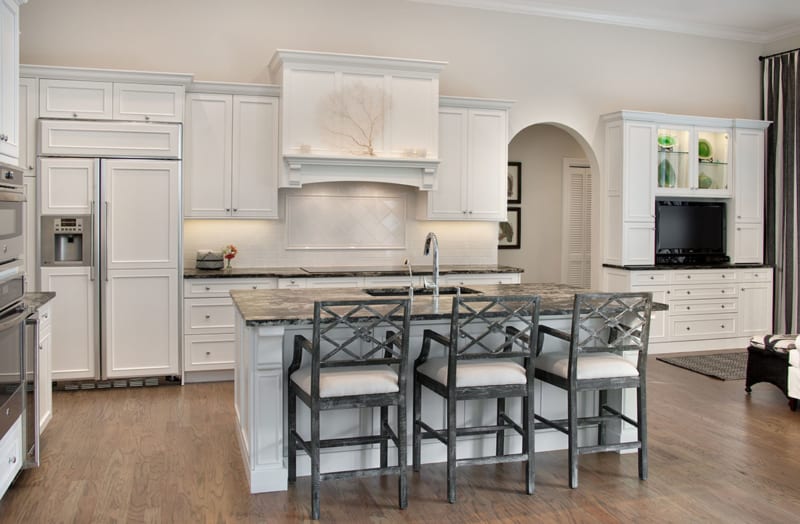 STORAGE, STORAGE, AND MORE STORAGE
If you spend a lot of time in the kitchen, you know that storage is paramount. We never seem to have enough of it! Make your kitchen a model of efficiency with these fabulous ideas:
Pull Out Stand
If you love to bake but don't want to break your back every time you need to get out your heavy mixer, consider adding a custom cabinet with a pull-out tray made especially for your critical appliance.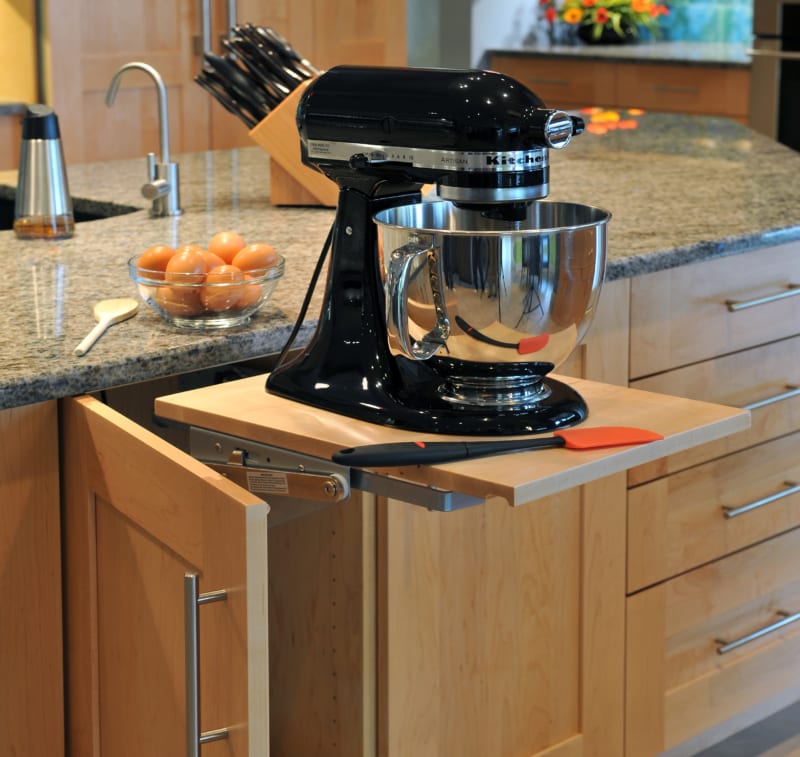 Appliance Garage
Incorporating appliance garages into your kitchen cabinet plan is a fabulous way to keep small kitchen appliances accessible but out of sight. Make sure to plan for multiple electrical outlets and have them installed prior to the cabinet installation.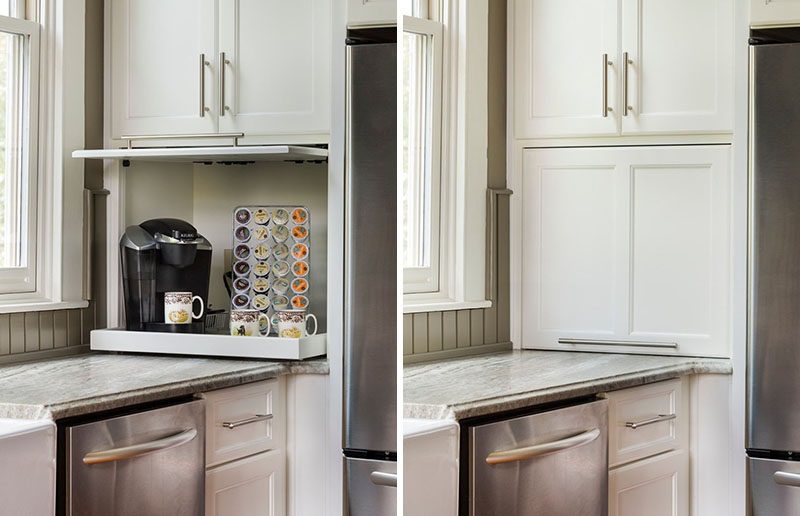 Waste/Recycling Dispensers
Free up floor space by installing a custom built-in bin. Bins can be designed to sit inside the kitchen cabinet floor or mounted to the cabinet door—away from sight. While storage bins come in all shapes and sizes, door mounted bins tend to be smaller. The slide out or pull out bins either sit on a set of rails or hug in a frame for ease of sliding in and out. You will also want to consider whether you need multiple compartments (for sorting rubbish and recycling). This is particularly handy if you have limited storage space.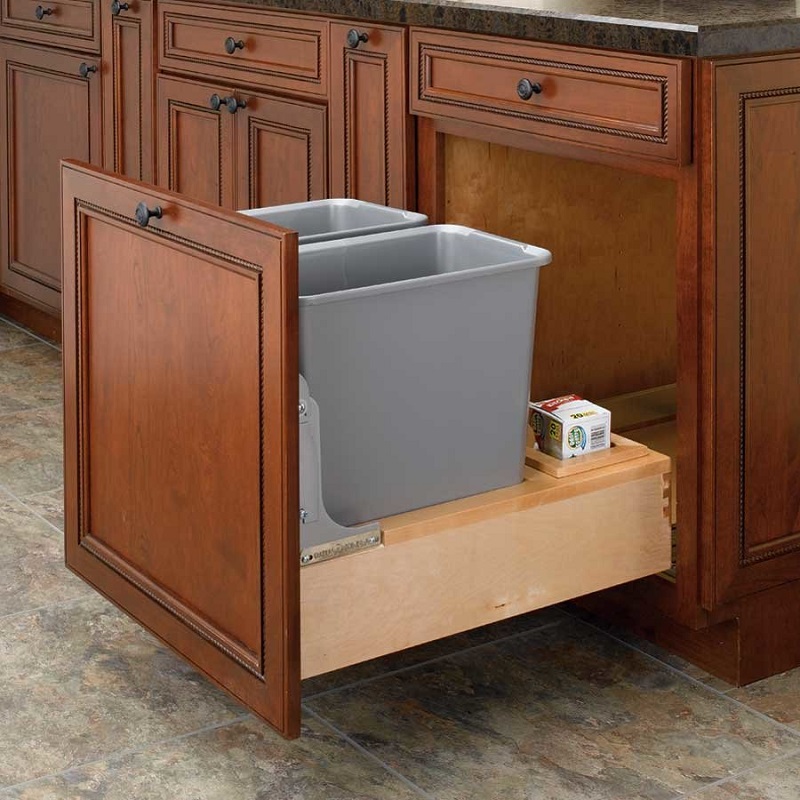 Pantries
Not every home is blessed with a pantry. As you plan your remodel, consider how you might utilize one in your kitchen—from walk-ins to built-in cabinetry pantries. Walk-in pantries are designed to provide a dedicated, stand-alone place to store food and supplies. A cabinetry pantry is a tall cabinet that is designed to be a dedicated pantry right inside the kitchen. They come in all sizes and shapes and are designed to provide limitless storage opportunities.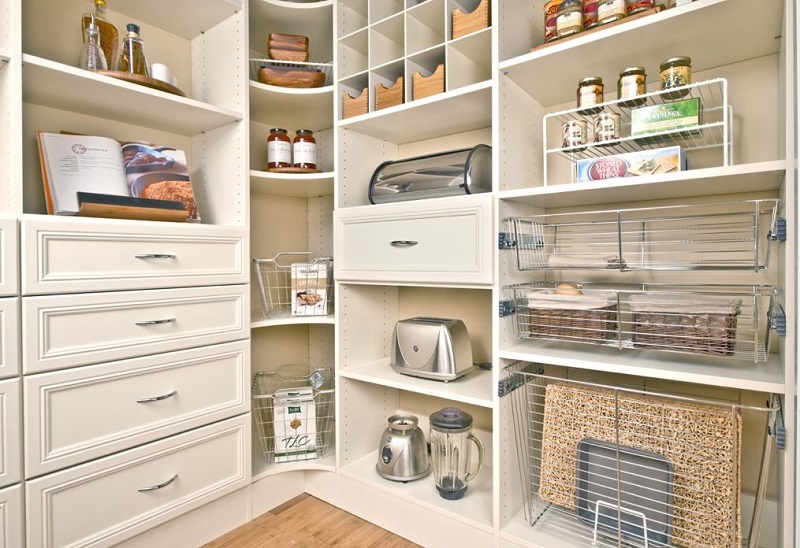 OPTIMIZE OUTLETS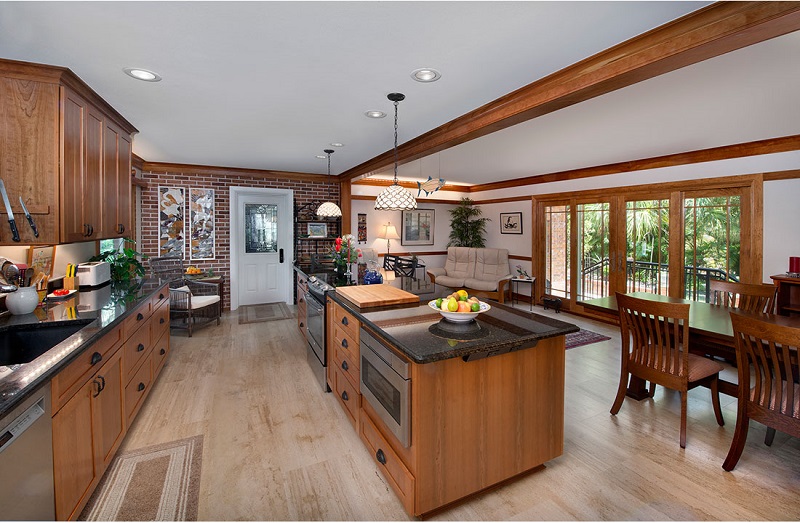 'At home' chefs, like professional ones, need accessibility to power to whip up their delicious creations and confections. Make sure to strategically plan the placement of your kitchen outlets—knowing where you will use your small countertop appliances. When in doubt, add an outlet. And, don't forget about your electronic devices. Think about where you can conveniently charge your phone, tablet, and other mobile devices—away from food preparation areas.
As you plan your dream kitchen, think about using hidden power strips under kitchen cabinets and countertops and include a variety of outlets throughout your kitchen to maximize functionality and flexibility in your finished space.
TWO-TIERED COUNTERTOPS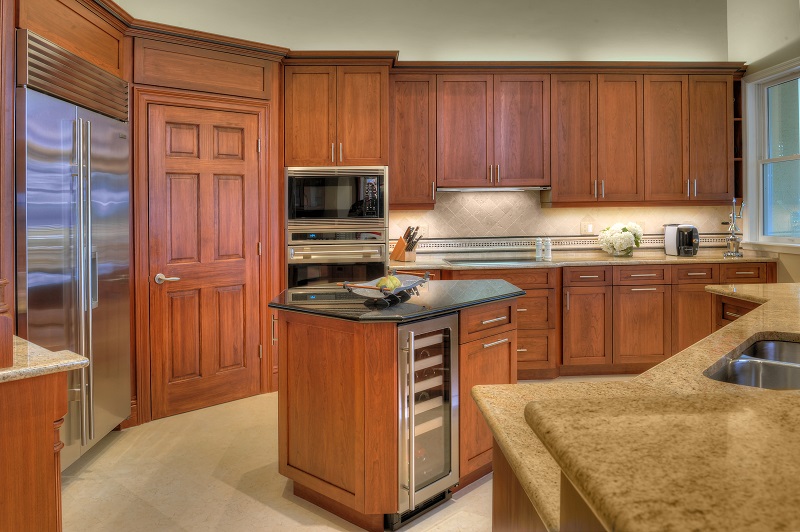 There is no such thing as 'one size fits all' when it comes to kitchen countertops. The standard kitchen counter height is 36" off the floor. But, for many, this height is too high or maybe even too low. A popular solution is custom designing a countertop height that is tailored just for you.
You may have several persons with different heights using your kitchen. Multi-height countertops are a great solution that features various surfaces with different heights so everyone can feel comfortable using the kitchen.
Two-tiered countertops work especially great for multi-functional kitchen islands that work as bars or dining tables. This also creates a natural separation between the cooking and dining areas.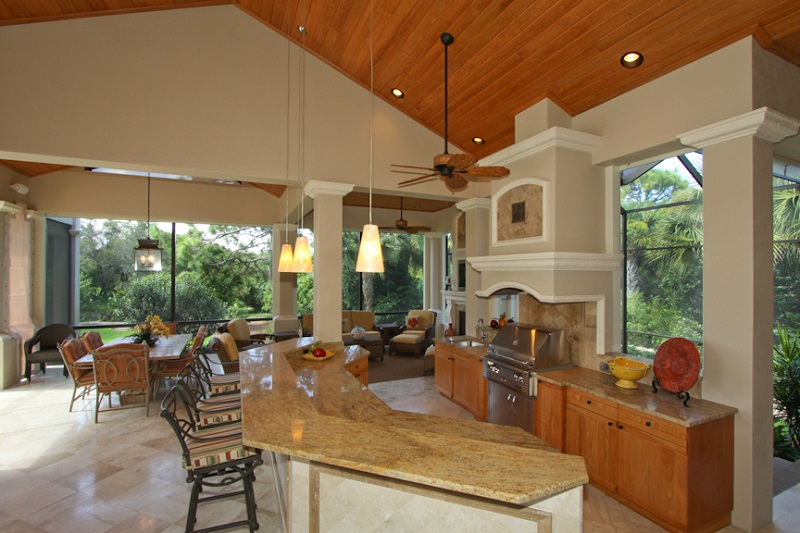 Do you love to bake? Consider adding a lower counter, to operate as your "baking zone." Designed just for your height, this custom countertop will save your back when you roll out dough and work with confections.
Finally, not only do multi-tiered countertops add visual interest to your kitchen but they can also help preserve the resale value of your home. And, who doesn't love that?
OUTDOOR ACCESS
Florida residents spend a significant part of their day outdoors. When planning your kitchen remodel, be sure to consider your kitchen's proximity to your backyard or patio. Adding French doors or a sliding glass wall to your backyard or patio expands your space for entertaining while letting in abundant, natural light—not to mention the perfect spot to enjoy your morning coffee or afternoon glass of wine.
If you have an outdoor kitchen, consider the traffic pattern and plan for ease of movement. If you know you'll be moving trays of food, beverages, and other items back and forth between the two spaces, be sure you've planned a clear path from the indoors to the outdoors.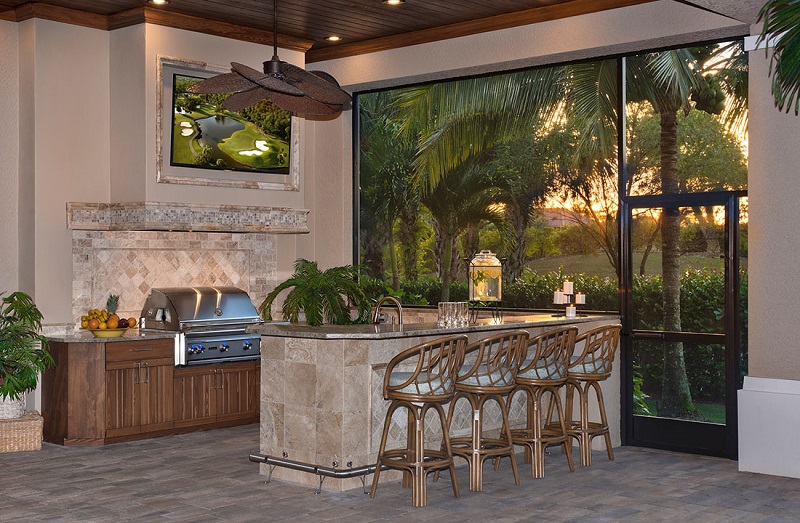 START DESIGNING YOUR KITCHEN TODAY!
For every 'at home' chef, the kitchen is the heart of the home. Make it uniquely yours by letting Progressive Design Build remodel it to your exact specifications. If you're ready to take that first step toward designing your very own chef-inspired kitchen, contact Progressive Design Build using our online form or calling us at 239.939.5411.
If you're not quite ready to remodel just yet but looking for design inspiration, be sure to check out Progressive Design Build's remodeling portfolio. At Progressive Design Build, we're full of exquisite design ideas for every room in the house.