Let's face it: hardly a day goes by without you thinking about remodeling your kitchen. That's not surprising considering that 1 in 10 homeowners across the country do some degree of kitchen renovation each year. Let's also be honest: you know the time has finally come to go beyond simply replacing an appliance or touching up the cabinets. Instead, you and your family are eager to bring to life the Dream Kitchen you've always wanted — but many questions remain.
Design ideas abound: What kind of kitchen do we want? How should it be laid out? Which appliances and fixtures would be ideal? Remodeling questions are also central: How much is it going to cost? Time and materials or fixed bid? How long will the project take? Where will we cook and eat during construction? Is the process safe during these chaotic times? And of course concerns about the firm you choose: What should I look for to ensure a good contractor?
Look no further! This guide is meant for homeowners who are ready for a complete kitchen remodel. No more tweaks or touch ups, no more fridge swaps or sink replacements, no more fooling around: You and your family now demand the kitchen you've always wanted and deserve, but need to make it happen in a way that's smart, economical, efficient, and safe. You also want your new kitchen to be as gorgeous and functional as possible. We're here to help.
Step 1: Decide What You Really Want (Determine Your Kitchen Must-Haves)
For years you've looked at your kitchen and wondered how it could be improved: the counters might be too narrow, making food prep awkward; the pantry too far away creating an everyday hustle; the dining table too small for your growing family; the lighting inadequate; the oven and fridge needing an upgrade; the plumbing leaky, the cabinets nicked, the air circulation poor. The more you thought about it, the more you wanted a whole new kitchen. Well, now's your time!
The process begins with your "must have" kitchen options. Define what is really important to you. By identifying everything that's wrong or can be improved with your old kitchen, you're well on your way to designing a new and better one. By knowing what you don't want, you're closer to imagining what you do want; and by visualizing your ideal kitchen, you're all that much closer to making it a reality. So ask yourself these questions:
What are your current pain points?

What do you need more of?

What do you need less of?

What updates are needed?

How do you see your kitchen needing to function in 10 years?
When you're planning your new space, think about you and your family's current needs and future expectations. Are you gathering multiple times daily for cooking and eating? Do you need more storage? Better flow? Do you use your kitchen to socialize and work from home? If so, that means your new kitchen must fulfill many roles at once, and be as gorgeous, comfortable, and functional as possible. Note all your desires.
Have a clear idea of what you won't budge on and what would be just nice-to-haves. Browse form and functional ideas online. Consider a variety of remodels, and note the elements you prefer. Open layout with an island, or more compartmentalized? Walk-in pantry or built-in pantry cabinet? Contemporary or traditional look? High tech or low? PIcture your kitchen coming to life solving your pain points.
Step 2: Set a Realistic Budget
After you imagine the ideal kitchen for you and your family, it's time to attach those strings in the form of getting down to business: you need to partner with a trusted and proven contractor to zero-in on a budget that you're comfortable with, and create an optimal project plan. Some homeowners hire two firms, the first to design and then another to build. In contrast, "Design-Build" experts combine both into a single touch point that streamlines everything.
An immediate advantage of partnering with an integrated Design-Build firm is getting a single fixed estimate for the entire project. Since time-and-materials billing starts with a guess and often ends with unseen additional costs, a responsible fixed bid gets more and more refined each step of the way until its assigned an exact amount for the overall final cost. That enables you to hold your contractor accountable, and gives you peace of mind from the very beginning.
That fixed bid starts with ballpark ranges that can be determined with a phone or video call conversation. On the call, share your broad strokes vision for your kitchen, including suggested layout, overall look and feel, and level of quality of the appliances, surfaces, lighting, plumbing, etc. Even better, email photos or links of the kitchens you've seen online that capture your heart's desires. The goal is to get an estimated budget and scope that's within your range.
If the contractor's numbers match your budget and their process sounds like a good fit, the next step is an In-Home — or these days if you prefer Virtual — Consultation. Here you get to meet your contractor, assess their level of competence and professionalism, and enable them to do a walkthrough of your existing kitchen to see the available layout and what needs to get done. You'll also enjoy brainstorming ideas with them to settle on the perfect design-build solution.
Step 3: Design Your Kitchen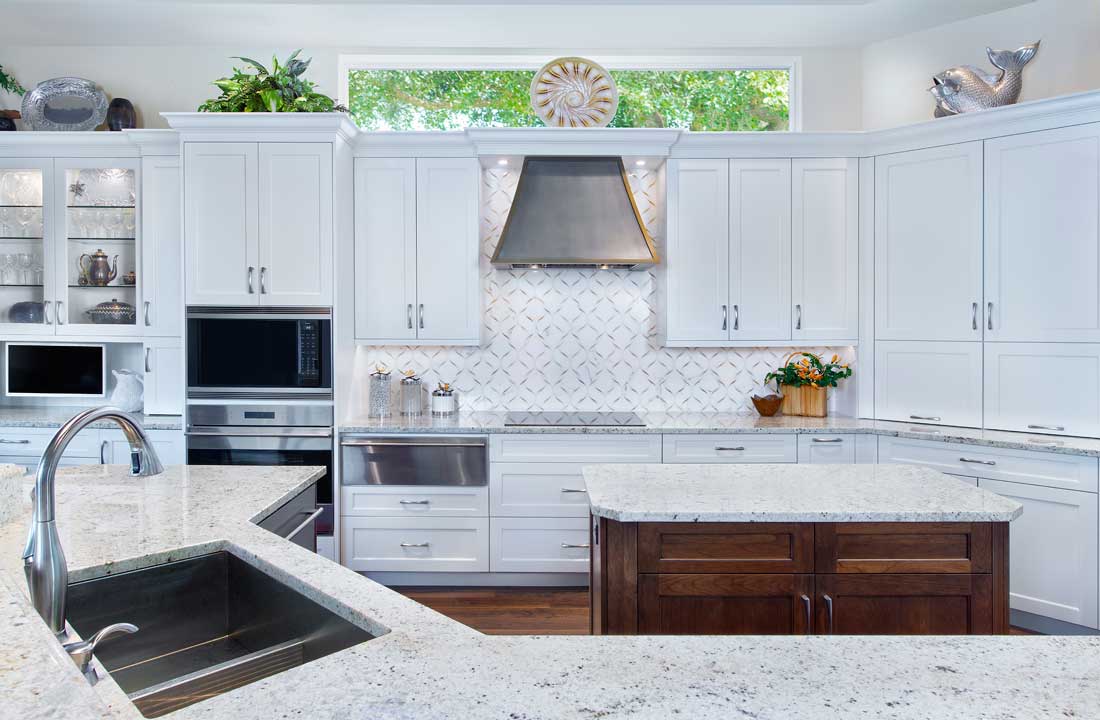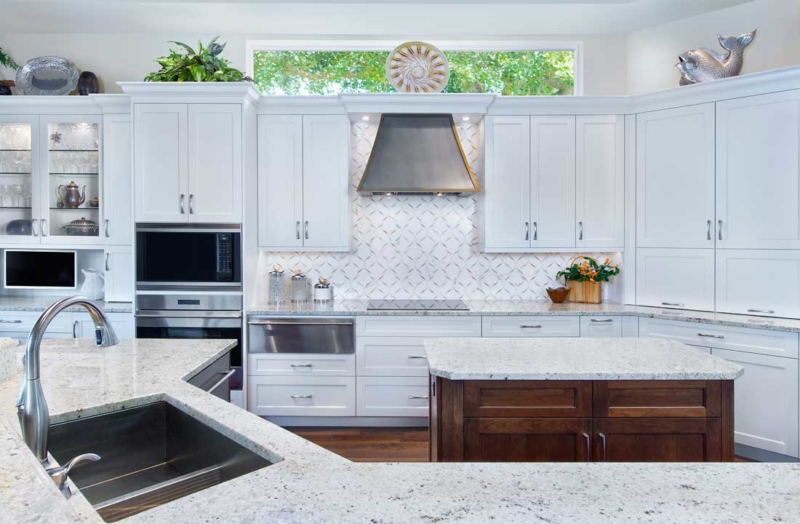 Roll your sleeves up and get going! Now's the time to translate the creative vision and general ideal of what you'd love to see into an actual layout and floor plan. Remember that functionality is more important than aesthetics, at least at this early planning stage. Old school kitchen designs were based on the "Work Triangle" model, where the sink, stovetop, and refrigerator were the centerpiece to minimize movements and legwork for a single person cooking.
But times have changed, and so have kitchens. Contemporary kitchens instead adopt a "Work Zone" approach, where modern layouts are divided into modular and scalable areas based on specialized purpose: food prep, cooking, eating, cleaning, and storage zones. Socializing and working areas have also become increasingly common, featuring big screen TVs, comfy chairs and couches, and even home office spaces. Decide whom will use these areas, and how.
At this time, working with a designer is extremely valuable to help you plan out the design, style, layout and materials you need for your kitchen. Once you feel comfortable with the essential floor plan, a designer will help you identify an overall design style that suits you. Although your choice will mainly impact the aesthetics, it also influences everything that follows, including appliances, materials, and fixtures. A designer will also help you ensure your design style harmonizes with the rest of your home, and creates an environment and mood fitting for the exact type of kitchen experience that's ideal for your whole family:
Traditional: Victorian style with neutral colors, natural textures, and conservative fixtures

Craftsman: More rugged version of Traditional with plenty of solid wood and details

Modern: The opposite extreme featuring minimalist geometric lines, metals, and plastics

Contemporary: Integrates latest trends for a colorful, creative, and slightly edgy look

Transitional: Most popular of all, where Traditional and Contemporary styles blend

Modern Farmhouse: Blends Traditional with Craftsman for a rugged but historic feel

Cottage: Casual comfort with nostalgic flourishes and quirkiness
Step 3: Choose Your Fixtures and Finishes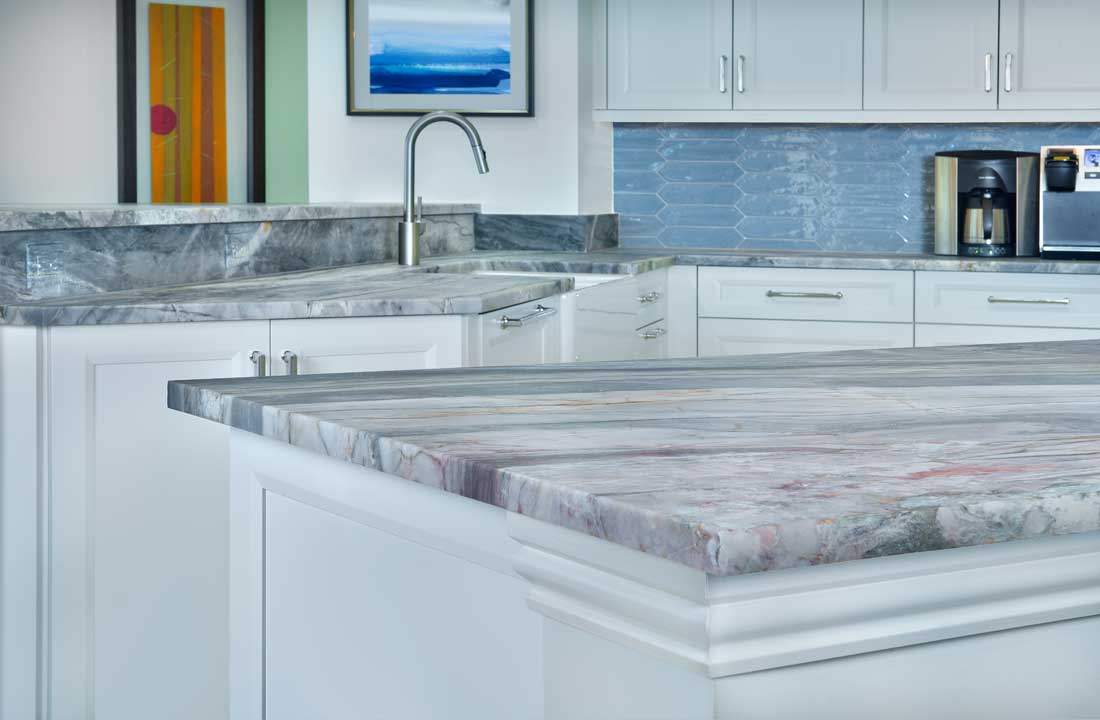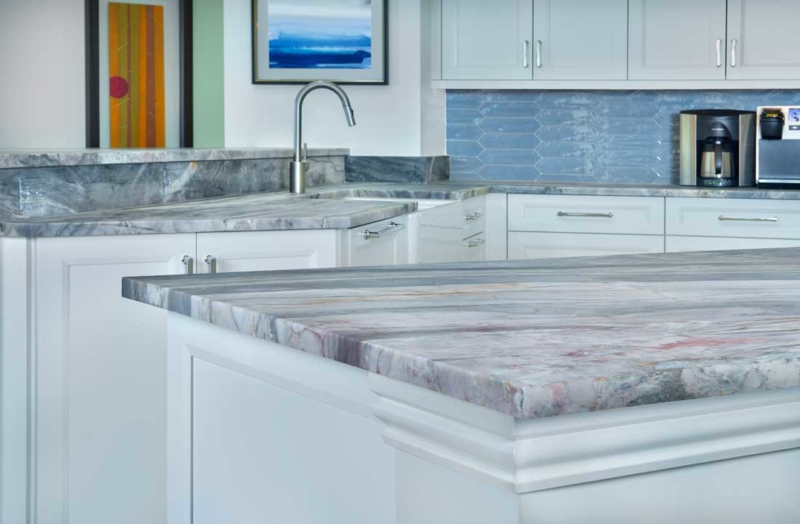 Now that you've estimated the budgetary scope and chosen a design style, you're ready to start filling in the details. Start with the infrastructure, and be mindful of everything you didn't like about your old kitchen and want to see refreshed or changed with the new one. For example, talk to your contractor about updating the plumbing and electrical systems, and installing HVAC and other ventilation enhancements. Windows? Replace with energy-efficient ones for savings.
Next up: materials for all the functional surfaces, new appliances, and storage areas. Durability, cleanliness, and ease of use win over aesthetics, but all are important. Quartz countertops are a popular choice, along with quartz and marble, which are all fabulous choices, depending on your design style and maintenance needs. Kitchen cabinets get even more use. A designer will help you choose between custom vs. semi-custom solid wood options, color, drawer options, specialty inserts, and robust finishes.
Flooring is tricky, and worthy of your attention. Steer clear of wall-to-wall carpeting, laminates, and vinyl. Instead, tile is beautiful and strong yet can be hard on the feet, while hardwoods and even luxury tile that can mimic natural woods are extremely popular. Ensure whichever choice you make matches your budget, personal design style, lifestyle and maintenance needs.
Sinks and plumbing fixtures also need to synch with design, and match your functional needs. Stainless steel can be deceptively thin, while enamel, porcelain, and cast iron look great are a real chore when it comes to cleaning and maintenance. Granite sinks are trending, thanks to combining a terrific look with superb functionality. Faucets should also be the highest quality: brass is superior to zinc and plastic, ceramic valves are sturdiest, and satin finishes are ideal.
Step 4: Choose the Best Appliances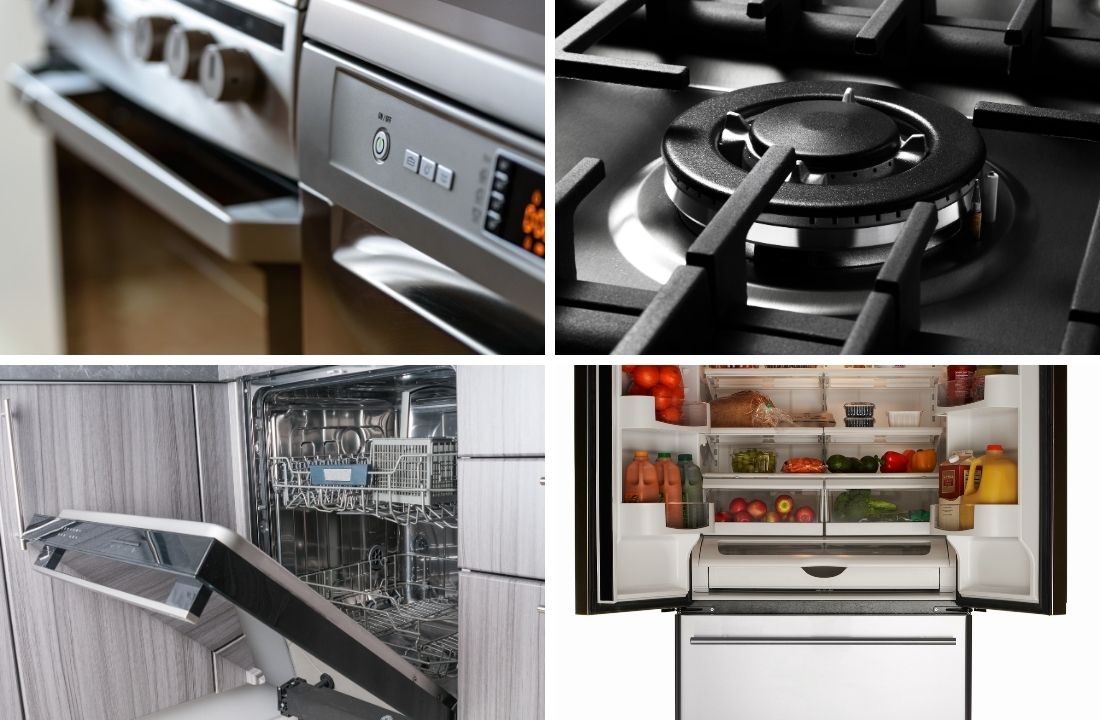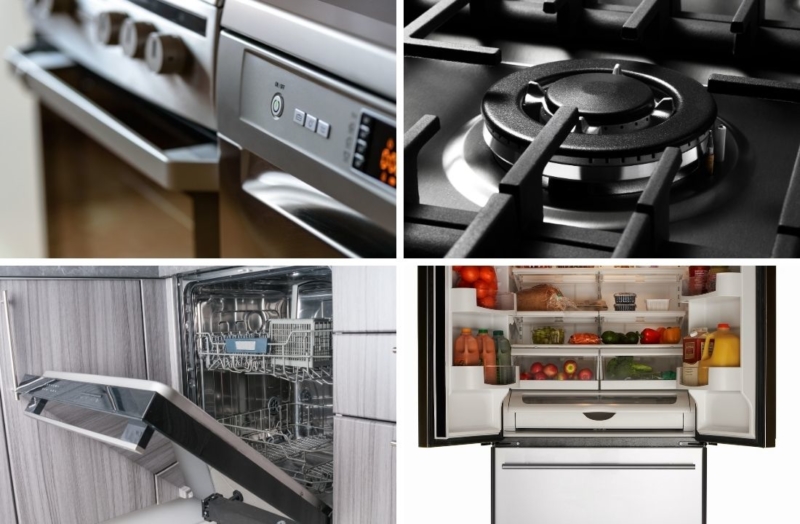 Regardless of design style, all your appliances should be of the highest quality and feature the functional specs appropriate to the size of your family and their needs in the kitchen. Not surprisingly, big families need spacious dishwashers and refrigerators; more specifically, coffee achievers demand a fancy espresso machine. Ask before you buy.
Once you understand everyone's expectations — especially your own — consult with your designer to ensure each appliance is best suited for the kitchen you are designing and building together. Many of your choices will influence the underlying infrastructure, such as deciding between gas or electric ovens. Pros prefer gas, while some homeowners consider electric safer. Hooded range? Spacious, multi-burner stovetop? Built-in ventilation system? Choices, choices.
Refrigerators are also fundamental, similarly contingent on your family's needs and the design choices you've made early on. French doors, sliding freezer trays, options abound for operational logistics, cubic footage, and insulation. Energy saving features are important, since the costliest appliance in your home to operate is typically the fridge. Many homeowners opt for several refrigerators to relieve the burden and add flexibility to kitchen layouts and flow.
Dishwashers and microwaves are like deodorant: we can all live without them, but life is so much better with them! So much so that they've become essentials. Work with your contractor to ensure they meet your needs, and the capacity to be hidden whenever possible. Ideal for tuckaway, place them under counters and inside cabinets; just keep them quiet and accessible. High tech "smart appliances" are more and more popular.
Step 5: Survive the Construction
Second only to the bathroom, your kitchen is the living space you can't live without. That begs the question of what your family should do when crews arrive and dismantle it, basically making the area off-limits for weeks. The answer depends on you.
With the right contractor, you can go spend a few months at your vacation home and come back to a beautifully remodeled kitchen, on time and on budget, without having to live through all the dust and noise—it all hinges on a trusted, experienced contractor. Follow these 6 secrets to pick a contractor you can completely trust to master your home remodeling project while you're away.
If you choose to stay at home, here're a few best practices that can help keep everyone safe, well fed, and as comfortable as possible until completion.
Safety first! Dust and debris are health hazards, mitigated by temporary barriers, HEPA filtration systems, and coordinated work schedules. Ensure your contractor is up on the latest tools, technologies, and guidance, and discuss all the details before construction even begins. The pandemic further complicates things now, and openly ask about this, too: are the craftsmen, plumbers, and electricians masked and properly socially distanced? Check their policy.
If your family opts to remain, you'll likely be ordering in quite a bit. That's fun but gets expensive, and can be less healthy than home cooked meals. But in lieu of a functioning kitchen, how can you do it? Setting up a temporary kitchen is a viable solution, one where you designate another room for the tasks. Prep, pantry, cooking, and washing stations can be set up wherever you have access to electrical outlets and plumbing. Hot plates and microwaves work wonders.
Lastly, set up a project plan and schedule with your contractor. Hold them accountable for the timely completion of the many interlocking tasks that go into a complicated kitchen renovation, from electrical and plumbing work to floors, walls, and ceilings, to appliances, fixtures, and finishes. That'll keep your family safe and out of the way, and help ensure that your contractor sticks to the timeline. You'll be back to normal in no time, and with a new Dream Kitchen!
Step 6: Choose a Trusted Design-Build Contractor
As mentioned, combining the design and build responsibilities with one trusted contractor is optimal. Not only is budgeting easier and timelines faster, but efficiencies are ensured throughout the project lifecycle. With a single point of contact, you gain transparency into every aspect of the work; conversely, your contractor's designers and builders work seamlessly together to ensure they stay true to your vision. That means more value and less stress.
So when choosing a contractor, make sure you ask the tough questions up front. How long have they worked in Florida, and can you talk to satisfied customers? Do they follow required guidance and protocols, and handle electrical, plumbing, and building permits? What procedures are in place to guarantee your family's safety during the pandemic? And when you see their estimate, is it fixed and final? With a reasonable timeline from start to finish?
An award-winning luxury design-build remodeling firm that proudly serves Southwest Florida, Progressive Design Build has a well-deserved reputation for consistent innovation at the highest levels of design and customer service. Driven by their leadership philosophy where people make all the difference, the firm ensures 100% accountability through accurate estimates, full transparency, compassionate staff, ease of service, and satisfaction guarantees.
Progressive Design Build is a trusted expert in custom kitchen remodels and bathroom remodels. Read more about their point of view on kitchen design trends, and see client testimonials on how to make your kitchen the envy of all your friends and family. Ask for their newsletter, or reach out directly. They can't wait to hear from you and brainstorm the design and construction of your new kitchen!