Outdoor living spaces are a hot trend in home renovation, especially popular in Southwest Florida where the year-round weather is so accommodating. Inspired homeowners are indulging their creativity and expanding their square footage by transforming under-utilized yard areas into seamless and natural extensions of their home, with outdoor kitchens topping the list.
Of all the rooms homeowners love to remodel, kitchens are the most complex: plumbing and electrical infrastructure, not to mention multiple design choices with sophisticated and elaborate appliances, furnishings, materials, and lighting. At least double these challenges when building outside! Given all that's involved, here's a step-by-step guide for ensuring your success.
Step 1: Understand Your Needs & Expectations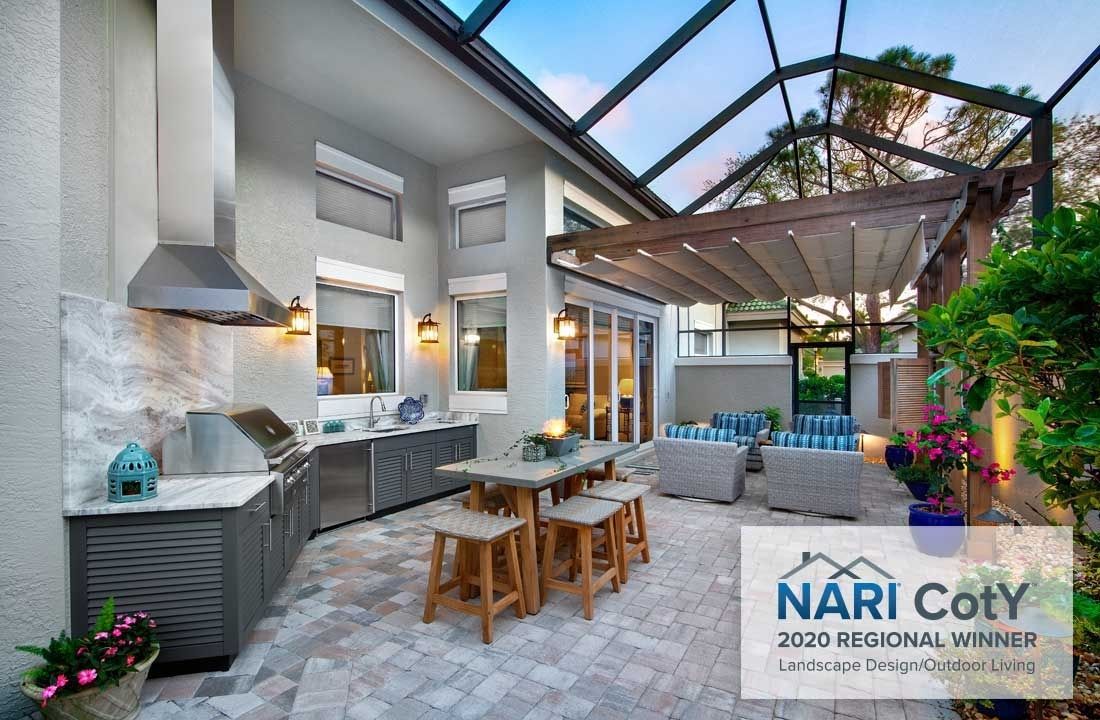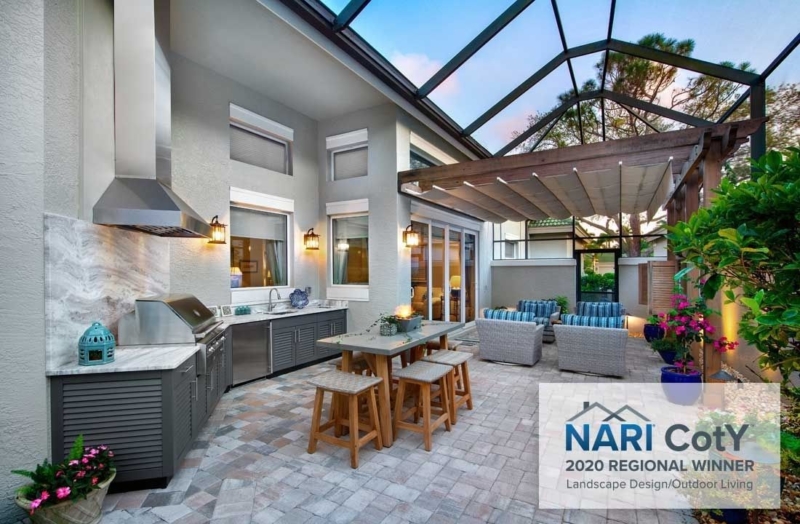 Knowing the "why" behind a remodel before figuring out the "how" is vital to getting any project done right, especially one as complex as designing and building an outdoor kitchen. With that in mind, asking yourself and your family a few important, up front questions is a great way to identify the kind of outdoor kitchen best suited to your needs — and in line with your budget.
For starters, what do you envision using your new outdoor kitchen for? Do you see it as a convenient way to eat outside without having to run back and forth into the kitchen — or do you envision your outdoor kitchen as a full-fledged entertainment experience where you can wine and dine your closest friends and neighbors, and throw lavish parties and special events?
"Our clients are asking for the same amenities and comfort across outside spaces as they get inside," insists Dave Wherry, president at Progressive Design Build here in Southwest Florida. "They delight in nature and want to spend more time in the great outdoors — without being dependent on indoor appliances and utilities. That results in some amazing outdoor kitchens!"
Depending on your answers, you and your contractor will have a better idea as to the general scope, design specs, and construction requirements of your ideal outdoor kitchen. Whether you plan on serving four diners or a few dozen, expect basic accoutrements or fully functional appliances rivaling those from indoors, good planning helps you work smarter, not harder.
Step 2: Visualize Your Space, Location, and Layout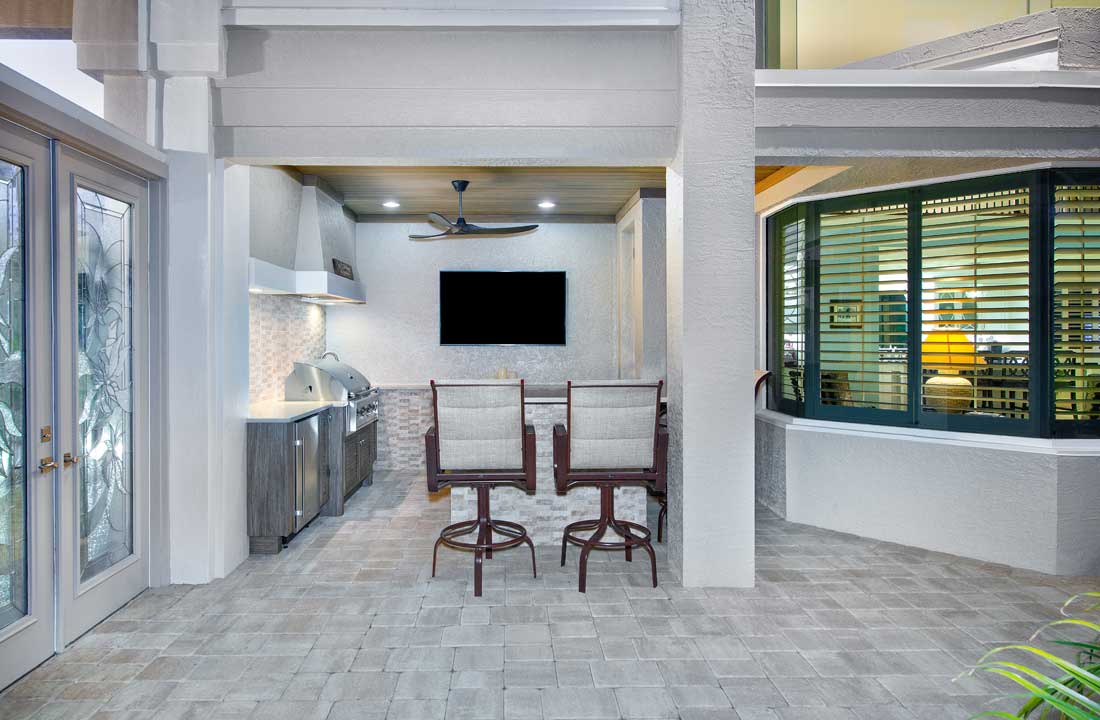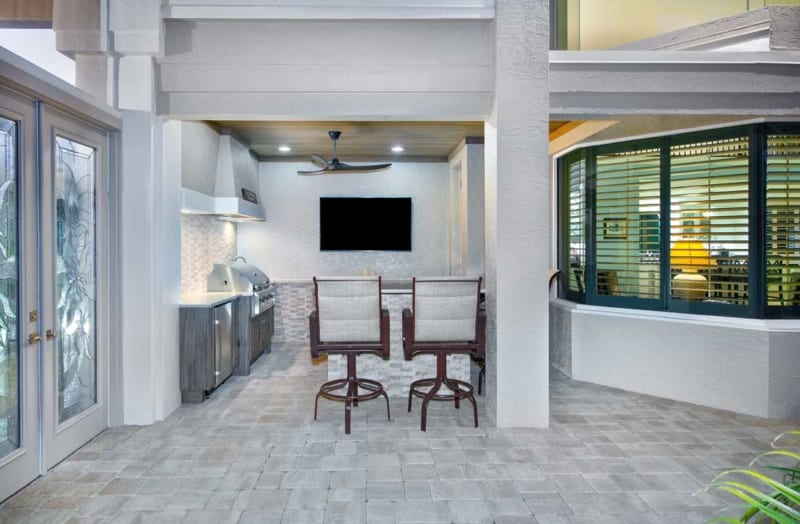 After you and your remodeling contractor answer these "why" questions, you're ready to imagine where an ideal outdoor kitchen should be placed. That in turn begins with taking a good look at your yard, which ultimately has to suit not only all the proposed furnishings, appliances, and design elements, but the essential electrical and plumbing infrastructure — hard to move once placed.
Depending on the size and complexity of your outdoor kitchen, you'll likely have only a few choices as to where to build it, and how large to make it. Function already influences form: a fully equipped outdoor kitchen doesn't need to be near your house, for instance, while one placed near a pool offers its own fun experiences, especially for larger groups to entertain.
Once you settle on the where, you can imagine the what: A great way to create an ideal layout is by categorizing your outdoor kitchen into hot, cold, wet, and dry zones, respectively. Grills, refrigerators, sinks, and prep areas should be oriented to best suit cooks and their guests — and don't forget seating and tables, placed close enough to be convenient without being obtrusive.
"I remind my clients that choosing the perfect location and layout for an outdoor kitchen demands sensitivity to nature, too," stresses Dave. "Whether your yard is flat or hilly, open to the sun or shaded by gorgeous trees, your outdoor kitchen needs to become an organic part of the beauty already there. Think beyond utility, and embrace the entire natural experience."
Step 3: Design with the Build in Mind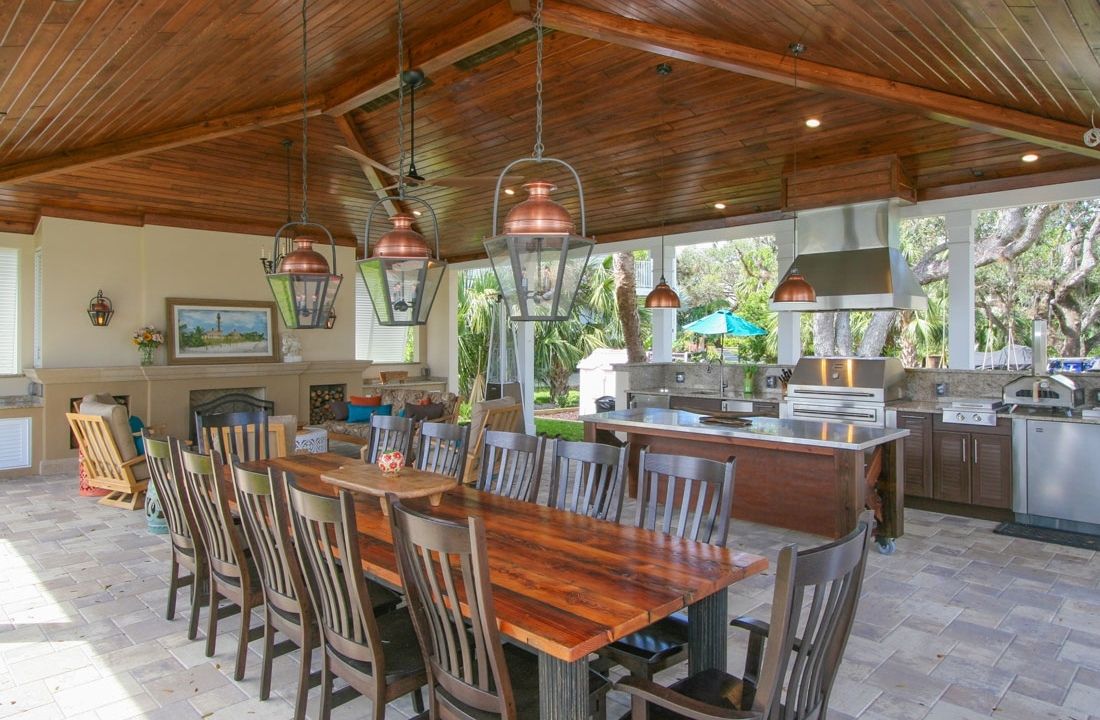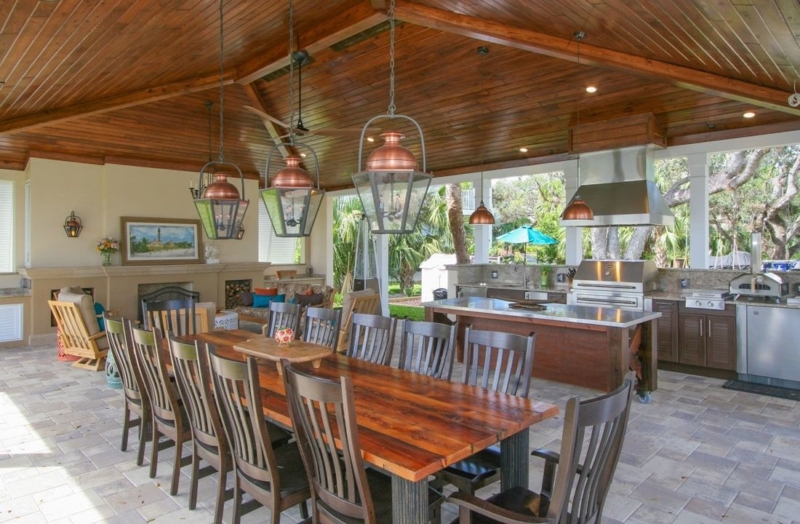 By this step you and your contractor should have a clear picture of your new outdoor kitchen, but the devil — and the design — is in the details. What kind of look and feel do you and your family want? Natural-looking outdoor kitchens beg for wood, stone, and traditional elements; more modern kitchens demand plenty of stainless steel, colorful tile, and solid concrete.
"Design flows directly into choice of materials and appliances," continues Nikki Bruty, a designer at Progressive Design Build, "and your choice of materials and appliances will influence the design. The great news is the abundance of options available to homeowners, from grills, refrigeration, and cooking elements to materials for cabinets, sinks, faucets, countertops, and even lighting, crucial for lovely evening dinners."
Several factors are important at this step, including climate, convenience, innovation, and transitions. Specifically, if your home is susceptible to high winds and hurricanes then ensure stability; multipurpose appliances can save space and be fun; high tech units are increasingly the rage; while designers love to build outdoor kitchens as seamless extensions of the home.
Far as outdoor kitchen trends go, common themes include customization, weatherization, entertainment and sports, and going back to nature. Ask your design team about options that range from semi-enclosed sections to wind-resistant materials, integrated play areas, and rustic elements. As long as the themes are consistent and match your home, the yard's the limit!
Step 4: Partner with the Right Remodeling Contractor
Given this complexity and the connection between design and materials, make sure you partner with a trustworthy and proven design-build remodeling firm. By blending design and build capabilities into a single, consolidated approach, the various teams working on your outdoor kitchen streamline communication for better budgeting, faster timelines, and higher quality projects.
Reputation is everything in Southwest Florida, so don't hesitate to check references and take a good look at their work. Make sure they are experienced handling the necessary electrical, plumbing, and building permits for your outdoor kitchen, are able to precisely estimate the overall budget and timing, and know the best sources for kitchen materials and appliances.
Progressive Design Build has a well-deserved reputation for consistent innovation at the highest levels of design and customer service. Driven by their leadership philosophy where people make all the difference, the firm ensures 100% accountability through accurate estimates, full transparency, compassionate staff, ease of service, and assuring satisfaction guarantees.
The award winning firm specializes in whole house, kitchen, and room additions, and is a trusted expert in outdoor kitchen spaces. Explore their point of view on outdoor remodeling trends, and read their client testimonials. Ask for their newsletter, and reach out directly. They can't wait to hear from you and brainstorm your new outdoor kitchen to perfection!