How much time do you spend in your backyard? Are you imagining yourself relaxing in a beautiful oasis right outside your door?
Since the COVID-19 pandemic began, homeowners have been forced to stay in their homes and reconsider the spaces they spend the most time in. That's why having an ideal outdoor living space for your Southwest Florida home is more popular than ever.
As you embark on any outdoor living space renovation, there are a number of design and budget planning items to consider when it comes to starting your outdoor living space project. These include:
Size of the space

Location of the space

Design specifics

Amenities and finishes

Pre-existing structural conditions

Access to utilities (water, electricity, etc.)
To help you plan, we've provided realistic outdoor renovation budgetary options that range from low to high. Enjoy exploring these ideas for making your outdoor living space work for you and your family. 
Small Outdoor Renovation ($2,800 – $25K+)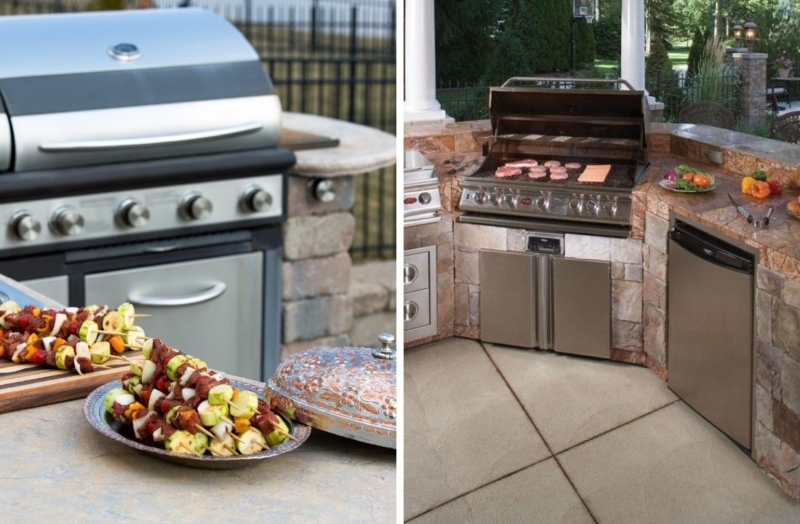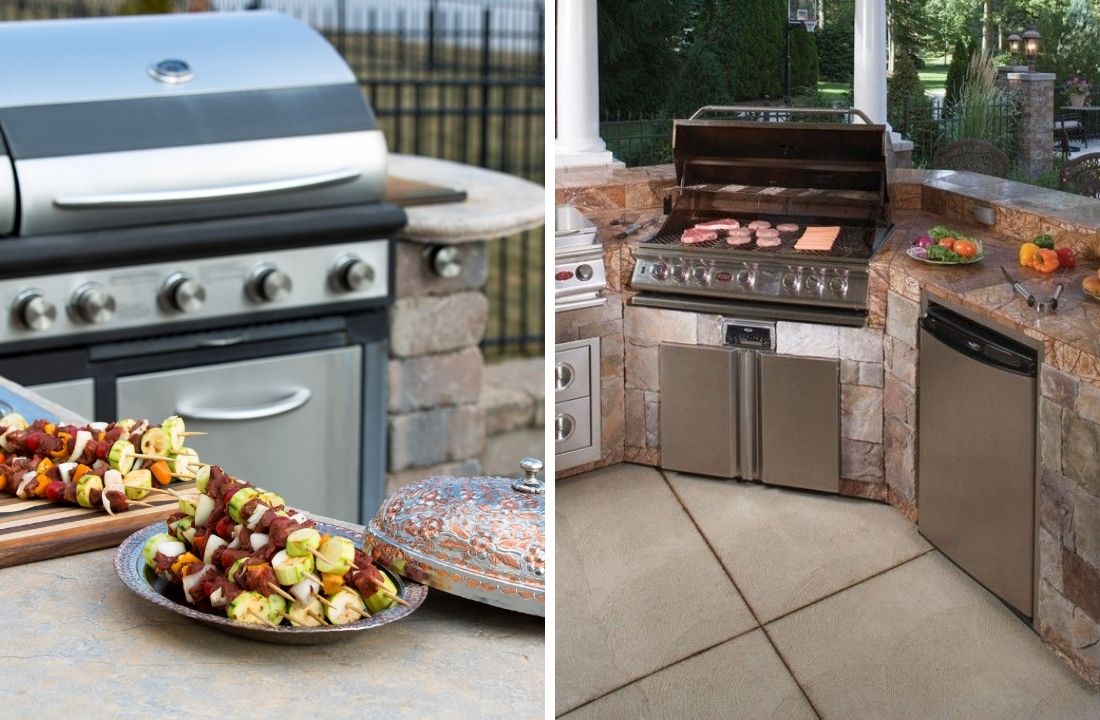 Even the smallest changes to your backyard can radically revitalize your rest and relaxation at home. If you're looking to make some minor changes to your property while still getting the biggest bang for your buck, consider these few small outdoor renovation options, starting with an outdoor kitchen-style island with a barbecue grill. You'll be able to cook up virtually anything your kitchen oven can, allowing you to spend more time outside with your family. Upgrades include cooktops, refrigerators, and freezers to enable easy food storage and quick accessibility to all the ingredients you need to successfully prepare a tasty meal.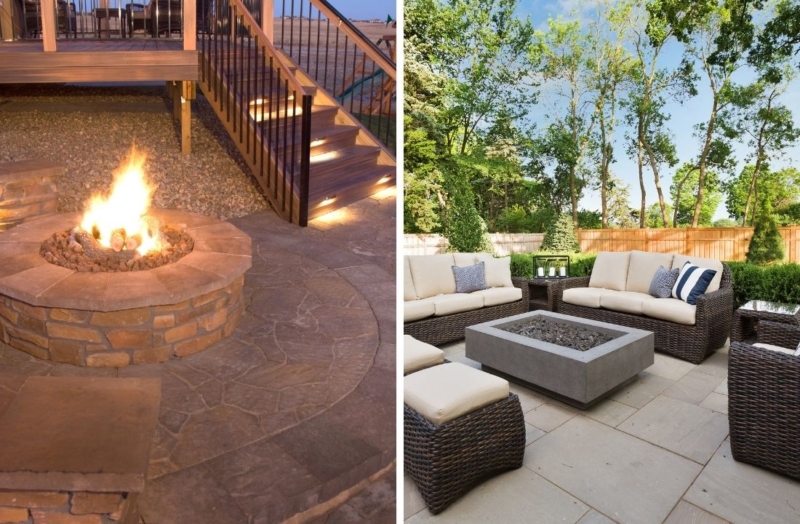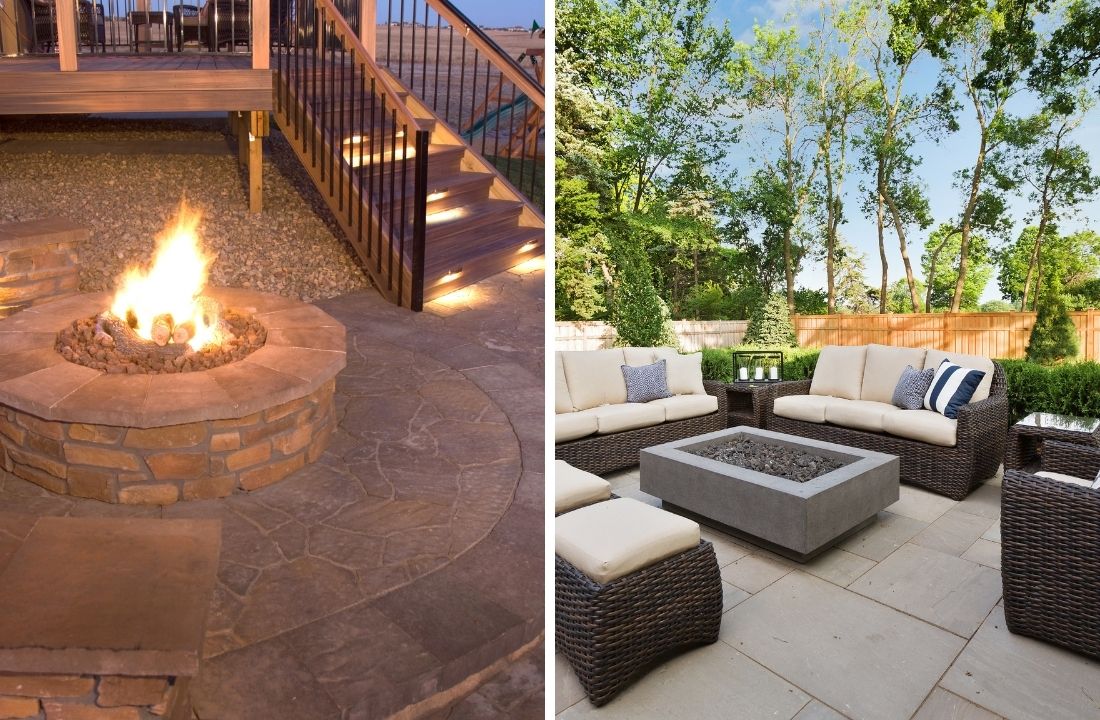 Have visions of gathering around the fire in your backyard? Creating a fire pit is an excellent way to enjoy the warmth and glow of the open fire, whether you want it for chilly nights, lighting, or roasting marshmallows to ignite childhood memories. Building a fire pit adds the perfect functionality and aesthetic for outdoor picnics or cozy late-night gatherings. You can also lay new patio flooring around your fire pit to create a comfortable sitting area for your family and guests. These smaller renovations not only improve the aesthetic of your space, they can be added with more flexibility—specifically where they are placed. 
Mid-Level Outdoor Renovation ($60K – $105K+)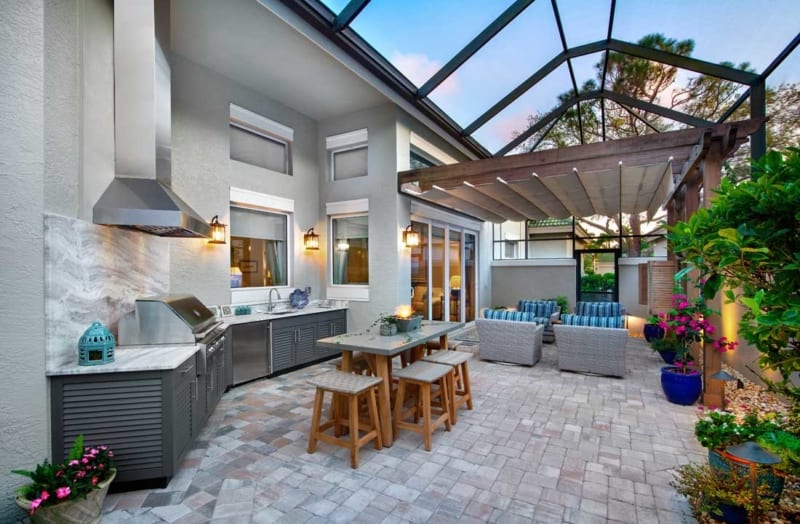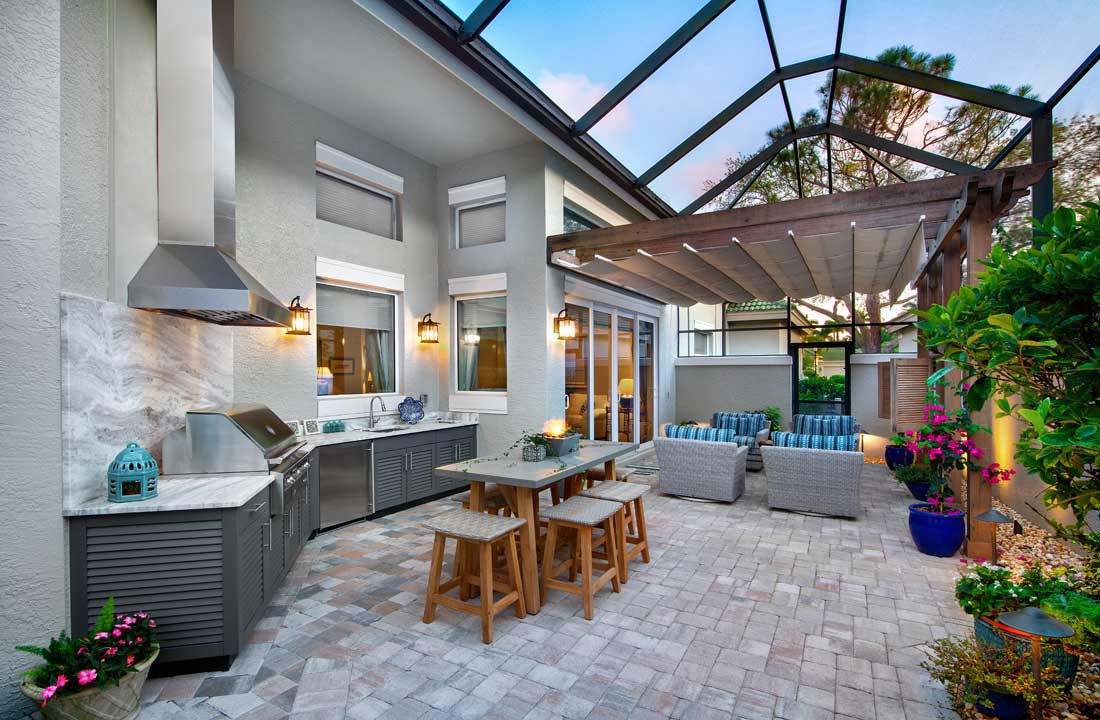 An outdoor living space in Southwest Florida is a place where memories can be made that last a lifetime. That's why if you want to push the budget a bit further, you can opt to make your backyard a place with built-in solutions for added functional value and comfort. While these renovations to your outdoor living space will be more costly, their permanence and quality will create increased home equity for prospective buyers in the future and add long-term enjoyment in your home. 
If you'd like an outdoor living space renovation with more utility, upgrade from a simple outdoor kitchen island to a fully functional outdoor kitchen. This can include additional features like creative backsplashes, clever storage solutions, attractive lighting, beer taps, ice machines, pizza ovens, refrigerators, freezers, sinks, and more. Remember, creating an outdoor kitchen requires significant access to electrical and water utilities, so any remodeling project of this nature will be more involved. And be warned – after finishing the project, you may soon want to prepare all of your meals in your backyard, weather permitting!
Another option for a medium-budget outdoor living space renovation is to design and build a covered patio structure. This can be a gazebo or pergola system with a large awning overhead or a unique design that extends off your backdoor and stretches out into your yard. Beyond enjoying countless hours outside, be sure to choose the appropriate patio flooring and a covering that protects you and yours from Southwest Florida elements. 
Fully Customized Outdoor Renovation ($180K – $375K+)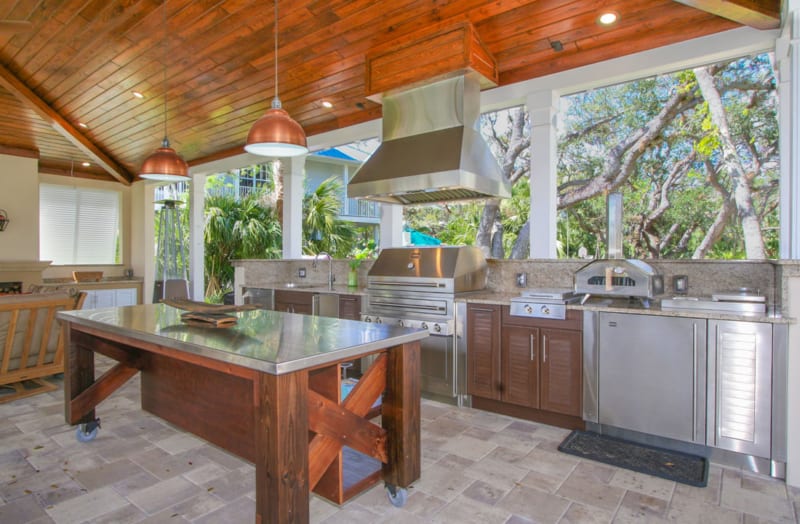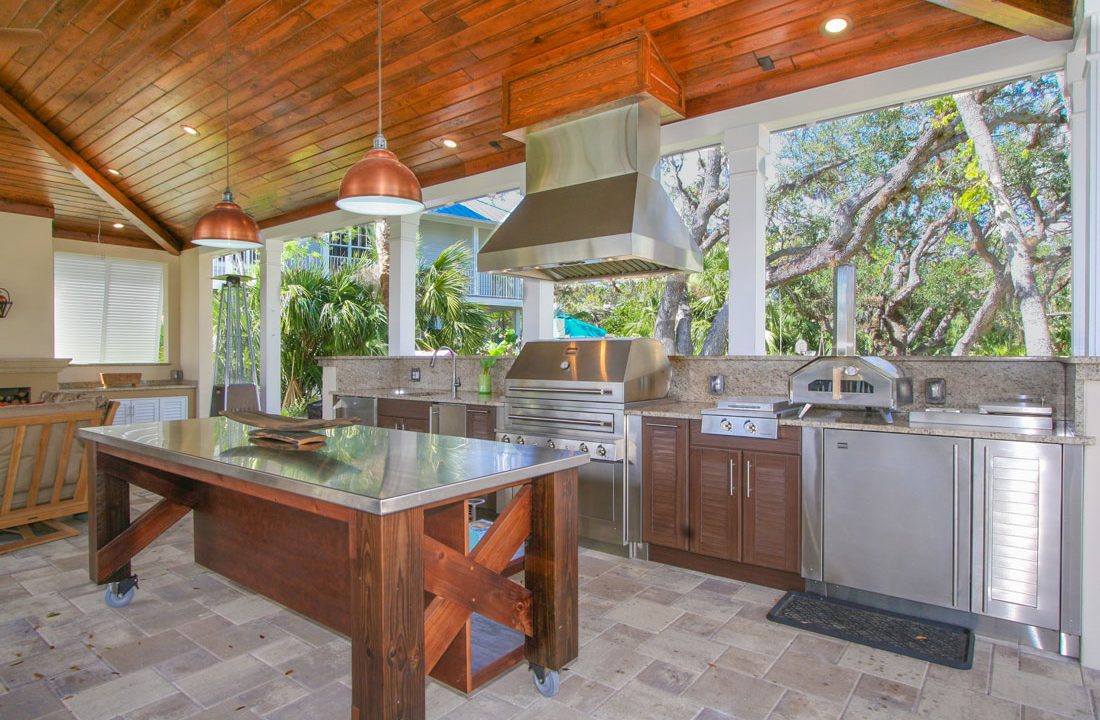 Do you see your outdoor living space as an extension of your home, and want to personalize and enhance your outdoor living space? A fully customized outdoor renovation often includes a fully-functioning outdoor kitchen (complete with an oven, refrigerator, sink, ice maker, countertop, etc.) that is enclosed in an attractive patio structure. 
It might also include a covered great room that opens into a covered patio structure where you can entertain or while away the hours in comfort and style.  Choose an eye-popping design or an aesthetic that feels like an extension of your home and complements your landscape. Such a structure can give your family and guests the feeling of entering an altogether new space, and you can customize the design with climbing plants, artwork, and large windows to permit a full view of the great outdoors. 
For the homeowner with discerning tastes and a splash of modern luxury, a full pool house addition is another smart renovation. Thanks to the ever-gracious weather in Southwest Florida, a pool house promotes a variety of social activities, accommodating swimmers, sunbathers, and anyone ready to relax or dip in the pool to cool off. Once the COVID-19 pandemic is over, you'll be able to host dinner parties and family gatherings or simply lounge with friends while dipping your toes in the cool water. For now, a pool house addition to your home is guaranteed to make your outdoor oasis the envy of the whole neighborhood.  
Choose a Trusted Remodeling Company in Southwest Florida
Progressive Design Build is an award-winning luxury design-build remodeling firm proudly serving homeowners in Southwest Florida. As a trusted expert in custom outdoor living space projects, you can rely on our experience and expertise to transform the way you enjoy your home.   
By hiring a professional, trustworthy remodeling company to handle your outdoor living space renovation, you'll have peace of mind every step of the way. We are a single source for all of your needs—guiding you through planning, design and construction and 100% accountable for ensuring your project completes on time and on budget. Any design you can imagine, we will help you find a creative solution. We can't wait to help you design and build a perfectly unique outdoor living space to call your own.
Whether you want to start small and make minor improvements to your backyard area or go all out on a brand-new custom space everyone can enjoy, your possibilities are endless – especially with the right Southwest Florida remodeling contractor on your side. For more information on how you can transform your outdoor living space fit to your budget and design specifics, contact the team at Progressive Design Build today.