If runaway inflation, soaring gas prices, rising interest rates, and a stubbornly persistent pandemic are getting you down, then making your vision of an ideal outdoor kitchen come to life could be just what you need right now. Not only will the new living and cooking space improve your mood and quality of life, but it will increase the value of your home, give you even more excuses to enjoy our terrific Southwest Florida weather, and endlessly entertain friends and family outside.
"We're blessed with great weather all year round," insists local design expert Nikki Bruty, "and homeowners are spending more time than ever before at home. That's why more and more of our clients are choosing to upgrade their outdoor spaces rather than move to a new home. And with mortgage rates on the upswing and the housing market leveling off, now is the best time to make the most out of your backyard by creating an amazing outdoor kitchen."
Before you leap into such a project, though, Nikki also cautions you to make sure you do the proper planning to get the most out of every dollar spent. After all, an outdoor kitchen is far more complicated than building a new patio or sun deck – and once you set the layout and install the necessary appliances, deciding to move things around later will prove expensive and time-consuming. But the extra upfront effort is well worth it, with these important steps to consider:
Step 1: Determine Your Needs & Survey Your Yard
A functional outdoor kitchen seamlessly blends "inside and outside living" into a space ideally suited for socializing underneath blue skies or starlight. Getting the most out of it demands you first answer two key questions: 1) How do you want to use your outdoor kitchen? and 2) What space do you have to accommodate it? Since every kitchen centers around cooking, your initial answer might range from gourmet meals to marshmallow roasts, with appliances set to match.
Feeding and entertaining family and friends will demand tables and chairs, with enough space to make the whole experience convenient and comfortable. Since the layout will depend on both your available yard space and your functional needs, partnering with a trusted, proven outdoor kitchen designer is highly recommended at this early phase.
If you're like most Southwest Florida homeowners, you might also desire a full-service outdoor kitchen that includes a grill, sink, appliances, outdoor lighting, and a food prep area. In this case, your decisions, balancing "needs" with budget, will need to take into consideration any necessary plumbing, electrical, and gas requirements to support your outdoor kitchen plan. Since these elements are best and safest unseen, holes might need to be dug and outlets placed close by. So prior to moving a single brick or shoveling any dirt, balance your cooking expectations with the number of people you anticipate entertaining with your available yard space, and plan a layout that accommodates.
Step 2: Make Your Outdoor Kitchen Practical & Beautiful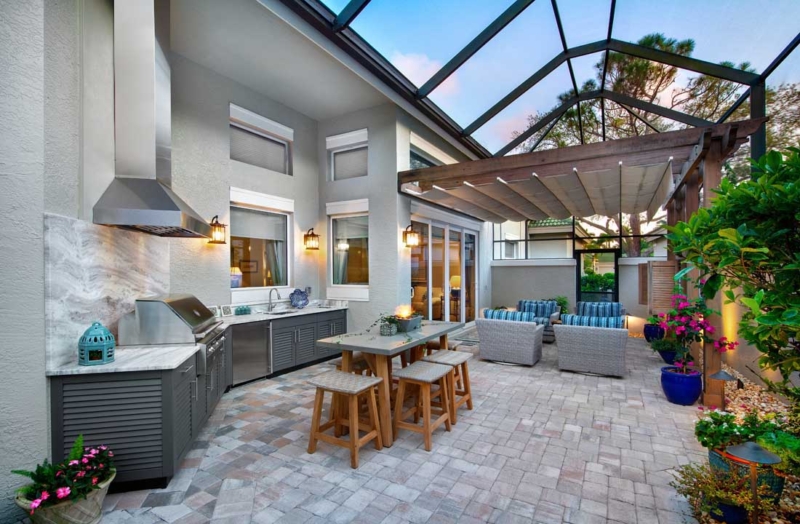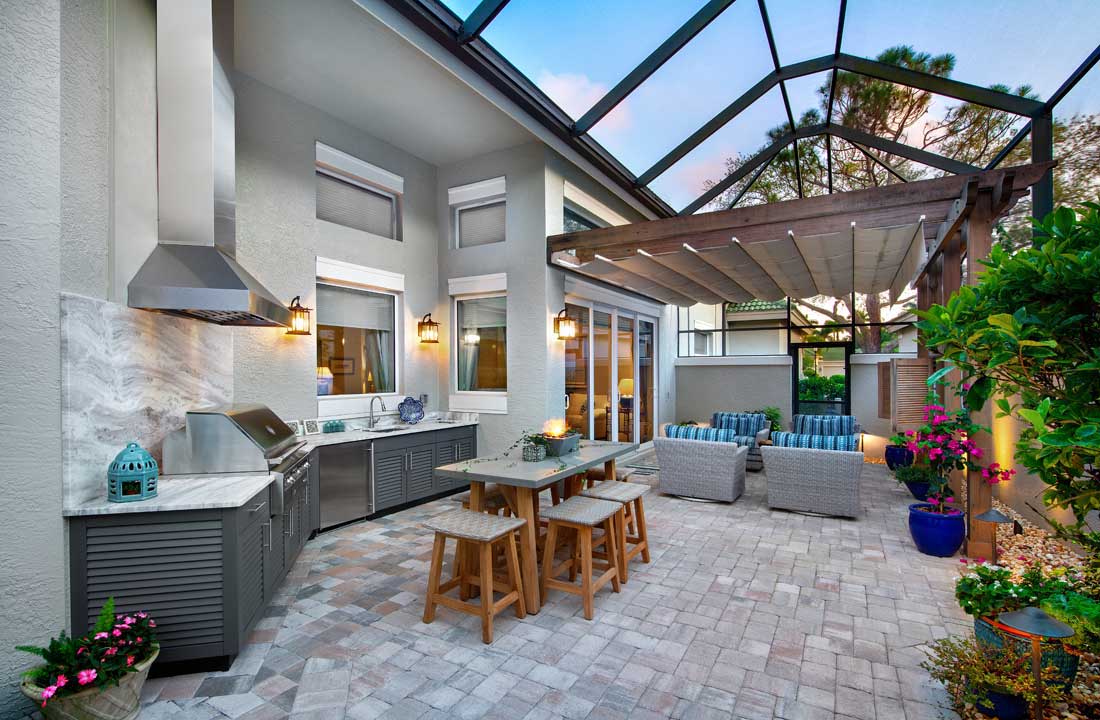 As you partner with your design-build team, make sure you adhere to essential best practices for layout. For example, ensure that the grill is facing toward your guests rather than away; create ample counter space for food preparation, serving, and storage; distribute outdoor lighting to optimally illuminate the entire area (paths as well as meal prep and lounging areas); and generally make sure you have plenty of room for guests, outdoor appliances, tables, seating, and other outdoor essentials.
Although your outdoor kitchen can't and shouldn't exactly mimic your indoor one, another useful tip is to maintain the same overall style and mood. If your house kitchen is very contemporary with stainless steel surfaces and fixtures, primary colors, and minimal decorations, then you and your designer should consider a complimentary outdoor look and feel. Conversely, if your home is more traditional with lacquered woods and marble countertops, then align your materials and selections to match.
Another often overlooked but essential detail is smoothly blending your outdoor kitchen with the surrounding landscaping and yard dimensions. The best cooking and entertaining areas seem like a natural and seamless extension of your yard, with plenty of room to cook, eat, relax, walk about, and play. Regardless of the type of kitchen you design and build, you and your guests need rapid and convenient access to and from the house, so ensure you plan a natural traffic flow among all of the open areas.
Step 3: Protect Your Assets from the Sun, Rain, Fire & Bugs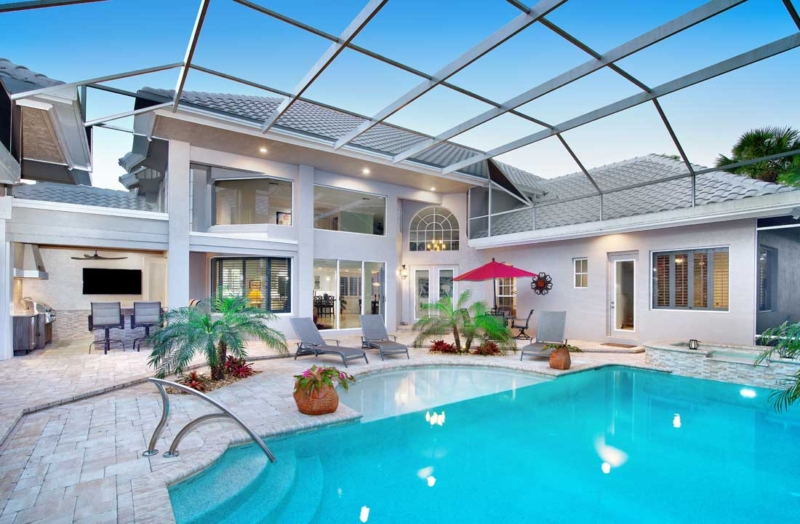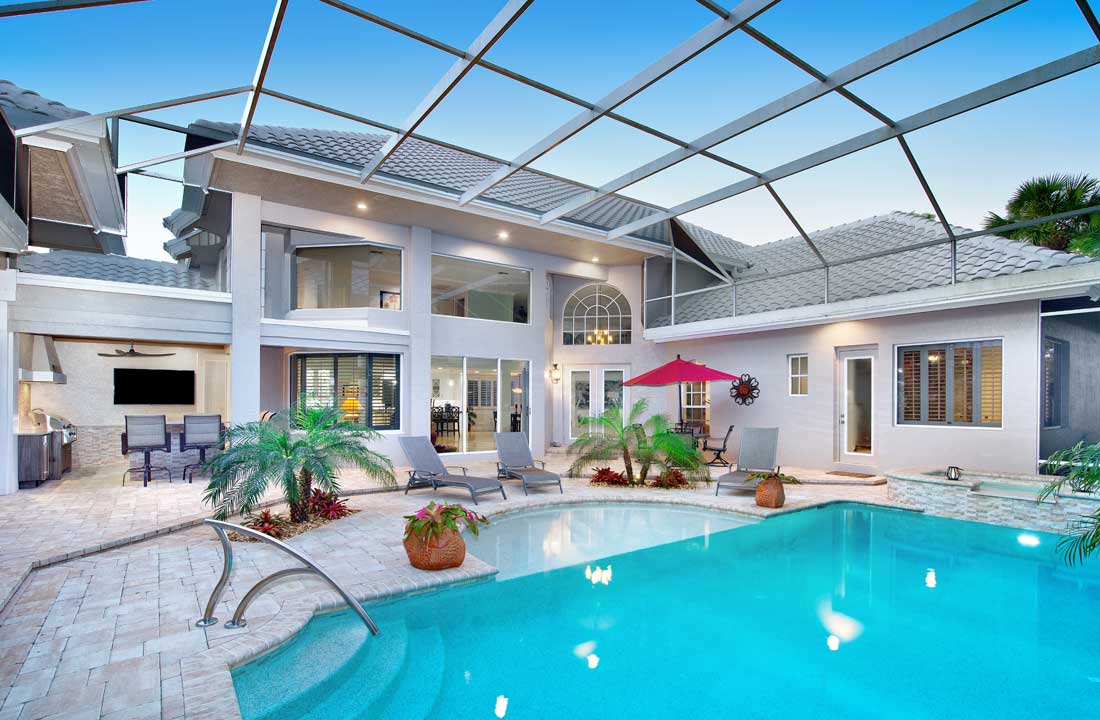 Outdoor kitchens are, well, outside. That sounds obvious, but you'd be surprised how many homeowners are caught off guard after the first sunny day or rainstorm. Experienced designers automatically recommend appliances, fixtures, lighting, and countertops that are resilient enough to withstand the elements. Ideally, the best designers place all vulnerable materials out of harm's way, build in covers and shades, and create a layout with minimal weather exposure.
The sun, dry brush, and the sheer openness of an outdoor kitchen conspire to increase the risk of fire. Responsible designers, therefore, choose all appliances and surfaces with fire-resistant materials and protect outlets and wires from the elements. Just to be safe, a fire extinguisher should be handy. Moisture is also damaging and dangerous to materials, especially electrical ones, so these should be buried and otherwise covered whenever and wherever possible.
Insects are a constant nuisance outdoors in Southwest Florida, especially during particular months and at certain times of the day and evening. Solutions range from low cost to high and range the gamut from bug lanterns and tiki torches to more elaborate pool, lanai, and patio screen enclosures.
Step 4: Maintain Your Outdoor Kitchen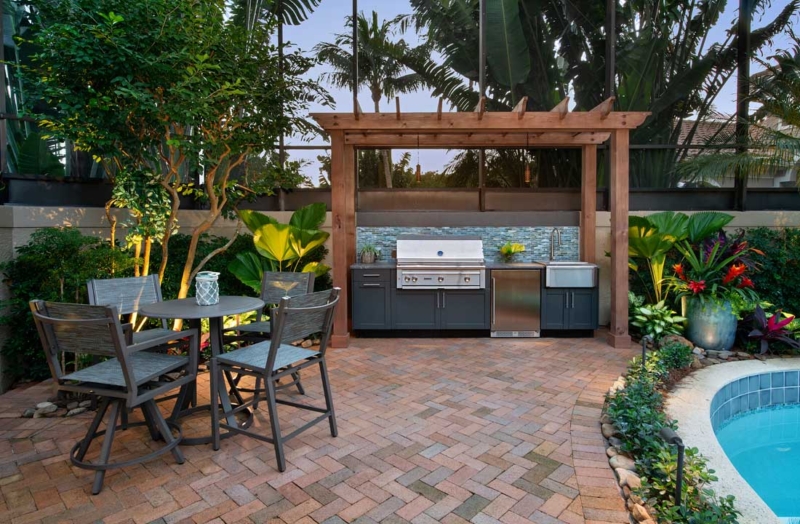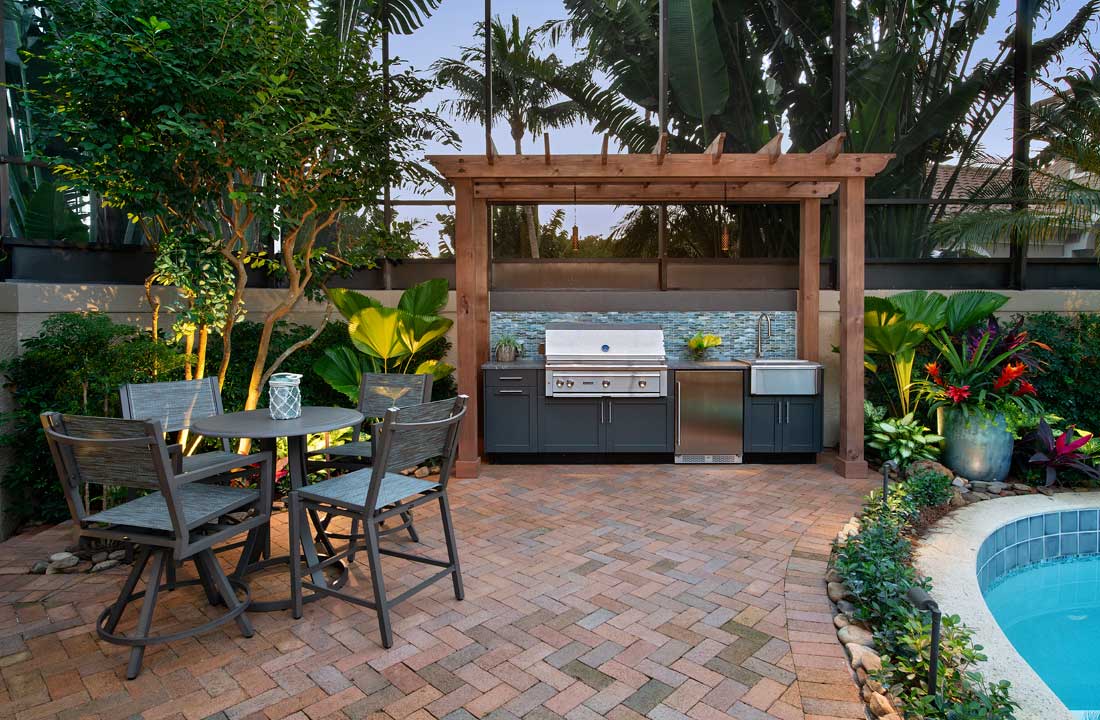 Last but not least on the list is the need for ongoing maintenance, always important for kitchens in general, and especially for an outdoor one. Make sure surfaces are washed and kept clean, gas, water, and power lines are regularly checked and in good working condition, and appliances are ideally covered when not in use.
Step 5: Partner with a Trusted & Proven Design-Build Expert
An award-winning luxury design-build remodeling firm that proudly serves Southwest Florida, Progressive Design Build has the well-deserved reputation you're seeking. Known for consistent innovation at the highest levels of design and customer service, Progressive Design Build is driven by a leadership philosophy where people make the difference. They ensure 100% accountability through accurate estimates, full transparency, compassionate staff, and satisfaction guarantees.
Progressive Design Build specializes in whole house, kitchen, and room additions, and is a trusted expert in remodeling outdoor areas. Read more about their point of view on outdoor living spaces, and see client testimonials on how to make your Dream Yard Kitchen the envy of all your friends and family. Ask for their newsletter, or reach out directly. They can't wait to hear from you and brainstorm the design and build of your new outdoor kitchen to perfection!