Photo Courtesy of Homes Alternative
Workers across the nation are transforming their spare rooms and kitchen tables into centers of productivity waiting for the stay-at-home mandate to lift and an "all-clear" message on the coronavirus. Even before the pandemic struck, remote work was accelerating in the U.S. The share of the labor force that works from home tripled in the past 15 years, according to the Federal Reserve. So it's also likely that many Americans who are now working from home for the first time will continue to do so after the pandemic.
If you currently work at home or anticipate working more from home in the future, your workspace should be comfortable and functional. Get help designing your ideal office space by carving out a niche in your existing space, or adding to it. Start with these five valuable tips to help you start your home office project off right:
Where Will Your Home Office Be Located?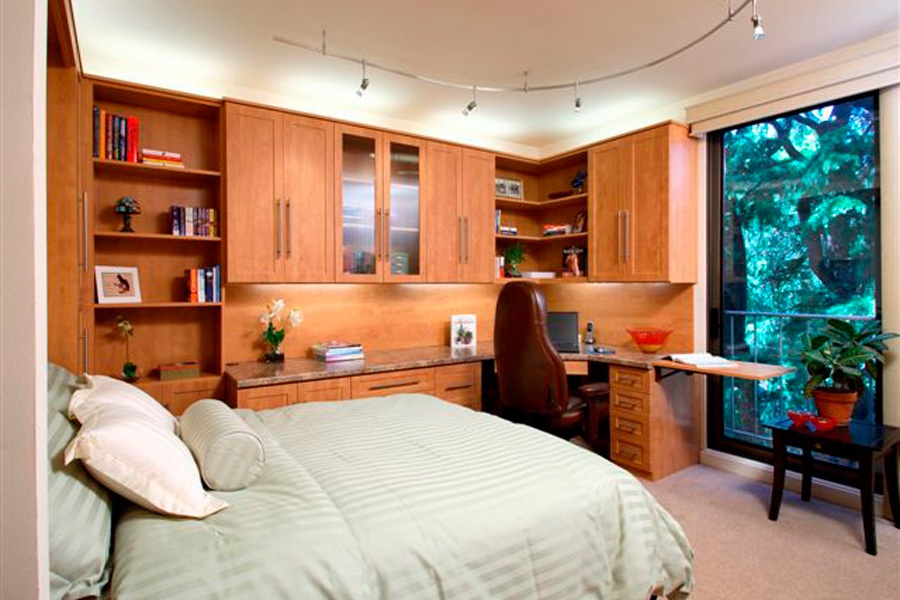 Photo Courtesy of Valet Custom Cabients
Do you spend a lot of time on your computer or need quiet space to focus on work? Carefully plan an ideal location for your home office based on your personal needs. Will you need your office to be tucked away in a quiet space, or do you work best in the thick of activity? Will you need space to accommodate frequent client visits? Will your office need extra seating or a separate entrance?
When it comes to choosing an ideal location, of course, an empty, unused room is the perfect blank canvas for designing a home office that is tailored to suit your needs perfectly.
If you don't have an unused room, you may need to rethink an existing space. Perhaps you have a guest room that is used only occasionally? Consider swapping out a regular day bed for a built-in murphy bed that can be pulled up and out of the way during the day, leaving plenty of room for a desk and comfortable work area. Or, maybe you have a formal dining room that you use only a few times a year? Think about how you can rework the space to function as a home office and seating area 362 days of the year—converting it back to a formal dining space just in time for the holidays.
Many homes have small alcoves or nooks that homeowners often use as a catch-all space to keep things hidden and out of the way. Consider transforming this area to a dedicated home office instead. Clever use of pony walls, screens, hideaway storage and hidden outlets can make this new office space truly livable, made to integrate beautifully with the rest of your home.
If size and privacy is a priority, and you don't currently have the space, you can opt to build a new room addition. A qualified design/build firm like Progressive Design Build can help you seamlessly plan, design and build an office space that meets your exact specifications.
Trend Alert: Dual Dens
Nowadays, it is more common for two people in a household to need office space at home. Erik David Barber, partner/founder of The Gulf Luxe team of Premier Sotheby's International Realty in Naples, reports "a slight demand in dual office spaces for folks who work at home or are partially retired." Moreover, "The two office spaces not only accommodate both partners who may work from home full or part-time but also offer opportunities for children in the home to study outside of their bedrooms."
So, as you plan your home office make sure to take into consideration how many people will need dedicated workspace and plan accordingly. We are proud to of our home remodeling in Naples.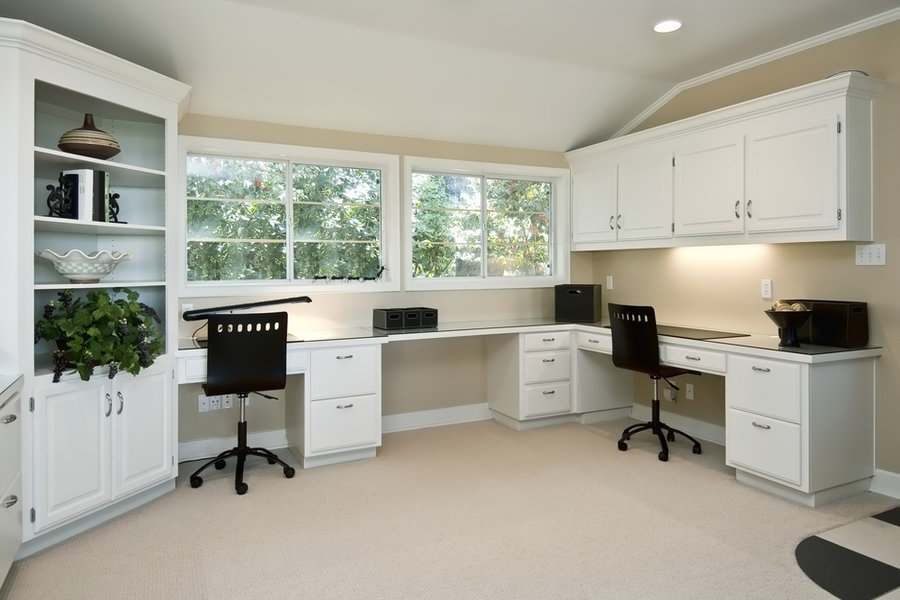 Photo Courtesy of Get Organized Wizard
Shelving, Storage, and Seating
When you're designing a home office, make sure to consider your workflow and what items you need at your fingertips. Your desk, chair, shelves, and storage need to serve you, not the other way around. Careful consideration should be made as to how to accommodate computer equipment, printers, books, files, etc. Custom home office cabinets, shelving, and drawers are a thoughtful solution that will not only keep you well organized, but also hide the mess.
When we're immersed in work, we can spend hours parked in a chair. Make sure you have comfortable seating that is ergonomically-designed, taking into account your height. The rest of your workspace should also get an ergonomic makeover—adjusting the monitor to be at eye level, keeping your wrists neutral, etc.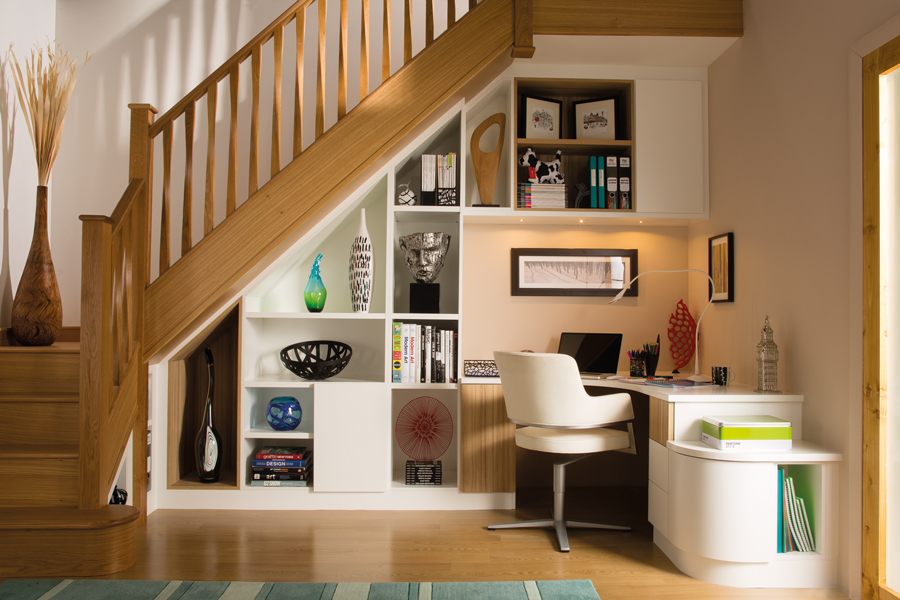 Photo Courtesy of Babysitting Academy
Hide the Technology
Associated with the necessary office equipment we can't live without (i.e., computers, printers, scanners, and other digital devices) are unsightly cords. With a little ingenuity, you can plan a way to keep them hidden. Start by positioning your equipment close to outlets, and encase particularly long cords in a desk grommet.
Make sure you include plenty of electrical outlets to accommodate all of your technology needs. We prefer outlets that have built-in USB adaptors for charging cell phones and tablets, eliminating the need for power adaptors.
With home office built-ins, you can install charging drawers to keep your devices hidden and out of the way as they charge. You can also designate a pullout drawer for a printer or paper shredder, so it can be hidden away when not in use.
Layered Lighting
Lighting types and lighting placement are aspects of remodeling design that work in harmony with a room's size, wall color, material selections and natural lighting. When the right lighting is achieved, it transforms a room into a seamless combination of functionality and style.
So, as you plan your home office remodel, take into consideration proper lighting. There are three essential types: ambient, task and accent lighting. Ambient lighting is for overall illumination. Recessed lighting or ceiling mounted fixtures is most commonly used for this purpose. Appropriate task lighting allows you to see intricate and detailed work with the least amount of eye strain and fatigue. Accent lighting is often used to highlight a unique piece of artwork or a striking architectural feature in the room and is a great way to give your home office visual interest.
Inspired Design
Take advantage of having your office at home by including those personal touches that reflect who you are and what makes you happy! Do you have a cherished pet? Create a designated sleeping spot so your furry friend can hang out comfortably with you during the day. Can't start work without drinking your morning coffee? Install a coffee bar in your new home office with all the fixings. Love plants and the environment? Fill a corner with a beautiful fiddleleaf fig plant to liven up your space and bring the outdoors in. Hang your favorite artwork and display personal photos to help inspire you during a long workday. You work hard, so make sure your home office works for you by planning a home office space that is uniquely yours.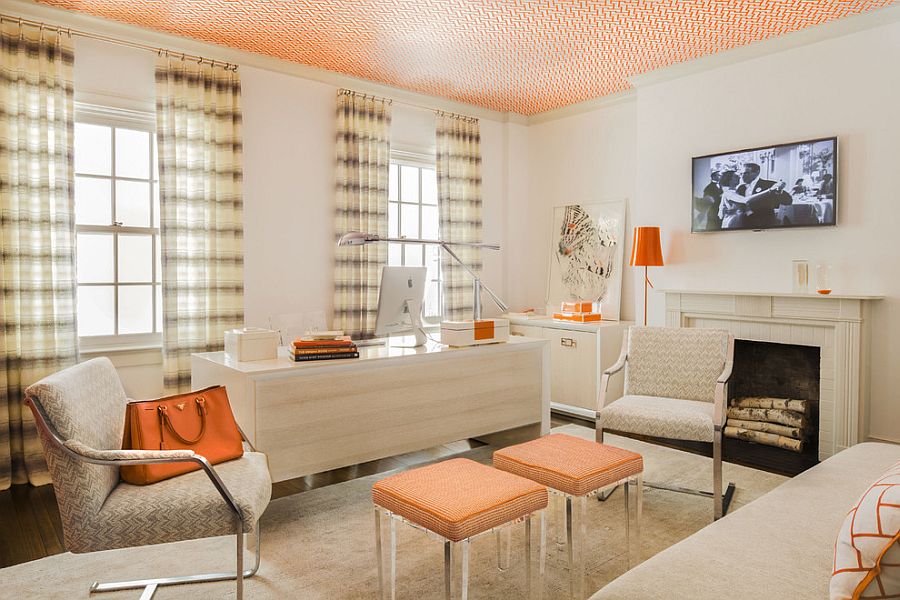 Photo Courtesy of Decoist
If you're ready to take that first step in the planning your new home office, schedule a no pressure, hassle-free design consultation with Progressive Design Build's team of Southwest Florida remodeling experts, or call 239.939.5411.
You can also subscribe to our monthly e-Newsletter or follow us on Facebook to stay on top of the latest remodeling design innovation in Lee and Collier Counties.