A Contemporary Kitchen, Living Room and Dry Bar Remodel in Bonita Springs, Florida
This successful interior remodel was completed in two phases, the first phase involved a complete kitchen and dining room transformation.
Our client's vision for their new space started with a "Wow" factor! Because the kitchen was part of an open concept layout, they wanted their new space to be something worth talking about when friends and family came to visit. Moreover, they were concerned about the 12-foot ceilings and how the height of standard cabinets would look in the space.
Phase two consisted of remodeling the adjoining living room and dry bar.
Although our clients approached us without any specific design ideas in mind, they knew they wanted their living room and dry bar to blend seamlessly with the kitchen—contemporary and streamlined. It was important to remove and replace the old drywall built-ins that had radius tops and bulky, unused planter shelves.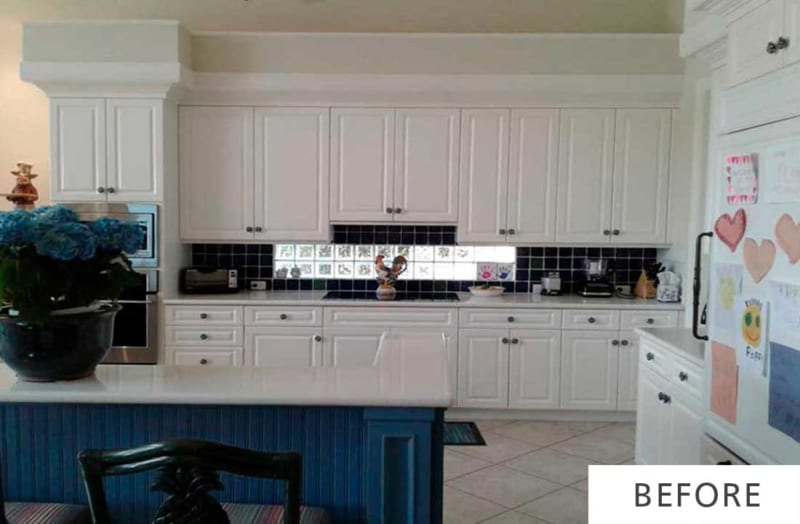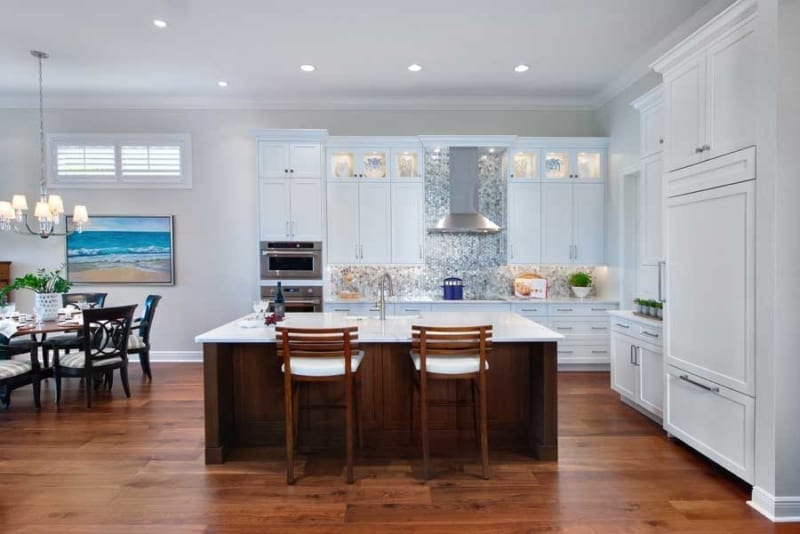 The Challenge
This project had several challenges. First, Progressive Design Build was tasked with starting the second phase of this interior remodel during the unprecedented manufacturing shut-downs and COVID-19 restrictions while our clients still lived in their home. While instituting job site safety protocols to protect our crew and clients, we also needed to manage COVID-19 safety among our subcontractors and vendors. 
Secondly, because the living room was located in the middle of the house, between the kitchen and master suite, we had to cordon off and secure both sides of the home, while also providing access to the non-construction areas when our clients were at home. 
Thirdly, when it came to assisting our clients with selections, our designers needed to recommend design options that would not only be available during the state-wide restrictions but also fit the home's existing architecture and the homeowners' design style preferences. 
The Solution
Kitchen
Our Progressive Design team went to work to ensure our clients would not be disappointed. To work around the 12 ft. ceilings, we removed the soffits and installed crisp white double-stacked cabinets to 10 ft; complete with glass doors and top-tier interior lighting to display glass art and other collectibles.
A show-stopping full-height Lunada Bay tile backsplash was designed into the space to create a stunning focal point, complemented by a chimney-style stainless steel hood. Walnut, wide plank hardwood flooring was chosen purposely, offering warmth and depth and creating a perfect contrast to the white cabinetry, while also blending beautifully with the couple's treasured antique furniture. In addition, striking Calacatta Laza Quartz countertops were designed into the space to complete the look.
A multi-level island was replaced with a single-level Cherry wood-wrapped island with plenty of seating for family and friends and made suitable for entertaining. Other highlights include disguised appliance panels, which seamlessly integrate the appliances into the kitchen, and custom storage solutions for the couple's Kitchen Aid mixer, as well as other kitchen essentials.
Living Room
During pre-construction, we quickly assessed that much of the remodeling activity would take place in the hub of the home—a large central living space with connecting rooms and hallways, and high ceilings. Where use of plastic wall partitions would normally be used to protect the surrounding project area, in this case, it wouldn't work. As a result, we built a framed temporary zipper wall that was lined with a dust barrier plastic sheeting to cordon off the construction site, while allowing client access to the kitchen and dining areas. 
Careful and creative design solutions resulted in a living room with a dry bar and entertainment center that seamlessly blended with the existing contemporary design style of the kitchen and common areas. New white Dura Supreme Highland Panel Plus cabinets were topped with beautiful Calacatta Laza Quartz – with its dramatic movement, milky white background, and soft brown veining. The clients chose a traditional clear mirror backsplash in lieu of tile that matched the dry bar and selected stunning Duverre cabinet hardware in satin nickel, which provided a silvery muted finish and coordinated well with the white cabinets. 
Completing the sleek, modern look of the dry bar, we installed a set of True integrated under-counter refrigerator drawers. Carefully placed puck lights created drama while accenting the client's ornate collection of drinkware (in the dry bar) and books (on the entertainment center). Undercabinet lighting was designed into both areas to create mood and ambiance. Finally, we had to locate the home's original Golden River California Black Walnut hardwood flooring to flawlessly patch areas where the walls were shifted in the new design. 
The Result
Our clients were overjoyed with the end result. The modern design and classic colors were carefully chosen by the client to blend with the home and sustain their needs for many years to come. Our meticulously executed design-build process resulted in a new kitchen, living room and dry bar, finished on time and on budget, under challenging circumstances.