Are you considering adding a beautiful outdoor living space to your Southwest Florida home? If so, one of the most important decisions you'll make is the type of paver you select for your hardscape flooring. Pavers come in various materials, styles, and sizes, each with slightly different maintenance considerations.
Whether you're building a patio, driveway, walkway, or pool area, this article will help you make informed decisions and ensure your outdoor living space is the envy of your neighborhood.
How to Choose Your Pavers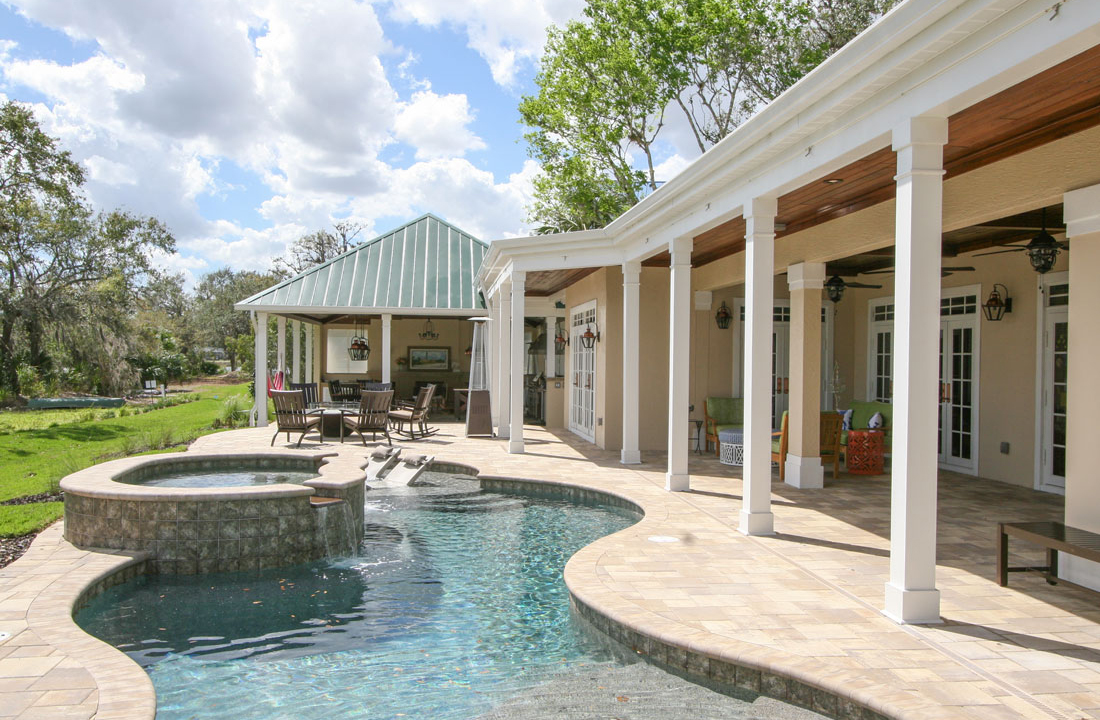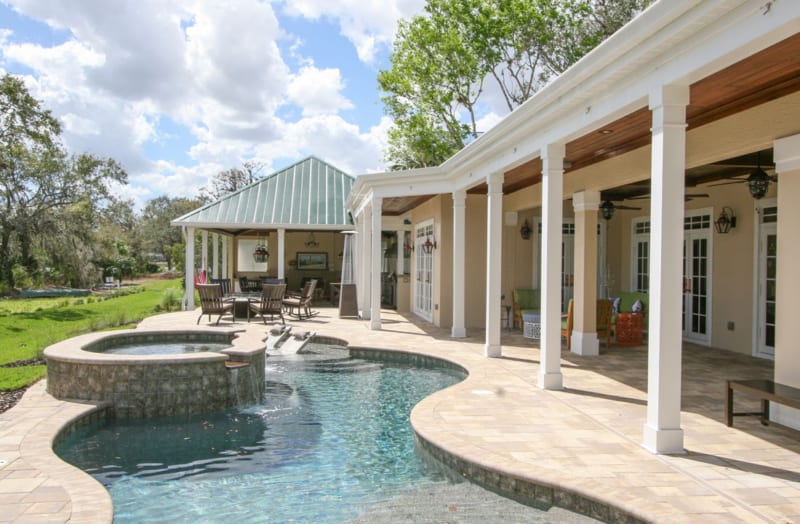 When choosing the right pavers for your home, several essential factors must be considered. Each of these factors relates in some way to the unique climate we enjoy here in southern Florida.
Summers can be scorching, so opt for light-colored pavers instead of dark ones to keep your outdoor living space cool and comfortable. Light-colored pavers reflect the sun's rays, reducing the amount of heat absorbed.
Another important factor to consider is your pavers' comfort and slip-resistance qualities. Go for pavers that are comfortable to walk on yet slip-resistant to ensure safety in an outdoor living area. Pavers with rough textures provide traction and help prevent slipping, especially by a pool or hot tub.
Then there's the permeable vs. impervious nature of the pavers you select. Permeable pavers allow water to filter through and into the soil, reducing damaging runoff and preserving the natural water cycle. Impervious pavers, on the other hand, prevent water from filtering through, which can lead to runoff and erosion.
Popular Paver Options to Choose From
The most popular paver materials for homes in Bonita Springs, Naples, and Ft Myers include the following: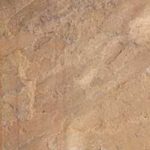 Sandstone 
Sandstone pavers are an excellent option for homeowners seeking a natural and rustic look. They are made from a sedimentary rock known for its durability and resistance to weathering. Sandstone pavers come in a variety of colors, including shades of beige, orange, light brown, and yellow, and feature a rough, textured surface that provides excellent traction, making them a good choice for areas that can get wet, such as around a pool.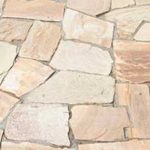 Slate

Slate pavers are made from natural slate, a metamorphic rock, also known for its durability and resistance to weathering. Pavers made from slate have a beautiful, distinctive look quite like any other and are available in various colors, including shades of gray, black, light purple, and green. They are resistant to stains, fading, and cracking, and feature a textured surface, making them a safe option for outdoor living areas even when wet.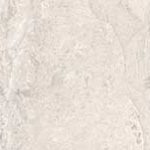 Travertine
Travertine pavers have a natural ability to remain cool, even in the hottest Florida sunshine. This makes them a popular choice for pool decks, where people walk barefoot and want to avoid burning their feet. Made from highly durable and weather-resistant limestone, travertine pavers come in a range of colors, from light beige to rich browns, and have a beautifully textured surface that adds character to any space.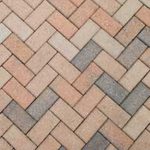 Brick
Brick pavers offer a timeless and traditional look that can complement any home design. They are available in various colors, sizes, and shapes, making it relatively easy to match the existing style of your property. Brick pavers are also durable and weather-resistant if properly sealed and maintained. However, a significant drawback is that they heat up in the hot Florida sunshine, so they can be uncomfortable to walk on barefoot.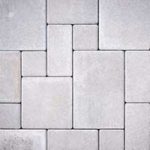 Concrete
Concrete pavers are made from a mixture of cement, sand, and aggregates, making them resistant to weathering and wear and tear. In addition, they are capable of withstanding at least 8,000 pounds per square inch of pressure, making them more than suitable for driveways and any other residential landscaping project. Concrete pavers are also easy to clean and maintain, usually just needing a little hosing now and then.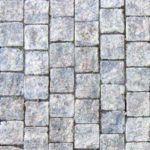 Cobblestone
Cobblestone pavers have a natural and old-worldly appearance that can add an incredible character and charm to a home, and significantly increase its value. They are made from natural stones like granite, basalt, or limestone. As a result, they are highly durable and can withstand heavy foot traffic, weather conditions, and temperature changes.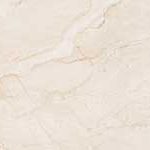 Porcelain 
Porcelain pavers are strong, durable, skid-resistant, and easy to clean. They are suitable for all outdoor areas, including patios, pools, and terraces, and can be dry laid directly onto grass, gravel, dirt, and sand. Pavers made from porcelain come in a variety of sizes, colors, and shapes, making them easy to use in all kinds of settings.
 
Best Pavers Specifically for Pools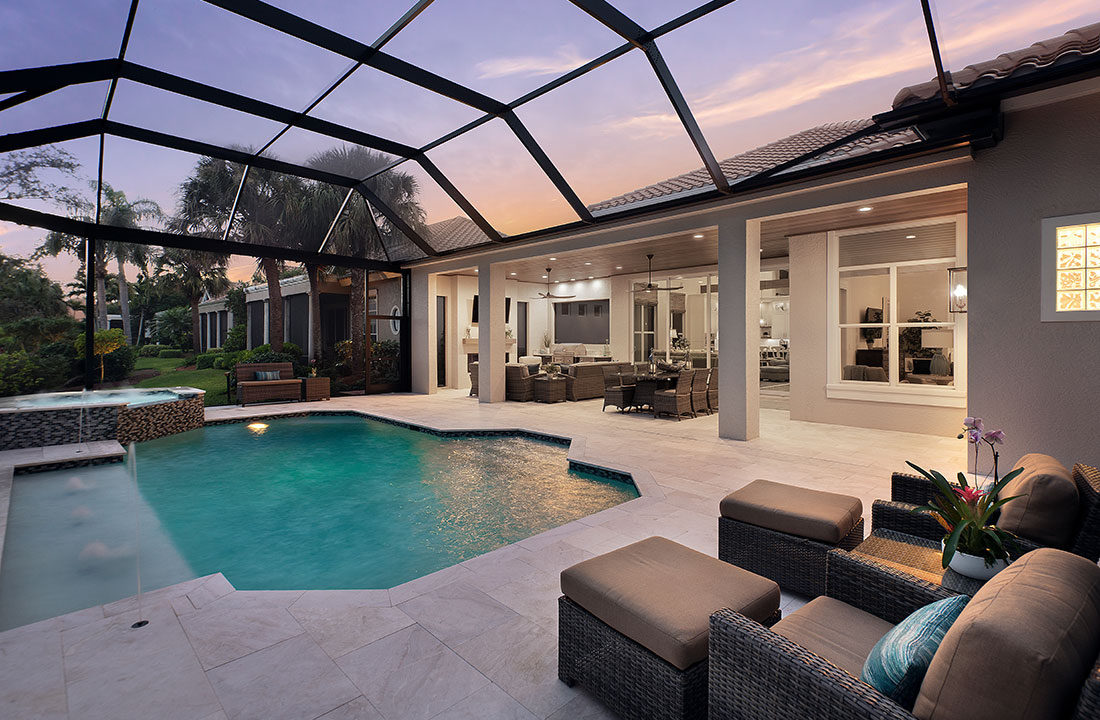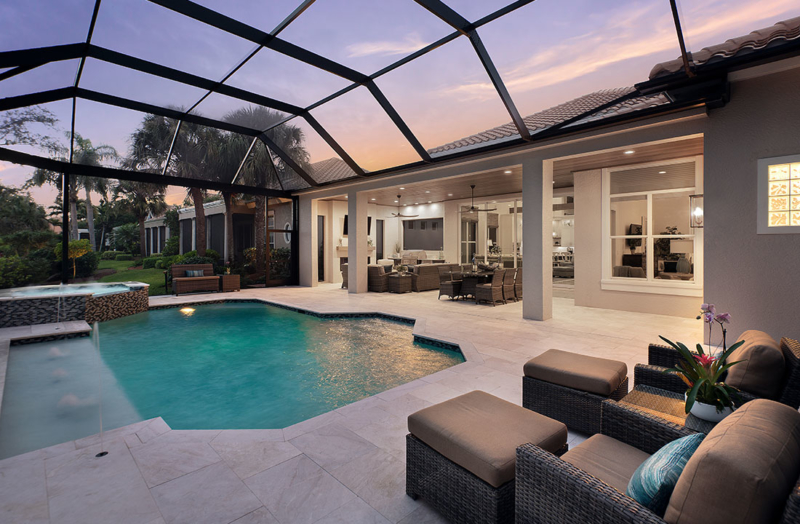 Some types of pavers are particularly suitable for swimming pool areas which require specific characteristics such as a non-slip surface (but which is also comfortable to walk on), durability, and a natural propensity to remain as cool as possible under the blazing heat of the Florida sun.
For these combined reasons, travertine, concrete, and sandstone are usually the most popular choices for homeowners in the region. Travertine, especially, is resistant to heat and is available in a variety of attractive colors and finishes.
Paver Design Ideas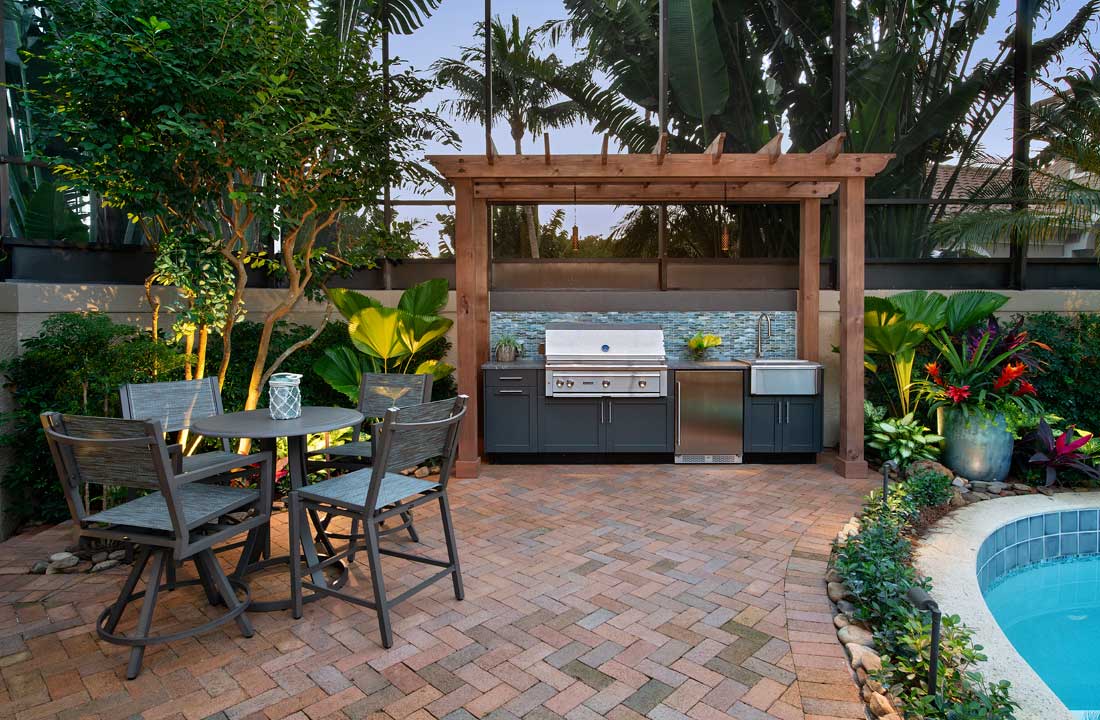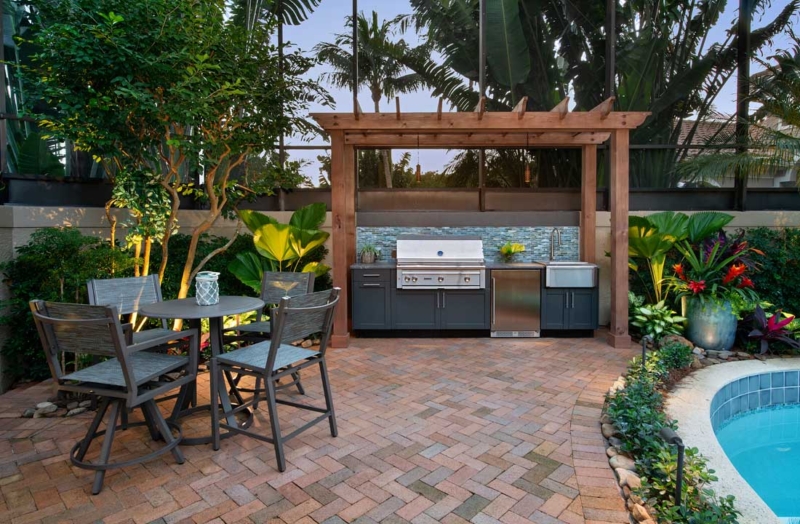 There are numerous exciting design options for pavers, especially to match the beautiful climate and Floridian landscapes. Here are some pattern possibilities we love:
The Herringbone design is a classic and popular pattern frequently utilized in outdoor areas, including pool decks. This pattern is created by laying the pavers in a zig-zag and alternating the end of each paver to create a "V" shape. Herringbone is an excellent option for homeowners who want to add a touch of sophistication and elegance.
The Running Bond pattern is similar to the traditional brick laying pattern and is often used for paving patios and walkways. In this pattern, pavers are laid end-to-end in a straight line, and each subsequent row is shifted by half a paver length. It works well with any home style and is popular for homeowners who want a low-maintenance option.
The I-Pattern (or Muster K) is a modern design achieved by laying pavers in a repetitive "L" shape. This design is created by alternating the direction of the pavers and is often used to create a visually striking and contemporary look. This design is especially popular in areas with a lot of square footage and can help create a sense of continuity and flow in your outdoor space.
And now for some more general inspiration.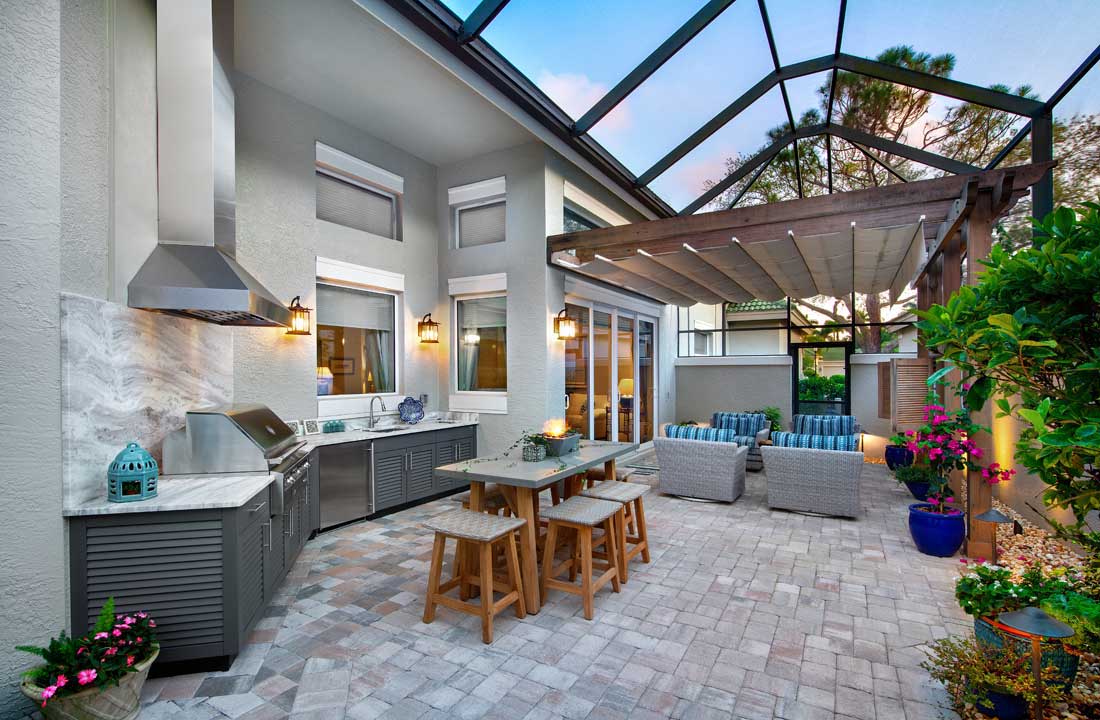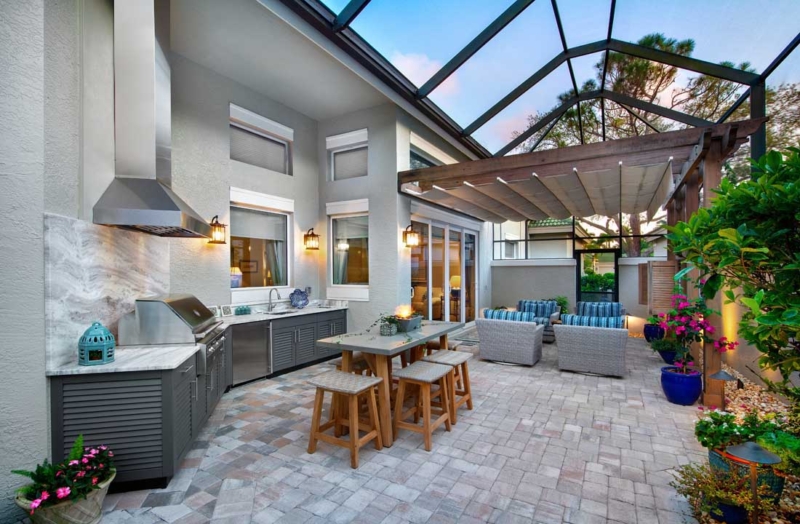 Flagstone pavers are a classic and timeless choice. They are durable and come in various colors, making them easy to match with any landscape design. They can be used to create intricate patterns and designs for patios and walkways.
If you have a large outdoor living area, consider creating pathways between different indoor/outdoor and outdoor spaces. For example, a straight path with a circular end made from crushed stone can add a luxurious touch to your property.
You can match your patio pavers with the architecture of your home by using long bands of bluestone with black pebbles in the gaps. This durable and attractive option combines well with tough-weather flora and fauna.
A modern and sleek option is to fit your pavers together tightly. Charcoal-hued pavers are a great choice for this method and complement any neutral exterior color palette.
A meandering paver pathway can add mystery and beauty to your outdoor living space. Use granite cobbles on a concrete base leading to a square living space for added visual appeal and elegance.
To add brightness to a smaller outdoor living space, consider allowing grass to grow between square concrete blocks. This trendy eco-friendly option adds a natural textural beauty to your landscape.
Tightly laid brick pavers of varying sizes are a visually appealing option for a bright patio. They are versatile and don't necessarily need to match the exterior of your home or the rest of your landscape.
If you want to build a smaller patio in a larger lawn area, consider building a corner patio. Use irregular big and small-sized flagstones in a slate black color to make it stand out. Create a single stepping stone pathway with the same pavers and lots of grass in between to blend in seamlessly with the lawn.
Paver Maintenance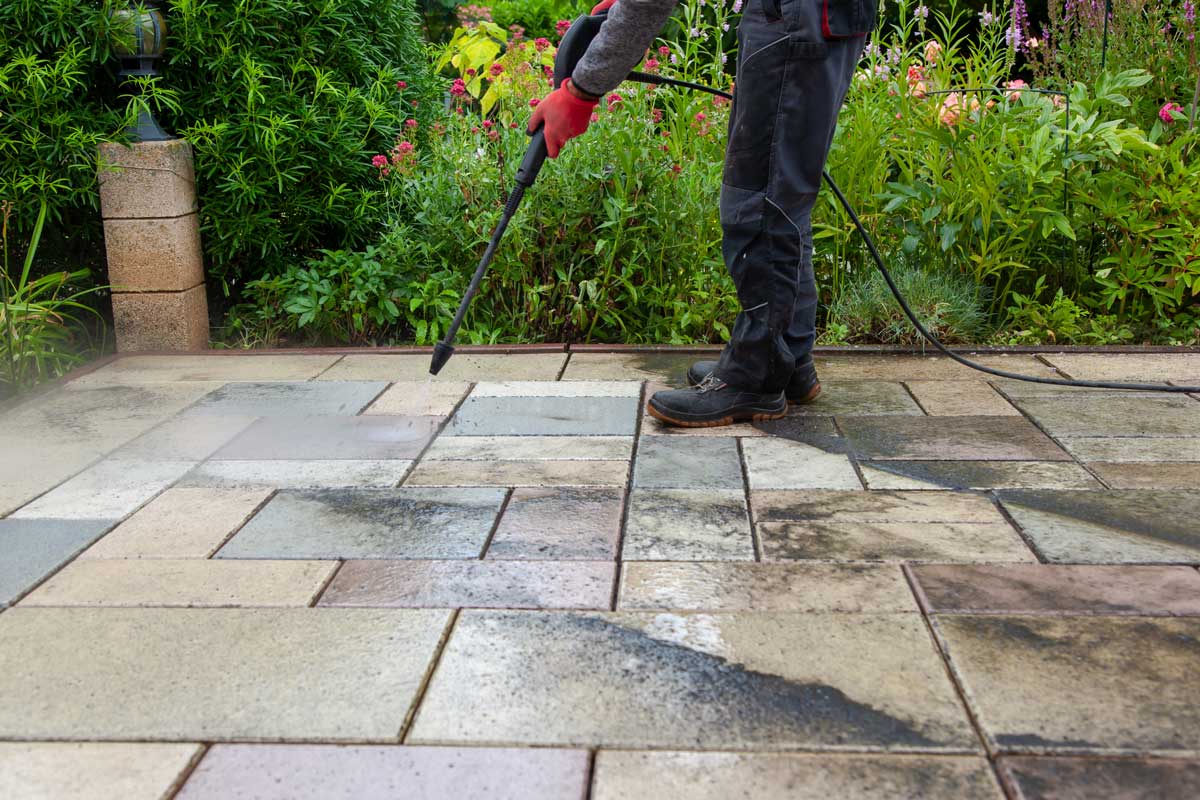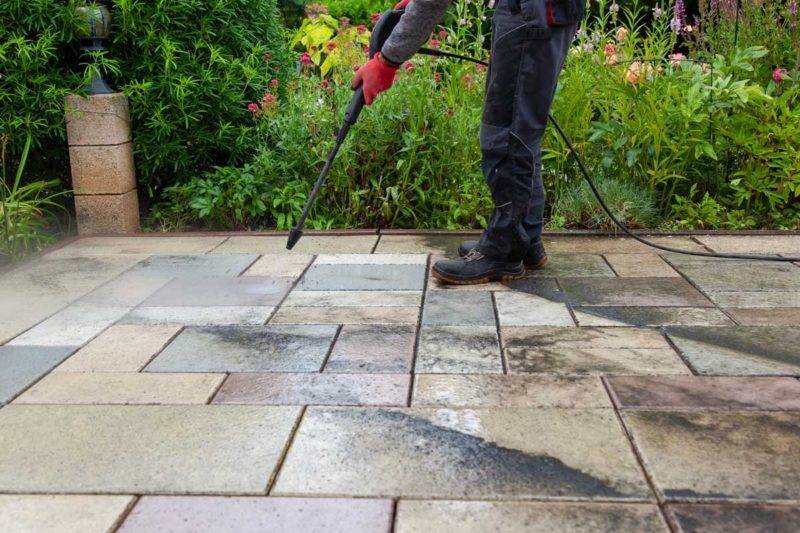 Beautiful and strong pavers require ongoing maintenance to varying degrees, depending on your selection. Here are some essential paver maintenance tips:
Sweep pavers regularly to clear away dirt, debris, and other materials that can accumulate on the surface and make them look untidy. This helps also helps prevent staining-related damage.
Use paver sealers to protect the pavers from stains, UV, and water damage. In so doing, you will help to prolong the life of the pavers, especially those like concrete, brick, and sandstone.
Spot cleaning stubborn stains is another important step in maintaining pavers. When stains occur, cleaning them as soon as possible is essential to prevent them from setting in and becoming permanent.
Replace broken or stained pavers to maintain the overall look of your paved area. Replacing these pavers with new, matching pavers can help keep your property looking clean and well-maintained.
Rinsing off pavers regularly with water is also important. Rinsing pavers helps to remove the more ingrained dirt and debris that can accumulate on the surface and in the cracks.
Use polymeric sand if you're worried about the pavers shifting or becoming uneven over time. Polymeric sand is mixed with a binder to help it stay in place and harden.
Use a natural solution to kill weeds. Weeds can grow in the cracks between pavers, which can be unsightly and also cause damage in the long term.
Repairing grout is another critical step in paver maintenance. Grout can become cracked or damaged over time, allowing water and other elements to penetrate the pavers.
Your trusted home remodeling team will guide you further on keeping your new pavers looking amazing for decades to come.
Outdoor Remodeling in Southwest Florida
Progressive is an award-winning design-build luxury remodeling firm serving Southwest Florida. Whether you're looking to create a new outdoor space or enhance an existing one, we're the team that can get the job done.
Progressive Design Build is a trusted expert in custom home remodels, from kitchens and bathrooms to whole house and outdoor living projects. You can rely on our seamless processes and exceptional customer service to deliver on-time and on-budget results.
Ready to talk about remodeling? Reach out directly to schedule a free consultation.
Not quite ready? Sign up for our monthly newsletter, view our portfolio, and follow us on Facebook and our other social media for brilliant design ideas and inspiration.