Did you know that there are languages that have no words? Color is one of those languages. And it has a lot more power than we realize. When people walk into a room, they're first struck by the room's color. As a homeowner, you can use color to share your personality. Color can speak on your behalf and tell people about the room's decor. The best contemporary paint colors complement other colors throughout your house, especially if the central living spaces are an open concept.
Your choice of paint colors is not entirely scientific. Color psychology is a real phenomenon. It focuses on the way different colors alter your mood or change your perceptions about things. And one factor affecting your color choice is connotations that different colors evoke in your life.
Understanding Color Relationships Through the Color Wheel
Color families on the color wheel are called "hues." The wheel has twelve color families. The familiar primary and secondary colors are red, orange, yellow, green, blue, and violet. "Value" describes lightness or darkness of any color shade. Colors that are close to each other on the color wheel are analogous. Colors that are far apart are complementary. Distance between colors on the color wheel determines their contrast.
Dividing colors into warm and cool groups determines their visual temperature. Warm colors are red, orange, and yellow. Cool colors are blue, green, and purple.
Warm colors are friendly, inviting, and energetic. Their use in a room encourages conversation and interaction among people. Cool colors create a serene, peaceful, and relaxing atmosphere. They create an environment conducive to deep thinking and focused concentration. Creating a balance in rooms that exude elements of warm and cool moods can be tricky. In monochromatic color schemes, the use of accent colors that are slightly warmer or cooler than the primary color creates a contrast, making the room more inviting.
How to Choose Paint Colors for a Bathroom Remodel or Kitchen Remodel
Before you rush to choose a paint color, make a list of your kitchen's permanent fixtures. Look at everything from flooring, cabinets, appliances, etc. If you have an open concept, look for color in furniture pieces, distinctive architectural elements, accessories, and accent pieces. Think about colors that complement wall art, furniture, lighting fixtures, rugs, and any other decorative features.
Do you want your bathroom remodel to incorporate bright color, or is your preference a more monochromatic color scheme?
Consider the mood you want your room to exude. Since the kitchen is the active hub of the home (for many families), think about whether you want bright colors to reflect an energetic environment where communication abounds. If you aren't afraid of color, look for your favorite colors in features throughout your house. Draw inspiration from photos, paintings, pillows, area rugs, even decorative accents in nearby rooms. Colors that work in one place might not work well in other rooms.
How much natural light does your bathroom or kitchen get? Sunlight gives you the most accurate representation of paint colors. And indoor lighting will impact paint color appearance, too.
Popular Contemporary Paint Colors to Consider for Your Kitchen or Bathroom Renovation
The "Color of the Year" represents future predictions for the paint, decorating, and even fashion color trends. Many paint manufacturing and color companies choose their "Color of the Year 2020" in late 2019. A unifying theme among all the paint companies is an overall desire to create calm, soothing, and relaxing environments in bathrooms and kitchens.
Paint Company Choices for Color of the Year 2020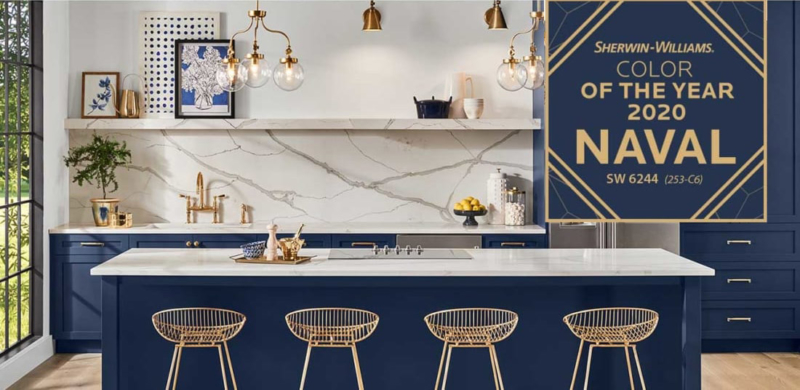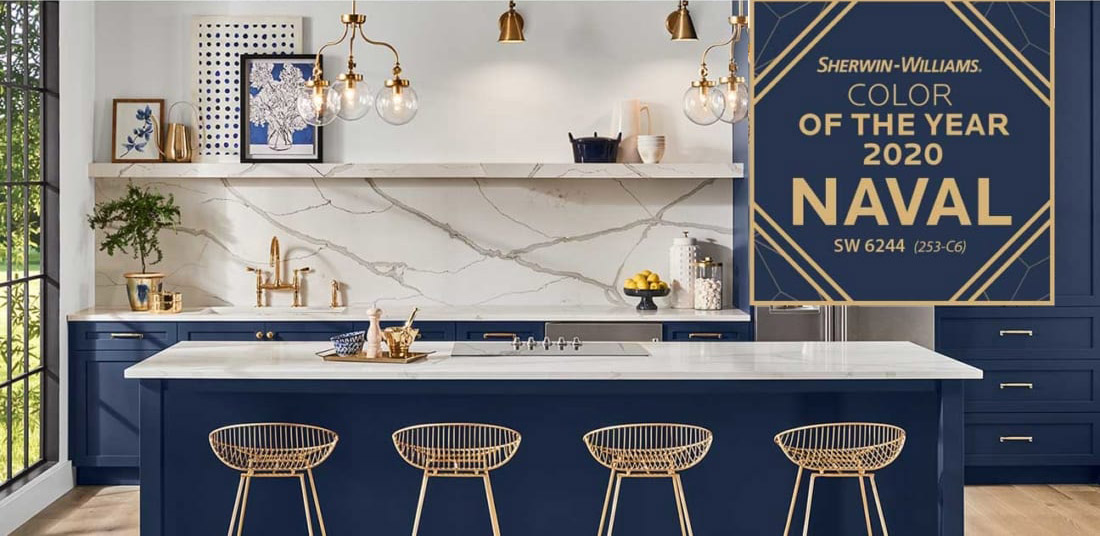 Benjamin Moore's Color of the Year 2020 is First Light. The company describes the color as a "soft rosy hue." It is a pale pink that's versatile enough to work as a neutral color when used as a backdrop against bold, contrasting colors. It exudes a soft, calm, and relaxing feeling. Bright accent colors are vital for creating a gender-neutral palette.
Behr's Color of the Year 2020 is Back to Nature. It is a soft green exudes a calming, spring-like feel. The company envisions Back to Nature as an ideal color for interior walls and exteriors.
PPG Paints Color of the Year 2020 is Chinese Porcelain. PPG describes Chinese porcelain as "a deep shaded orchid blue with a violet undertone." If you like vibrant colors in your kitchen, consider this for cabinets, or an accent wall.
HGTV Home by Sherwin Williams Color of the Year 2020 is Romance. The company describes Romance as blush pink. It has a hint of apricot that keeps the color from looking overly pink. If you're looking to create a color palette that embraces colors that reflect our Southwest Florida lifestyle, Romance is worth consideration. Use it as a backdrop against colorful pops of accent colors.
Sherwin Williams Color of the Year 2020 is Naval. It is a dark navy blue that marries the darkness of the sky and the sea with a bold elegance that is synonymous with Art Deco. Use it as a one wall focal point, or to add splashes of accent color here and there.
Color is a critical element in your home's design. Your ability to choose the best contemporary paint colors for your kitchen or bathroom renovation sets the mood you hope to express. A bathroom should be relaxing, while a kitchen should be warm, inviting, and energetic.
A kitchen remodel can transform the functionality of your home. A bathroom remodel can enhance the liveability of your house. A well-thought-out home renovation will help your family enjoy life there for many years. And you'll increase your home's resale value in the process. Let the experts at Southwest Florida's premier residential design/build remodeling contractor help you create the chef's kitchen of your dreams, or transform your bathroom into a spa-like oasis.
For additional design inspiration, visit our Portfolio. And make sure to sign up for our monthly eNewsletter full of home remodeling tips and ideas. Questions? Contact Progressive Design Build to arrange a consultation today.