Everyone made fun of Chicken Little, but the plucky clucker had a point when it comes to your home remodel: Don't forget to look up, and make the most of your ceilings. Also called the "5th Wall," these often neglected spaces have the potential to make a good renovation great by taking advantage of an unexpected amount of surface area. With creativity and an eagle eye for detail, an otherwise droll white wall can explode with color and texture to transform any room. 
Consider plain white-walled ceilings as your canvas. Partner with a trusted contractor to explore design ideas that not only blend with the other walls, fixtures, and furnishings in each room but take your entire remodel to a whole new level. Here are several ideas to get you started, ranging from simple approaches such as paint to increasingly elaborate work including more complex wall coverings and structural changes. When it comes to ceilings, the sky's the limit!
#1) Exposed Concrete
Taking away is easier than adding, and that's especially true for ceilings. Depending on what's lurking beneath the paint, drywall, popcorn, or other legacy materials, stripping your ceiling back down to its core structural elements can jazz up an entire remodel. Check with your contractor or architect first to ensure that what you expose is what you'll want; if so, then this option could prove to be your most straightforward and compelling way to breathe new life into your home. 
A raw concrete surface best matches similarly sleek and minimalistic fixtures and furnishings below to create an exquisite modern vibe. The results can be striking, giving any room a refreshingly contemporary, distinctively industrial look and feel. Just keep in mind that bare concrete won't allow recessed lighting and may prove problematic for other embellishments; so plan accordingly and work with a design and build team with proven experience and great taste. 
#2) Paint 2.0
Your next option is to keep the existing flat drywall, and ideate beyond the typical plain white or off-white paint. Your options go beyond color choice and include creative and stylistic touches that infuse new life not only into your ceilings but your entire home. Dark colors add intimacy, lighter ones open things up, and subtle hues capture nuanced emotion. Matching ceiling and wall colors blend both to bold and breathtaking effect, augmented with exquisite lighting effects. 
Accent colors cover the full spectrum from deep tones to neutral grays, depending on the desired mood. Two-tone paint will divide your ceiling into eye-catching sections, while another popular approach is to "cheat" your ceiling line by starting the paint a foot or two below the ceiling line — the result is a highly stylish, contemporary look where the paint almost feels like sleek molding or trim. Choose semi-gloss or matte paint for the desired design statement.  
#3) Wallpaper
More elaborate and difficult to apply than paint, wallpaper nonetheless remains popular for adorning the four walls you'd usually expect to find it — and works wonders for ceilings when done right. The same wallpaper options you have for conventional walls apply here to surprising effect, including a gamut of colors, shapes, and textures appropriate for all conceivable moods. Tap into your imagination and start rolling to create the perfect living space from the top, down!
Since wallpaper isn't what most people expect across a ceiling, you're already making quite the statement exploring this option, so design accordingly. With eyes drawn upward, impress family and friends with brilliant navy blues, more subtle natural tones, modern geometric patterns, or sweet vintage charm. A magnificent matching light fixture or delicately layered pattern can provide the coup de grace. Selectively add paneling materials for a stunning visual motif.
#4) Paneling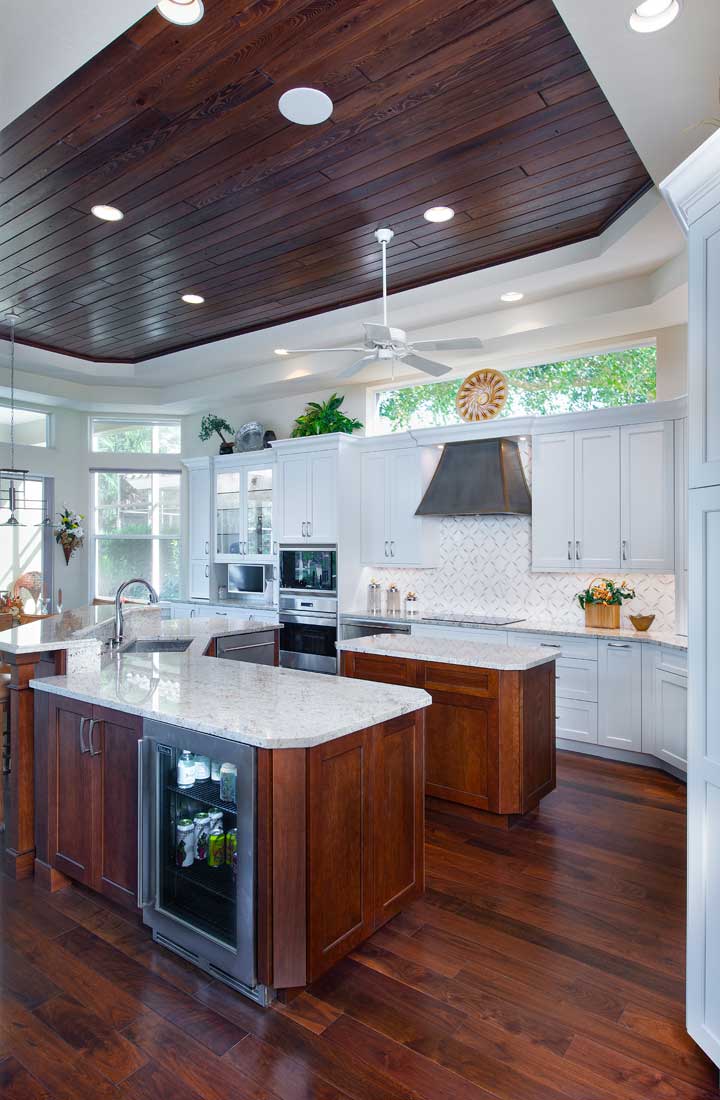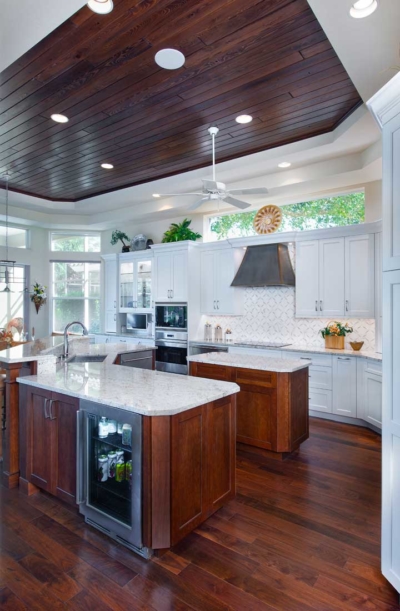 The next level of complexity is layering your ceiling with any one of a broad selection of paneling options. Each choice has its own unique style, color, and texture, and varies in cost and ease or difficulty of installation. Since these materials come in modular components, you can tile them entirely or just partially across your ceiling, and use them in creative combinations. As with your other ceiling options, the key is to start with the mood you want, then design and build to match. 
Popular paneling choices include variations of woods and metals. Pressed tin and brass give rooms a refreshingly retro look. Embossed in large and small patterns, layered across the ceiling in broad patches or narrow, metals can dominate or create a more subtle accent cloud. In contrast, wood brings warmth and natural beauty and is even more flexible in terms of style. Beaderboard is a new contender, delivering a fresh farmhouse feel, especially in semi-gloss.  
#5) Molding
The opposite aesthetic approach to blending walls and ceiling with the same color paint is to accentuate the boundary — and the classiest way to do that is with an innovative spin on molding. Unlike batten, baseboard, and chair rail molding which functionally protect the walls or hide something, ceiling molding is a pure design element with endless creative possibilities. Choose wisely, though, since, unlike paint or paneling, installing is far easier than removing. 
That said, molding is more popular now than ever, with options abounding. A great way to think about molding is in terms of either crown or cove forms, often covered in embossed and embedded patterns. Both forms hug the boundary between walls and ceiling, their respective layered or smooth surfaces ripe for dentil, egg and dart, bead and pearl, and numerous other geometric and stylistic expressions. Partner with an experienced designer to get it just right. 
#6) Exposed Beams & Drop Ceilings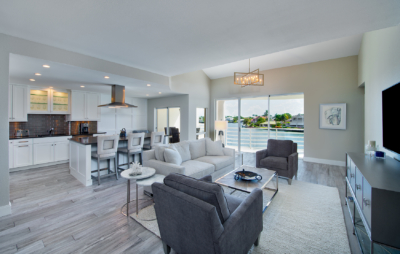 Another and more elaborate group of ceiling design options is to make structure changes to your home. Exposing underlying beams is more elaborate than the concrete approach described before, also dependent on what lies beneath drywall or other coverings. Once revealed, wooden or steel supports can be complemented with paint, paneling, and exciting lighting flourishes. Partner with your designer and architect to ensure feasibility before diving in. 
Drop ceilings or so-called "second ceilings" are usually made of drywall, wood, or other materials, and are suspended a few inches below the main ceiling with stanchions to give a dramatic depth effect. They are ideal for recessed lighting fixtures and infuse the living space below with a modern look and feel. Designers often place them directly above a kitchen island or other area of focus; they breathe new life into a room without dominating the experience. 
#7) Tray & Coffered Ceilings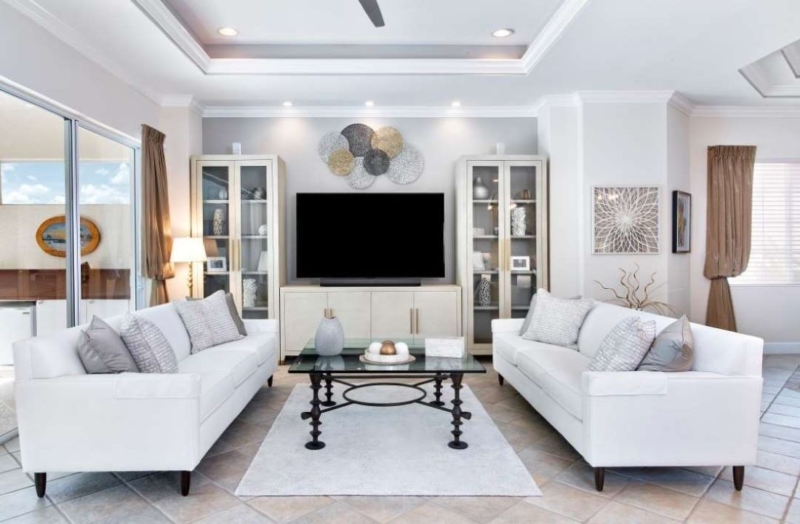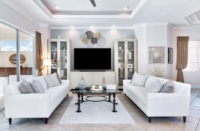 Arguably the most elaborate approach to a ceiling remodel is making structural changes. Tray and coffered ceilings are similar in that they both "indent" the ceiling: tray ceilings do so across the entire surface and tend to have a functional purpose such as hiding wiring or lighting, while coffered ceilings consist of numerous square, rectangular, or octagonal recessed or sunken grids that are great for acoustics, and have their origins going back for thousands of years. 
Tray ceilings are less costly and easier to build, but the drop-down border can make the room feel more claustrophobic. If you have the budget and a ceiling at least nine feet high, coffered ceilings can create anything from a farmhouse feel with rough-hewn wood beams, to ornate plasterwork for a classically Baroque look. Either choice transforms any room, especially when the design matches your desired mood and the walls, decor, and furnishings looming below. 
Partner with Progressive Design Build
Ceilings are often the most overlooked areas for a thrilling remodel, so make sure you team up with an experienced contractor. An award-winning luxury design-build remodeling firm proudly serving Southwest Florida, Progressive Design Build is driven by its leadership philosophy that ensures 100% accountability through thrilling design, accurate estimates, full transparency, compassionate staff, ease of service, and satisfaction guarantees from floors to ceilings. 
Applying their proprietary Design-Build process, Progressive seamlessly connects designers to builders to ensure your ceiling renovation is done on time, on budget, and to your exact specifications. See the region's best work in whole house, kitchen, room additions, outdoor spaces, and more. Sign up for their monthly newsletter, or reach out directly for a free ceiling consultation. Look forward to a remodeled ceiling your family and friends will look up to!