Life has not been the same since March of 2020, and neither has home remodeling — which when done well reflects the changing needs and expectations of homeowners seeking improved comfort, utility, and value. That's why radical changes in lifestyle have had a powerful and lasting impact on renovation, triggering trends that won't be going away anytime soon.
Surprisingly enough, not only have the past 18 months or so profoundly influenced home remodeling but despite the dire predictions of a market collapse have fueled unprecedented growth. The entire real estate market is hitting record highs, with buyers, sellers, and remodelers experiencing a level of enthusiasm not seen for over a decade, if ever.
Several changes in lifestyle are driving this amazing growth, and influencing home remodeling trends having a significant impact on remodeling design and construction across the country. At the top is increased time spent in the house, with work from home offices and virtual classrooms becoming the norm for millions of families. That has demanded a whole new level of versatility.
The National Kitchen & Bath Association has taken notice and conducted a study to determine the impact of these lifestyle changes on home renovations. After surveying more than 750 designers, architects, remodelers, contractors, dealers, showroom managers, and manufacturers in North America, the NKBA summarized their findings into four distinct trends:
Lifestyle Trend #1: More Connections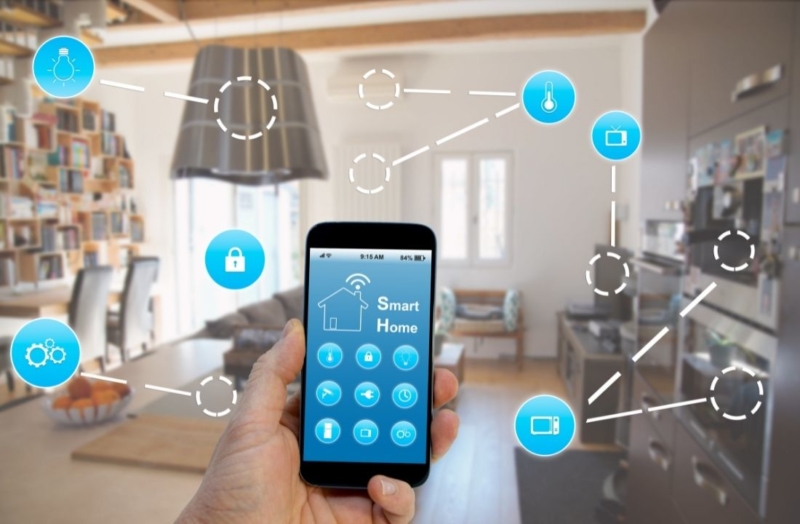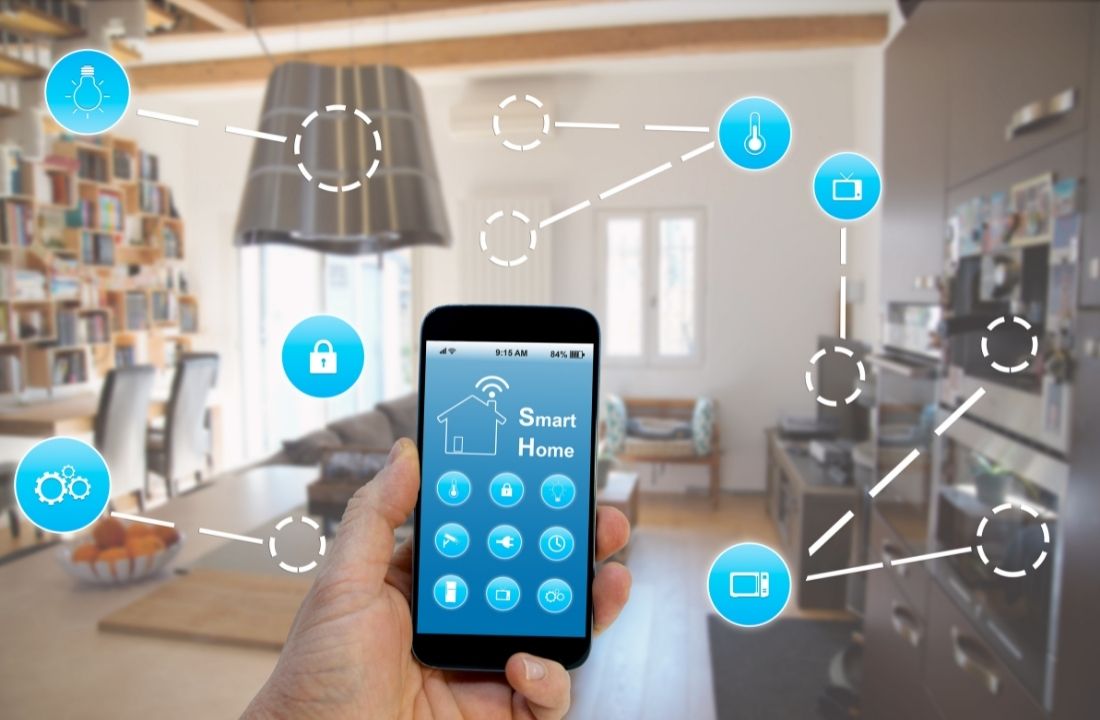 With more people spending more time at home than ever before, family members need to feel comfortable and functional while being together. That lifestyle change demands multipurpose open spaces, ease of movement between living areas both inside and outside, and utilization of "smart" technology features to make cross-generational life at home easier and more fun.
The NKBA survey confirms this trend, with over 80% of those polled expecting their homes to accommodate more people, and encourage more productivity but also luxury. Nowhere is this change having a bigger impact than in kitchens, where open layouts and specialized stations seamlessly blend cooking, working, socializing, and relaxing. That translates into kitchen designs featuring sprawling islands, ample seating, and a plethora of high-tech appliances.
Similar trends have transformed bathrooms into more inviting, functional, and leisurely spaces. Hands-free faucets, radiant heated flooring, saunas and whirlpools, bidets and bold lighting, and freestanding showers with easy entry are trending. Accessible outlets, USB chargers, and other accoutrements welcome family members to stay, meditate and relax, plugin and tune out.
Aesthetic shifts have also become prominent throughout the home, including increased use of sleek metals, organic materials, matte surfaces, and base colors. The overall tone has moved from the flashy and ostentatious to functional interior designs that maximize efficiency and creature comforts. With the home performing so many roles, simple is almost always better.
Lifestyle Trend #2: More Simplicity
A consequence of demanding more connectivity is having similar enthusiasm for simplicity. After all, with more relatives spanning more ages cohabitating, the last thing you and your family need is clutter and distractions. Not surprisingly, a similar percentage of survey respondents responded that they preferred keeping their homes sleek, functional, and efficient as possible.
From a design perspective, this trend puts renewed emphasis on easy meal preparation, cooking, and cleaning. Workstation sinks in the kitchen, organized storage, open shelves as opposed to closed cabinets, landing counters for groceries and food deliveries, and snack zones leave everyone ample room, and give enough space for the family to eat, work, and play.
Bathrooms are trending toward a similar focus on simplicity, featuring easy-to-clean and maintain materials amid high tech functionality and versatility. As bathroom design has evolved from an afterthought to an experience, the renewed focus on both luxury and practicality suggest large format tiles, compartmentalized storage, and integrated electronic devices.
In terms of style, kitchens and bathrooms are both trending toward clean lines with a natural or organic flavor. Large windows, bold lighting, hanging plants, and colorful artwork make today's living spaces inviting zones where family members can settle in alone or together, and move effortlessly throughout the home, into and out of the backyard, garden, and front lawn.
Lifestyle Trend #3: More Health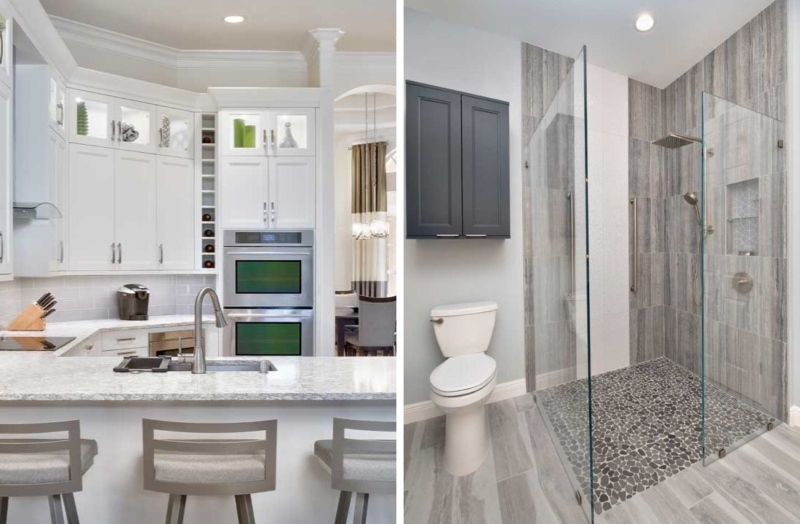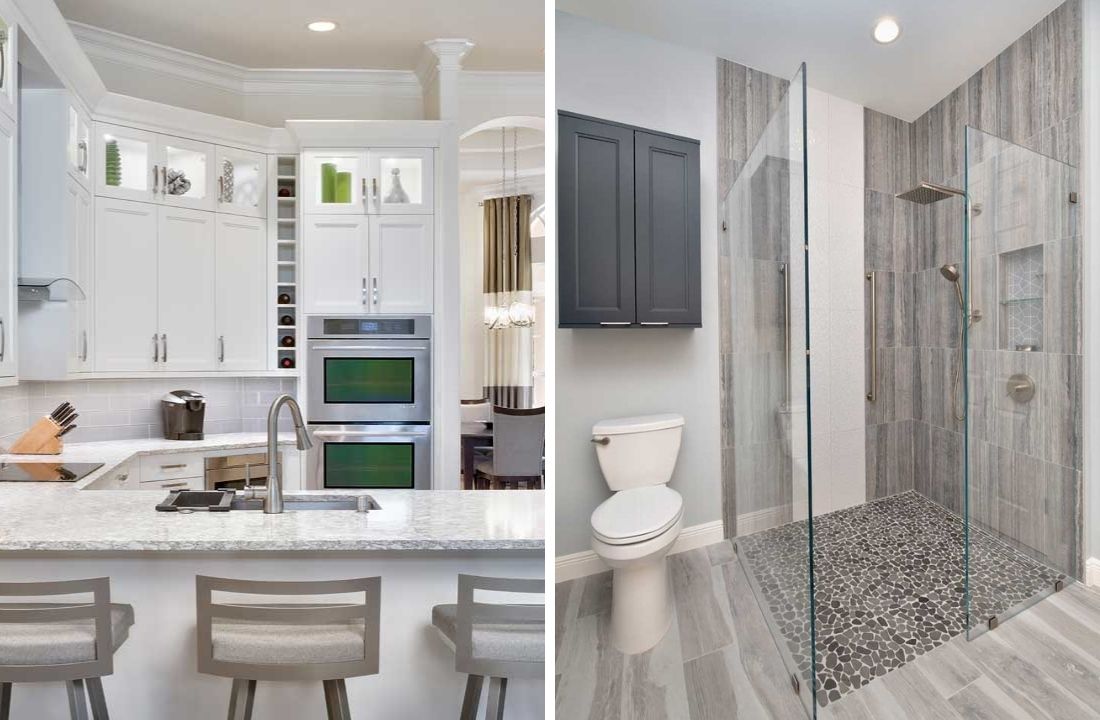 Nearly half of those surveyed wanted their home remodels to accentuate smart lifestyle choices centered around improved health and wellness. Designers with the goal of bringing to life this trend feature big windows welcoming air and natural light, open areas for exercise and increased human interaction, and vaulted ceilings with track and recessed lighting.
Holistic living focuses on climate control, energy efficiency, sustainability, and personal balance. These factors have redefined kitchen, bathroom, bedroom, and open floor designs, and place a strong emphasis on ease of use, accessibility, and efficiency. Non-slip floors for safety, nonporous surfaces for cleaning, and recessed shelves for storage are becoming standard.
Fixtures and appliances also embody these health and wellness trends, and feature hands-free controls, self-cleaning functionality, and recycled components. In the kitchen large sinks and refrigerators encourage fresh produce and more preparation; in the bathroom, heated towel racks and steam showers turn a mere powder room into a healing spa and rejuvenation center.
Many homeowners take this health trend much further and install gyms, fitness centers, and other exercise facilities. Meditation, yoga, and rest areas are also trending, creating an atmosphere that welcomes every generation in the family to take exercise and wellness seriously, incorporating health into everyday activities throughout the renovated home.
Lifestyle Trend #4: More Family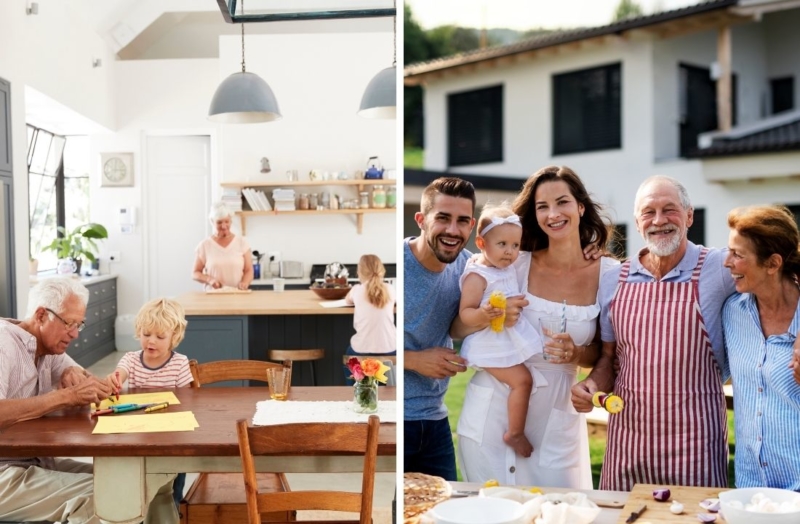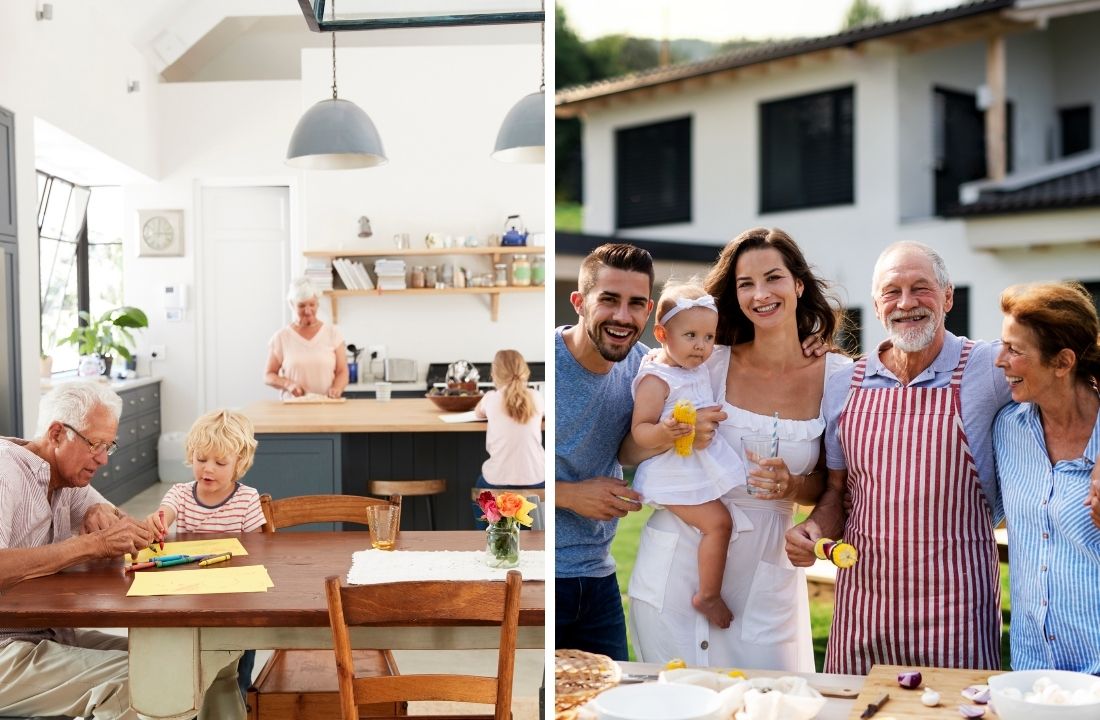 Lastly, nearly 70% of survey respondents expressed the need for "Age-In-Place" living spaces, where multiple generations feel welcome and safe living together. From toddlers to teens, adults to aging grandparents, the Universally Designed home is meant to accommodate and engage the entire multigenerational family. Top on the list: safety and convenience for everyone.
Bathrooms are often the first place to start. Shower benches and grab bars are important while replacing tubs entirely with spacious shower stalls is an optimal fix. Try strong lighting with convenient switches and motion sensors. Strollers or wheelchairs will demand widened doors and maybe changes in layout; exchanging floor tile with rubber or vinyl to help prevent falls.
Kitchens are next, with safety first. Consider an anti-scald device on your sink and motion sensor handles, a color indicator on burner ovens to reveal when they are still hot. Non-slip flooring is a must in age-in kitchens, plus bright lights with easily accessible controls. Don't forget wheelchair-ready sinks, and making all appliances positioned within arms reach.
Also consider Universal Design upgrades to bedrooms, home office, rec rooms, and other living spaces. Widened hallways and doors, lowered shelves, installing an elevator, and creating a first-floor bedroom are all viable solutions for seniors with compromised mobility. And don't forget the yard, where ramps, fall-resistant surfaces, and bright lighting improves safety.
Partner with Progressive Design Build
With public health concerns continuing amid an economic rebound that won't let up, you'll need a trusted, proven, and experienced remodeling contractor to transform your home into a safe haven for extended family living, work, and play. As an award-winning luxury design-build remodeling firm proudly serving Southwest Florida, consider partnering with Progressive Design Build.
Offering a full range of remodeling services, and driven by their leadership philosophy, Progressive ensures 100% accountability through thrilling design, accurate estimates, full transparency, compassionate staff, ease of service, and satisfaction guarantees. Their Design-Build process seamlessly connects designers to builders, ensuring the job is done right.
See the region's best work in whole house, kitchen, room additions, outdoor spaces, and more. Sign up for their monthly newsletter, or reach out directly for a free consultation. Partnering with Progressive, you can look forward to a remodeled home that reflects your family's complex lifestyle choices, and embraces trends that will be with us for a long, long time.