Here in Southwest Florida, we have the luxury to enjoy the outdoors more than most, so why settle for less when it comes to your outdoor living spaces? Make them as luxurious as your gorgeous interiors with award-winning and consistently innovative design-build expertise!
Exquisite outdoor spaces should be deeply personalized and perfectly complement your interiors — while also functionally extending your home into under-utilized areas. Enhance your lifestyle and rouse the envy of your neighbors and guests by living large in the great outdoors.
Considering an outdoor kitchen? Garden? Pool or play area? Do you like to cook, relax, entertain, or exercise? Here are a few expert recommendations to help you visualize the transformation of space you never used into exciting living areas you never want to leave.
Food & Fun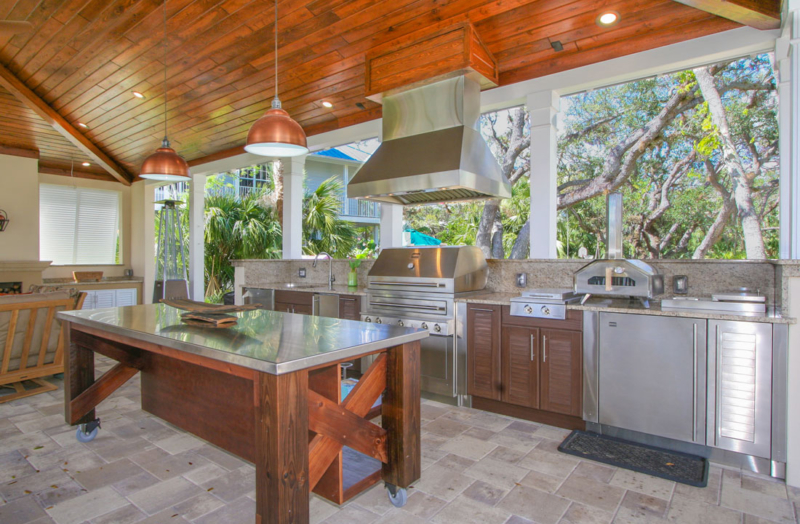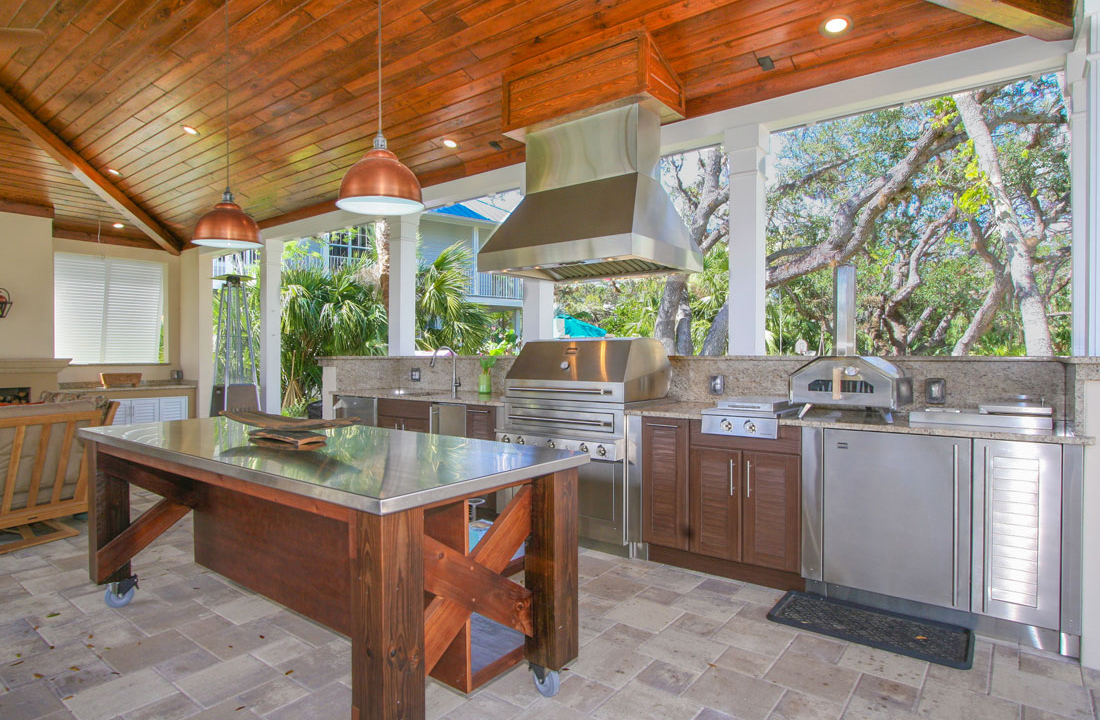 Outdoor kitchen and party spaces breathe new life into your home. From modest grilling areas to fully functional spaces with built-in plumbing, gas, and electricity, the sky's the limit when you begin with the end in mind to design the eating and entertainment area of your dreams.
Innovative and tasteful design ensures your outdoor party space becomes a seamless extension of your home. Choosing the right outdoor cabinets that match with your fixtures, style, and architecture is key; Danver or Brown Jordan offers many optimal features:
Plenty of prep counter space
Accommodations for refrigeration (ice bin, wine cooler, mini-fridge) and storage
Covered and open seating areas to entertain larger groups
Grill, pizza oven, and rotisserie for complete functionality
An outdoor kitchen space is just the start! Custom fire pits and spas are great additions for parties and entertaining. And don't forget to leave ample open space for encouraging game-playing and having fun. For example, this homeowner installed a Bocce ball court!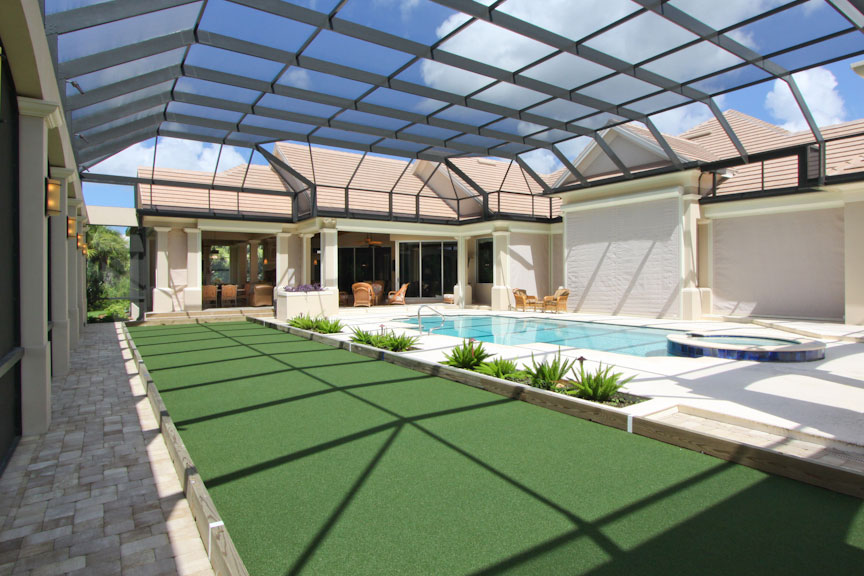 Best of Both Worlds
Your indoor living room is the ideal place in your home for relaxation and gathering, but sometimes you need more room for larger groups and experiences better suited for an outdoor space. Voila! Consider designing an outdoor oasis of comfy furniture and even a garden.
A combination of built-in and stand-alone furniture is practical and appealing. Another terrific combo is integrating a lush garden into your space, complete with colorful flower beds, flowing water fountains, and even a bird feeder. Watch your outdoor area spring to life!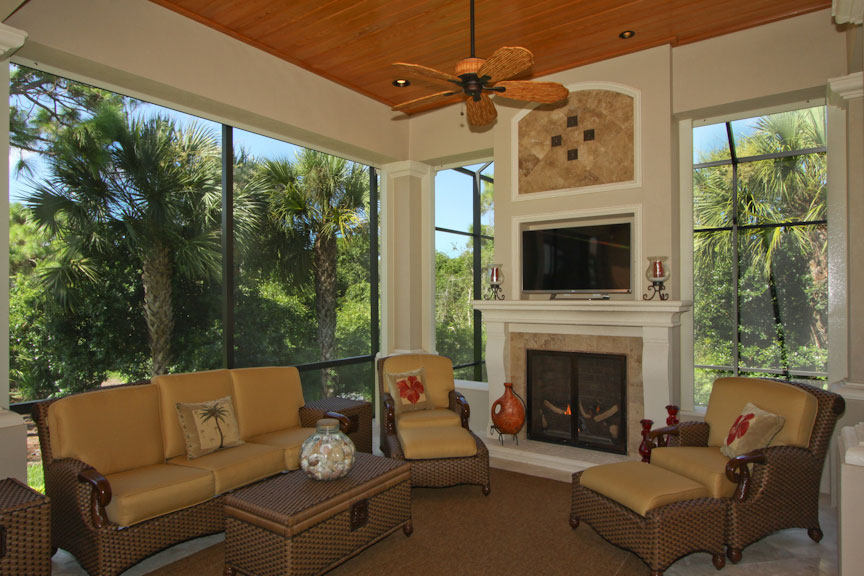 Cool Down, Heat Up
Few outdoor spaces embody luxury more than a pool, especially when designed to augment the architecture and style of your home and surroundings. Built-in planter boxes, tanning ledges, waterfall features, and colored pavers enhance the experience and alluring appeal.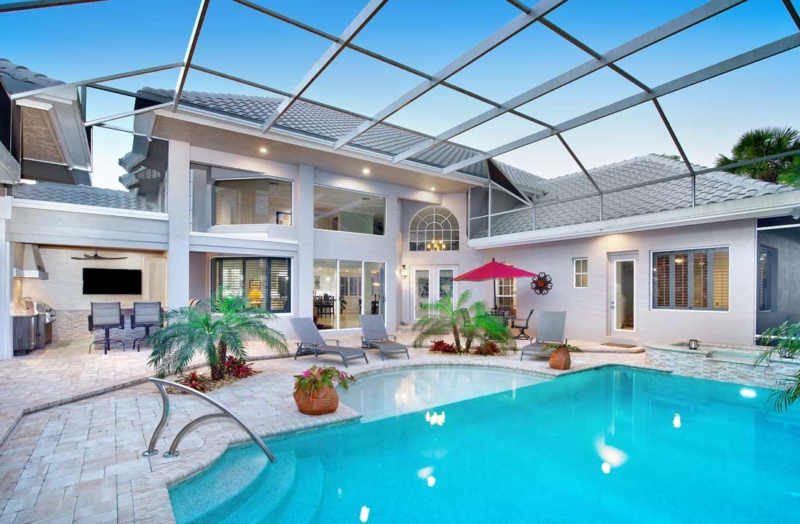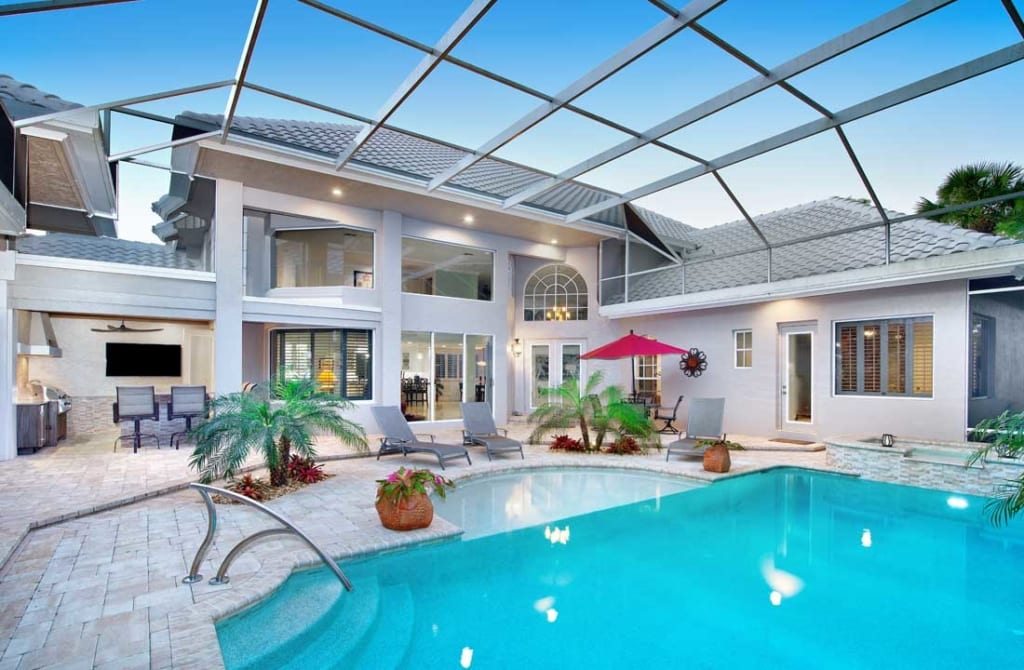 Why go inside for a drink when you can serve yourself and your guests right from a fully equipped outdoor bar? A tiki-inspired bamboo bar complete with a palm-thatched roof is one of many design options to choose from; just make sure the electrical and plumbing is done right.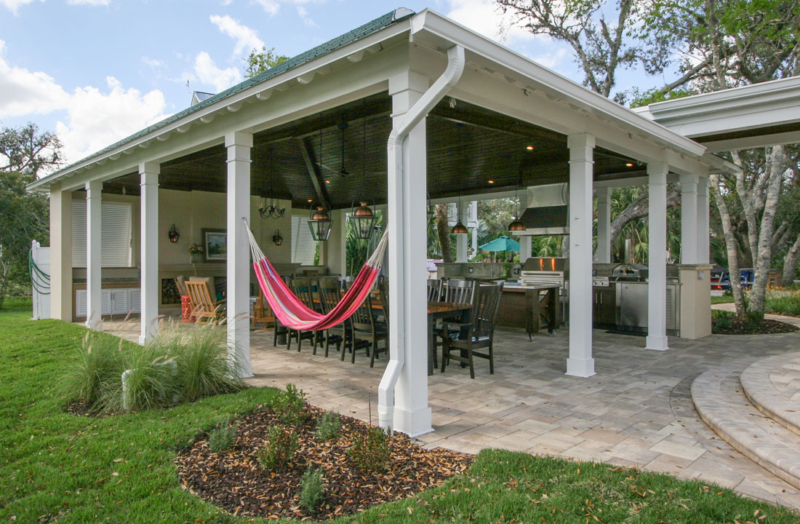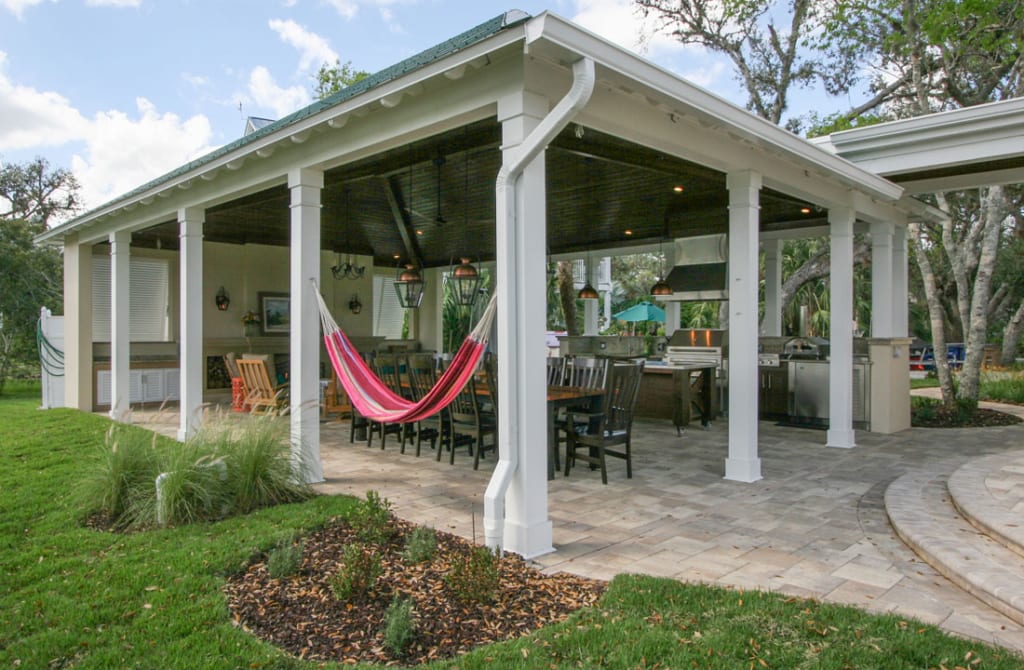 Why stop there? Comfortable patio furniture and hanging hammocks between trees need only a spa to turn your backyard into a pleasure palace. Hot tubs and jacuzzis come in diverse shapes and sizes, are above ground and embedded, and can't be beat for the ultimate relaxing evening.
Modern Love
High tech is a terrific complement to nature, so consider a cascade blade water feature made of sleek stainless steel and smooth dark stone. Straight edge stone laid down in a minimalist pattern creates a sleek, highly contemporary look and feel that looks great in a natural setting.
You can also bring all the technological amenities of your home into the outdoors by installing a large flat-screen TV, hidden speakers with surround sound, and mood lighting — all controlled from an app on your phone. Sit back in the fresh air and enjoy your favorite shows.
Our Experts Can't Wait to Help You Go All-Out Outdoors!
With the help of the experts at Progressive Design Build you're only 3 easy steps away from creating the outdoor living space of your dreams. Take a look at our portfolio of outdoor kitchen remodeling projects to get a taste of what caring, compassionate professionals can do for you.
Up to speed on the latest and most effective containment, cleaning, and documentation procedures, our safety measures will not only minimize noise, dust, and physical contact during your remodel, but we will help ensure the health and safety of everyone involved.
For more information about how we can help you go all-out with your outdoor spaces, schedule a virtual consultation or give us a call at 239.939.5411 today.