It's common for homeowners here in Southwest Florida to be relatively happy with the home they chose for their family, only to find it less than functional or out-of-date after years of use. You may be experiencing a similar situation in your home. Perhaps the look of your kitchen was created by the previous owner many years ago, or you designed your kitchen without the help of an interior designer and are now in need of an upgrade?
When it comes to contemporary kitchen choices, there are a plethora of options to consider. To help shorten the preparation process for you, we've assembled today's top contemporary design features for you to consider:
Bold Backsplash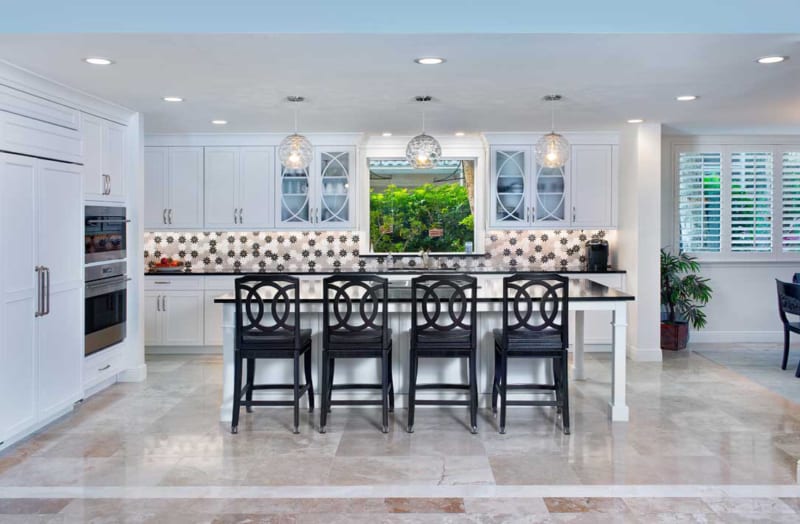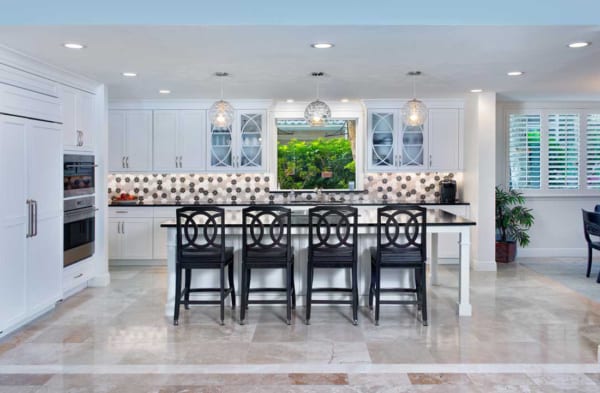 A carefully chosen backsplash provides a lovely focal point in a kitchen, so why not go bold when making this selection? Contemporary kitchens often include a full-height backsplash made of materials including concrete, marble, or glass.
Instead of a solid color, try incorporating a unique pattern. A mosaic backsplash gives a kitchen a signature look and can help you express your sense of style. Painted glass, metallic tile, or textured tile are all excellent options for contemporary kitchens. A dramatic backsplash will set off your contemporary kitchen and serve as a source of delight.
Dramatic Lighting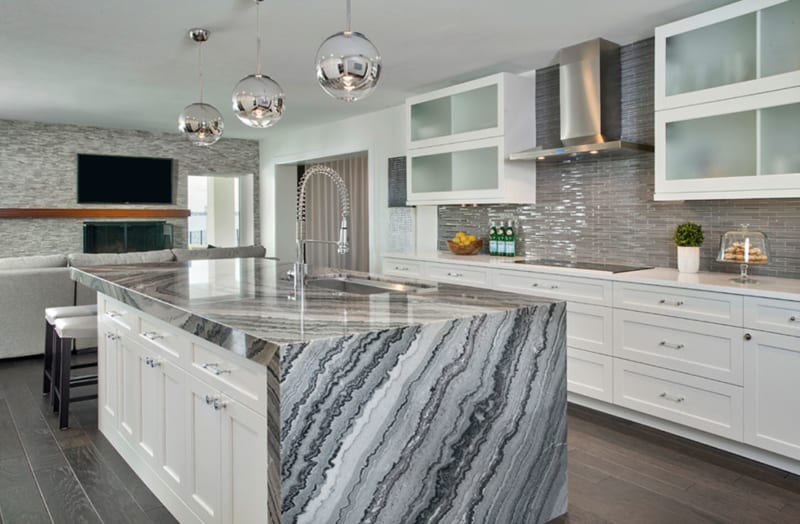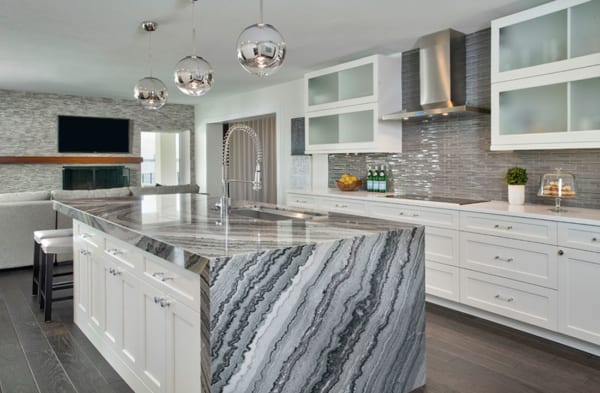 It's essential not to underestimate the importance of lighting in a contemporary kitchen. Better lighting makes for a safer workspace, to be sure, especially when you're wielding sharp knives and working with high heat. But you can also use light to accent your design style, by choosing show-stopping chandeliers, oversize pendants, and mixed metal lighting fixtures.
In addition to the usual artificial lighting in your kitchen, big windows running floor to ceiling can also add drama, as would installing a new skylight.
High Tech
There are plenty of opportunities to transform your kitchen into a magazine-cover worthy space that is sleek and contemporary, and high tech options are crucial here. For example, update your kitchen with modern appliances, including a refrigerator with a video camera that lets you see the contents without wasting energy opening the door to peek around.
Make it easier to use your smartphone, tablet, laptop, and other gear by installing several charging stations in the kitchen. That way, when you're watching a cooking program on your device, you won't need to worry about the battery running jow just as you're preparing your main course.
Marbled Quartz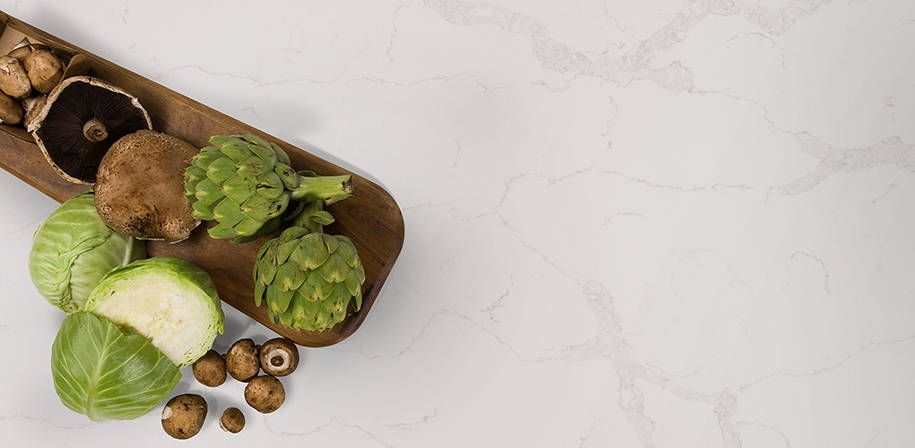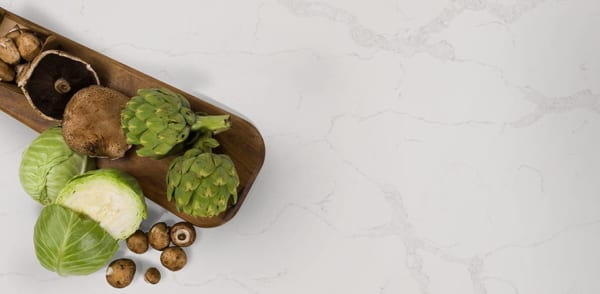 Photo courtesy of MSIsurfaces.com
Another trend we see in contemporary kitchens is Quartz countertops that mimic the look of marble. Quartz is considerably more durable and easier to maintain than its real marble counterpart, and the fact that it has such an attractive, organic look makes it all the more appealing to homeowners embarking on a new remodel.
Mix and Match Materials
Contemporary kitchens often achieve their look, in part by the way the owner has mixed and matched a variety of materials. For example, the prodigious use of both stone and wood in the design gives you added texture and a more visually exciting look. You can also use more than one type of wood, to place in layers.
Another option is to use curved lighting displays (ovals or circles) to contrast with rectangular elements in the kitchen (from counters to cabinets to various appliances).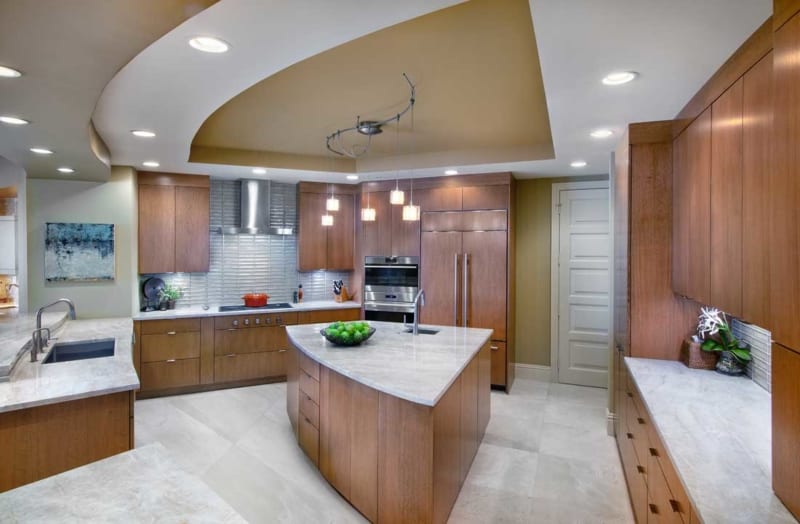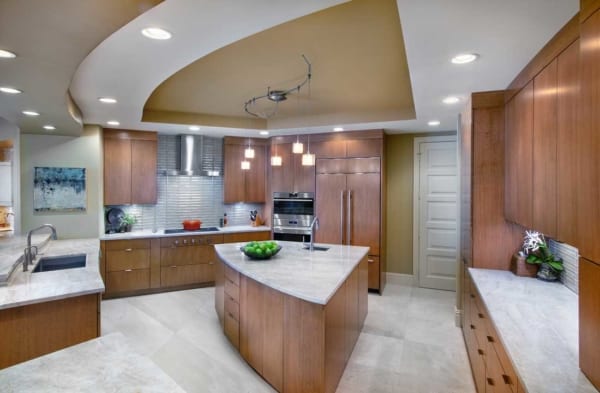 A glass countertop makes a nice contrast with metallic elements in the kitchen, while a vibrant pattern in the fabric of chairs around the kitchen island could be offset by their dark wood frames.
Shaker Cabinets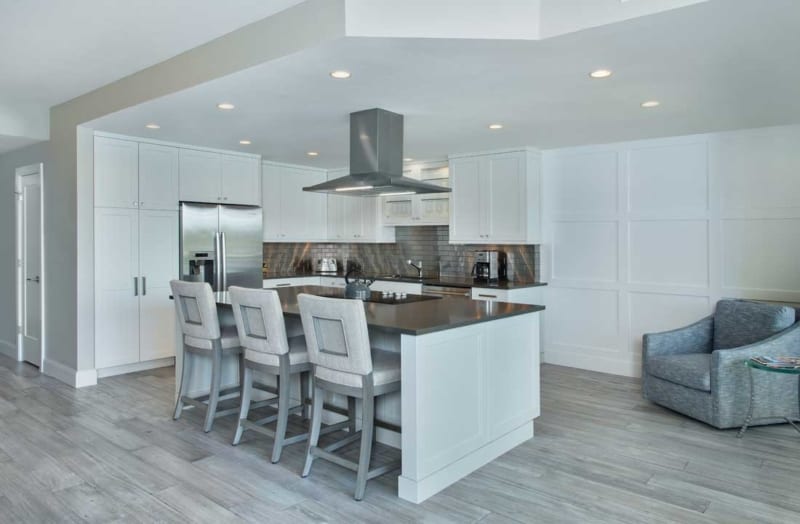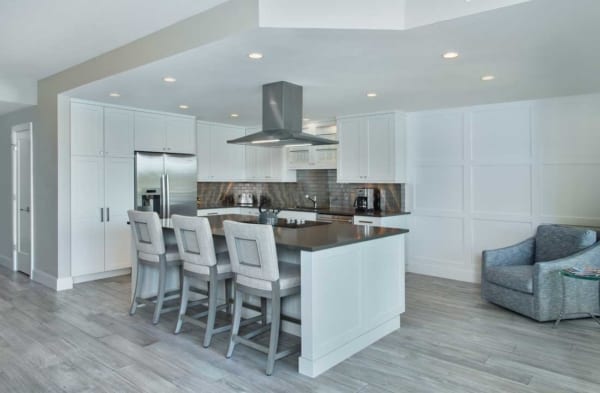 For many Southwest Florida residents, Shaker cabinets are an ideal choice for remodeling with a contemporary design because they are not too modern and not too traditional.
The Shaker style cabinet involves a clean look with a square frame that is raised with center door panels that are flat. The simplicity of Shaker cabinets creates an opportunity to make them your own by accenting them with unique hardware.
Start Your Contemporary Kitchen Remodel Today
Are you contemplating a kitchen remodel project? If you're busy or short on ideas about how to get started, there's no need to do it alone. The design and construction professionals at Progressive Design Build have got you covered.
For ideas and inspiration, check out our kitchen remodeling portfolio. Or, if you have questions about your own home, feel free to give us a call at (239) 939-5411 or schedule a complimentary in-home design consultation.
Other Articles You May Like:
2019 Home Design Trends in Southwest Florida