Attractive Upgrades that Will Make Your Home Safer and More Comfortable
Most of us want to live in our homes as long as possible. The problem is, our homes may not be aging as well as we are, preventing aging in place. Do you have hard, slippery surfaces in your bathroom? Is your home dark and hallways narrow? According to the Centers for Disease Control and Prevention, approximately 235,000 people visit emergency rooms each year due to injuries they've sustained in the bathroom alone. Despite this humbling statistic, many homeowners resist making changes to their bathroom that will make it safer. Why? Because they fear their beautiful bathroom will look "institutional" and hospital-like.
Thankfully, times have changed. Some of the amenities that will make your home safer and easier to navigate—walk-in showers, natural lighting, wider doorways—are also some of today's latest design trends.
START DESIGNING YOUR RENOVATION TODAY!
Old grab bars are today's new shower rails. Higher seated toilets are today's comfort height. Easy-to-use handles on cabinets and doors are today's ergonomic features.
This type of adaptable design is known as "aging in place," making your home comfortably welcoming to all ages and abilities.
As the premier design/build remodeling firm in Southwest Florida, Progressive Design Build has extensive experience in helping homeowners remodel and update their homes to meet their functional aging in place needs, without looking like a hospital.  We design for comfort, safety, accessibility, functionality, as well as beauty and aesthetics.
To give you an idea of how to add attractive upgrades to your home while keeping you comfortable and safe, we've compiled a list of aging in place recommendations broken down by room. These are just a few ideas of how to make your home comfortably welcoming for all ages and abilities, for many years to come:
Kitchen
As the heart of the home and primary place for friends and family to gather, the kitchen doesn't have to be a place that homeowners spend less time in as they age. Safety and convenience are essentials when planning for an aging in place kitchen remodel:
Cabinets and Counters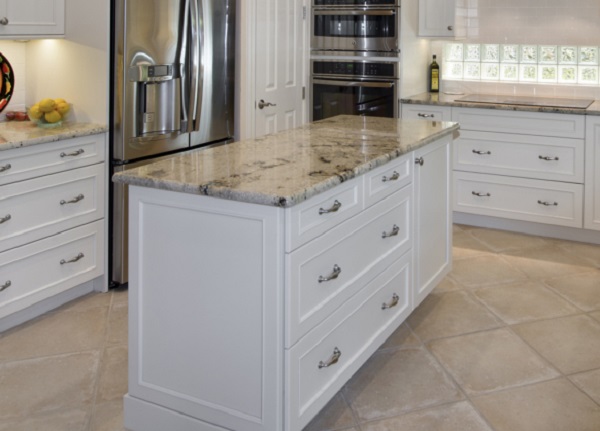 Use lever-style handles on cabinets for ease of use (or "D" shaped pulls/handles)

Add pull out shelves in lower cabinets to reduce the strain of bending over to reach in the back of cabinets

Modify the height of upper wall cabinetry, to be three inches lower than the conventional height  

Add pull down shelves in upper cabinets to reduce the amount of reaching

Use glass front cabinet doors or open shelving to help with easy access  

Incorporate varied counter heights and open, under-counter seated work areas to accommodate a wheelchair or other mobility needs (36" standard, 30" for sitting and working, and 42" for ease of use while standing)

Allow 30"x 48" floor space clearance near appliances

Visually define your workspace with contrasting color edge borders on countertops

Install counters that have rounded edges and corners
Sink
Add a roll-under sink so those in a wheelchair can use it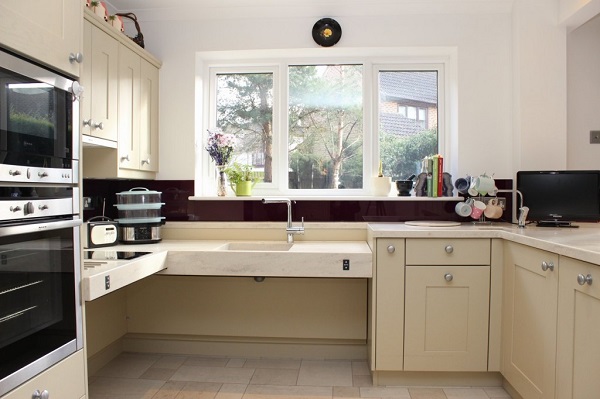 Photo Courtesy of IE Cabinets
Use a hands-free or lever-handled faucet with pull out sprayer

Incorporate an anti-scald device to keep people from getting burned

Ensure water filtering devices are easily accessible to everyone
Appliances
Select appliances that display information clearly and are easy to use

Consider energy-saving appliance options

Consider an electric cook top that has color indicators when the burners are on or still hot; with front-mounted controls

Install wall ovens so that the interior rack lines up with the adjacent countertop, limiting amount of lifting or bending and is easily reached by anyone

Consider a side-by-side refrigerator/freezer for easy access to both compartments with illuminated ice and water dispensers on the outside of the door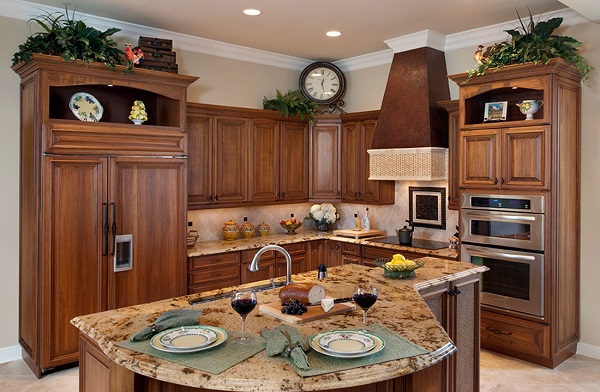 Install microwave at counter height for easy reach

Look for dishwashers that are easy to use and have clear displays; installed at a new height
Bathroom
Bathrooms can be the most dangerous room in the home—a majority of accidents occurring during bathing or showering. Slippery surfaces, insufficient lighting, and tight corners can be a recipe for disaster that can be easily remedied with proper planning.  If you have multiple bathrooms in your home, it's important to note that, at a minimum, the main floor bath should have the following age-in-place features:
Create the right lighting—introduce natural light when possible

Widen the doorway (minimum 36 inches wide)

Switch the handle from a knob to a lever for easy opening

Install a large, curbless shower (minimum 36 inches wide) with bench seating, shower rails, and a hand-held shower head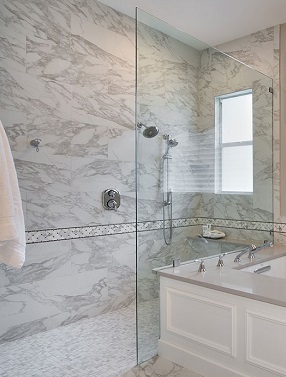 Incorporate varied counter heights (a removable base cabinet or an under-counter seated vanity) to accommodate a wheelchair or other mobility needs

Install toilets two and a half inches higher than standard toilets or purchase height-adjustable toilets with room for installation of hand rails

Rethink the bathtub, which should accommodate anyone with mobility problems. There are walk-in tub options as well as those with a wider edge that you can sit down on first before swinging your legs into the tub

Install slip resistant tile in the bathroom and shower. Smaller tiles embedded in grout also provide more friction.
Outdoor Spaces
As residents of Southwest Florida, we can't forget our fabulous outdoor living spaces. When it comes to applying aging in place features, the same principles apply for outside the home as well as inside:
Consider at least one covered, no-step entry, replacing steps with a ramp

Create an open layout, with wide walkways and slip resistant surfaces (especially around pools)

Incorporate varied counter heights near cooking and grill areas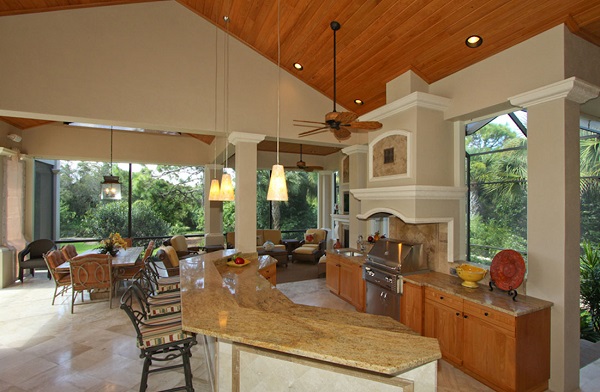 The outdoor space should be a well-lit area including a mix of post-mounted lights and wall-mounted fixtures that illuminate access to the house

Add low-voltage path lights that define the outline of the outside living space and provide safe, ample lighting

Consider creating a sitting area with shade
Universal Design
Photo Courtesy of AGA
Today's homeowners are planning ahead—making their house a home for life. Many baby boomers are looking into multigenerational housing, thinking about design options that would allow them to live with their kids and their parents. They want their home to fit both a stroller and a wheelchair without it looking strange and institutional. Technology is also changing. Manufacturers have already developed adjustable and remote-controlled light fixtures to meet a growing demand for universal design components. Although mostly age-driven, universal design elements are for everyone—creating accessibility to anyone.
And, remodeling companies like Progressive Design Build are incorporating universal design features that work well and look good—adding comfort, safety, style, function, and sophisticated elegance into every project.
Ready to begin your age-in-place remodel? Get the conversation started by calling Progressive Design Build today. We're full of great ideas for every room in your home.