If you read reviews, you'll find that homeowners across the internet are split into two factions: those who prefer granite countertops, and those who can't live without quartz. Take a step back from the rhetoric, though, and they all have one thing in common: Everyone loves their stone countertops. As with most materials, however, the appeal of granite versus quartz boils down to personal taste. That said, it's important to be informed. Here are some important differences to consider before you pick a side.
Appearance
When browsing samples, it's helpful to remember that no two slabs of granite are the same. As a natural stone, granite countertops are both stunning and imperfect. Granite can include infinite patterns, occlusions, and comes in a several colors – ranging from earth tones and greens to striking blues and pinks. For some, its uniqueness is granite's greatest asset, while others find the inconsistency to be a drawback.
Quartz countertops mimic natural stone and are manufactured from a mixture of crushed quartz, pigment, and resin. Quartz has the added benefit of consistent coloring and a variety of custom option, making selecting just the right piece both easy and precise. Solid, darker colors of quartz also help to hide seams between slabs for a sleek, modern look.
Quartz: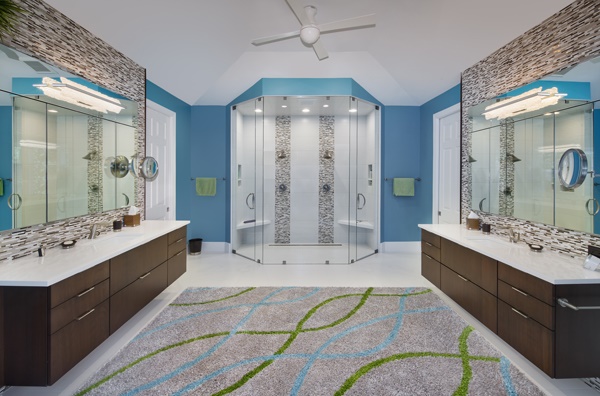 Durability
Granite is one of the most durable natural countertop materials available. It's remarkably resistant to chips, cracks, and heat. However, granite is still susceptible to scratching, etching, staining, and damage with heavy abuse. With proper treatment, though, granite countertops can withstand a lifetime of day-to-day use.
Quartz is heavier than granite, but more flexible. Quartz is resistant to acids, scratches, and stains, but like granite, it isn't indestructible. With heavy impact, it can chip or break. Extreme heat may also cause it to discolor. Likewise, quartz countertops may fade with prolonged exposure to direct sunlight.
Installation, Care, & Maintenance
Extremely heavy and difficult to handle, both granite and quartz countertops should be professionally installed – especially if it is necessary to cut holes in the stone for a sink or other appliances.
Depending on the type of granite you purchase, resealing your countertops every 1-3 years is a must to prevent the porous stone from soaking up dirt, spills, oils, and harboring dangerous bacteria. To preserve the sealant, avoid abrasives and acidic cleaning agents. Instead, use a soft cloth dipped in water and a mild cleanser. While damaged granite should be repaired professionally, small scratches can be fixed with resin or a color-matching epoxy from your local home improvement store.
As a nonporous material, quartz doesn't need to be waxed or sealed. Quartz is generally considered a hygienic material and is easily kept clean with soap and hot water. Damaged quartz is more difficult to repair than granite, though, and should always be fixed by a qualified professional.
Cost
Though it's generally considered the luxury option, granite is slightly less costly than quartz. Depending on the quality, granite countertops can range anywhere from $30 – $150 per square foot. On average, quality granite starts at about $60 per square foot.
When it first appeared on the market, quartz was remarkably more expensive than granite.  Over the years, new technology has helped reduce the cost of manufacturing across the board. While prices may vary among manufacturers, quartz countertops now run between $65-$100 per square foot.
Granite:
Environmental Impact
Today's homeowners value sustainable choices. Considering they can last a lifetime, granite and quartz countertops can be qualified as environmentally-friendly material choices.
Granite is about as natural as it comes. It is quarried, cut to size, and polished until smooth. However, granite is often transported over long distances, so getting a slab of granite from the ground in Italy to your kitchen counter may require substantial energy expenditure.
As an engineered stone, quartz countertops are about 97% natural and generally considered to have a smaller carbon footprint. The manufacturing process can be more energy efficient, as producers often recycle materials and water. Regional fabricators also save on fossil fuels by transporting their goods locally.
In the end, the answer to the granite vs. quartz debate is simply a matter of taste. Whether you've fallen in love with the natural beauty of granite or covet the consistent color of quartz, you won't go wrong with stone countertops. Both granite and quartz provide serious "wow" factor for any remodel as well as the day-to-day durability you'd expect from a once-in-a-lifetime investment – all while adding solid value to your home.
For more design inspiration, check out Progressive Builders' portfolio. At Progressive Builders, we're full of great ideas for every room in the house.