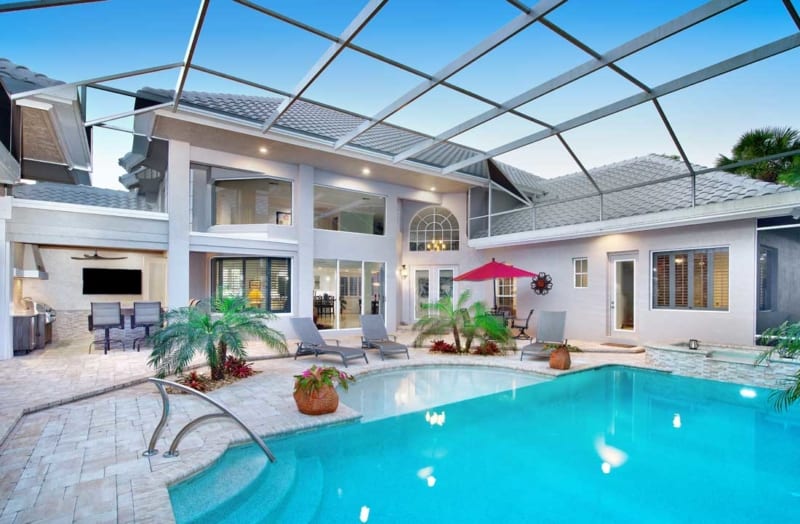 Bonita Bay, FL Homeowners Relax in Their Newly Remodeled Outdoor Living Space
This Bonita Bay couple came to Progressive Design Build eager to start a new outdoor living space renovation, to include an outdoor kitchen, bar, and courtyard/pool surround. Top priorities included modernizing their outdoor kitchen to support large family gatherings, as well as adding a new hot tub that would seamlessly integrate with their existing pool.
Challenge
The first step was to address the flat, modified roof system over the outdoor kitchen that was leaking. After inspection, it was determined that the entire roof would need to be replaced to adequately protect the outdoor kitchen amenities below it.
The second challenge reared its ugly head when we started the pool demolition. Progressive Design Build discovered that an existing planter box was not structurally sound and would need to be repaired before the new pool deck could be built.
Solution
Progressive Design Build designed a beautiful new outdoor kitchen area that features new Naturekast weatherproof cabinetry in a weathered Desert tan finish; a stainless steel Alfresco grill with a custom hood to provide adequate cooking and ventilation, and a stacked stone backsplash.
The outdoor bar, designed with the replica stacked stone backsplash, created a perfect place for our clients to watch tv or cheer on their favorite sports teams; and the custom stained wood ceiling and trim, recessed lighting and a modern ceiling fan finished off the outdoor living area and tied the entire space together.
After performing the necessary structural repairs to the existing pool planter, we replaced it with two beautiful planters designed in tile and pavers filling with palm trees and other tropical foliage. To enhance the use and visual interest in the pool, we added a curved tanning ledge at one end and added a new hot tub that was finished in the same stacked stone as the outdoor kitchen. We also installed a Deck-O-Drain drainage system that quickly and effectively collects and carries water away from the pool deck and added a sheer descent rain waterfall providing streams of water at a 45-degree angle that creates a unique and tranquil waterfall sound.
Finally, the pool deck was finished in beautiful three-color blended pavers.
Result
This Bonita Bay couple has enjoyed watching their grandchildren and two Labrador retrievers frolic in the new pool tanning ledge. Their hot tub is now a favorite place to unwind after a long day, and their new outdoor flat-screen TV gets plenty of use— a perfect place to enjoy an alfresco dinner while watching their favorite sporting event.
Our clients were so thrilled with their new outdoor space, they proceeded to have us completely transform their indoor kitchen as well!