Southwest Florida's beautiful climate allows residents to enjoy the great outdoors year-round so it's worth the investment to make the most of our wonderful weather. Whether you are looking to create a pool-side paradise in Fort Myers, and outdoor oasis or home remodeling in Naples, the ultimate outdoor kitchen in Bonita Springs or ocean-front escape on Sanibel or Captiva Island a well-designed outdoor living space, customized to your preferences, maximizes your overall living experience. Here are few factors to consider when planning your outdoor living upgrade for an amazing outdoor living area:
Shading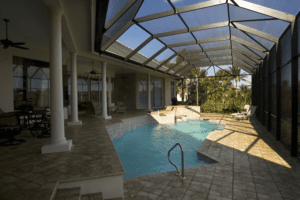 Adding or expanding lanai coverage can really maximize your outdoor time by providing shade during the hottest parts of the day.
Shaded outdoor living areas are especially important during the summer months when the sun can be very strong, but many people still want to relax and dine poolside. We can help you accomplish this by extending the roofline in a manner that enhances the home's aesthetics and complements the overall style.
Air Flow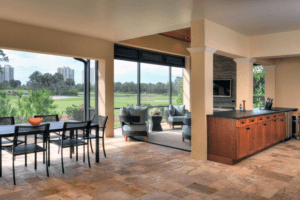 When we plan outdoor living spaces we always take air flow into consideration. We want to design a space that allows the air to circulate when you are outside, and throughout the home when the windows and doors are opened. Installing large pocket sliders and windows that open up entire sections of the house to the fresh air allow you to transform your entire home into an outdoor space whenever you desire.
Screen Enclosures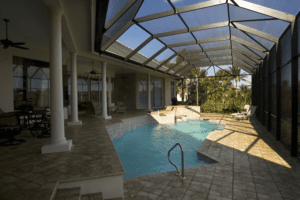 Fully enjoying the outdoors means protecting your space from pests. Screen enclosures are a common solution to keep out the stinging insects and flies that thrive in Southwest Florida, and screens also provide a light barrier against the sun, blocking harsh rays and keeping pools cooler in the summer when, otherwise, water temperatures can reach the high 80s. Cooling off in the pool is much more enjoyable when it's actually cool!
Landscaping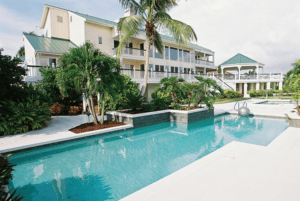 One of the things people enjoy most about outdoor living is their gardens. Whether your style is tropical or tradition, we can help you select plants that will thrive in the local environment with low maintenance. Landscape design is art, which we prioritize as we plan outdoor spaces.
Furnishings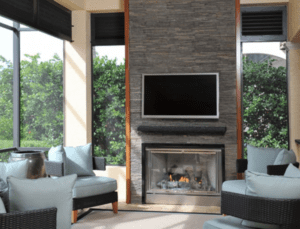 When designing an outdoor living space, plan for furniture arrangements, ensuring there is ample space for outdoor seating for various uses, from sunning by the pool to dining on your freshly grilled meals from the summer kitchen. Built-in seating and storage is a wonderful upgrade to consider as well. An outdoor fireplace or fire pit is also very enjoyable during the cooler winter months. Gather 'round it< with the family to make s'mores or cuddle up with a glass of fine wine and good book.
Activities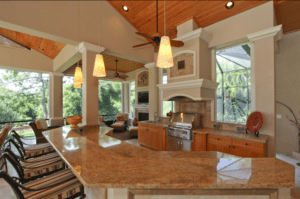 Whether for entertaining or your own personal enjoyment, it's always a good idea to incorporate some of your favorite activities into your plans for outdoor living. A pool, spa and pool bath are a great starting point, and there are many options and styles from which to choose so you can customize your space. We also have installed bocce courts and dog runs for homeowners. If you want to work on your golf game in the comfort of your own home, consider adding your own putting green in your outdoor space.
For those that like to cook and host outdoor parties, a sophisticated outdoor kitchen can really enhance the experience. Modern alfresco kitchens can include everything from grills and gas burners to refrigerators, prep stations with sinks, full-services bars with beer taps, and wine chillers.
The possibilities are endless for the addition or expansion of your outdoor living space, and we take pride in providing creative, custom solutions that take our customers' outdoor living experience to the next level! For more ideas, visit our online gallery or Houzz page for more outdoor space inspiration.