When you're unsure how the ideas you have for your home's remodel will fit into your existing space, consult with a design-build professional. Their expertise and knowledge of products and materials will delight and surprise any homeowner. A design-build remodeling firm knows how to repurpose space, can help you choose materials to complement your existing design, and has the skill to pull it all together. To illustrate what we mean, here are eight innovative ways Progressive Design Build solved homeowner challenges in Southwest Florida.
#1– Repurposing a Coat Closet into a Dry Bar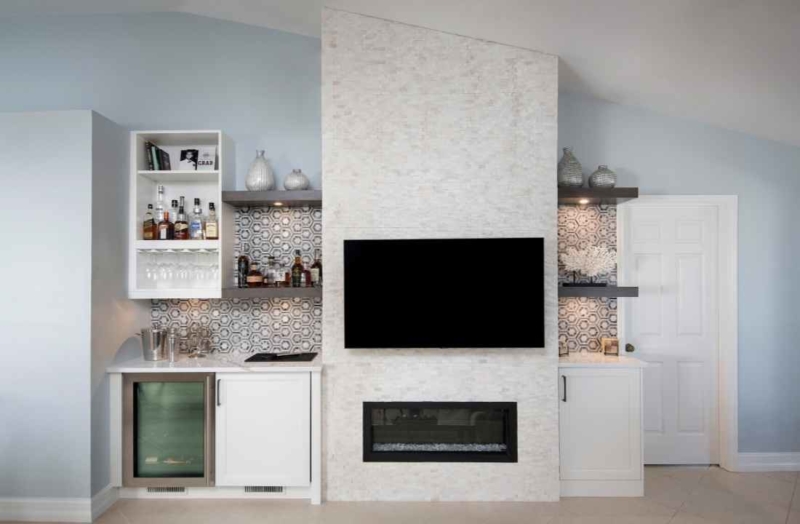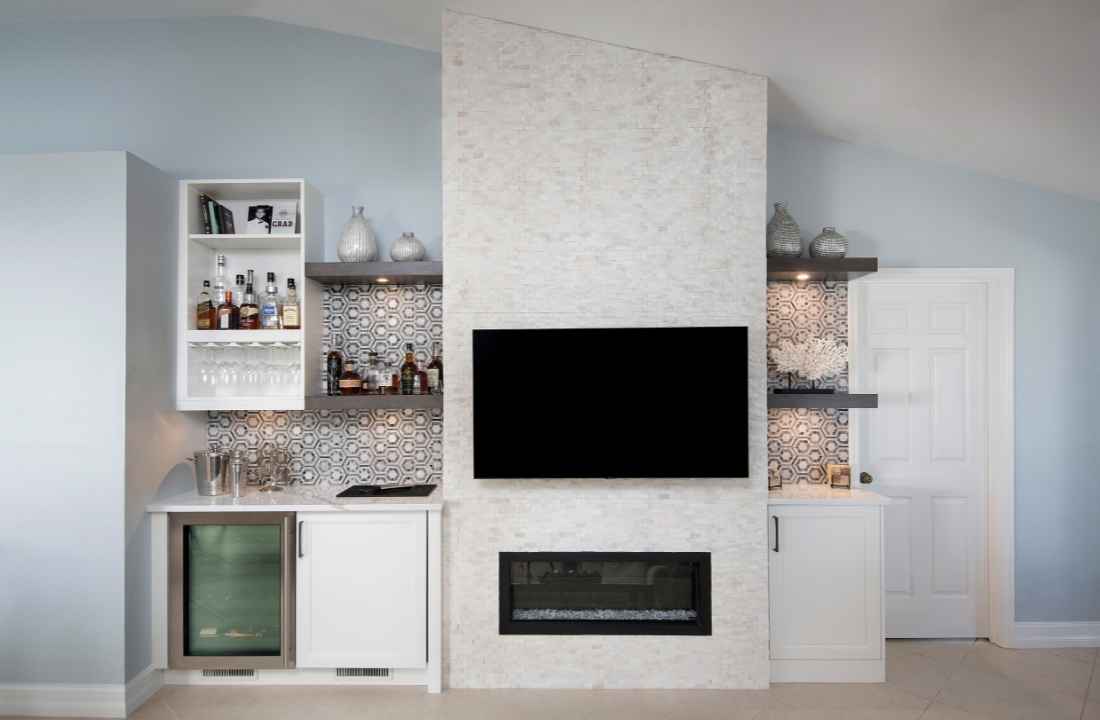 Designer: Nikki Bruty
A Bonita Springs homeowner needed a kitchen, living room, and bar area renovated to accommodate her passion for cooking and entertaining friends and family. Including the challenges brought on by the Covid-19 pandemic, the Progressive team also needed to match flooring tiles, maximize storage, and find space for a new dry bar. Nikki Bruty accomplished all three beautifully.
To design a functional dry bar in limited space, Nikki removed the coat closet beside the fireplace to gain additional square footage.  "Yes, a coat closet in Southwest Florida," says Nikki. "We found a much better use for the space if you ask me." After reframing the wall, she brought the client's vision to life by adding floating shelves on either side of the fireplace and an open shelf for liquor and glassware. 
"We often repurpose the old formal spaces into something more functional for our clients," says Nikki. "That ranges from a bar to an office/den, a guest bedroom, or even a home gym. With more people using every square inch of their living spaces now, these little changes result in big lifestyle improvements."
#2–Creating Additional Sleep Space for Grandkids
Designer:  Betty Appleby
Sleep space for grandkids is a frequent request from Southwest Florida homeowners. When the entire family descends on Grandma and Grandpa's for the holidays, everyone needs a little bit of privacy. For several homeowners, designer Betty Appleby has shaved a bit of space from other areas to create built-in bunk beds that fulfill the need nicely. 
"For one client, we used square footage from the adjoining master bathroom–tub space that they no longer needed–to create a bunkroom for the client's grandkids," says Betty. "We included special details like built-in reading lights and recessed shelving with outlets for their electronics."
#3–Creating Space for Furry Friends and Reclaiming Outdoor Space for Indoor Use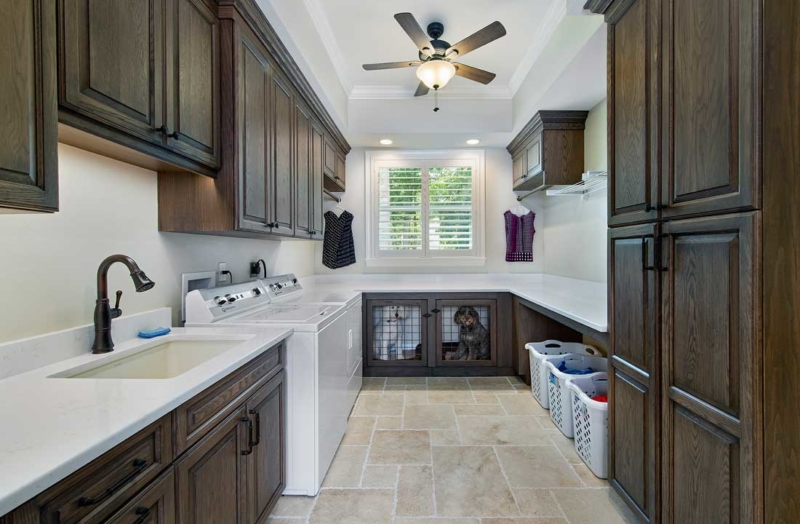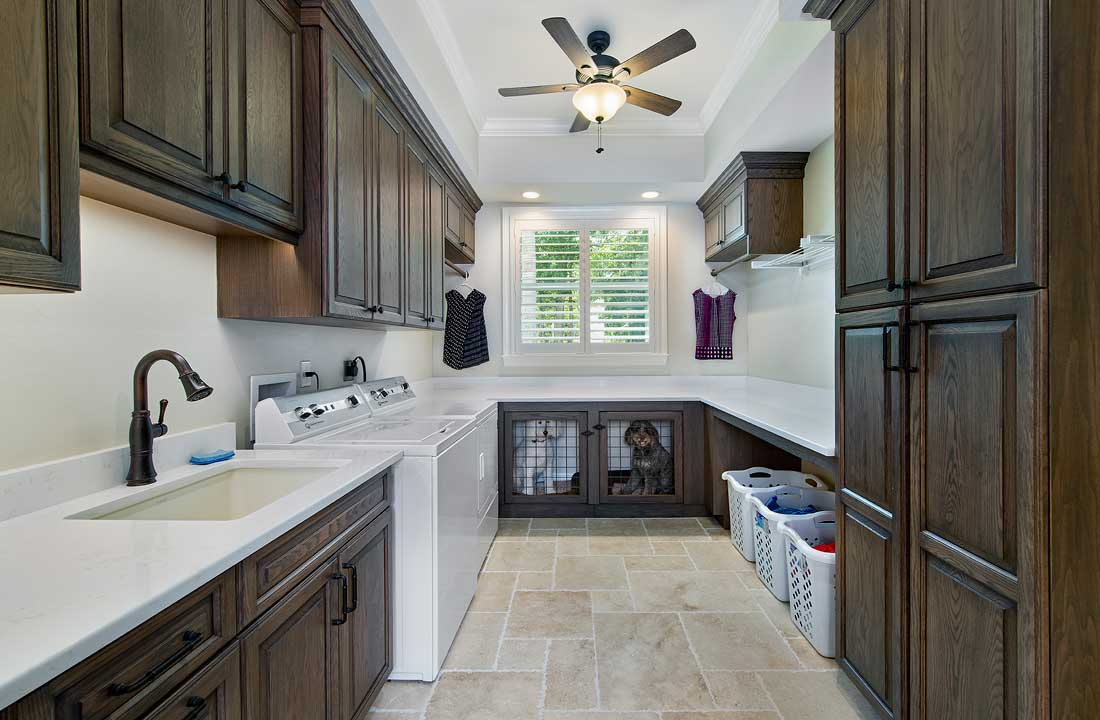 Designer: BETTY APPLEBY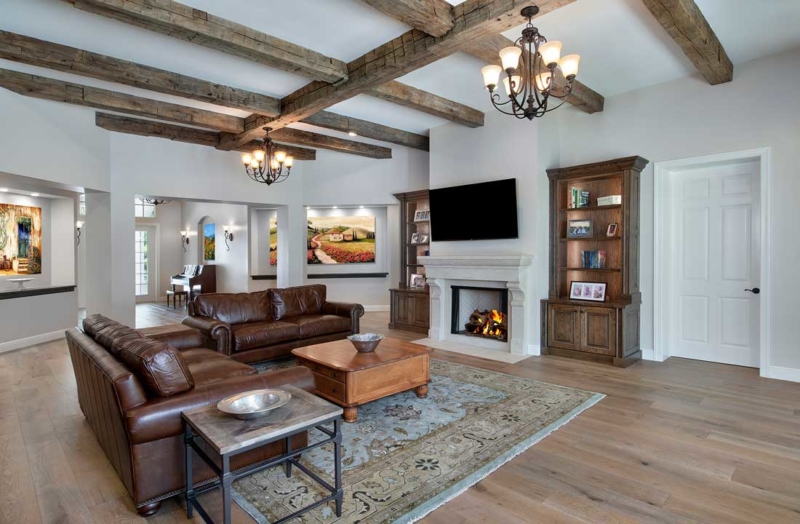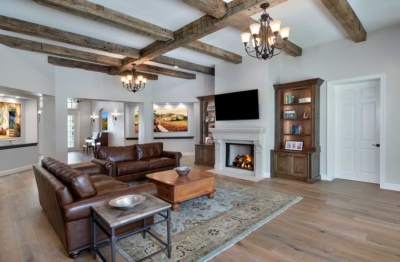 Don't let dog crates ruin the appeal of your new remodel. Instead, incorporate them into the design. Progressive Design Build's design team accomplished that with a whole-house remodel in Fort Myers. First, they enlarged the mudroom and laundry area by taking a few feet from the kitchen. Then, they created custom, built-in dog crates for their furry companions and separate storage for their food.
The designer pulled another unique design element out of her hat for the same homeowners to create more space.
"We reclaimed an unused lanai and turned it into a family room," says project specialist, Mike Spreckelmeier. The home had a courtyard that they described as "the place where insects go to die." It was the perfect location. "So, without needing to build a bump-out addition, we added approximately 500 square feet to our client's living room by incorporating the courtyard into the indoor space," says Mike.
#4–A Creative Solution When a Traditional Hood Won't Work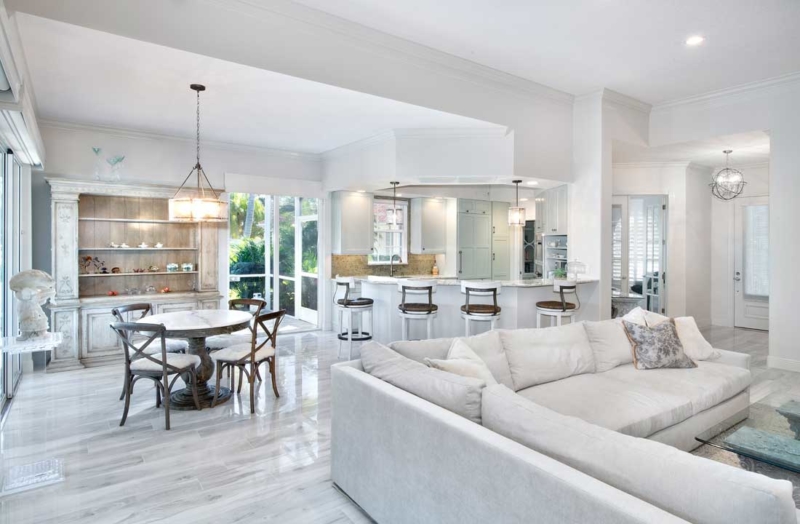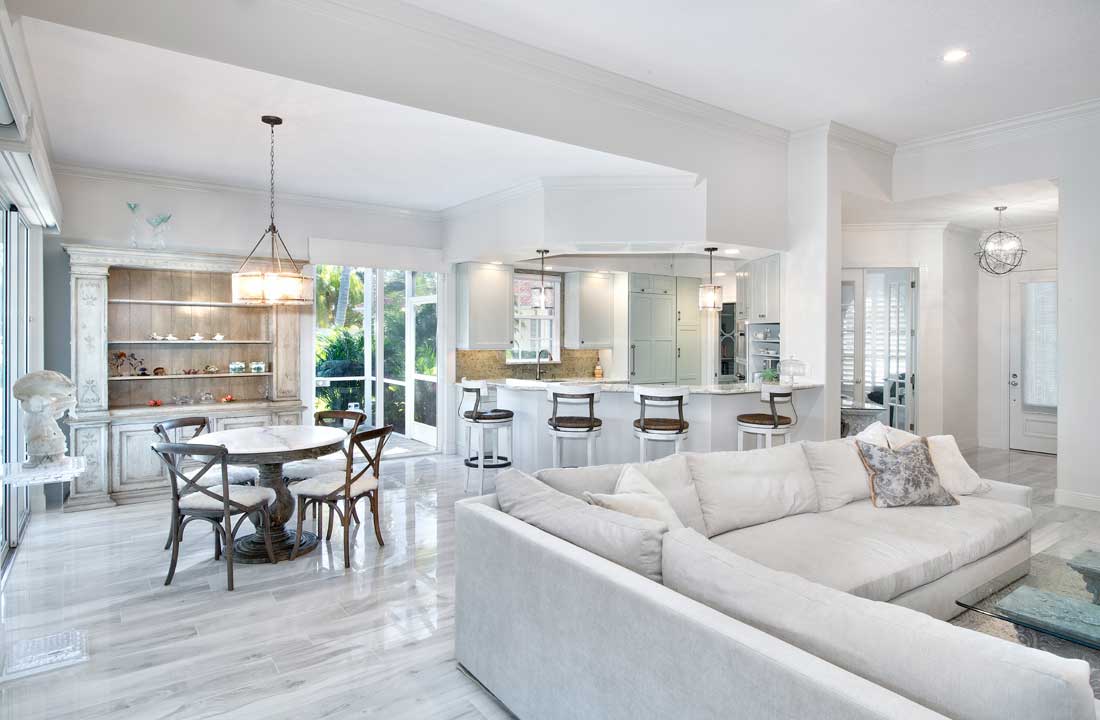 Designer: Nikki Bruty
A Naples homeowner thought that opening up her small, cramped kitchen meant she'd have to remove a few walls. But after working with home designer Nikki Bruty, they devised a creative solution that left the walls intact.
"Since there was no space for a traditional hood in this kitchen without blocking the view, we installed a white Zephyr Lux hood that was flush with the soffit to open up the space," says Nikki. They also slightly enlarged the two-tiered island/bar, added open shelving, and replaced the cabinet doors that adjoined the rooms with French glass to let in more natural light. So, this homeowner got the open space and relaxed feeling she desired without the added expense and inconvenience of removing walls."
#5–Adding Storage by Removing an Unused Tub

Designer:  Betty Appleby
Home designers excel at turning unused space into storage space, as Betty Appleby did with this Bonita Springs home. For example, the guest bath in this 3,200 square-foot home didn't need a bathtub and a shower. So, the homeowners agreed that replacing the tub with built-in cabinets solved their storage issue.
"More storage is a popular "must-have" in many remodels," says Betty, "so we reworked the layout to create a functional linen closet."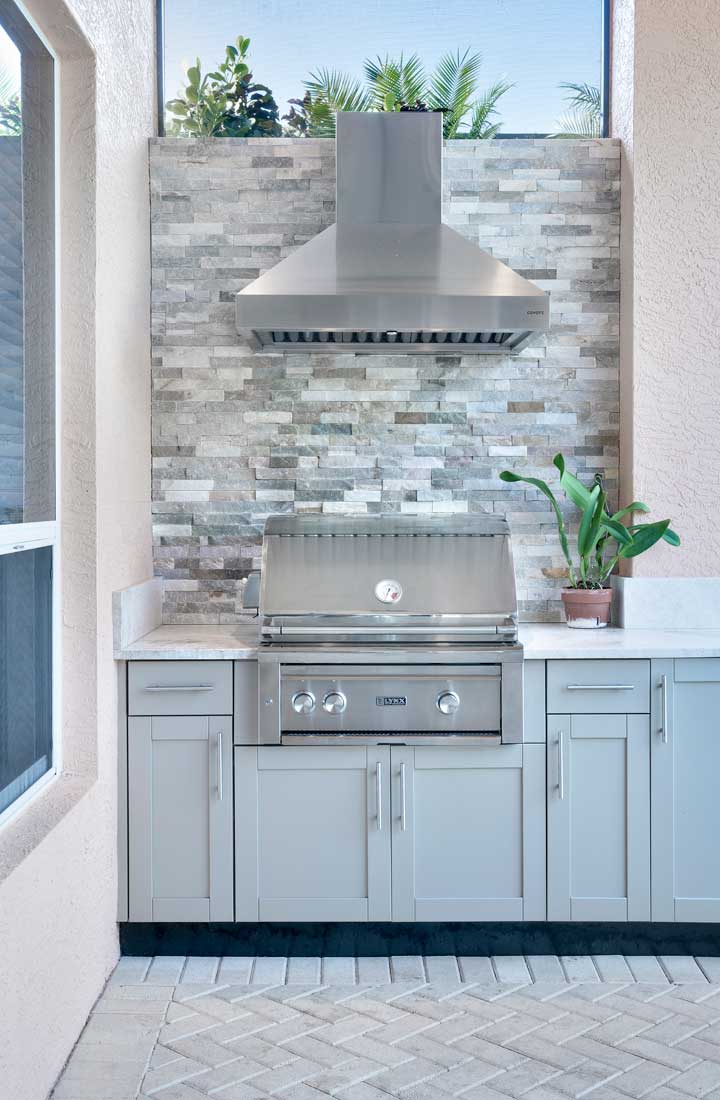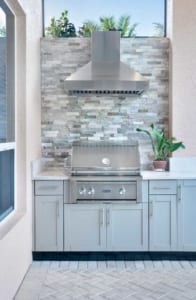 #6–Creating Outdoor Kitchens in Unused Lanai Space
Designer:  Betty Appleby
"With outdoor living so popular in Southwest Florida, Progressive Design Build often gets requests for transforming unused or underutilized lanai spaces into outdoor kitchens," says Betty.
And that's what she did as part of this Pelican Landing whole house remodel. The homeowner wanted an outdoor space to cook and entertain friends and family throughout the year. But they didn't want to devote the entire patio area to cooking space. The result? An unassuming outdoor kitchen showcasing Danver stainless steel outdoor cabinets powder-coated in a Champagne finish, multi-colored quartzite countertops, and a full-height backsplash of Beachwalk Ledgestone panels. 
#7–Reworking Layout to Accommodate Specific Needs

Designer: Nikki Bruty
Sometimes, you just need to move the walls. And that's what Nikki Bruty did with this primary bathroom.
"The water closet was huge, and the tub was small and felt more like an afterthought," she says.
But, because the woman of the house enjoyed her evening soaks in the tub, Nikki rearranged the layout to make the tub more of a focal point. This change allowed the homeowners to include a larger, more luxurious soaking tub and moved the door to the water closet to hide it from view when you first walked into the room.
#8–Transforming 'Wasted Space' into a Wine Room
Designer:  Cristy Williams
The designers at Progressive Design Build are pros at finding wasted space to use. For example, Cristy Williams found the perfect space for a homeowner who wanted a wine room but didn't see how it could fit. 
"The main hallway coming into the home was very wide, opening into unused space," says Cristy. "By framing walls to form the new wine room, we defined the hallway leading to the main part of the home while still maintaining an 8-foot-wide passage."
But that's not all. The homeowner wanted the new room to have an intimate "wine cave" feeling. But, because the home has vaulted ceilings, sliding glass doors, and transom windows which let in a lot of light, that presented an additional challenge. Williams was up for it. She suspended beams off the ceiling below the transom window, giving the room a cozier feel without the cost of removing windows or changing the ceiling height.
When you have unique design needs, you want an experienced, trusted, and proven design-build contractor who thinks outside the box to transform your home. So, consider partnering with award-winning, luxury design-build remodeling firm Progressive Design Build on your home remodeling project. Proudly serving Southwest Florida, they offer a full range of remodeling services to include whole house, kitchen, room additions, outdoor spaces, and more. 
Sign up for their monthly newsletter to stay abreast of remodeling trends in Southwest Florida, industry news, and show-stopping projects. And when you're ready, reach out directly for a free consultation. Partnering with Progressive, you can look forward to tackling those complex design issues with a knowledgeable industry professional for an outcome you never dreamed possible.