If you're ready to make some changes to your home, it helps to speak the same language as your building professional. Many homeowners use the words remodel and renovate interchangeably. But, in fact, there is a difference between the two. Let's break down the meaning behind each word to make communication easier and expectations within the scope of the project.

What Does It Mean to Remodel?
re•mod•el:
to alter the structure of, remake
Merriam-Webster.com
When your home improvement project calls for moving walls, changing the layout, or rerouting plumbing and electricity, it is a remodeling project. The most common example of a home remodel is creating an open floor plan by combining the kitchen and living area. Other examples of home remodeling projects include:
A room addition

A second story addition

Enlarging or rearranging a bathroom

Moving walls to create a mudroom

Turning an unfinished attic or basement into living space
Of course, every home improvement project has its pros and cons. As you can see, there are instances when a remodel is the perfect decision. And there are times when it's not.
The Benefits of Home Remodeling
You get the home you have fantasized about

There's no need to move

You can change the layout to suit your lifestyle

It can mean more square footage

You can fix poor design features
The Drawbacks of Home Remodeling
Generally, it costs more than a renovation

Projects tend to take longer

You may need to move out during the construction phase

The project will probably require a permit

What Does It Mean to Renovate?
ren•o•vate:
to restore to a former better state (as by cleaning, repairing, or rebuilding); to restore to life, vigor, or activity
Merriam-Webster.com
If you plan to refinish your cabinets, lay new flooring, or otherwise spruce up the place, you're planning to renovate your home. As the definition says, to renovate is to breathe new life into a place with new materials, colors, and surfaces. During a renovation, you may need to repair things that you uncover like mold, plumbing leaks, or loose floorboards. But you won't be altering the original design, layout, or intended purpose of the space. A renovation can improve comfort and usability, but the results are more cosmetic in nature. The following projects are examples of renovations:
In the bath—a new vanity, flooring, and hardware
In the kitchen—refacing the cabinets, new countertops, flooring, and lighting
In living areas—replacing windows, flooring, or light fixtures, or adding built-ins for entertainment or storage purposes
Outdoors—enclosing an existing covered porch 
Oftentimes, homeowners go into a project thinking a renovation is all they need. But, after consulting with a design-build contractor, they see that a remodel better suits their needs. Let's look at the benefits and drawbacks of a home renovation.
The Benefits of Home Renovation
A good choice when preparing the home for sale

Generally, it costs less than a remodel

Improves the home's appearance

It's rarely necessary to move out during the construction phase

Many renovation projects are DIY friendly
The Drawbacks of Home Renovation
It doesn't give you more square footage

You're stuck with your current floor plan
What are the Cost Differences Between a Remodel and a Renovation?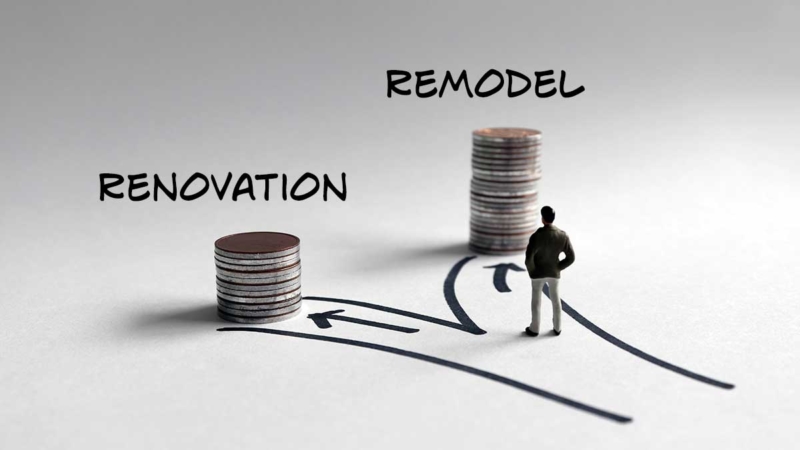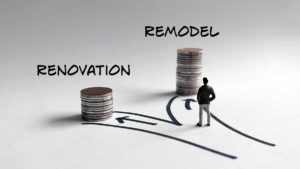 Because it includes altering the structure of the home, changing the layout, and design work, a remodeling project requires thorough research to assure the integrity of the home isn't compromised. Also, remodeling projects are more multi-faceted than renovations. They frequently require the added expense of professional labor for plumbing, electrical, and HVAC, and incur increased material costs. Renovation projects typically are less complex, and therefore less expensive.
When discussing cost, it's important to consider the return on investment of your project, particularly if you intend to sell the home in the near future. Remodeling magazine's annual Cost vs. Value Report compares the average costs of 22 home improvement projects with the value those projects bring to the selling price. In the 2021 report, the projects that bring the greatest ROI at the time of sale are home renovation projects like replacing a garage door, adding stone veneer siding, and a minor kitchen upgrade. 
Is There a Difference in Permit Requirements?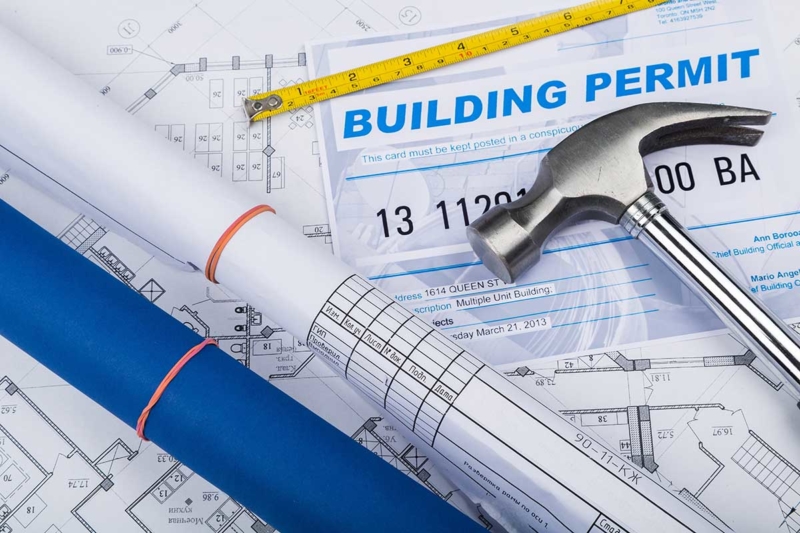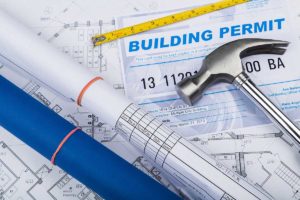 Building and trades permits are required any time there is a safety concern. When a permit is purchased, it means that an inspector will certify the work is done to code and therefore, safe for habitation.
Because remodeling changes the structure of the home, it almost always requires a building permit. But, if your renovation involves replacing wiring or plumbing lines, an inspection (permit) will be necessary, for those aspects of the job, as well. 
Anytime professional labor is involved—concrete work, roofing, pools, and even screen enclosures—you'll need a permit.
What Type of Contractor Should I Choose for My Project?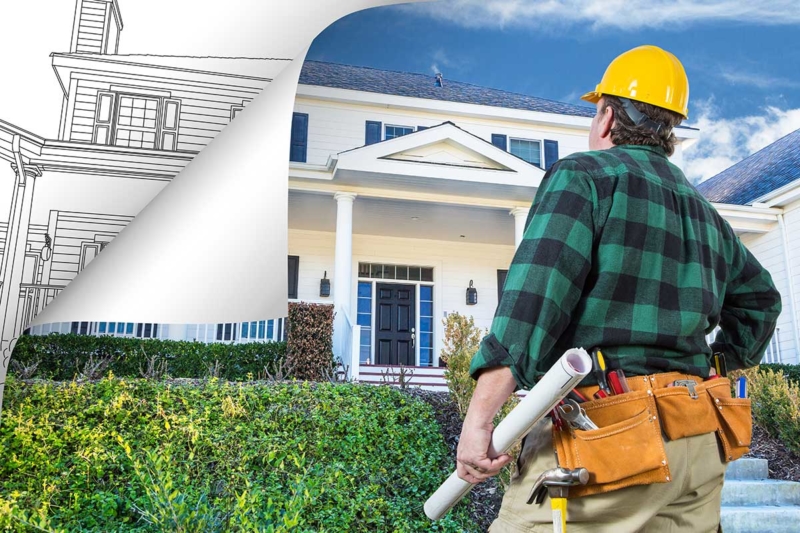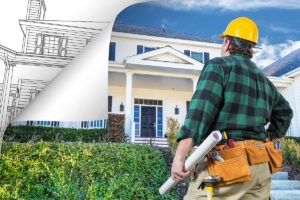 Don't let choosing a contractor intimidate you. Like making friends with someone who "gets" you, you want a contractor dedicated to the design, functionality, and personalization that you're looking for. The right partnership assures you that your home will be a reflection of you, your personality, and your lifestyle. 
To consolidate your project with one overseer, choose a design-build firm. A design-build contractor walks with you every step of the way, without having to vet multiple service providers. Their team guides you in the design process, helps you stay within your budget, and ensures that what you envision is actually achieved. Also choose someone who's dedicated to safety, who aims to please, and takes pride in their reputation. 
Whether your home needs a renovation or a remodel, Progressive Design Build's full range of remodeling services will meet any needs, including the whole house, kitchens, bathrooms, outdoor spaces, and more. From amazing design and accurate estimates to the completed project, their knowledgeable staff and ease of service have produced some of the region's best work. 
To stay up to date, subscribe to their monthly newsletter. Or reach out directly for a free consultation. You can look forward to a home that reflects your family's taste and lifestyle when you partner with Progressive Design Build, Southwest Florida's award-winning luxury design-build firm.