Sprucing up your home's exterior not only enhances the curb appeal but also allows you to improve it in ways that will strengthen its resistance to the harshest weather conditions. We love sharing inspirations for popular exterior renovations fit for any Southwest Florida home.
Here are ten popular Southwest Florida exterior renovation ideas to consider for your coastal home:
#1. Refresh the Paint Color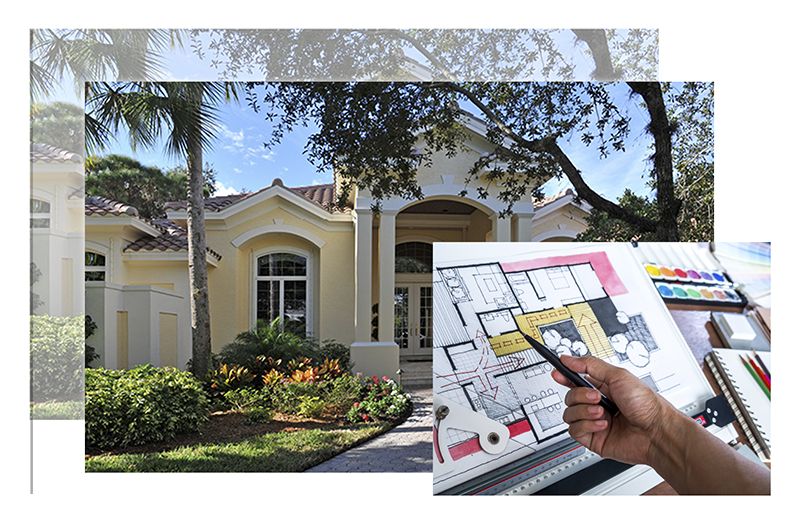 If you're thinking about repainting the outside of your Southwest Florida home, the top consideration in your product choice should be its wind and water resistance. Choosing paint that is wind and water-resistant will protect your home from possible leaking due to torrential rains. And wind resistance will protect it from the impact of flying debris during hurricanes, or at times when gale-force winds accompany heavy rain.
#2. Go Bold With Accent Colors
Bold and beachy colors will go a long way towards boosting the curb appeal on a Southwest Florida home. If you've always had white trim, maybe it's time to try a bolder tone. If the primary color is a soft or neutral color, a turquoise blue that reminds us of the color of the Gulf will breathe new life into your home's exterior. And if you're not afraid of color, consider one of the new shades of pink or peach such as Paradise Peach or Love & Happiness (both from Benjamin Moore), or Fowler Pink (from Farrow & Ball), or Pantone's color for 2019: Living Coral.
#3. Update/Replace Your Roof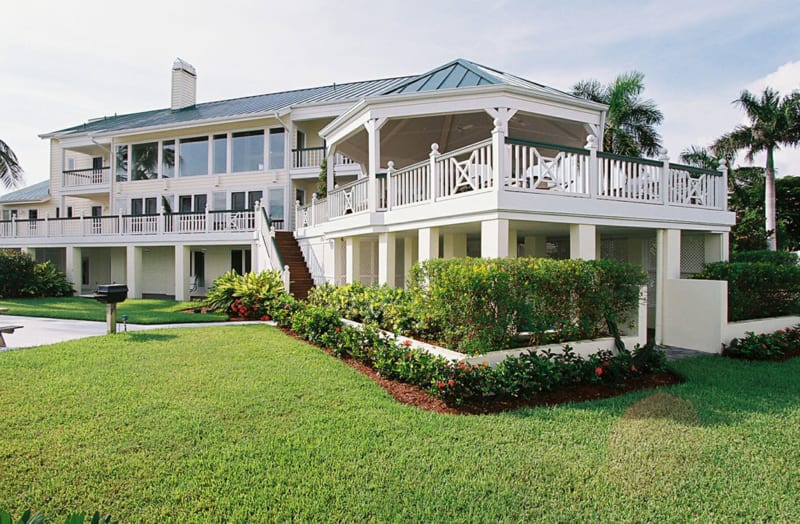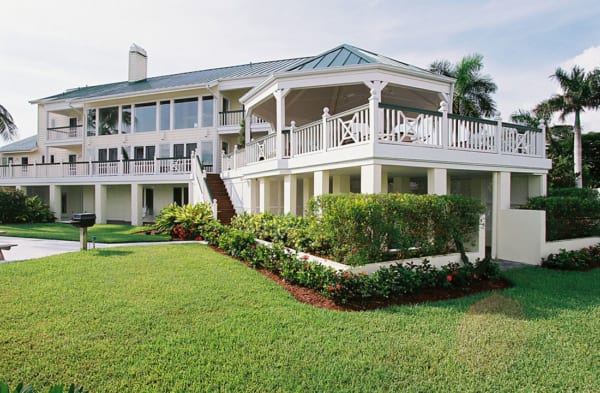 Are you're thinking about updating your home's roof? Know that the material you choose is a determining factor in how well it will stand up to Florida's most severe weather. It's important to consider the weather when thinking about your exterior renovation. Metal roofs have a higher wind rating than any roofing material. Other advantages include the fact that they won't absorb or hold moisture or water, and they're resistant to cracking and peeling from the sun's intensity. Metal roofs typically have a lifespan that is at least four times that of roofs that are covered with asphalt tiles. Besides metal, other excellent roof material choices include clay, slate, and concrete tiles.
#4. Add a Porch
Even if you have a deck or patio, the addition of a front porch will give you an area to relax undercover. Chilling out on a front porch while drinking a refreshing beverage is a quintessential part of coastal living, and our Southwest Florida coastal climate is ideal for that. This has always been a popular exterior renovation!
#5. Replace Your Front Door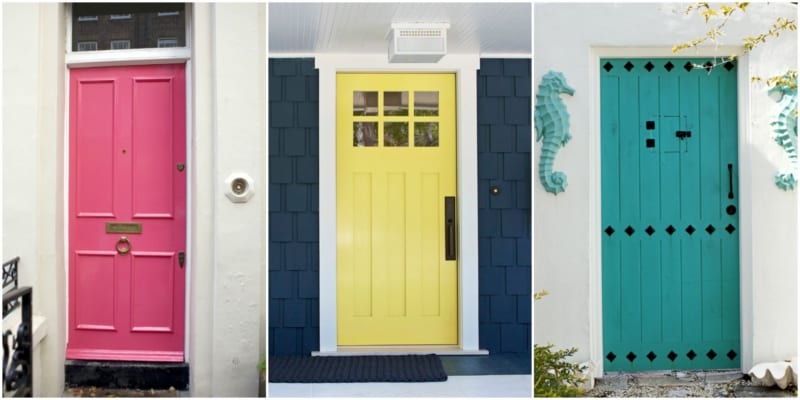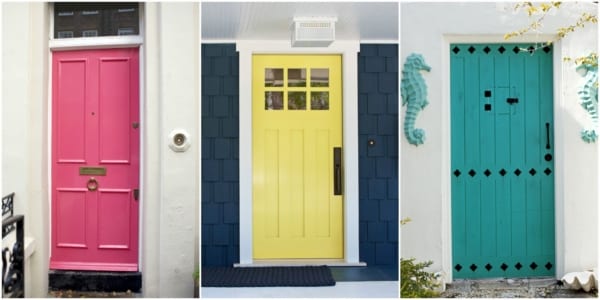 You may not think of your front door as a critical part of your home's curb appeal, but it is. The best material for the front door of a Southwest Florida home is fiberglass. Steel is ill-advised because it will rust and corrode from heavy rain and possible salt spray from any storm surge. Consider adding an impact-resistant storm door for enhanced front door protection. Entryway side windows made of impact-resistant glass bring more light into your home and will create a more inviting entry into your space.
START DESIGNING YOUR RENOVATION TODAY!
#6. Replace Your Garage Door
If you're going to replace your garage door, it's worth your while to make the most of your investment. And for homeowners whose property lies along the Southwest Florida coast, the three top factors in choosing a door must be hurricane approval, impact rating, and wind-code rating. Those considerations aside, there are four general types of garage doors: Roll up, Swing up, Side sliding, or Swing out.
A sectional style roll-up garage door is the most popular style. The swing-out or side sliding styles free up ceiling space to allow for overhead storage.
Garage doors are typically made from one of the following materials: Moisture-resistant wood (cedar, cypress, or redwood), Steel, Aluminum or Fiberglass. No matter what style you choose, replacing the garage doors is a great way to update the exterior of your home.
#7. Add or Enlarge Your Windows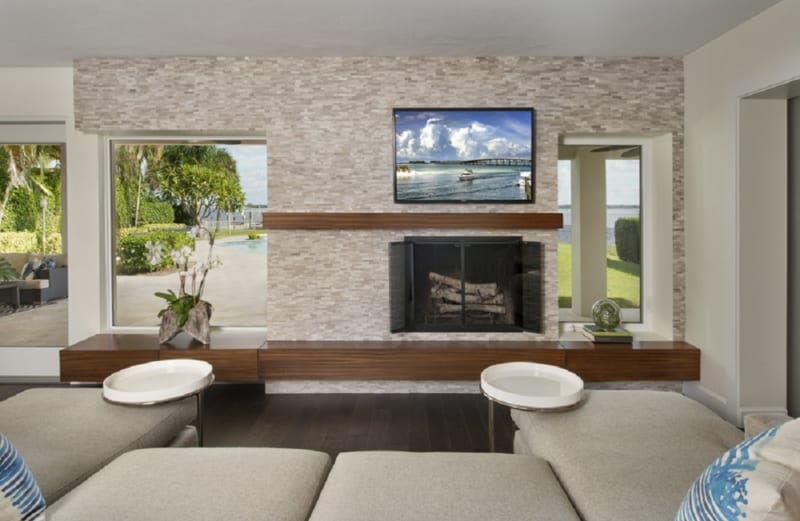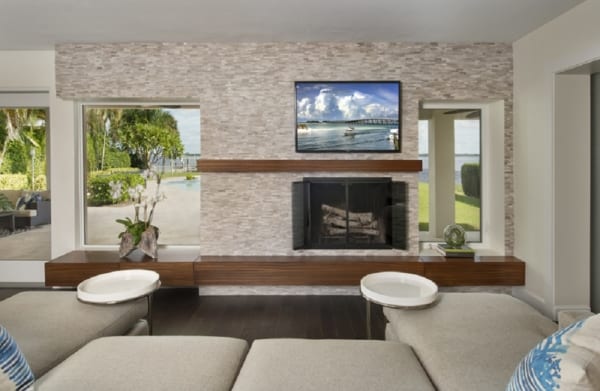 Our Southwest Florida coastal lifestyle allows us to enjoy indoor and outdoor living all year. When you enlarge your existing windows or add floor-to-ceiling windows, or sliding glass doors, you increase the natural daylight that enters your home. Another benefit? Both aluminum and vinyl windows will yield savings on your utility bills. So replacing old windows with newer, more energy-efficient ones is a prudent financial investment and a popular exterior renovation.
#8. Add Exterior Lighting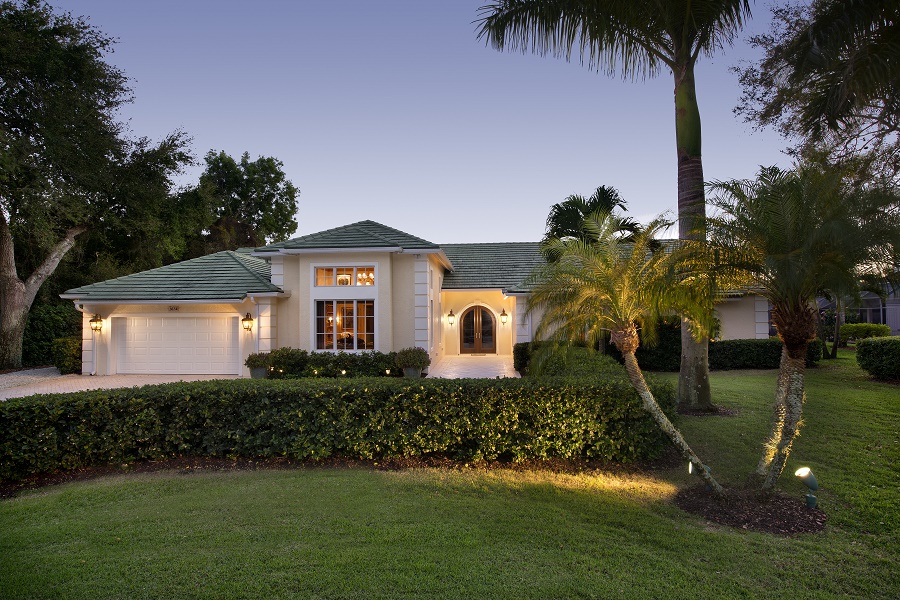 Outdoor lighting adds ambiance to your property while simultaneously enhancing its safety. Solar path lighting illuminates the walkway leading to your home. Add lights to your outdoor living and entertaining areas so you can enjoy your time there safely after dark. Highlight the area around your pool so you, your family and guests, can enjoy pool time on hot nights. Motion sensors will trigger lighting on pathways leading up to entrances to your home. They'll save you money because the lights won't go on unless there's movement in the area.
#9. Add or Replace Shutters
The addition of shutters to a coastal Southwest Florida home is a simple exterior renovation that will enhance curb appeal in a way that creates a dramatic impact. Popular types include Bermuda/Bahama, Louvered, Panel, and Board & Batten shutters. It's a relatively simple way to refresh the look of your home. For more details on which shutters might work best for your home, read this helpful article.
#10. Create a Luxurious Outdoor Living Area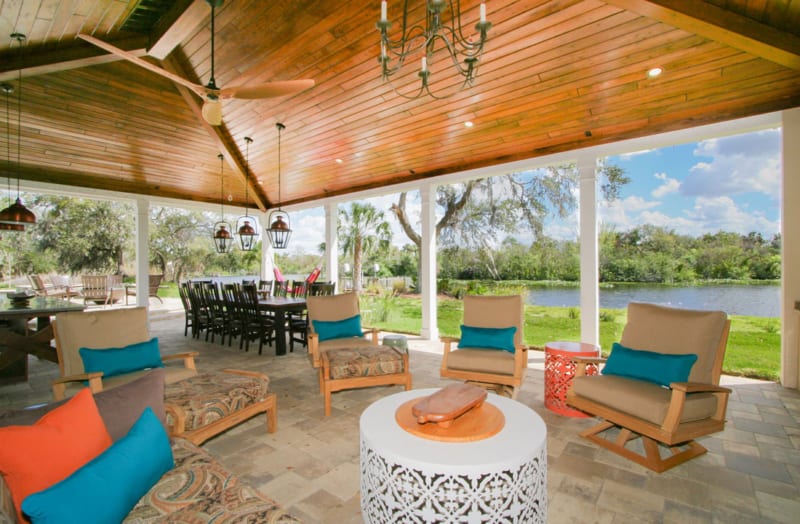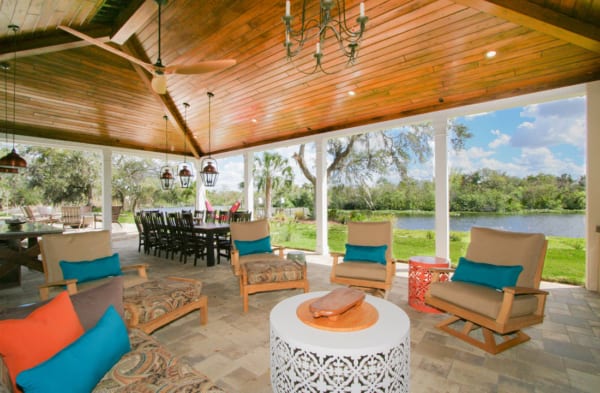 Who says the cooking has to be done inside? Add an outdoor kitchen with must-have amenities like a multi-function grill, plenty of storage, food prep areas, a beverage cooler, and an eating and gathering space. Doing so will eliminate the need to cook indoors – especially during the hottest months of the summer.
Go one step further and add an entertaining space with a large outdoor fireplace, decorative lighting, couches, oversized chairs, and a large flat-screen television or projector system sure to turn the exterior of your home into everyone's favorite room!
Consult with an Expert on an Exterior Renovation for Your Home!
Southwest Florida life is all about outdoor living. So the things you do to your home's exterior won't just boost its curb appeal; it will make you love your home more than ever.
If you'd like to learn more about exterior renovation options for your home, contact Progressive Design Build today! Feel free to call us now at (239) 939-5411.
Other articles you may like:
8 Outdoor Kitchen Design Trends in Southwest Florida
5 Reasons to Remodel Your Outdoor Living Space
What Is the Right Size For a Home Addition?