Bonita Springs, FL, March 17, 2021 – Progressive Design Build, an award-winning residential design-build remodeling firm in Bonita Springs, FL, announced today that the company won two first place and two-second place 2021 Contractor of the Year (CotY) Awards from the National Association of the Remodeling Industry (NARI) Tampa Bay Chapter. Four entries—two first-place awards and two-second place awards.
The winning projects include an entire Fort Myers 6,000 square foot home renovation; a transitional kitchen, wet bar, and home office remodel in Naples; a luxurious complete condo remodels that needed to be stylishly brought into the 21st century, and stunning kitchen remodels that accentuated the home's stunning views of Estero Bay. The CotY wins by Progressive Design Build are for the Southeast region of the U.S.
"Especially coming off of a challenging year dealing with the pandemic, we are thrilled to be recognized by the Tampa Bay Chapter for our hard work and design innovation, winning in four categories none the less," said Dave Wherry, President of Progressive Design Build. "Our team just continues to get better—all of us committed to elevating our clients' home remodeling experiences. These awards are a direct reflection of our team's commitment to our process and our craft, and certainly makes all of us feel very proud."
Progressive Design Build's four winning projects include: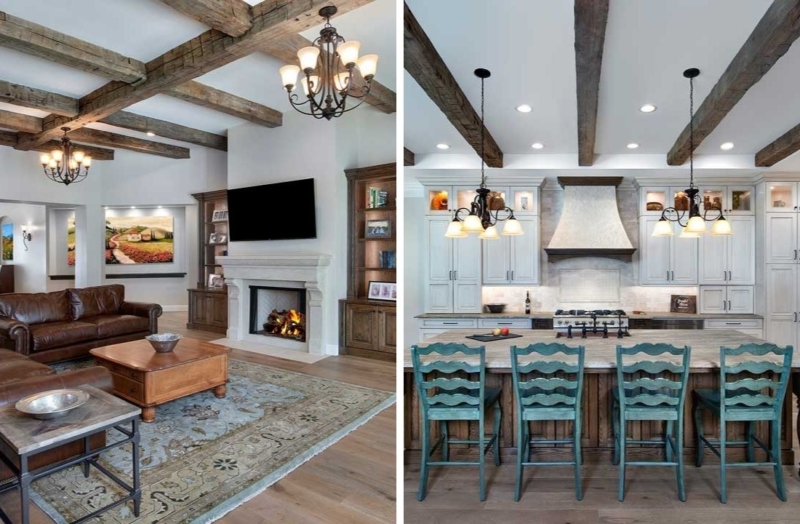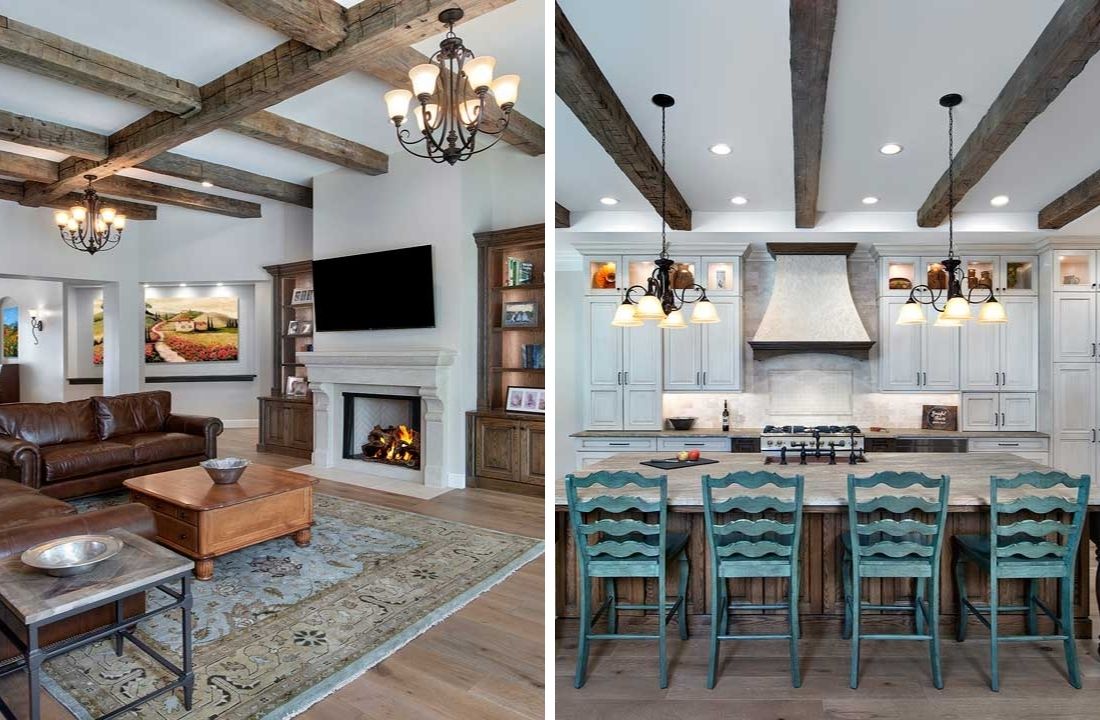 Our clients came to us needing a design plan that increased their overall living space. Importance was placed on adding a guest suite for their aging parents, a stylish and functional laundry room, mudroom, and plenty of room for their three grown children and two dogs. They also wanted to add a comfortable entertainment area for annual gatherings with extended family.
The Progressive design team added approximately 500 square feet to the client's living room by incorporating the courtyard into the indoor space. We transformed a previous kids' playroom and dining room into a luxurious bedroom with an en suite bath. Located near the garage, the mudroom and laundry room were redesigned to be more functional, spacious and to feature the latest modern amenities.
Next to the laundry room, a walk-in pantry was designed into the kitchen area allowing for purposeful storage of overflow bulk items. The kitchen was anchored with a large custom island that features a gorgeous single hand-hammered copper sink, Taj Mahal quartzite countertops, bronze faucets, and two dishwashers.
On the opposite side of the house where the three kids' bedrooms are, we added an additional bathroom to allow each child to have their own bathroom. The master bedroom and bathroom were completely redesigned to open up space and allow for a spacious curbless shower and a freestanding copper clawfoot tub. The new home office was designed off of the master bedroom for late-night access or concentrated daytime work.
Residential Interior $250K – $500K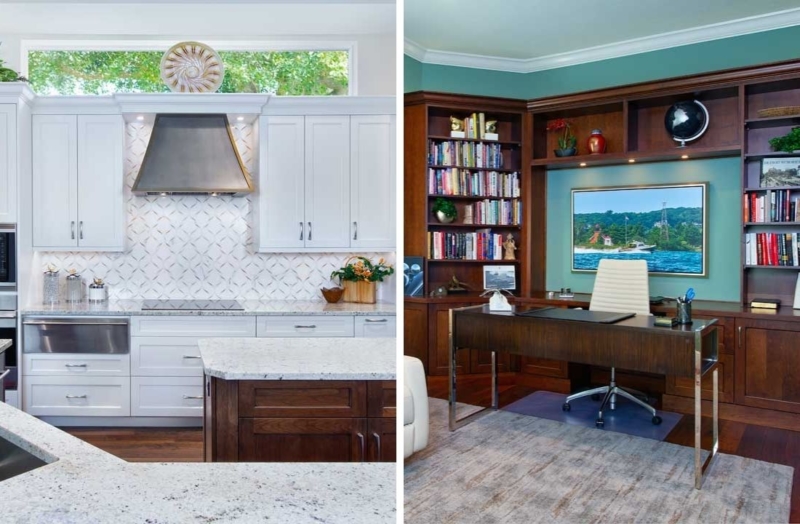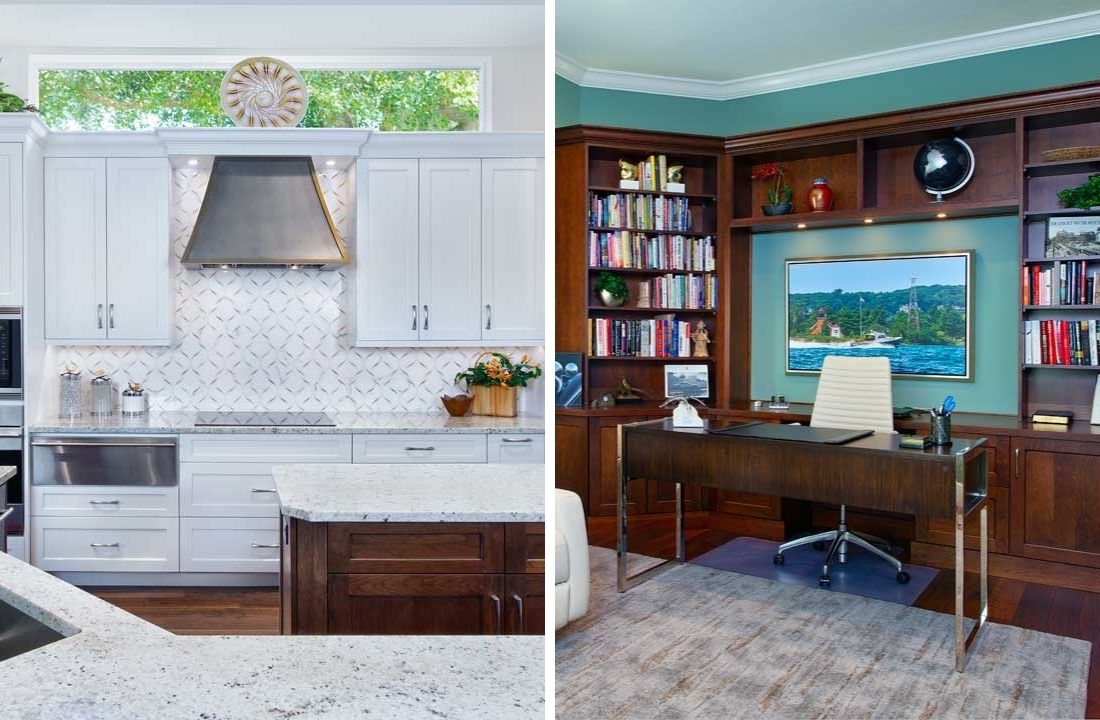 Our client's goal for this interior project was to transform an outdated kitchen into a contemporary style design with modern fixtures and materials, a new ventilation system, and an expanded prep space near the cooktop. The kitchen also required an update to improve the traffic flow between the island and the perimeter cabinets. Beyond the kitchen, our clients wanted to update their existing wet bar and home office.
Tackling the kitchen layout, we started by reconfiguring the location of the oven, cooktop, range hood, and refrigerator, which allowed for improved workflow and kept a triangle work zone. By incorporating the new range hood into the design, we were able to add the proper ventilation that the homeowners wanted.
By removing the rarely used built-in desk area, we designed a custom space for a TV and a buffet area within easy reach of the dining table. The wet bar was completely revamped, starting with a squared-off archway (repeated in the hallways and bedroom) to create a more modern look.
The office renovation started with the elimination of the built-in murphy bed and the angled office desk. The study cabinets were designed to match the finish and door style of the two kitchen islands. The built-ins were designed with plenty of file drawers, open shelving, and hidden storage for a roll-out printer and shredder.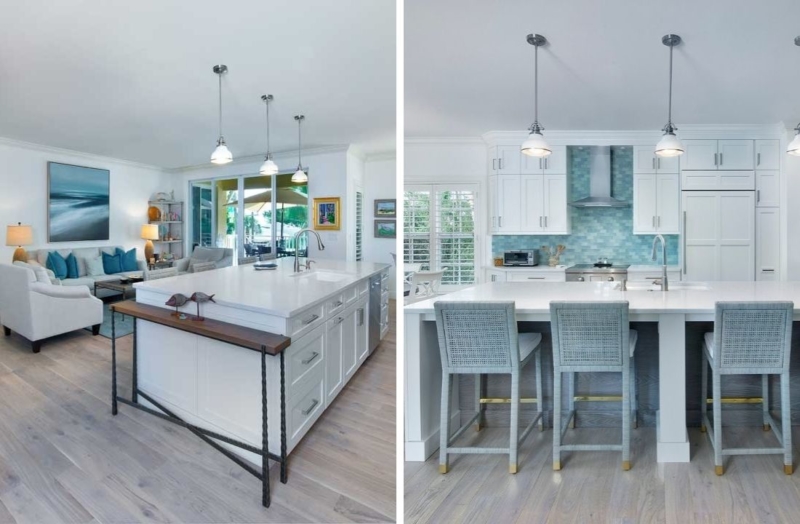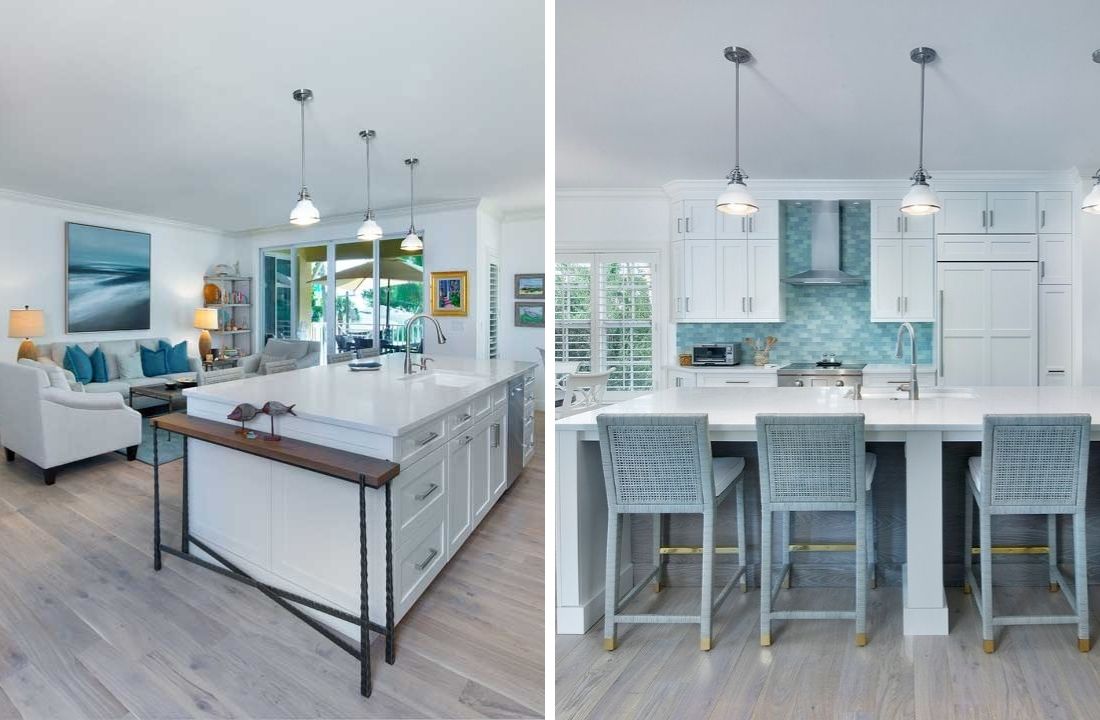 This 2,000 square foot interior condo was stylishly brought into the 21st century with contemporary style finishes, fixtures, and appliances. Importance was placed on opening up the small enclosed kitchen to create more functional space to cook and entertain, and updating the living room and bathrooms with modern amenities.
To increase the ceiling height, we removed the soffits in the kitchen. The partition wall that separated the kitchen and living room was eliminated, which instantly opened
up space. The dark, dated cabinets were replaced with beautiful white Dura Supreme cabinetry. On the back of the kitchen island, we installed weathered Red Oak cabinets, which created a stunning contrast to the white cabinets.
Our design team completely revamped all three bathrooms as part of this full condo remodel. The other two bathrooms received custom-designed frameless glass enclosures, white shaker-style cabinets, and an ocean-inspired Pompeii Quartz Tidewater vanity countertop.
Residential Kitchen Over $150K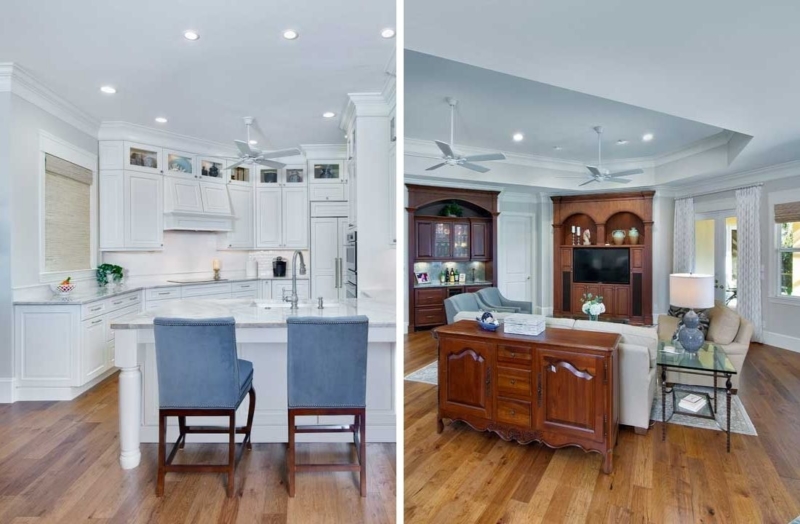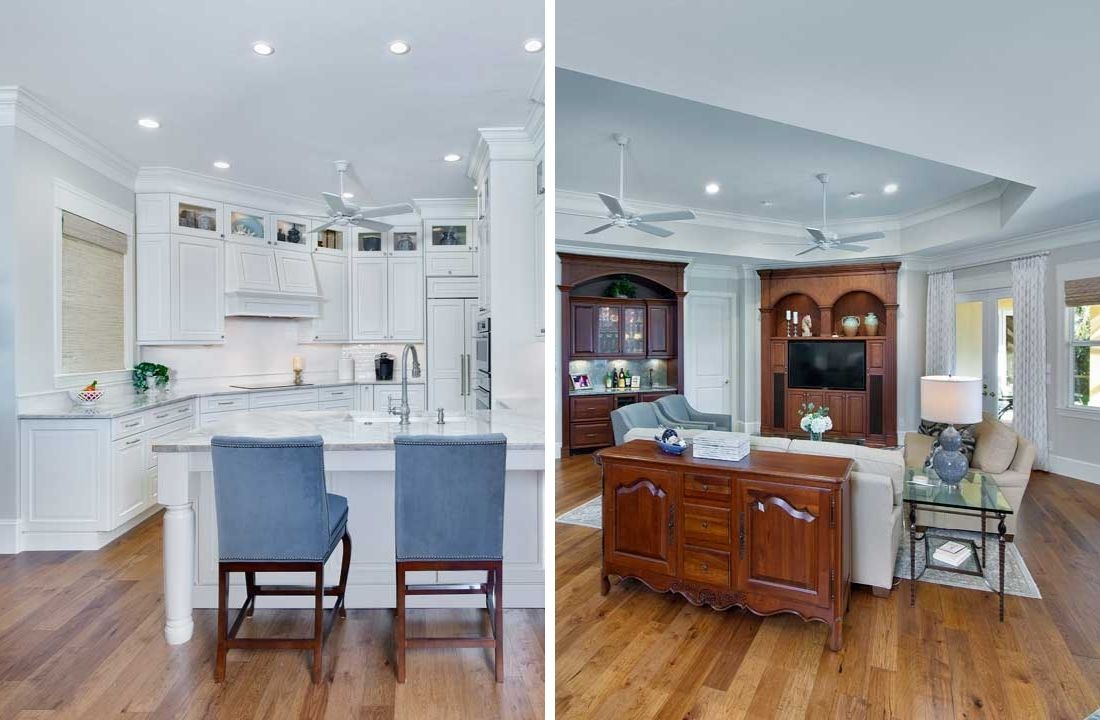 This interior renovation involved transforming an outdated Mediterranean-style kitchen and great room into a coastal contemporary style design. Working within the home's original footprint, we removed the dated archways, columns, and dark faux finish and replaced them with new cabinetry, lighter finishes, updated lighting, new flooring, and all new appliances. We also updated the existing dual-level island to provide these homeowners exactly what they wished for— a layout and design fit for everyday use and large-scale entertainment.
About Progressive Design Build
Progressive Design Build is Southwest Florida's premier, award-winning design-build remodeling firm known for its 30+ years of process and design innovation. The company helps homeowners remodel their living spaces (often when they are out of town) to improve their quality of life, working under a single contract to provide both architectural design and remodeling services. They've remodeled many homes in and around Lee and Collier Counties garnering gushing reviews for stunning work, superior communication, and its remarkable 3-year warranty. Headquartered in Bonita Springs, Progressive specializes in the whole house remodels, room additions, kitchen, and bathroom remodels, as well as outdoor kitchens and outdoor living spaces. For more information, visit www.progressivedesignbuild.com.
About NARI
The National Association of the Remodeling Industry (NARI) is the source for homeowners seeking to hire a professional remodeling contractor. Members are full-time, dedicated, remodeling industry professionals who follow a strict code of ethics with high standards of honesty, integrity, and responsibility. For more information, contact NARI at 847-298-9200 or www.nari.org.