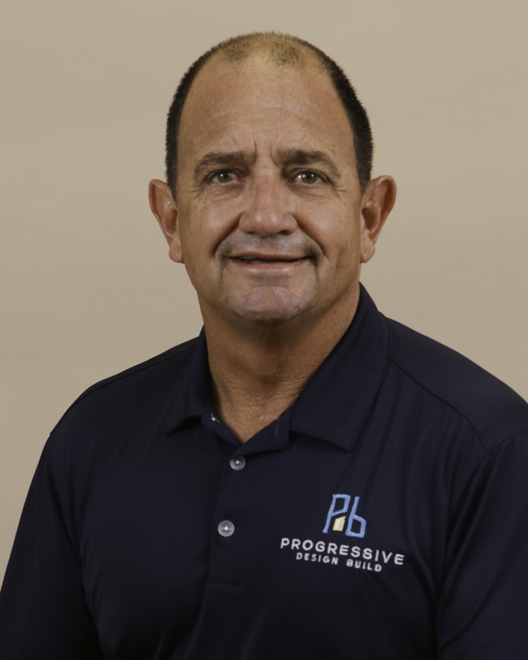 Mike Spreckelmeier
Project Specialist
Born in Cincinnati, Ohio, Mike admits to having a carpenter's pencil in his hands even before his first crayon. Before the age of seven, he was already shadowing his grandfather, an accomplished masonry contractor. Mike relocated with his mother, brother, and sister to Florida in 1968. He spent the summers apprenticing with a local construction company – helping with everything from concrete forming to landscaping.
As a young man, Mike tried his luck at commercial fishing. Though it was a valuable experience, Mike was ultimately called back to construction. He returned to spend 6 years with Honc Industries Construction where he ran heavy equipment, poured concrete, drove dump trucks, formed seawalls, and built docks.
In 1987, Mike teamed up with JF Smith Building Contractors and a long-time friend to build homes on Pine Island. Mike obtained his Florida Residential Contractor's license in 1989, and Progressive Design Build was born. "Dreams really do come true," reflected Spreckelmeier after 27 years in business.
When asked what excites him about his work, Mike replied, "I'm passionate about changing lives. When Progressive Design Build remodels a home, it's not just about the bricks and the sticks. We are – quite literally – building the stage upon which future memories are made. It's an honor to be a part of the memories that families cherish later in life."
As an active member of the community, Mike is a steadfast supporter of the Rotary Club of Fort Myers, Disabled Veterans Insurance Careers, Katelynn's Closet, Relay for Life, Young Life Rotary International, and is a member of the Next Level Church. Mike is currently serving as Treasurer for the Rotary Club of Fort Myers where he has also been elected to the Board of Directors.
Mike has won several awards for his dedication. In 2014, he received his favorite award by far, the Rotarian of the Year Award, from the 165-member club for his continued service to the community. He has also won the Wally Faber Service Above Self Award (2012), the Standing Tall Award (2015), and received several certificates of appreciation.
When he isn't working or volunteering, Mike is continually learning. He loves books, live music, and the outdoors. Mike is passionate about fishing, boating, and fitness, too, having completed 2 half Ironman Triathlons and a marathon!