A Single-Story Whole House Remodel in Pelican Landing, Bonita Springs
In 2017, our clients, who are worldwide travelers, decided to make their Bonita Springs home a primary residence—drawn especially to their accessibility to pickleball, golf, and turtle-watching. With homes all over the continental United States, they wanted to breathe new life into this 2,700 sq ft single-story ranch-style home. Built in 1988, Progressive Design Build was tasked with transforming a dark and dated house into their forever home, incorporating bright contemporary colors and modern design details.
Challenge
Our challenge was to create additional storage space and improve the room flow while keeping within the confines of the original footprint.
Solution
With smart and efficient planning, we were able to custom-design the kitchen cabinetry to fit an open concept floor plan. As a result, instead of rearranging walls, we were able to open up the space and create a natural flow to the room. We also updated the home with a contemporary aesthetic, incorporating the homeowners' personal design style. This meant removing the dark granite finishes, sponge faux walls, a Romanesque tub, and cold marble floors; replacing it with Southwest Florida coastline colors and top features of a modern luxury home.
Kitchen
A bulky butcher block island was removed to increase workflow in the kitchen. The off-white cabinets and dark granite countertops were replaced with custom white stacked cabinets in a Dempsey shaker door style and Cambria quartz Berwyn countertops that were inspired by the peaks and ridges of a rugged mountain range. Paired beautifully with the quartz countertops was a full-height shimmering gray subway tile backsplash. New stainless and black appliances from GE and Sharp coordinated nicely with the elegant cabinet pulls and a gooseneck faucet that was positioned proudly over a Vigo 30" single basin sink. Brushed nickel lighting fixtures complete the look.
Progressive repainted the kitchen and the rest of the common areas in a creamy white (Sherwin Williams #7012) on both the walls and the ceilings. The new 6″ Chale Miele Wood Plank Porcelain flooring was installed throughout the house to seamlessly blend the living spaces together.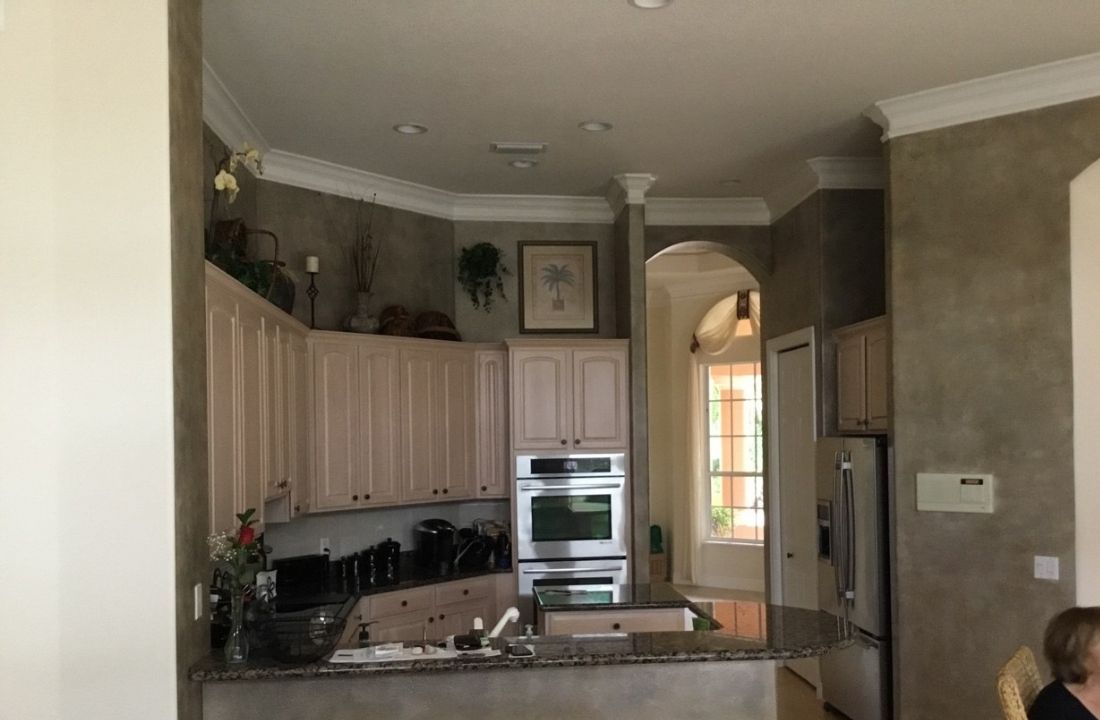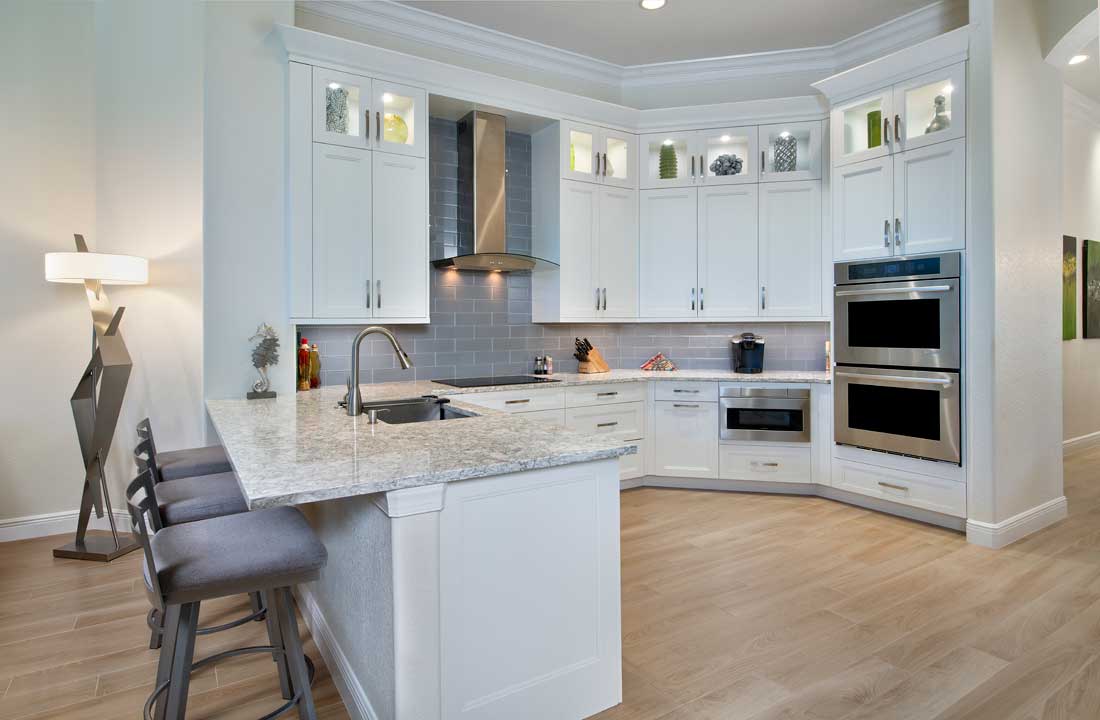 Master Bathroom
With an existing master bathroom that felt cramped and claustrophobic, our client was thrilled when we began demolition of the decades-old, yellowing Corian countertop, peach cabinets, and the dark-tiled, step-up garden tub.
The old cabinets were replaced with DuraSupreme maple cabinetry finished in a soft "cashew" color. The countertops were replaced with Praa Sands Cambria Quartz—a subtle, yet striking veining reminiscent of a rocky beach coastline in an eased edge and 4″ return. To complete the look, sleek stainless Delta Tesla Series plumbing fixtures and toilet accessories were matched to the satin nickel finishes of the cabinet pulls and sconce lighting.
The original marble floor was replaced with Chalk 12×24 porcelain tile planks by Happy Floors that flawlessly blend into the Toemi Pebble Tec Tan shower floor. Matching both the countertops and flooring, Listello accent tiles were designed into the shower and expertly tied the whole space together.
Last but not least, the existing yellow and orange sponge-faux walls and ceilings were painted a soft gray (Sherwin Williams #6204 Sea Salt) to match the new master bedroom colors.
Guest Bathroom
Also in desperate need of a makeover, the guest bathroom underwent a stunning transformation. The old bathtub was replaced with a sizable walk-in shower designed in Neostile Chalk porcelain tile by Happy Floors and Natural Saint Tropez Collection Dusk center border tile from MiR.
For continuity, the shower floor was laid in white Akua pebble tile which complemented the main house floor plank tile, Chale Miele.
Custom white DuraSupreme cabinets with a Homestead door style were topped in Ironsbridge Cambria Quartz and accented with brushed nickel Signature Hardware plumbing selections and accessories. Creating a warm, inviting space, we installed a Silver Leaf light bar by Troy Lighting above the vanity and painted the walls the same soft gray (Sherwin Williams #6204 Sea Salt).
Pool/Steam Bathroom
To relieve stress and anxiety, our clients also wanted to turn their pool bath into a steam room. Because the guest bedroom closet was positioned on the other side of the bathroom, it made it easy to create an accessible location for the required ThermaSol steam generator.
The ceiling-height custom steam shower enclosure was designed with a moving transom glass door, and the shower walls were laid in Neostile Chalk tile by Happy Floors with a perfect square of Elysium tile in Pontus blue, creating a stunning visual focal point. Brushed satin nickel hardware was chosen to match the new Signature Hardware plumbing selections and accessories.
The shower floor was laid in an Akau Riverstone Cappuccino pebble mosaic tile, butting up against the Chalet Miele wood plank porcelain tile that flows effortlessly throughout the rest of the home.
A white custom DuraSupreme floating vanity (with Homestead door style) was topped with polished Kelvingrove Cambria Quartz countertops—in warm and nurturing Earth tones of taupe, white, and Robin's egg blue-green. For perfect task lighting, a lighted mirror was installed over the vanity.
Finally, the walls were painted a light beige (Sherwin Williams #7036) in a satin finish to create a perfectly enclosed space that promotes relaxation and healthier living.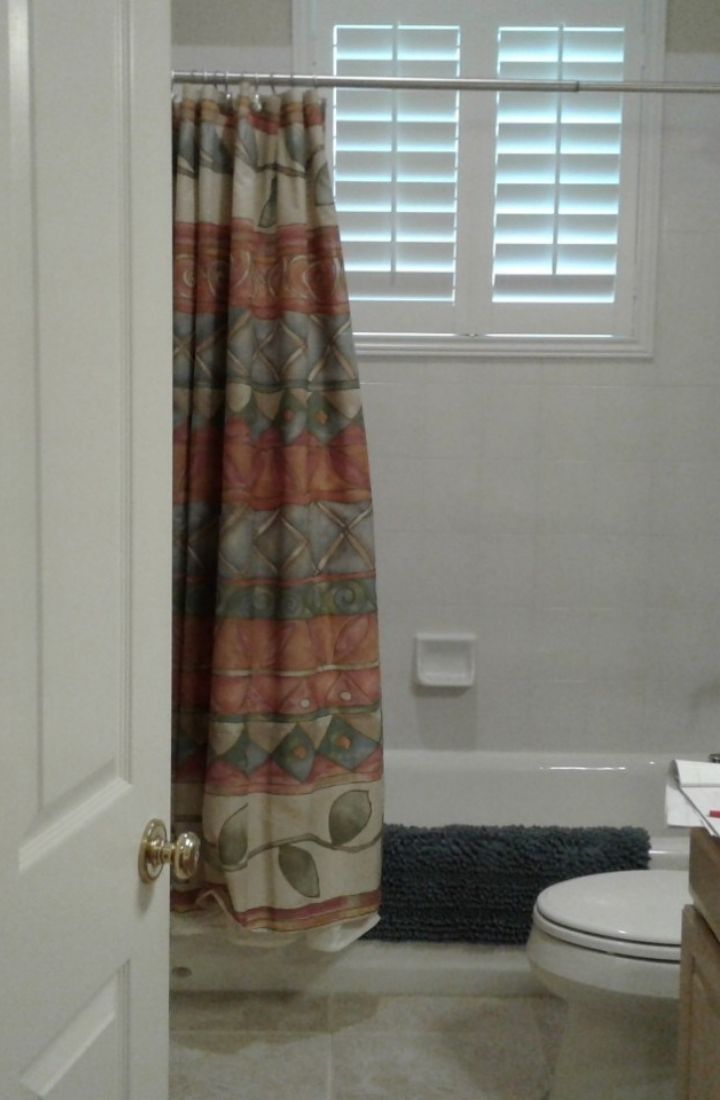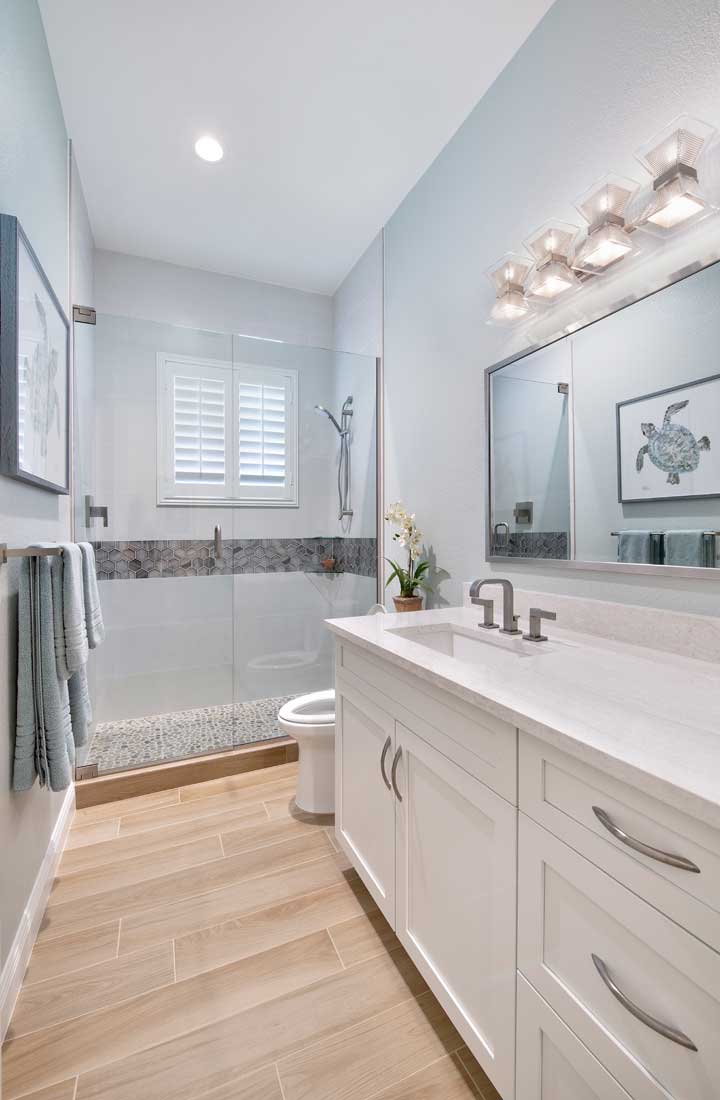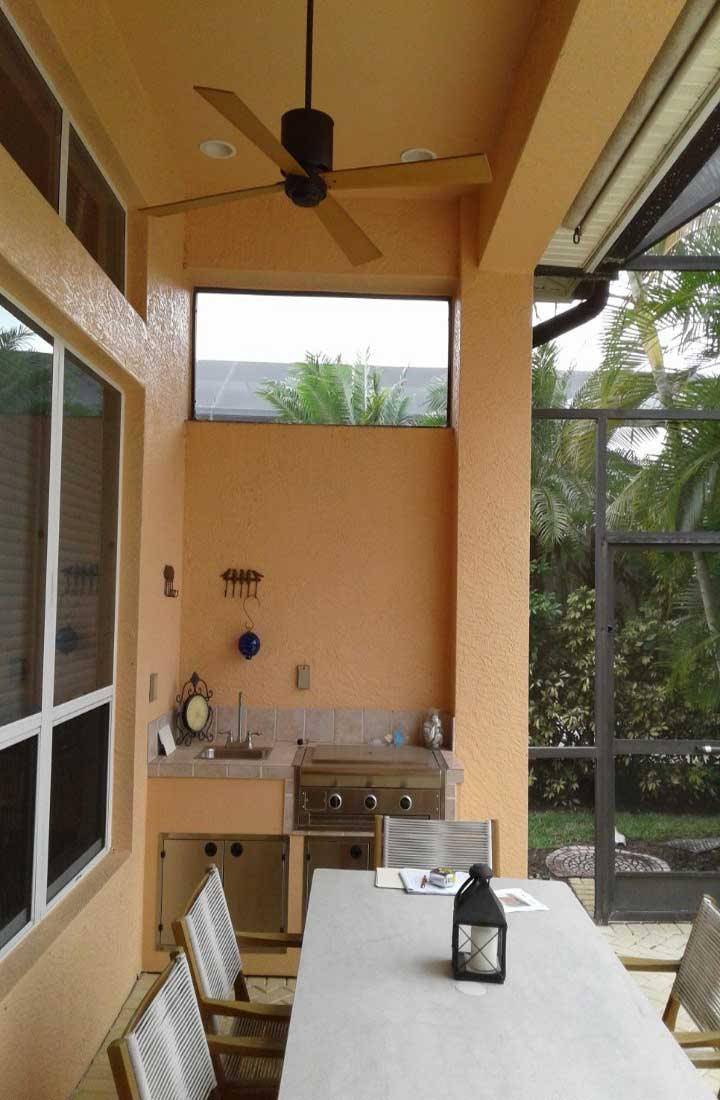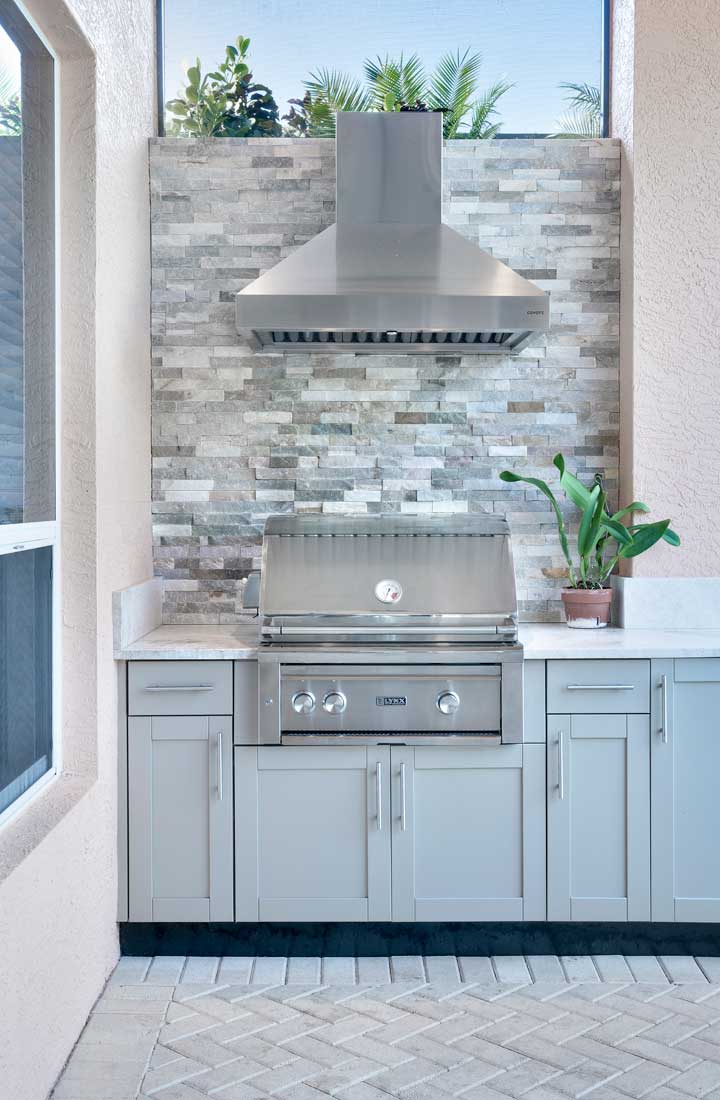 Outdoor Kitchen
With form and function in mind, these Bonita Springs homeowners wanted an area to cook burgers outside and entertain guests throughout the year. As a result, an unused corner of our client's lanai was repurposed into a functional, unassuming outdoor kitchen.
The outdoor kitchen was custom-built utilizing luxury stainless steel outdoor cabinets from Danver (in a Key West door style) and powder-coated in a Champagne finish. The light color of the cabinets was chosen intentionally to blend perfectly with the multi-colored veining of the Taj Mahal polished quartzite countertops that was hand-selected by the client.
Complementing the countertops, we installed a full-height backsplash finished in 6″ x 24″ Beachwalk Ledgestone panels. This brought just the right texture and dimension to the space behind the stainless steel Coyote hood. Taking center stage in this modest masterpiece, was a top-of-the-line stainless Lynx Pro outdoor grill with rotisserie.
Result
Our clients were thrilled with the whole house renovation that was customized to their new lifestyle and improved their quality of life—for many years to come.