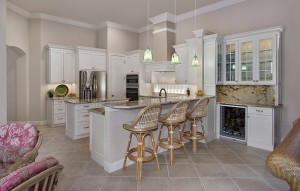 One of the best ways to enhance your satisfaction – and the value – of your Southwest Florida home is with a kitchen remodel. It's one the most common home remodeling projects we are asked to do, and a kitchen upgrade makes a wonderful difference in any home. As worthwhile as the investment is, it's very important to plan carefully and follow through with a quality execution, which is where we come in.
Here's an overview of five kitchen trends and our professional advice on each one:
Appliance Innovations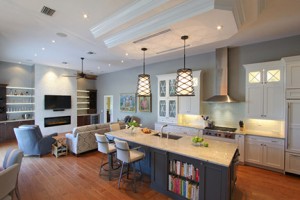 Recent new innovations for the kitchen include hands-free faucets, automatic lights and smart appliances that you can control with your phone. Do you need to actually look into your refrigerator with your smart phone when you're on-the-go to see if you need milk, eggs or other ingredients? Whether or not that seems necessary to you, we do recommend you select appliances that you can live with long term without feeling like you are behind the times. Explore your options carefully and select appliances with a "no regrets" way of thinking. We can help by recommending products we've encountered and think will match your lifestyle and kitchen design.
Clever Storage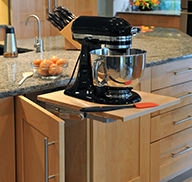 With so many wonderful kitchen gadgets on the market, you need a place to put all of your culinary toys, as well as the staples such as dishes, pots and pantry food. If you have an older kitchen, the world of cabinetry has come a long way. We'll recommend the right elements to fit your kitchen design and your personal cooking needs. Some options include corner cabinets with Lazy Susans, freestanding pantries, slender pullout cabinets, roll out trash bins, hidden shelves and magazine files, and hidden docking stations to charge electronics.
New Neutrals
White and gray are both popular color trends at the moment. When used in cabinetry and floors, these light neutrals give kitchens a bright, clean look. Black-and-white is also a popular neutral trend. Of course, you can opt for a monochromatic neutral kitchen, or you can add a pop of color with your countertops, backsplash or light fixtures. Our only recommendation is to keep the colors somewhat in check and make sure it's something you will enjoy for many years to come. Neutral colors are an important design element and serve as an anchor for more personalized design choices.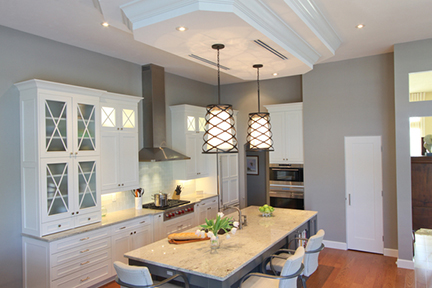 Transitional Layouts
Some people consider any kitchen that isn't enclosed in four walls an "open kitchen," but the industry defines an open layout as completely open on the first floor. If you don't want to knock down all your walls, but you want to have your kitchen open to at least one other living area, a transitional layout is what you want. These types of kitchens are very popular. They feature kitchen islands with bar-style seating that separate your prep area from the dining room or living area without disrupting conversation with family and guests.
We're seeing a lot of creativity with kitchen lighting. Under-cabinet and under-shelf lighting is one trend we recommend because it adds ambiance and a practical way to light up dark corners. Recessed lighting is often incorporated for its practical space-saving approach to adding light. Of course, there are some gorgeous pendant lights and chandeliers that provide a beautiful focal point for kitchen and dining areas. The nice thing about using lighting for a pop of on-trend style is that lights can be replaced more easily than cabinetry, flooring or even appliances. In a few years, you can update the whole look for your kitchen by changing out the fixtures!
Review our kitchen remodel project gallery for more design inspiration. Once you're ready to begin, our Three-Step Process starts with a discovery to help us get to know you and your remodeling goals. From there, we design and build your dream space, whether it's one room like the kitchen, or a complete home remodel in Naples, Estero, Bonita Springs, Fort Myers, or Sanibel and Captiva islands. If you're planning a new kitchen for your home, fill out our online form to begin the process today!