Fort Myers, FL [February 17, 2017] –Progressive Builders, an award-winning premier residential design/build remodeling firm, announced today that the company won three first place local 2017 Contractor of the Year (CotY) Awards from the National Association of the Remodeling Industry (NARI) Tampa Bay Chapter —three entries, three first place awards. The winning projects include a lively Bonita Springs outdoor kitchen, a contemporary waterfront home renovation, and a luxurious Bonita Springs master bathroom that needed improved functionality and a splash of color. Progressive Builders' CotY wins are for the Southeast region of the U.S.
"It is a distinct honor to receive first place Local Chapter Contractor of the Year awards from NARI – in three categories no less – and it is particularly gratifying to be recognized by our industry peers," said Dave Wherry, Marketing Director and Project Consultant for Progressive Builders. "We have a fabulous team here at Progressive Builders who care deeply about helping our clients through a smooth remodeling process. These awards are a direct reflection of our team's commitment to our process and the craft, and makes all of us feel very proud."
Progressive Builders' three winning projects include:
Residential Bath over $100,000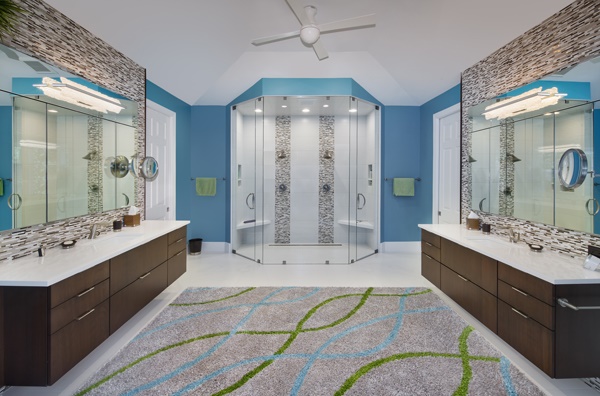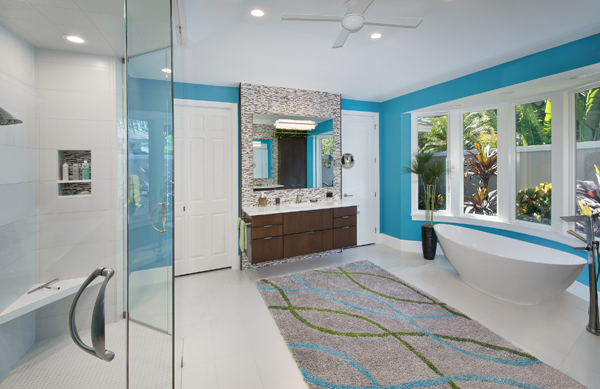 While this space was palatial, it just didn't function well for these homeowners, or reflect their design style. They wanted to update fixtures and finishes with a splash of color and redesign the shower to include additional drainage and ventilation. Our design team concluded that a complete reconfiguration of the entire master bathroom was the best way to give our clients the functionality and open feel they envisioned. We removed a center island and built-in Jacuzzi, replacing it with a freestanding soaker tub – and a new curbless double-headed shower, which was designed with floor-to-ceiling glass on three sides. We also installed floating quartz shower seats and his-and-hers niches for extra storage.
In the water closet, we installed a large double storage cabinet for linens and extra storage, as well as separate his-and-hers vanities with floating dark wood cabinetry and quartz countertops, accented with stacked stone mosaic tile. We also added floating medicine cabinet mirrors and painted the bathroom walls in the striking blue color our clients selected to compliment the lively hues throughout their home.
Landscape Design/Outdoor Living $60,000 and Over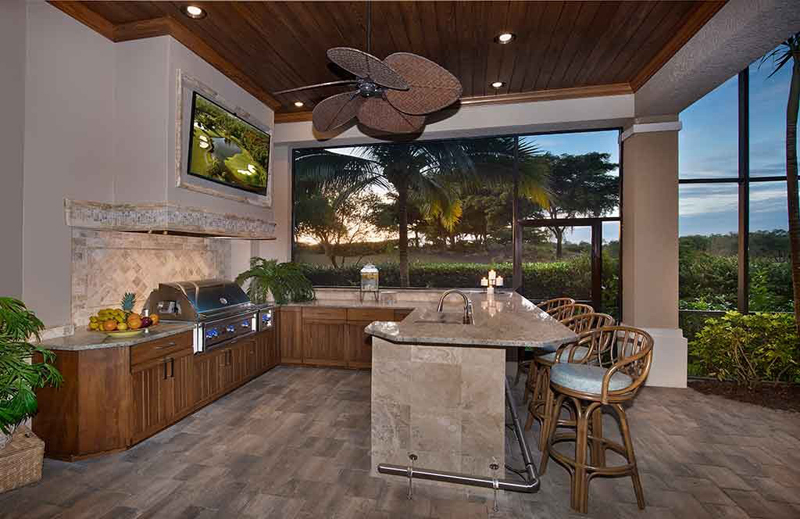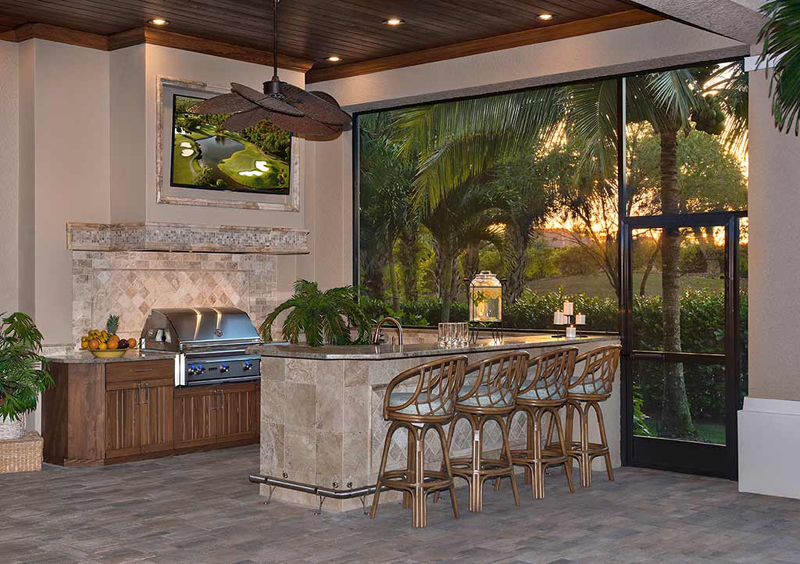 A family with a passion for college football wanted to transform their outdoor kitchen for watching games while barbecuing and entertaining friends and family. This refreshingly beautiful outdoor kitchen was inspired by the home's location on the golf course and required suitable seating for viewing and ample countertop space. The first significant design decision was centered on the existing set up for the grilling area and natural gas outlet. To adequately vent the client's new Lynx grill, Progressive Builders designed and built a very large custom-built decorative hood and incorporated a flat screen TV above. A 24" outdoor refrigerator was installed to the left of the sink to keep food and beverages chilled, with a base of cabinets and a hi top bar added to provide plenty of storage and countertop space as well as ample seating around the perimeter of the new outdoor kitchen.
Additional recessed lighting in the ceiling and under the hood was added for improved lighting for evening cocktail and dinner parties. The selection of a stained cabinet finish tied with the Cypress wood ceiling and crown molding invited a luxurious feeling. Other details included a decorative travertine stone backsplash behind the grill and matching layout on the front face of the bar – capturing the true essence of Southwest Florida living.
Residential Interior $75,000 to $150,000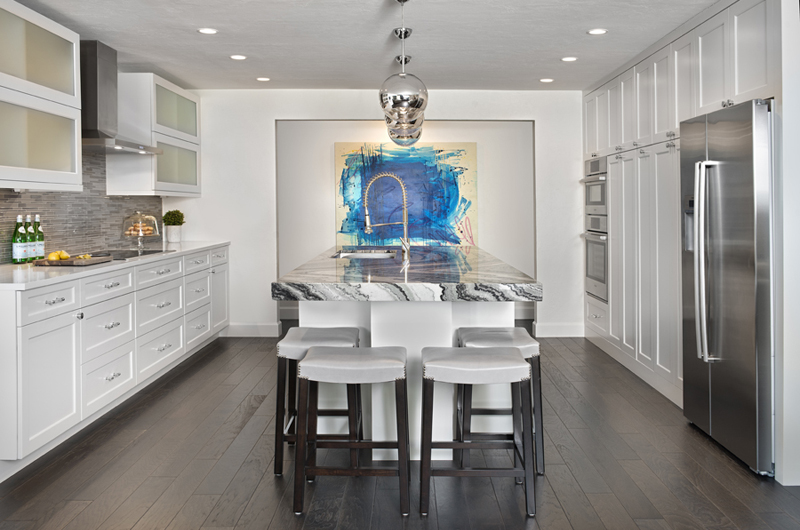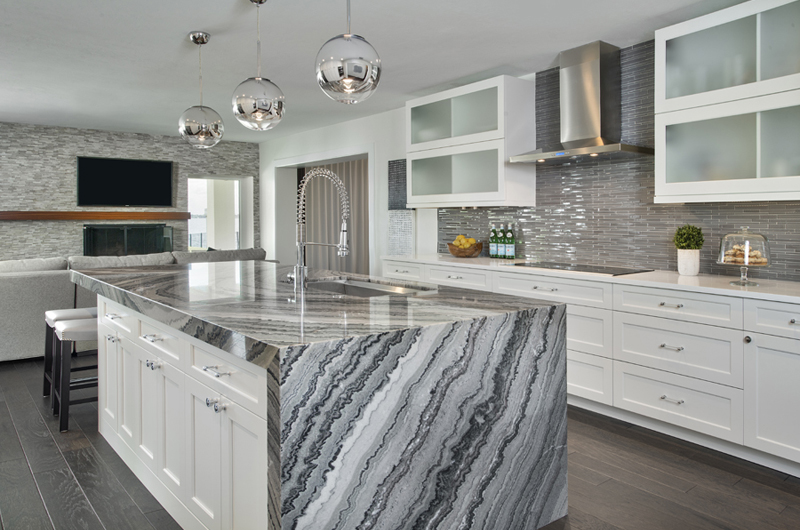 This beautiful waterfront home was in need of an update. Our clients wanted a contemporary design with modern finishes. They craved improved functionality in the kitchen, hardwood flooring in the living areas, and a spacious walk-in closet in the master bathroom. With two children in school, our clients also needed the project completed during their summer vacation. In preparation, our design team created a project plan to suit our client's needs. With such a clear timeline, we were able to select and order long-lead items in plenty of time for the project start date.
In the kitchen, we rearranged the layout to provide superior ventilation for the cooktop on the exterior wall. We added two large storage cabinets with glass doors, accented by a sleek mosaic backsplash of glass tile. We also incorporated a large contemporary waterfall island into the room. With seating at one end, the island provides both increased functionality and an eye-catching focal point for the center of the room. On the interior wall of the kitchen, we maximized storage with a wall of built-in cabinetry – complete with pullout pantry cabinets, a double oven, and a large stainless refrigerator.
Our clients wisely chose rich, dark-colored wood flooring to add warmth to the contemporary design. After installing the flooring in the kitchen, we brought it into the main living areas as well. In the great room, we wrapped the existing gas fireplace in a neutral stack stone. In the master bathroom, we expanded the closet by pushing the wall back into the adjacent pass-through hallway. The new walk-in closet now includes an impressive closet organization system.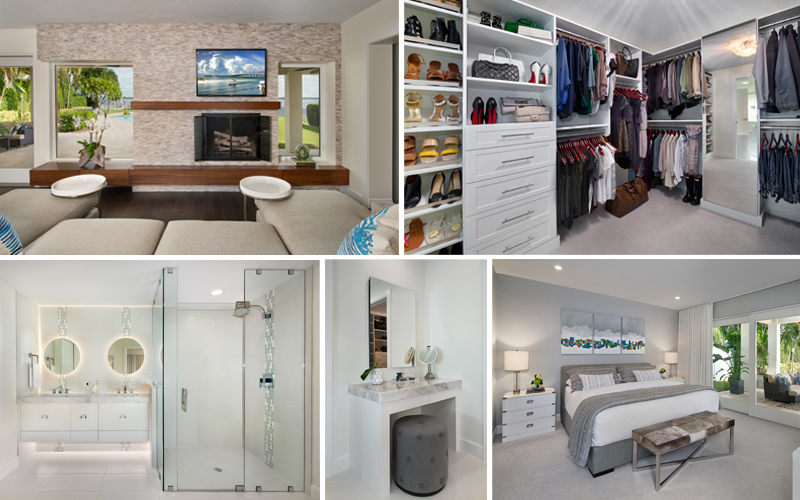 Returning to the master bathroom, we removed the single vanity and repositioned the toilet, allowing for a new, curb-less glass shower and a his-and-hers vanity. The entire vanity and shower wall is finished in white 12×24 porcelain tile. The vertical glass mosaic accent band and backlit floating mirrors add to the clean, modern style. To the left of the master bathroom entry, we even added a matching make-up area. Finally, we installed a number of elegant enhancements in the remaining rooms. The clients chose a bronze metal relief accent wall as well as some colorful finishes and artwork for the entry and hallway.
About Progressive Builders
Progressive Builders is a premier design/build remodeling firm serving Southwest Florida homeowners who value being counseled with utmost care through a smooth, innovative design/build remodeling process. Headquartered in Fort Myers, Progressive Builders specializes in whole house remodels, room additions, kitchen and bathroom remodels, as well as outdoor kitchens or outdoor living spaces. For more information, visit http://www.progressivebuilders.com.
About NARI
The National Association of the Remodeling Industry (NARI) is the source for homeowners seeking to hire a professional remodeling contractor. Members are full-time, dedicated, remodeling industry professionals who follow a strict code of ethics with high standards of honesty, integrity and responsibility. For more information, contact NARI at 847-298-9200 or www.nari.org.
# # #