Designing the perfect powder room for your Bonita Springs, Florida home requires a thoughtful blend of creativity, practicality and attention to detail. Whether you're starting from scratch or giving an existing space a makeover, you'll want to create a powder room that marries style with functionality to deliver a captivating experience for you and your guests.
A powder room, often referred to as a half bath or guest bathroom, serves as a convenient restroom for both family and visitors. But that doesn't mean you can't infuse it with your unique sense of style. From finish selections to maximum use of space, and practicality to color choices, the decisions you make will contribute to its overall ambiance and functionality.
Practice Proper Measuring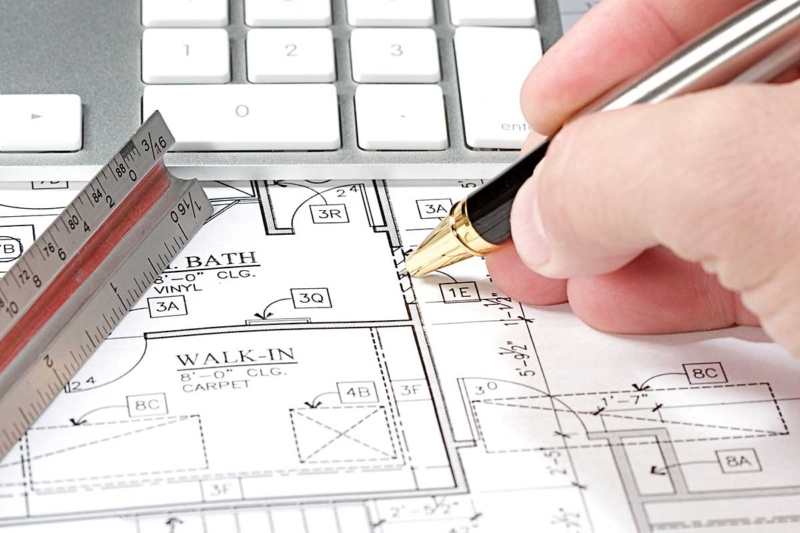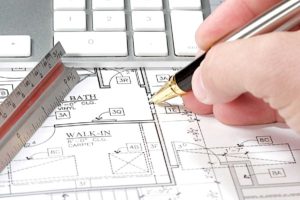 Proper measuring forms the foundation of design in your powder room, and ensures that every element fits seamlessly and functions well within the space.
Pro Tips:
In smaller powder rooms, space is at a premium, so adhering to minimum dimensions is important. Recommendations include:

Door width of 24″ for comfortable clearance
Compact toilet with 27″ or less depth
Sink width from 16″ to 20″, with a depth of 14″ to 17″

For larger powder rooms, more generous proportions are allowed. Recommendations include:

Door width of 32″ minimum to accommodate easy passage, especially for those with mobility challenges
18″ distance between the toilet's centerline and any adjacent fixture such as a sink or wall
ADA compliance considerations can ensure universal accessibility. The sink should have a knee clearance height of 27″ minimum, and a depth of 8″. Grab bars should be placed near the toilet and sink to enhance safety.
Proper Ventilation is Crucial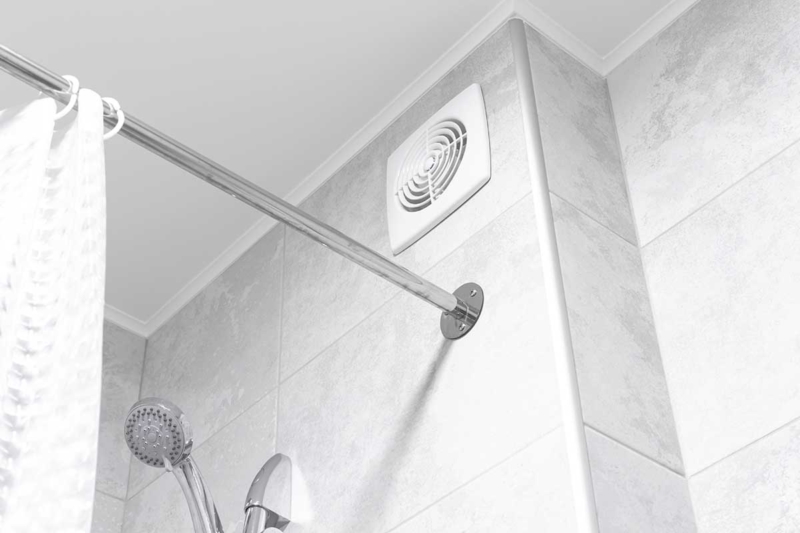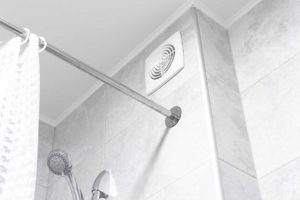 Proper ventilation in your powder room ensures comfort, hygiene and the longevity of the space. It not only prevents the accumulation of unpleasant odors and moisture, it contributes to a healthier environmental overall.
Pro Tips:
An exhaust fan serves the dual purpose of expelling foul air and excess moisture to prevent mold and mildew growth. When choosing your exhaust fan, consider the room's size. For smaller spaces, a fan with a lower cubic feet per minute (CFM) rating can be sufficient. Larger powder rooms may require a more powerful fan. Place the fan near the shower, toilet or sink to ensure optimal air circulation. It is important to maintain proper upkeep of an exhaust fan; regularly clean the exhaust fan grilles to ensure the fan's efficiency and safe operation.
Use a strategically-placed window to facilitate natural ventilation. This allows fresh air to flow in and stale air to exit while adding an aesthetic element to the room. Consider adding frosted glass to the window to add privacy while still allowing light to filter through. Install a screen to prevent unwanted pests from entering.
Exterior windows are optimal, but a transom window or skylight can also provide an effective means of ventilation. Place a transom window above the door or high on a wall.
Maximize Space and Function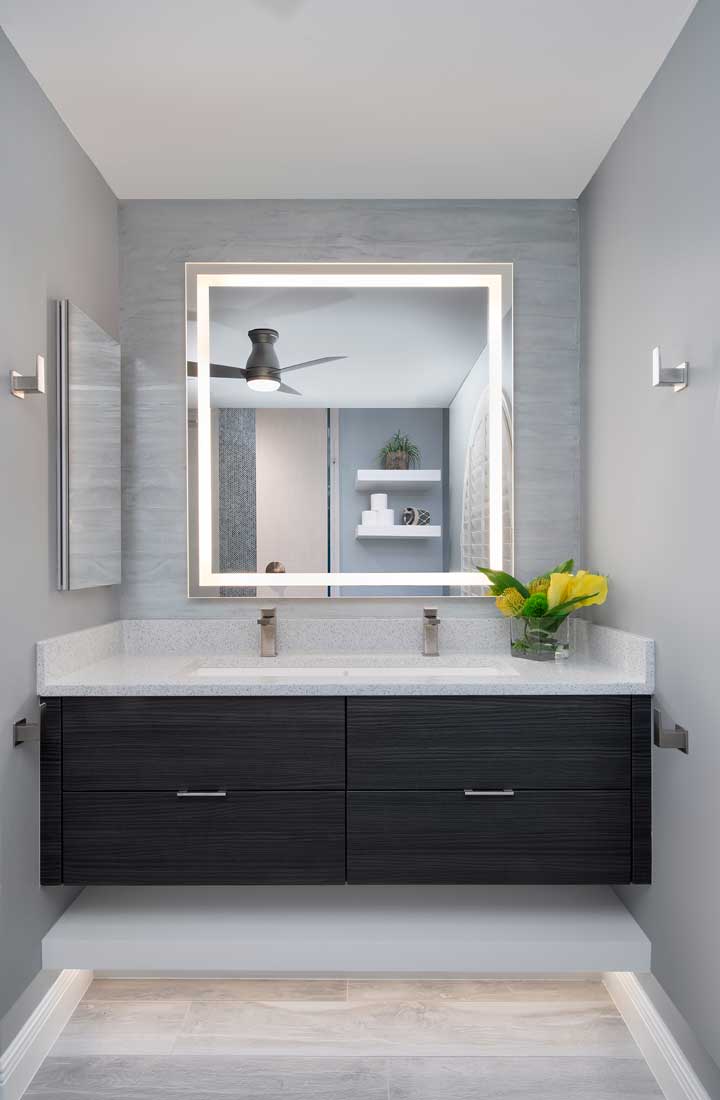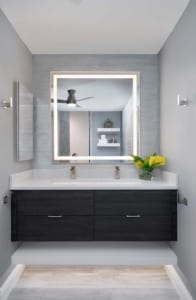 Efficiently utilizing every inch of available space enhances the powder room's visual appeal and elevates its practicality.
Pro Tips:
Use in-wall storage to declutter and optimize the layout. Recessed shelves or cabinets built into the wall can provide storage for toiletries, towels and other essentials.
Vertical storage makes the most of unused wall space. Tall, slender cabinets or shelving units capitalize on height and offer a convenient home for items that might otherwise clutter countertops. And by directing the eye upwards, vertical storage visually elongates the room, making it appear larger and more open.
Floating fixtures, such as wall-mounted sinks and toilets, contribute to an open and airy atmosphere. They also simplify cleaning, as there are fewer nooks and crannies to navigate.
Corner sinks are popular options for compact powder rooms and can utilize often-overlooked corners. This placement can help make room for other essential features.
Mirrors play a dual role, offering both space optimization and visual enhancement. Strategic placement of a large mirror can make a powder room appear larger. Additionally, a mirror can act as a design focal point.
Small-scale accessories round out your powder room's design, adding character while not overwhelming the space. Thoughtfully select accessories such as wall art, decorative containers or small potted plants to inject your personality into the room without compromising its functionality or visual balance.
Get Creative with Wall Treatments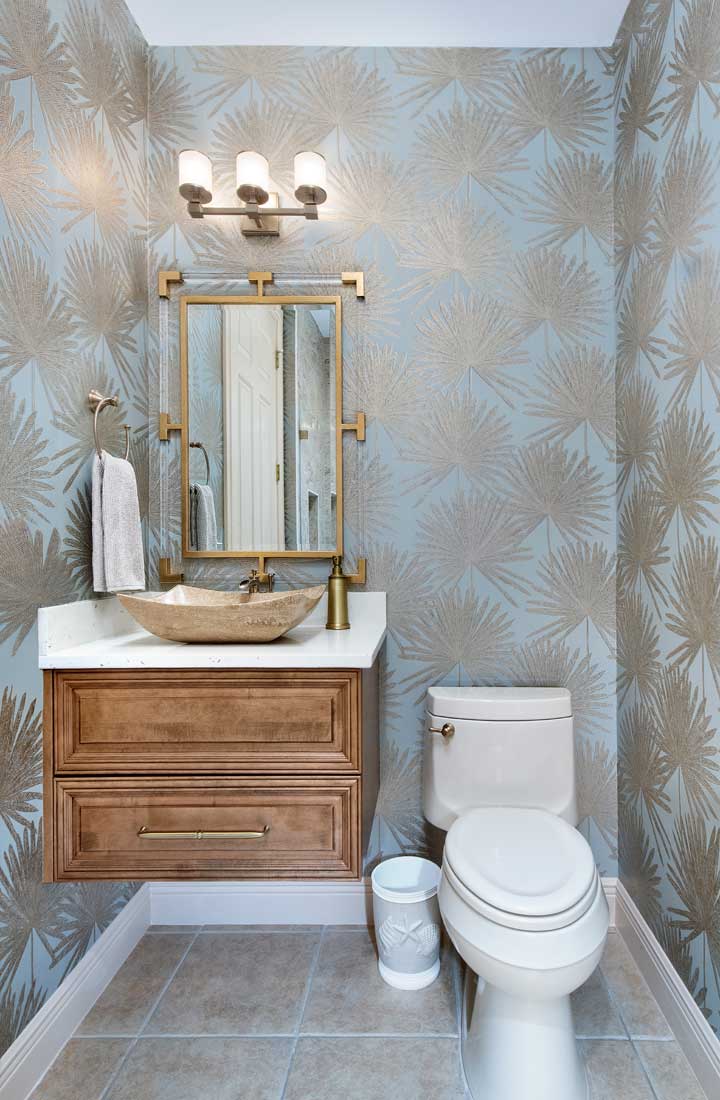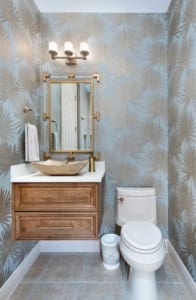 Your choice of wall treatments may well have the biggest impact on your powder room's ambiance, and can add a unique touch that reflects your personal style.
Pro Tips:
Wood or tile wainscoting stands as a timeless and elegant choice, adding texture and depth to the walls. Wood wainscoting brings warmth and character to the space, while tile wainscoting introduces an element of sleekness and durability. Play with patterns and colors to enhance the visual appeal.
Wallpaper is a versatile option that can transform the powder room into a work of art. Modern wallpapers offer an array of designs ranging from intricate patterns to bold graphics. Vinyl and moisture-resistant wallpapers are ideal for powder rooms as they can withstand humidity and are easy to clean. Keep in mind, however, the room's size and lighting. Overly-busy patterns or large graphics might feel overwhelming in a small powder room.
Some wall treatments may not be suitable for use in a powder room. Unfinished wood paneling or standard wallpaper could be vulnerable to warping or peeling due to moisture exposure. Delicate materials that are not moisture-resistant may deteriorate over time.
Related: How to Make the Most of a Powder Room
Consider One Design Focal Point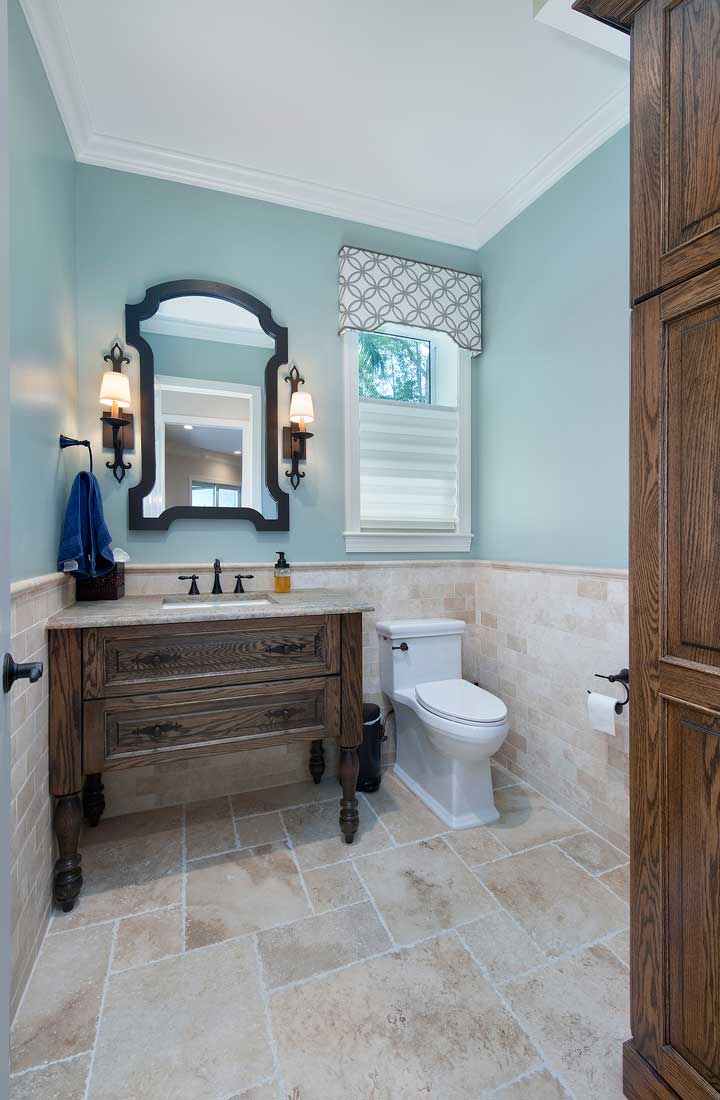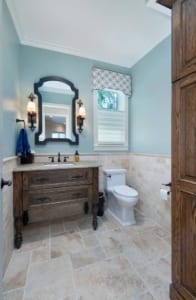 In designing the perfect powder room, a singular design focal point can wield a powerful impact. By channeling the eye towards one key element, you create a visual anchor that captures attention while imparting a sense of unity in the room.
Pro Tips:
A beautiful wallcovering with captivating patterns, textures or colors can transform a wall into a work of art. It becomes a striking focal point that sets the tone for the entire powder room.
Unique ceramic tile with intricate veining can take the spotlight. Create a feature wall using these tiles to add luxury and sophistication, along with depth and visual interest. The organic patterns within the tile's veining create an engaging focal point.
A cohesive color palette ensures that your focal point remains the star of the show. Harmonize your powder room's design with subtle details in coordinating colors that support your chosen focal point. Use elements such as paint, trim or smaller decorative accents to echo the hues and tones in the central feature.
Choose Progressive Design Build for your Bonita Springs, FL Powder Room Remodel
Progressive Design Build offers a multi-faceted approach to designing and remodeling your perfect Bonita Springs powder room that encompasses every phase of the design-build process, from concept to realization.
We'll begin with an in-depth consultation to fully understand your vision, preferences and lifestyle needs. This way we can lay the foundation while addressing practical considerations. We'll then provide you with innovative design concepts—a hallmark of our company. You'll love our creative solutions to optimize the space, enhance functionality and elevate the aesthetics of your powder room.
Our design team will guide you through a choice of materials that align with your design vision and can withstand a high-moisture environment. Through a holistic approach that seamlessly integrates design, construction and project management, the end result is a powder room that is both visually stunning and exceptionally functional.
For powder room renovations and elegant powder room ideas, choose Progressive Design Build. Contact us today at 239-939-5411 for your free initial consultation.
For great powder room and bathroom ideas, check out our portfolio of bathroom projects and subscribe to our newsletter.