Remodeling is a huge task, no matter where you live or what type of home you live in. If you've been through a remodel before, you may feel comfortable with the process. But, remodeling a house is different than what's involved with a condominium. So, if you're thinking of making changes to your Southwest Florida condo this year, here are some things you need to know.
Talk to the Neighbors
Unless you're the only home within miles, it's always courteous to let your neighbors know when you have a home remodeling project planned. But in a condo, it helps to ask around about others' experiences, too. Since most condos in a single building have the same floor plans, seeing what others have done with the space can give you ideas for your own home. Also, your neighbors can give you details of what they were allowed and not allowed to do. They can share their experiences working with the homeowners association (HOA) and any other challenges they faced. 
Follow the Rules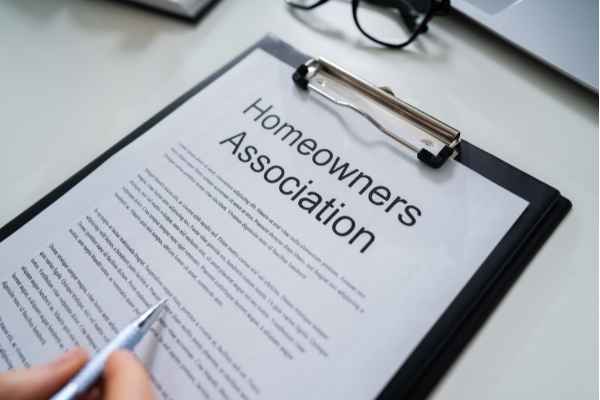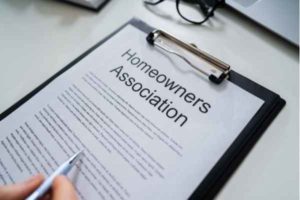 When remodeling a condominium, the homeowner's association controls much of what you can and cannot do through written rules called Covenants, Conditions, and Restrictions. You probably signed the CCRs when you closed on your home without too much thought. However, now that you want to upgrade the bathroom or change the flooring, you need to check them first. So, before planning your remodel, become familiar with these rules to avoid costly infractions and future delays.
Once you're familiar with the rules, work with a professional design-build firm with experience in condominium remodels to create the plans for your project. The professionals you partner with should be familiar with the steps required by your HOA. For example, many associations request you to submit various forms, drawings, and plans of the project and provide proof of permit, special insurances, and documentation from your contractor. After reviewing all the necessary paperwork, a committee will meet to approve your request. An experienced firm easily navigates these requirements and understands how the process affects the project's timeline.
Inspections of the work as it's completed will extend your timeline. In addition to municipal inspections, the HOA manager may want to examine the work at several project milestones. A few other items common to condominium remodels include:
Restrictions on flooring materials to protect soundproofing

Plumbing and electrical work could affect other homeowners by having to turn off service

Protection of common areas while transporting materials in and out of the building

Specific days and hours construction can take place 

Covid-19 restrictions that involve elevator use, temperature checks, and building access

Refundable deposits in case the building is damaged during the work
Secure Proper Permits
Any project that requires municipal permits for a single-family home also requires a permit for a condominium. However, condos are considered commercial property, so the permit requirements are different. This zoning designation carries more strenuous requirements, especially when it comes to fire sprinklers, gas, plumbing, and electrical. And, you may need to secure a permit for a condo project that you wouldn't need for a single-family home, like for flooring upgrades. Also, a fire marshall must always review before and after a condo remodel.
Be Flexible with Your Design
When neighbors live on the other side of your walls, floor, and ceiling, it helps to be flexible with your design and temper your expectations. Here are a few suggestions that will make your condo remodel less stressful.
Start with a list of "wants" and "must-haves" to keep the design more flexible.

Think outside the box or work with a design-build remodeling firm experienced in condo remodels that can pursue new paths and transform the look and feel of your home despite the board restrictions.

Realize that condominium construction includes tension cables within the concrete to strengthen the building's floors. Therefore, you may not drill or cut into floors and ceilings. Instead, utilize drop ceilings to incorporate some design elements like stylish lighting. 

Keep within your existing floorplan for most walls and focus your changes on the cabinetry, countertops, tub deck, wall tile, and flooring.

Add moldings around things like hard-to-replace metal door frames to update the look.

Layering backbands over an existing door frame will create deeper moldings that give the space a luxurious feel.  

If you can't move plumbing or lighting, draw the eyes within a space using other design elements to focus on more beautiful fixtures in the room.
Remember These Items for High Rises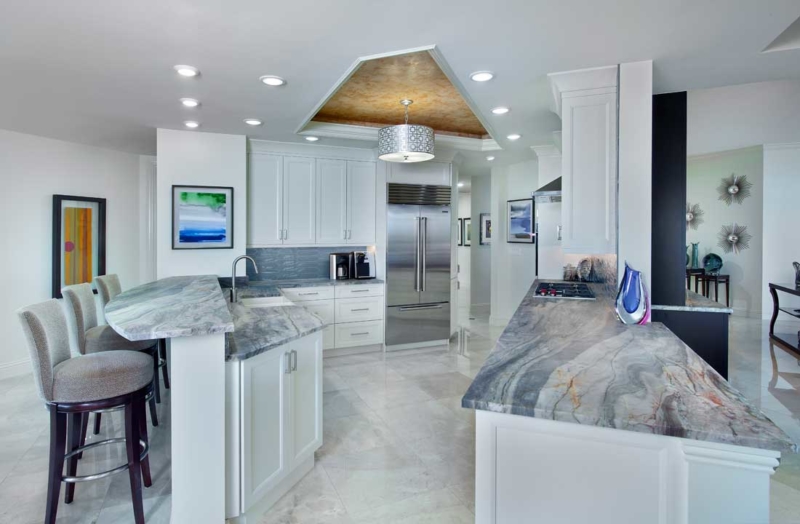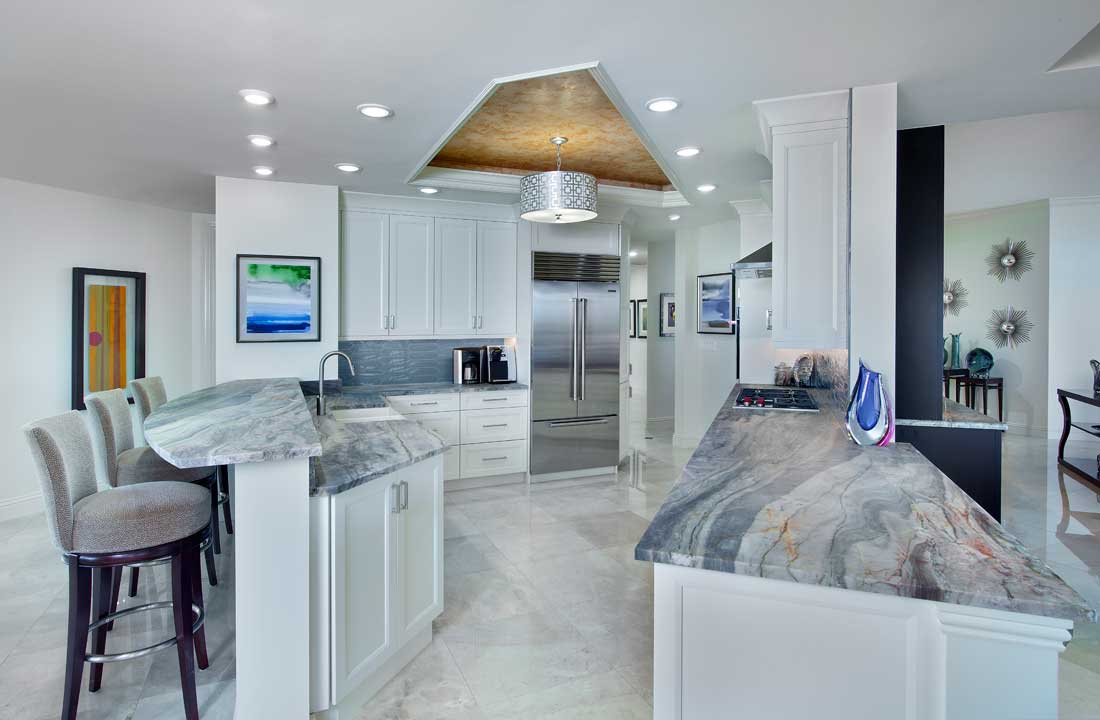 Living in a multi-level or high-rise building presents a different set of considerations than single-floor dwellings. Using elevators and other common areas gets complicated. And you need to remember the neighbors above and below before changing some of your existing design. Here are a few things to discuss with your design-build team.
Elevators
All building materials must fit inside the elevator and meet its weight requirements–including appliances, shower inserts, and countertops. Also, some associations require that you "make a reservation" to use an elevator for transporting materials.
Appliances
Before purchasing new appliances, you need to make sure they work in your home. For instance, some condominiums don't have gas lines. And, if your large appliance requires a more significant power supply, you may need to consult with an electrician to ensure it will work or if you need to upgrade your kitchen circuitry before your purchase.
HVAC Protection
Discuss with your contractor the need to protect the A/C units. For example, suppose the remodel is in only part of the condo. In that case, you don't want to circulate dust through the ductwork into other rooms by improperly protecting the vents with suitable filters.
Soundproofing
Some HOAs require a specific underlayment under the flooring to mitigate sound. Also, some custom speaker systems will require soundproofing measures.
Building Age
The age of your building could affect certain upgrades you want in your home remodel, like adding home automation or a networking system. 
Floor Plan
Your HOA may restrict changes in your floor plan to eliminate the chance that your common high-traffic areas aren't directly above your neighbor's bedroom. 
Finally, no matter what type of building your condominium is in, consider moving out during the project's construction phase. Even leaving for a week during the most intense time, you'll experience less stress seeing the unappealing in-between stages and enjoy the process more.
A condominium remodeling project includes input and regulations from so many people that you want to plan carefully to make sure it's done right. That's why it's vital to partner with professionals experienced in condo remodels. To ensure a seamless experience done on schedule and to budget, consider partnering with Progressive Design Build. As an award-winning luxury design-build remodeling firm serving Southwest Florida, they are ready to assist.
Progressive offers a full range of remodeling services that follow their seamless design-build process, connecting designers and builders to the homeowner and ensuring the job is done right.
To see what your condominium could look like, check out Progressive's impressive portfolio of whole-house remodels. To stay in touch for a future project, sign up for their monthly newsletter, or if you're ready to get started, reach out directly for a free consultation. For a remodeled condominium that reflects your lifestyle and personality, partner with Progressive.