Who knew the loo would become so important? The bathroom is no longer just a place to relieve ourselves and has become a luxurious, health, and wellness experience. But as millions of homeowners transform their bathrooms into the crown jewel of their homes, few realize the complexities involved. Questions abound from the design through construction stages, so having a comprehensive and trustworthy contractor is vital to prevent problems and ensure success.
After all, a well-remodeled bathroom is no laughing matter. As more homeowners spend more time at home, the bathroom has evolved from a purely functional room into an enthralling living space going well beyond basic hygiene and grooming. Driving this growing trend is the boosted value a well-designed bathroom remodel adds to a home's price and the lasting improvement in the quality of life for those planning on staying in their houses for many more years and into retirement.
Given the cost and complexity, how should you start? Unlike a living or bedroom, and potentially more demanding than a kitchen, your bathroom remodel will involve a whole crew of experts including designers, artisans, laborers, plumbers, electricians, and decorators. If you're unwilling to settle for anything less than a "Dream Bathroom", you deserve an Ultimate Guide to help every step of the way. Our goal is to make the process as satisfying as the result. Let's get started!
Step 1: Visualize Your Dream Bathroom and then Make it Real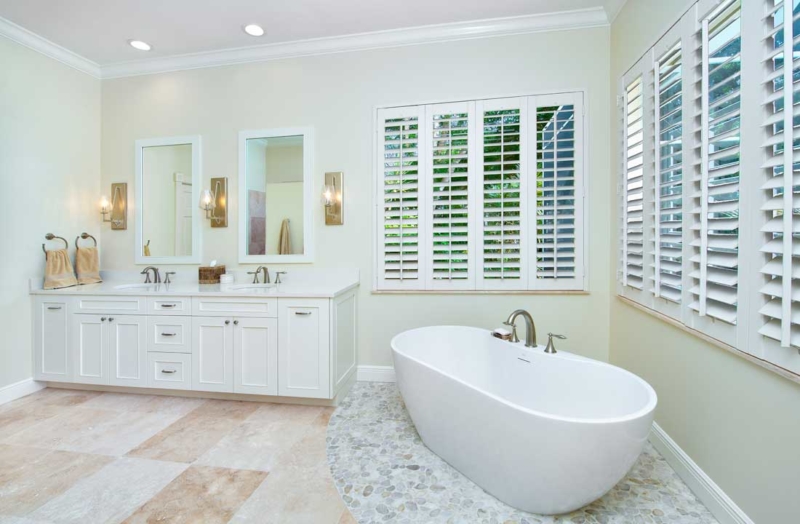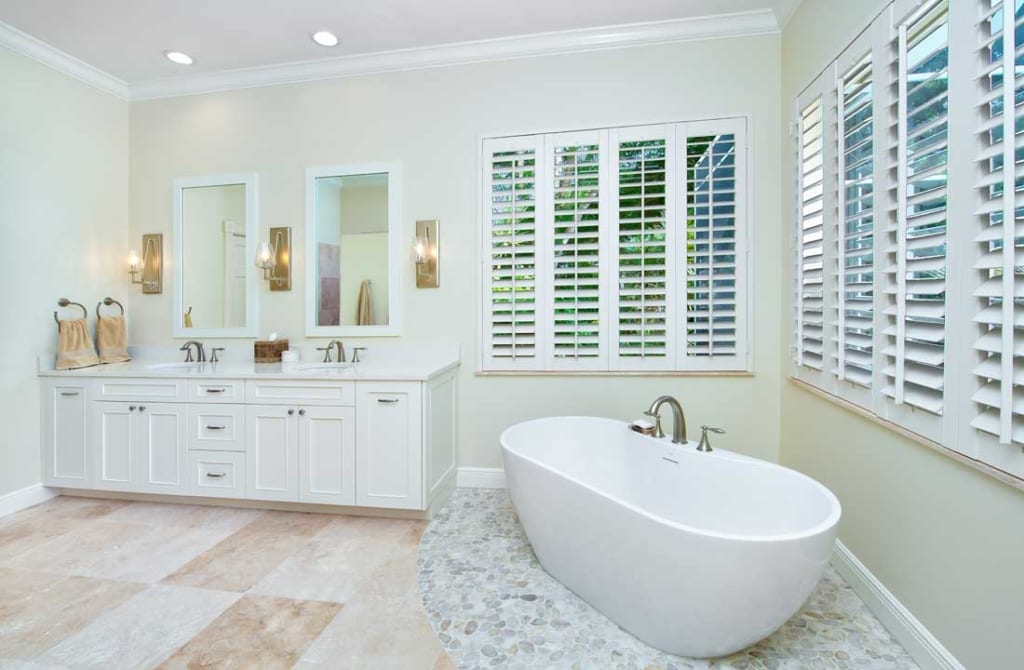 Now's the time to go big with your bathroom, and imagine a perfect experience from custom cabinetry to floor-to-ceiling tiled walls. Tired of your sink or storage spaces being too small? Ever fantasize about having a steam shower? What about a towel warmer or even a TV? Before you worry about cost, let your imagination run wild toward the perfect lavatory, powder room, or spa for you and your family. First, fix what's broken and define what you want, then drive toward what you need and can afford.
Other vital considerations are place, purpose, and people. Which bathrooms are you remodeling and why? Expansive master or a smaller guest bath? Do you want to create a holistic health experience, complete with a whirlpool spa and steam room, or are you seeing a more efficient and functional space? Who will use the new bathroom? How often do you think it'll be used? Are you interested in the remodel's value for home resale? Will you and your spouse retire here?
Whether you're renovating for yourself, new homeowners, or both, try to imagine your "Dream Bathroom" in use for at least a decade into the future. After all, the design choices you make now dictate the plumbing, electrical, and other infrastructure requirements for years to come. Swapping a light fixture, for example, is clearly easier than installing a tub after deciding on a shower stall. Moving or expanding the floor layout later becomes difficult and costly, too.
After you figure out the who, what, where, when, and whys, you might want to browse online and create an idea book of stunning bathrooms that rock your world. Pick and choose between elements and styles you like the most. Consider different approaches that result in various moods, and match them to your available space and family's expectations. Collect these best-in-class examples to show to your designer, who will then customize them for your home.
Step 2: Lock Down a Budget by Partnering with an Expert
With a thrilling bathroom design idea in mind and select idea book photos in hand, you're now ready to turn a dream into reality with the help of a trusted and proven contractor. Together, you'll narrow down the cost, and draft an optimal project plan to ensure the work gets done on budget, and on time. Although some homeowners hire both an architect or designer and contractor separately, a highly recommended best practice is to partner with a single, integrated "Design-Build" contractor.
Receiving a fixed estimate is the first benefit, in contrast to a more traditional time-and-materials approach — which relies on an initial "best guess" that frequently results in surprise expenses. By combining design and build capabilities, you'll receive an initial consolidated budget that gets refined until being finalized prior to start. The design-build method also ensures contractor accountability, seamless communication between all the experts, and peace of mind for you.
Speaking of budgets, bathroom remodels start at several thousand dollars and go into the six figures, so your next task is to narrow that down to a comfortable ballpark range. A responsible contractor will facilitate these initial conversations through phone, video conferencing, email, or in-person meetings. You can then brainstorm your "Dream Bathroom," and share your design vision through photos or website links. Together, the goal is to agree on an estimated budget and project scope.
If all the bathroom stars align, then the next step is an in-home consultation. (This, too, can be conducted virtually.) The meeting will give you a chance to personally meet your contractor, assess their professionalism, and take them on a walkthrough of your home and the bathroom you want to renovate. After examining the layout and discussing your vision, you'll be able to plan the project together and agree on an ideal design-build solution. Then it's off to the races!
Step 3: Design Your Dream Bathroom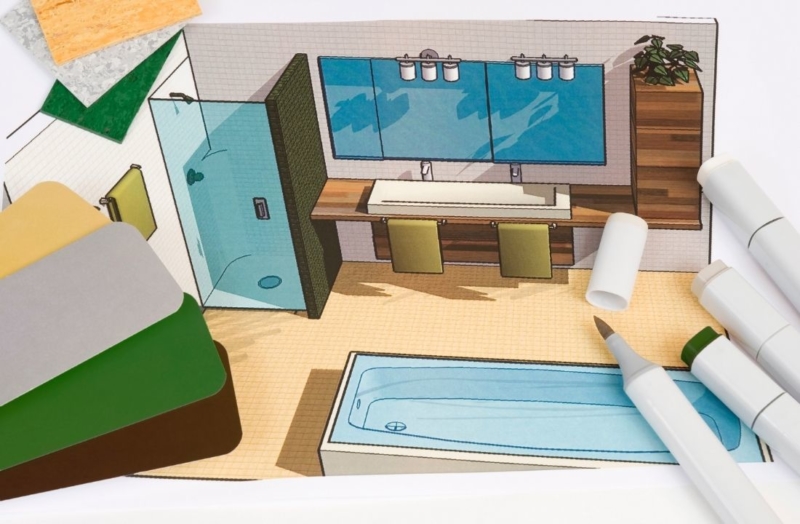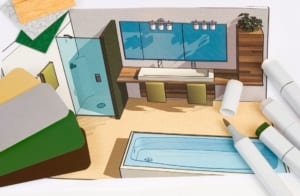 The essence of the design process is the translation of your creative vision into an efficient layout and floor plan. No matter the style or size, at the heart of an excellent bathroom design is a functional core: an easily accessible sink, toilet, tub/shower, accouterments, and ample storage and lighting. Remember, a gorgeous but unusable bathroom is worse than an ugly one that gets the job done. Adding fancy fixtures is great, as long as they fit seamlessly into the experience.
Partnering closely with your designer is important at this point to ensure you properly plan out the overall layout as the foundation for your new bathroom. After both of you have confirmed the essential floor plan, you'll continue to work together to identify a particular design, which should harmonize with the rest of your home. Your choice will not only impact the aesthetic style of your project but influence everything from the most prominent fixtures to the most subtle finishes:
Traditional: classically elegant and richly detailed, featuring a clawfoot or pedestal style freestanding tub, furniture-style vanities, a dressing table, elegant stone walls, floors, and countertops, antique incandescent lighting, with decorative molding, wainscoting, and wallpaper; colors include neutral, pale, and deep greens, blues, and natural tones
Contemporary: clean and minimal lines and décor, featuring the latest home technology and innovative materials through a glass shower stall, digital controls, smart slim mirrors, minimalist faucets, sleek vanities, and LED lighting; colors schemes are often clinically basic black and white, with other high contrast combinations
Transitional: the balance between traditional and contemporary styles depending on taste, featuring a pedestal bathtub, glass shower stall, undermount sink, shaker style vanities, subway tile, stone, marble, or quartz countertops, floors, and walls; classic lighting fixtures include sleek sconces and pendants; colors can be cool or warm hues
Modern: the most simple, sleek, and streamlined style where form and function drive the look and feel, featuring a freestanding tub, glass shower enclosure, floating vanity, frameless mirrors, basic faucets, and lighting; colors are mostly neutral whites and blacks, with colorful accents provided by wall paintings, towels, and plants
Rustic and Craftsman styles: both focus on the natural beauty of wood and nature, each featuring variants of classic tubs, deep sinks, sleek countertops, and shaker vanities made from handcrafted wood, polished stone, antique glass, and weathered metals; colors include rich Earthy tones and comfy shades of green, brown, and beige
Beach and Mediterranean styles: both create a sand, sea, and airy mood, each featuring natural materials for bold and colorful tiles, spacious well-lit showers, vessel sinks, wall paneling, breezy wallpaper, and textures including mother-of-pearl, weathered wood, and burnished metals; colors are seaside blues and natural green, brown, and olive
Industrial: opposite of natural styles, this creates a functional aesthetic featuring a glass and steel shower stall, deep factory sink, exposed pipes and gears, and vanities, countertops, and flooring made from concrete, brick, cinder block, and stainless steel; colors comprised of the materials themselves with minimal paint and decoration
These established styles are trending but vary in popularity, elements of which you and your contractor can pick and choose from for a uniquely personalized, custom look and feel. Regardless of where you land, your choice should create a welcoming bathroom experience, and effortlessly blend with the rest of your home. Budget is also a factor, since choosing handcrafted, high-end materials will prove more expensive than off-the-shelf elements.
Step 4: Choose Your Fixtures and Finishes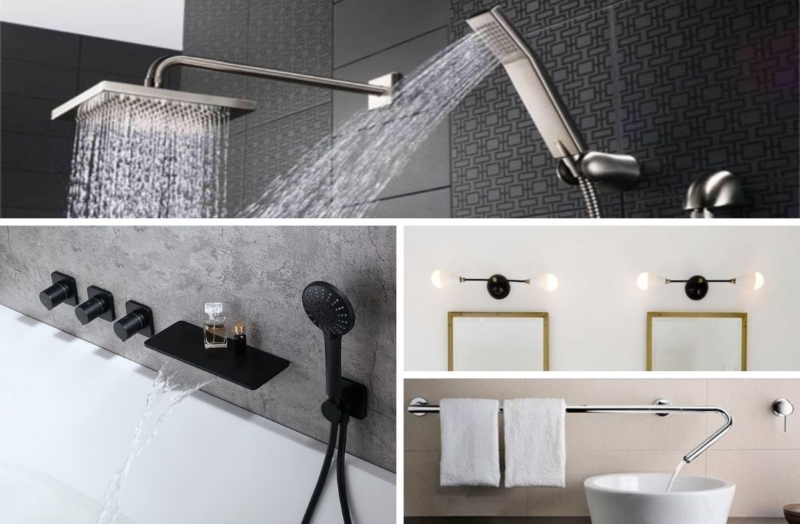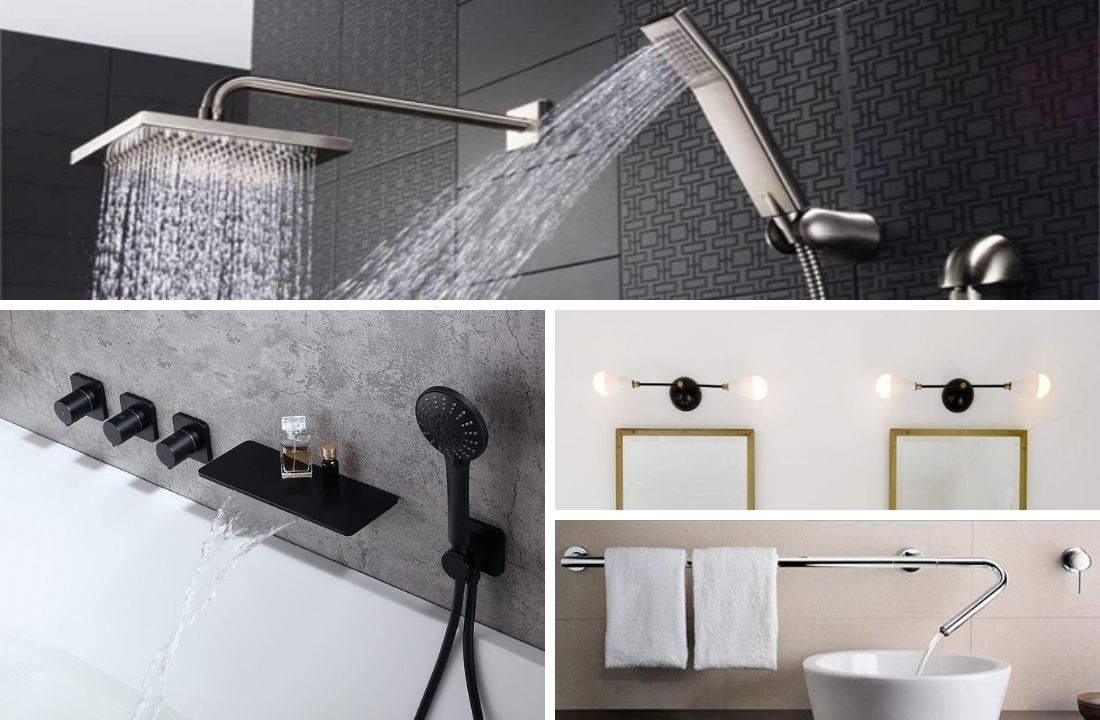 With your budgetary scope estimated and design style chosen, you and your contractor are ready to start filling in the details. A solid recommendation is to start from the ground up: Here's your chance to remedy everything you didn't like in your original bathroom, especially the plumbing and electrical work given this now-or-never opportunity for a complete renovation. Factor in your design and layout considerations, and plan for an optimal experience.
Next up: making decisions about the style, quality, and specific materials for all the elements that go into your new bathroom, which are many. You'll never again take a bathroom for granted after you go through the planning process for everything necessary from faucets to flooring, shower to sink, toilet to the tub to tiles, vanities to lighting, and storage to colors and décor. Each choice influences the others, so choose wisely to ensure a gorgeous and functional blend.
Despite what seems like an overwhelming number of choices, your creative vision and selection of a specific design style dictate your fixture and finish decisions. For example, you'll have a different range of options for a sleek, modern bathroom than a more natural, rustic, or craftsman style. Each style also prescribes a specific budgetary range, so as we've seen everything revolves around your core design and layout. Work closely with your contractor to stay in sync.
Another important factor is your range of options within each style: regardless of which you pick, you'll be able to create luxurious bathroom experiences, such as a fully functional home spa. Just make sure you plan ahead to ensure ample open spaces and sufficient infrastructure to handle any extra electrical and plumbing needs. The same rules apply for natural lighting, high-tech digital extras such as touchscreen "smart mirrors," and other goodies. Don't hold back!
Step 5: Survive the Construction
Your bathroom is the living space you truly can't live without, so the situation could get intense when the design phase shifts into build and crews arrive and make it off-limits for weeks, sometimes even longer. Unlike your kitchen, though, you likely have more than a single bathroom, so plan accordingly. Safety concerns also abound due to dust and other debris, plus tradespeople having to go through your home to get the job done. Now's the time to prepare.
One option is to not have to deal with any of this at all. With the right contractor, you can feel confident leaving your home in good hands while you spend quality time at your vacation place, or visiting relatives. Being away also eliminates other concerns you may have regarding the health and security of your family. If you want to leave, follow these 6 secrets to pick a contractor you can completely trust to master your home remodeling project while you're away.
Staying at home is also a viable option, especially during a bathroom remodel if you have other fully functional bathrooms. Remember that safety comes first! Health hazards inevitably abound during any renovation, especially involving changes to layout and infrastructure. Dust and debris clouds can be mitigated by temporary barriers, HEPA filtration systems, and coordinated work schedules. Ensure your trusted contractor uses the latest tools, technologies, and guidance.
A well-coordinated project plan and transparent schedule also help. Your complicated bathroom renovation involves many interlocking tasks performed by a crew of specialists, so hold your contractor accountable at every stage. Working out all the details in advance will keep your family safe and out of the way, and help ensure that each phase of the remodel sticks to the timeline. Before you know it you're home will be back to normal, and with a "Dream Bathroom!"
Step 6: Choose a Trusted Design-Build Contractor
You have many firms to choose from throughout Southwest Florida. As mentioned, we highly recommend you select a contractor that blends design and build capabilities into a single, consolidated approach for your bathroom renovation. The benefits are many, not the least of which is better budgeting and faster timelines. With streamlined communication between experts and a single point of contact, you gain efficiency, transparency, and peace of mind.
So make sure you ask the tough questions upfront, before you sign on the dotted line. What's their reputation in Southwest Florida, and can you talk to some of their customers? Will they handle the necessary electrical, plumbing, and building permits, and do they follow all guidance protocols? How will they ensure your family's safety during a public health crisis? Is their estimate fixed and final? Can you hold them fully accountable for budget and timing?
An award-winning luxury design-build remodeling firm that proudly serves Southwest Florida, Progressive Design Build has a well-deserved reputation for consistent innovation at the highest levels of design and customer service. Driven by their leadership philosophy where people make all the difference, the firm ensures 100% accountability through accurate estimates, full transparency, compassionate staff, ease of service, and assuring satisfaction guarantees.
Progressive Design Build specializes in whole house, kitchen, and room additions, and is a trusted expert in custom bathroom remodels. Read more about their point of view on bathroom design trends, and see client testimonials on how to make your Dream Bathroom the envy of all your friends and family. Ask for their newsletter, or reach out directly. They can't wait to hear from you and brainstorm the design and build of your new bathroom to perfection!